A moveable pizza!
Yes, it's true, moving days can be long and painful. Thankfully, there's the traditional pizza to help us forget that mountain of boxes!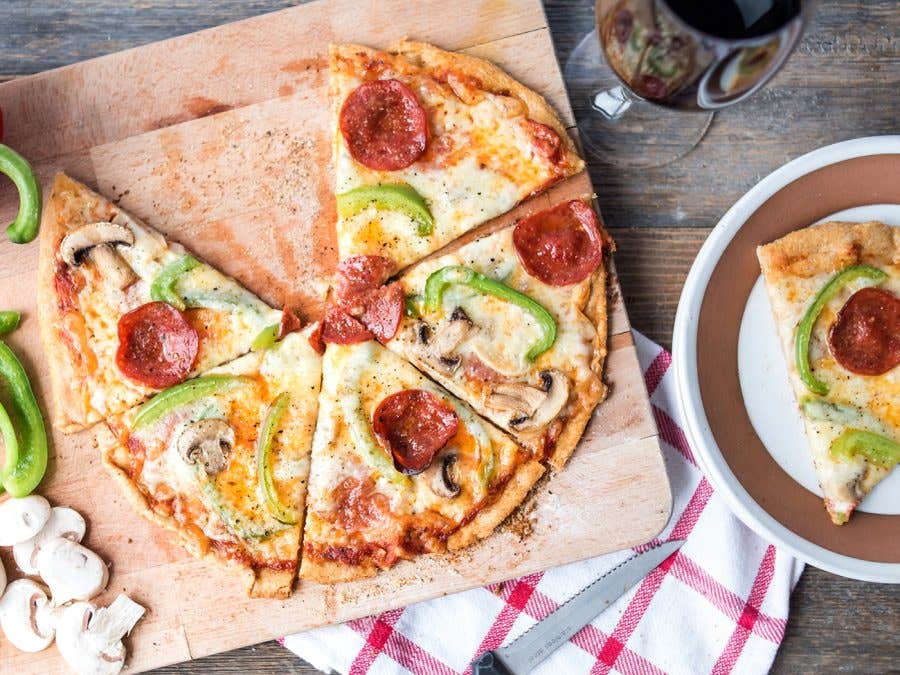 A national sport for some, a rite of passage—or just a necessity—for others, Quebec's July 1st moveathon is undoubtedly the busiest day of the year for many pizzerias. And that's understandable.
For the background, May 1 was moving day in Quebec, up to 1975. When the Régie du logement was created that same year, leases were extended to June 30. Ever since, July 1, Canada Day, has been witness to a significant cultural phenomenon.
Pizza = a vegetable?!
When you think about it, pizza's not really so bad. In 2011, the U.S. congress declared that pizza was… a vegetable! The sauce found on a pizza slice is considered one serving of a vegetable. If that's what the Americans say, it must be true. To put it another way: you should never feel guilty about eating pizza, especially after expending so much energy.
Frozen? Homemade?
Some opt for frozen but not without first checking that the oven in the new place is working. A few are even known to toss on fresh ingredients (Parmesan, arugula, prosciutto, tomatoes, etc.) to add interest and flavour.
Diehards will, of course, make their own, fatigue and heat notwithstanding. Pitas, tortillas even naan bread can replace store-bought dough. Offer a variety of toppings (sundried tomatoes, onions, bacon strips, etc.) and several types of cheese (goat milk, Mozzarella, Gorgonzola, etc.) to please all who helped during the day.
Don't forget the suds!
Because breaking for a "cold one" is a moving day tradition, think local and go for the Bas de Laine light ale. Delicate and subtly fruity, this blond beer is more than satisfying after going up and down the stairs all day. For fans of white beers, try the Bittt à Tibi Kristall Witte. A refreshing brew with accents of banana and citrus. The more nostalgic can turn to Molson Laurentide, a cool blond that tastes like home. Freshness guaranteed!
Bas de Laine Ale Légère Golden Ale

|

6 x 355 ml

Canada

,

Quebec

Not available

Online

Available

In store

La Bittt à Tibi Brassin Nomade Kristall Witte White Ale

|

6 x 355 ml

Canada

,

Quebec

Not available

Online

Available

In store

Molson Laurentide Pale Ale Blond Ale

|

6 x 355 ml

Canada

,

Quebec

Not available

Online

Available

In store
What wine with an all-dressed?
Most will simply have a traditional "big pie" delivered, a somewhat greasy, thick-crust pizza with a small ball of dough in the centre. Filling, to say the least.
Considering the main flavours involved (peppers, mushrooms, pepperoni, cheese, tomato sauce, etc.), the fruity, spicy and vegetal profile of Château Saint-Florin will make for a fantastic complement. A must! Served slightly chilled, it's just perfect paired to a good-old all-dressed.
Available

Online

Available

In store
Donnafugata Anthìlia Sicilia 2020 White wine

|

750 ml

Italy

,

Sicily

Not available

Online

Available

In store
In the mood for white?
Why not opt for Italian? To stay with the theme, choose this white wine blend made largely with Catarratto, a cepage native to Sicily with a unique white base. With its notes of melon, peach, and white flowers, the Anthìlia vintage is a must-try!
Our favourite spots
Now just about everyone has their favourite pizzeria. But when you move, you lose your bearings. Which gives you the perfect excuse to introduce yourself to your new neighbours and ask who makes the best pizza in the 'hood'. To make life easier, we polled our Facebook fans to find Quebec's pizzarias par excellence—after all, pizza is the perfect moving season meal. Here's a list of who makes the best 'pie' all across the province!
1. Sorrento
Adresse: 342, Sainte-Anne St, Chicoutimi
Telephone: 418 543-3198
Website: sorrentopizzeria.ca
2. Pizzeria Jacques Cartier
(Several branches on the south shore of Montreal)
Website: jacquescartierpizza.com
3. Gabriel pizza
(Several branches across the Gatineau region)
Website: gabrielpizza.com
4. Pizzeria Paquet
(Several branches in Mauricie)
Website: pizzeriapaquet.com
5. Pizzeria 67
(Several branches across the Quebec city region)
Website: pizzeria67.ca
6. Restaurant Le Grec
Address: 9151, Notre-Dame Ouest St, Trois-Rivières
Telephone: 819 377-2511
Website: legrec.ca
7. Mustang Pizza
Address: 660, Des Rivières rd, Saint-Nicolas
Telephone: 418 831-0613
Website: mustangpizza.ca
8. Como pizzeria
(Several branches on the south shore of Montreal)
Website: comopizzeria.com
9. Johnny Resto
Address: 4831-1, Des Partisans St, Sherbrooke
Telephone: 819 791-2525
Website: johnnyrestorockforest.com
10. Pizza Giffard
Address: 2994, Sainte-Anne Blvd, Beauport
Telephone: 418 663-6373
Website: pizzagiffard.com
11. Kyran-Ô-Pizza
Address: 125, Marie-de-l'Incarnation St, Québec
Telephone: 418-681-6208
Website: kyran-o-pizza.ca
12. La Piazzetta
Address: 412, Du Saguenay Est Blvd, Chicoutimi
Telephone: 418 549-4860
Website: chicoutimi.lapiazzetta.ca
13. Vulcano pizzeria
(Several branches on the north shore of Montreal)
Website: vulcano.ca
14. Pizza Chez Steforno
Address: 2466, chemin du Parc, Orford
Telephone: 819 769-0109
Website: steforno.com
15. Restaurant Jardins des Bois-Francs
Address: 401, Bois-Francs Sud Blvd, Victoriaville
Telephone: 819 758-6221
Website: jardindesboisfranc.wixsite.com
16. Amelias
Address: 201 Milton St, Montreal
Telephone: 514 845-8396
Website: ameliaspizza.ca
17. Pizza Passion
(Several branches across the Quebec city region)
Website: pizzapassion.ca
18. La Campagnola
Address: 1714, Dollard ave., Verdun
Telephone: 514 363-4066
Website: lacampagnola.ca
19. Chez Stratos
(Several branches across the Quebec city region and Trois-Rivières)
Website: stratos-pizzeria.com
20. Pizzeria Magpie
(Several branches in Montreal)
Website: pizzeriamagpie.com
Little Tip
Add a touch of class to your move by creating your own pizza bar—complete with perfect pairings! It's easy: just order pizzas with all sorts of different toppings, and serve them with wines that match their flavour profiles. Cheers!
Now more than ever, it's important to encourage small pizzerias in your new hood. Ask your neighbours for suggestions or browse your delivery app. Have a great moving day. And remember: stay hydrated!