Winning woodsmen
With their artisanal forestry-flavoured spirits, Distillerie Mariana in Louiseville is making waves in the craft distillery market and livening up cellar shelves everywhere.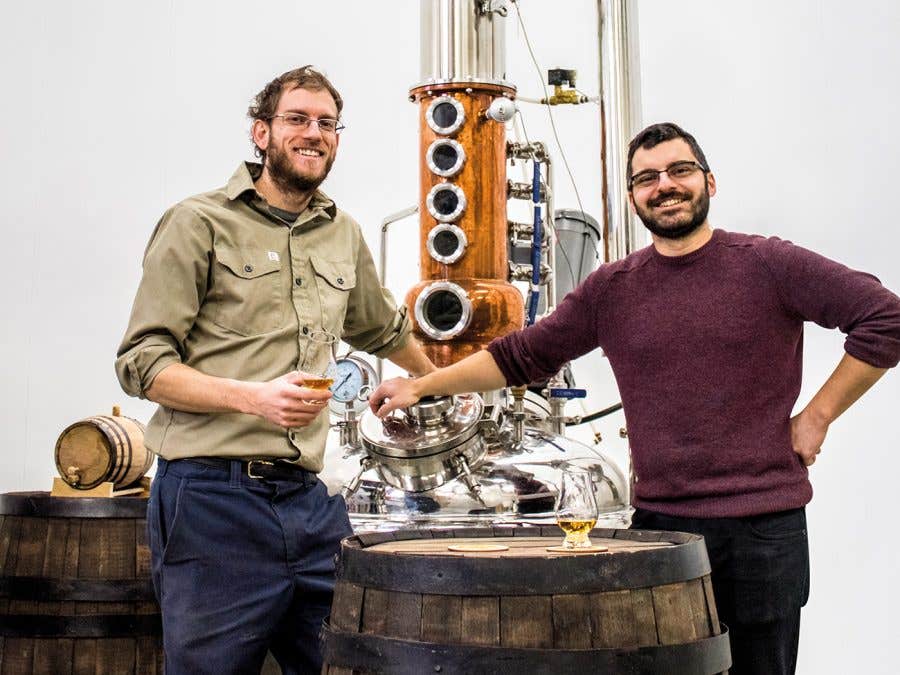 With only 31 years of age under each of their belts, Jean-Philippe Roussy and Jonathan Couturier are brimming with energy and unbridled creativity. Their micro-distillery opened only three years ago, but is already garnering attention and racking up accolades. These young entrepreneurs are among Quebec's youngest distillers, and are owners of one of only a dozen or so distilleries in the province, from Montreal to Mont-Joli and Louiseville to Roberval.
Black-spruce gin, barley-and-corn vodka, spiced rum… What started out as a "crazy idea" in Roussy's kitchen quickly became a functioning micro-distillery churning out 65,000 bottles a year — a number that is only increasing. "Our sales are exploding, people are posting pictures of our bottles on social media, transforming their empties into drinking glasses," exclaims Roussy, adding that this rapid success is all thanks to the duo's dedication and passion. The two men oversee the entire operation: production, bottling, labelling, handling, equipment maintenance and all things administrative.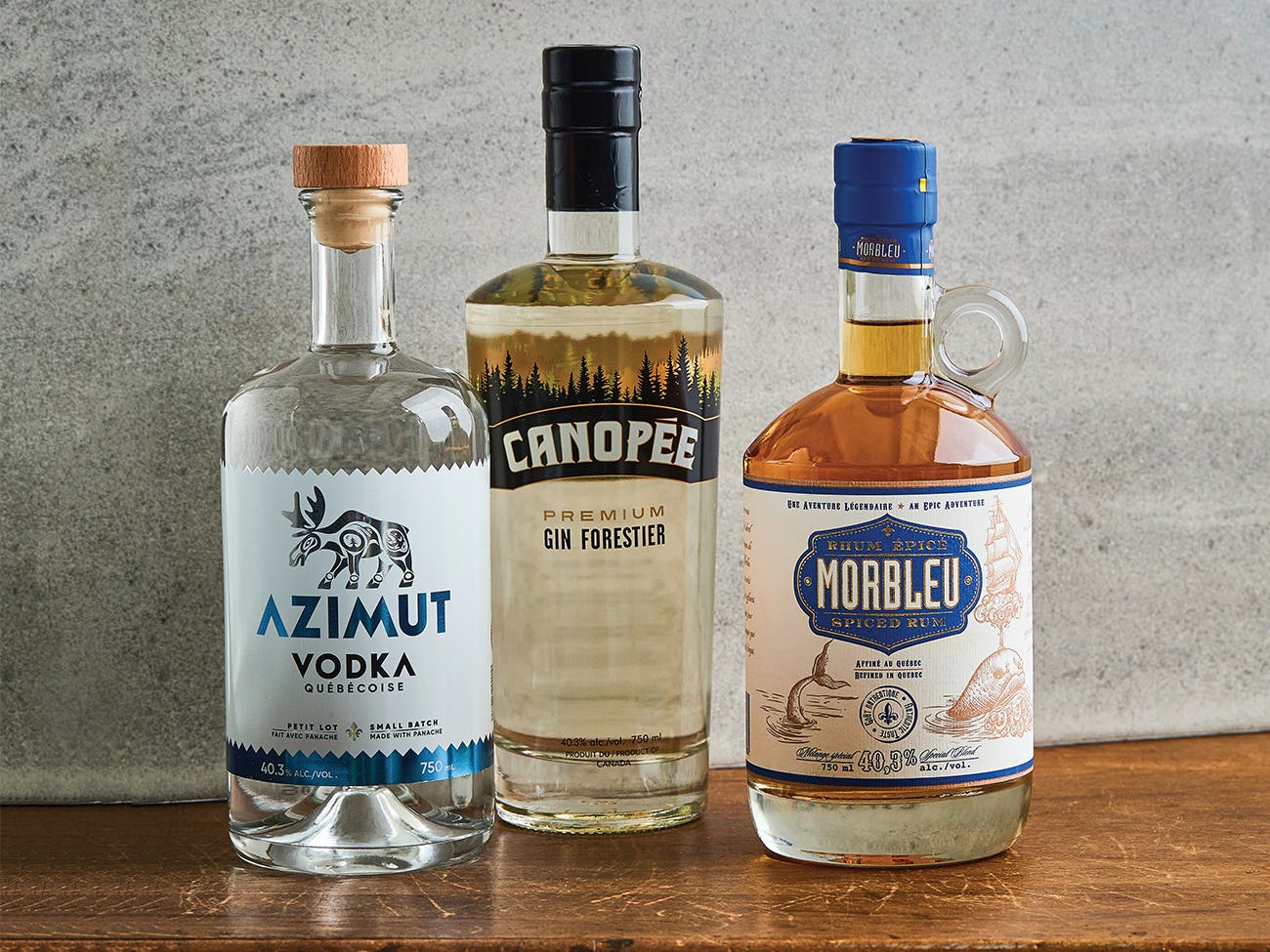 Canopée gin gets its moniker from the upper layer – or canopy – of a forest, the image of which is featured on the bottle. Composition: black spruce, cedar, juniper berry, maple wood and oak wood. "This light gin with notes of vanilla and smoked wood is great served as an aperitif, mixed with tonic water or in a martini. Pair it with gravlax, crackers, salami and olives."
Azimut vodka is named after a compass rose. What makes it so unique? Homemade barley and corn alcohols give it a subtle taste of buttered bread. Enjoy it straight-up, on the rocks, in a Bloody Caesar (with Montreal Steak Spice, The Extreme Bean spicy garnish and salami from Charcutiers Pork Shop), or in a cocktail (see recipe on next page). Serve with oysters.
As to Morbleu, "we definitely had fun making this spiced rum! It's an exquisite adventure on choppy seas… in a bottle!" Production method: The rum is aged for two years in bourbon barrels and infused with vanilla, rosemary, cardamom and star anise. Serve it with maple products, piri piri chicken or Black Forest ham.
Distillerie Mariana Canopée Dry gin

|

750 ml

Canada

,

Quebec

Available

Online

Available

In store

Distillerie Mariana Morbleu Spiced rum

|

750 ml

Canada

,

Quebec

Available

Online

Available

In store
From foresters to distillers
So how did these two childhood friends (originally from Gaspésie) and former forestry workers (who studied economics and public management) end up where they are today? To find out, rewind to the summer of 2014 when the two friends were sitting around a campfire in the small Quebec town of Maria. They hadn't seen one another in quite some time (one had moved to Mauricie, the other to Quebec City) and were reminiscing over a drink. "Jean-Philippe made me taste his homemade gin without telling me about the plans he was making," remembers Couturier. "And I really liked the gin!"
That same year, Couturier lost his job so he picked up the phone and called his old friend. Roussy, who was returning home from an internship at a cidery-distillery on San Juan Island just off the coast of Seattle, remembers that phone call. "All I was missing to kick off my project was a locale and a business partner." At the end of that conversation, Roussy had found his partner. Soon after, the two met up in Trois-Rivières and started hunting for a place to start their business. After seemingly endless searching, they stumbled upon a site in Maskinongé's industrial district, settled in, and named their new business Mariana, from the Latin name for black spruce. And just like that, their forestry days were over. The budding distillers learned as they went along: "We weren't all that familiar with spirits, to be honest," admits Roussy. "Our early batches of gin were actually pink! But we're young and we don't let ourselves get weighed down with convention. We create our recipes the way we want."
Overflowing with ideas
In addition to their star products, each one more original than the next – Canopée gin, Azimut vodka and Morbleu rum – the duo is also working on developing a line of whiskies made from local grains. The idea is to create a hundred-percent-Quebec single malt reminiscent of the traditional Scottish method. They're also collaborating with Les Spiritueux Iberville on a line of Italian liqueurs: Amermelade (an aperitif) and Amernoir (a digestif). It doesn't stop there: When it comes to alcohol, these two spirit geeks are always coming up with new ideas. Stay tuned!
Vodka du Lac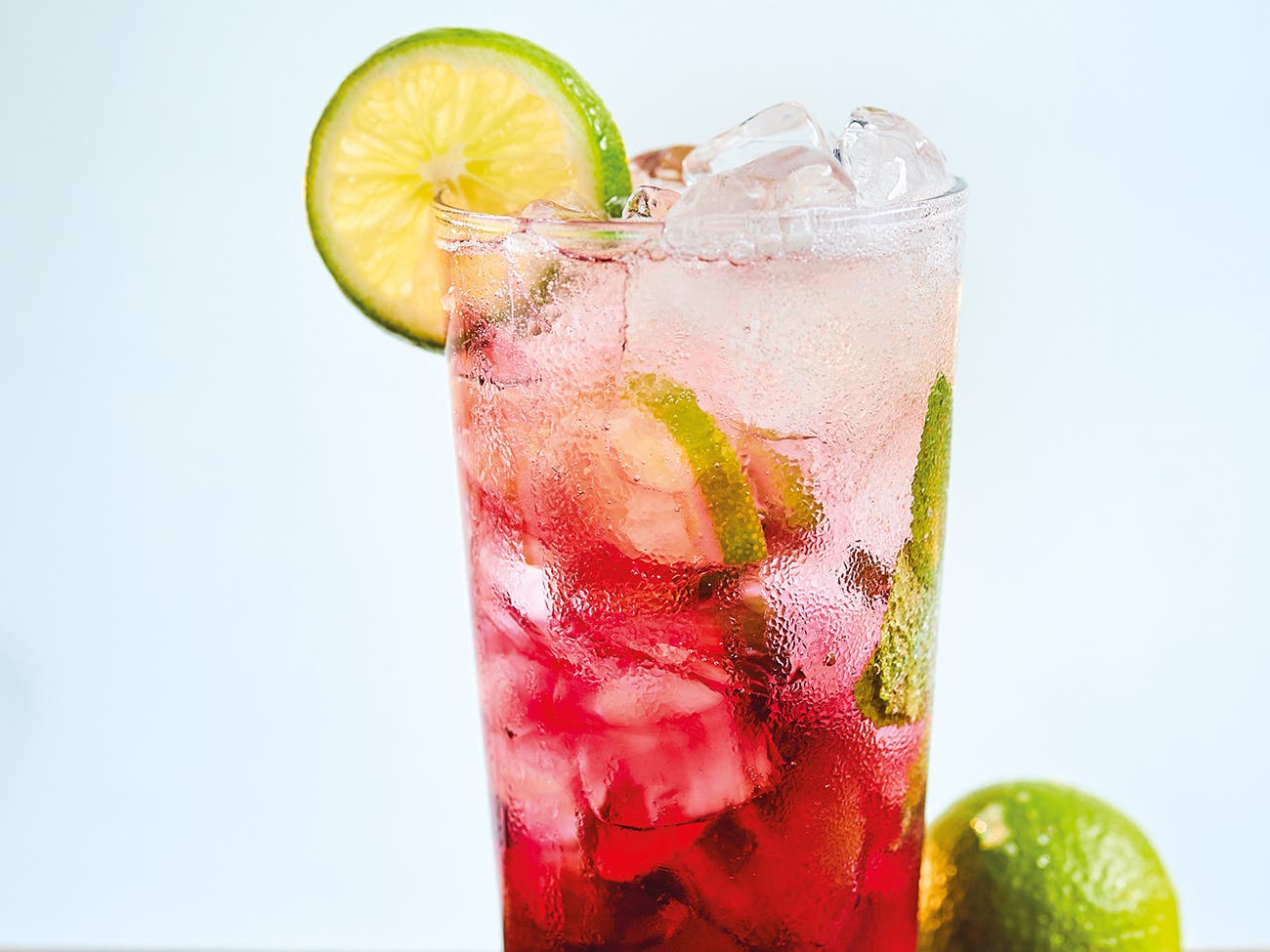 Ingredients
45 mL (1 1/2 oz) Azimut vodka
30 mL (1 oz) Bleu Sauvage wild blueberry juice
25 mL (3/4 oz) maple syrup
15 mL (1/2 oz) fresh lime juice
Fresh mint leaves, save some for garnish
Ice cubes
Soda
Lime slice, for garnish
Ground cardamom, for garnish
Preparation
Muddle a few mint leaves in the bottom of a glass.
Add first four ingredients and fill with ice.
Top off with soda.
Garnish with a slice of lime, pinch of ground cardamom and a few fresh mint leaves.
Photography: Cognitif
Photography (cocktail and bottles): Julien Faugère