Cliché, in a good way
Valentine's Day is on the horizon—why not plan a glamorous night with your beloved to celebrate? Rosé Champagnes and sparkling wines are definite charmers, what with their pleasant pink colour and bountiful bubbles.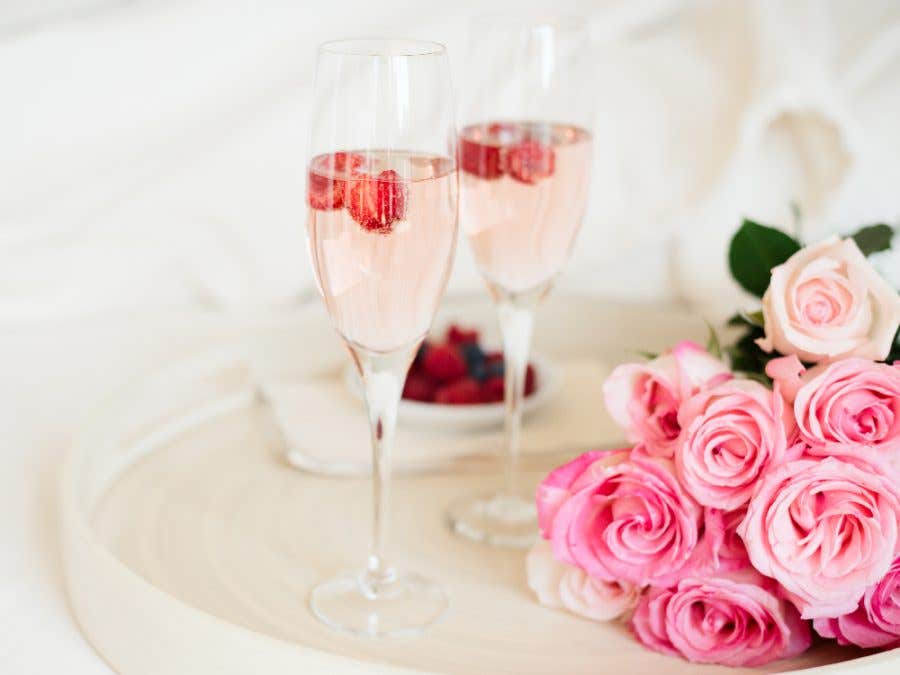 I'm sure you'll agree we're not diving deep into originality when suggesting sparkling wines for Valentine's Day. Bubblies – and pink ones on top of that – may be a bit clichéd when it comes to professing love, but it's undeniable that they do have appeal!
Champagne rosés and sparkling rosés are popular, for many reasons – they taste great, often have wonderful freshness, and can pair perfectly with some exceptional dishes. There's also no denying that a glass of pink bubbly can give a certain je ne sais quoi to a romantic dinner. (Fun fact! Pink Champagne gets its colour from the maceration process, and the hue can range from pale orange to bright pink.) Ultimately, whether or not you're a fan of February 14, even the most reluctant dinner guest won't turn down a nice bottle of bubbly and a meal made with – you guessed it – love. Here are a few pink Champagne and sparkling wine and meal pairing suggestions to add a touch of pink to your Valentine's Day celebrations. Or maybe even just your Saturday night celebrations…
The classic
Perfectly pink in every way; a divine pairing for all five senses.
---
Mumm Napa
A hit with nearly everyone, this cuvee has scents of red berries and flowers.
Available

Online

Available

In store
The big hit
This breakfast classic get a redux for dinner. Add some sophistication to a brioche bun with pink bubbly.
---
Forget Brimont premier cru
A Champagne with refreshing acidity and strawberry-apple-almond flavours. Delicious!
Available

Online

Available

In store
The anti-cliché
Si la réputée sommelière Véronique Rivest boit du champagne avec des chips, on peut essayer le mousseux rosé avec des nachos.
---
Louis Bouillot Perle d'aurore
Famous sommelier Véronique Rivest enjoys her Champagne with chips, so why not break out the bubbly and nosh on some nachos?
Available

Online

Available

In store