The project will make
it possible to:
assess the social benefits and the reduction of environmental impacts of this new greening practice;
make vine-growing knowledge accessible to city dwellers;
discover some of the grape varieties planted in Quebec;
study the benefits of adding ground glass to the growing medium or using it as a mulch.
Like the SAQ, Vignes en ville is focused on adding value to recovered glass and finding new uses for it. As part of the research project, ground glass is used as a mulch to help accelerate the maturation of plants grown in cool climates by reflecting the sun's rays. Ground glass is also mixed with the soil, as it has properties similar to the sand found in vineyards.

More than 100 vines have been planted on a parcel of land at the SAQ's head office.
The following varieties, all resistant to the local climate, are being grown: Frontenac Noir, Frontenac Blanc, Marquette, Petite Perle, Acadie Blanc and Vidal.
Table grapes are also being grown. This project will allow employees to track the growth of the experimental vineyard and play an active role in its development.
Photos: SAQ President and CEO Catherine Dagenais, and Véronique Lemieux, founder of Vignes en ville.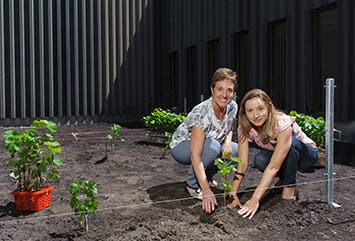 2018: inauguration of the vineyard
© Daria Marchenko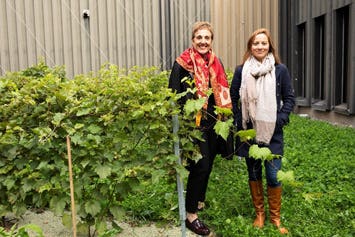 2019: after a first full year of agriculture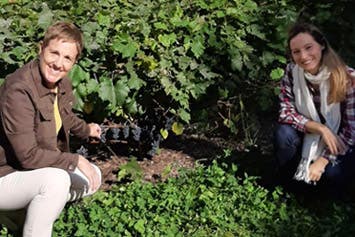 The SAQ vineyard is in addition to other experimental vineyards that Vignes en ville has set up in Montreal.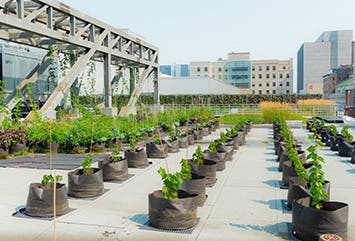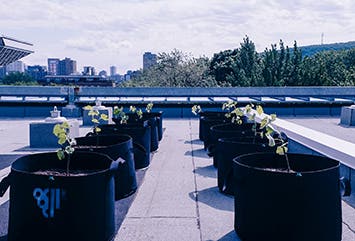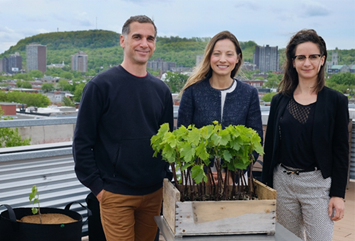 In June 2019, Ubisoft Montreal joined the Vignes en ville project by planting a vineyard around its rooftop deck. The investment created a space that will improve our understanding of grape vines' potential for greening neighbourhoods, increasing biodiversity and more, even as it addresses Ubisoft Montreal's desire to make its deck more welcoming and lively.