Grilled or boiled corn with lashings of butter is a perennial classic. But there are other ways of enjoying corn on the cob. Here are foor easy-to-follow recipes that will turn your corn-roast evening into a fancy dinner party, complete with wine pairings as diversified as the recipes.
Recipe 1: Grilled corn on the cob with feta, basil and oregano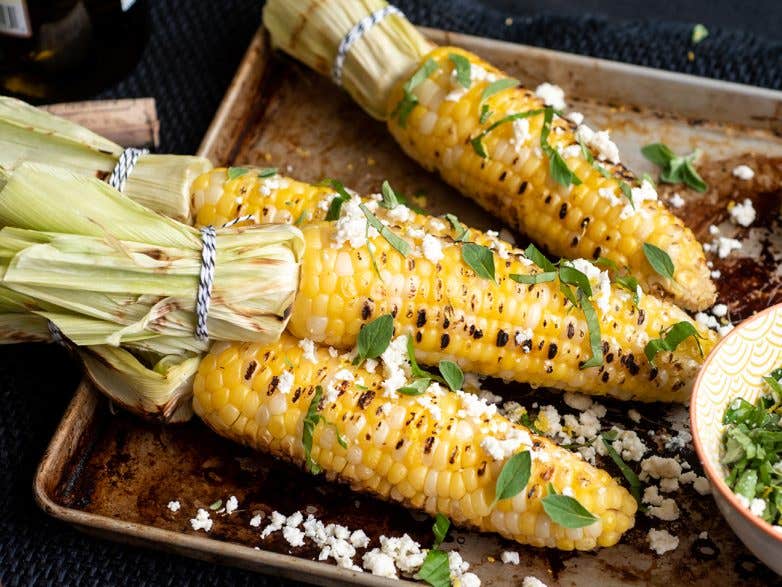 This recipe is simple to make, but will add a sophisticated touch to your barbecue. A few ingredients are enough to transform this summer classic into a divine sidekick!
4 servings
Ingredients
8 ears of fresh corn
250 mL (1 cup) crumbled feta
250 mL (1 cup) chopped basil and oregano
10 mL (2 tsp) lemon juice
10 mL (2 tsp) pepper
Zest of 1 lemon
Preparation
In a bowl, mix together basil, oregano, lemon zest and pepper. Set aside.
Trim the silk sticking out from the tip of the ears (do not peel the husks)
Bring a pot of water to a boil and cook unshucked cobs for 10 minutes. Plunge the cobs into cold water to stop the cooking process. Let cool, then drain water.
Pull the husks down to the base of the stalks, leaving the husks attached. Using string, tie back the husks (the husks will serve as a handle during grilling).
Preheat the BBQ to high and grill the corn on all sides. Just before serving, sprinkle corn on the cob with feta. Wait until feta is slightly melted and then top with herb and lemon mixture.
Pairing: Brumont Gros Manseng / Sauvignon
Available

Online

Available

In store
Recipe 2: Barbecued coconut-curry corn on the cob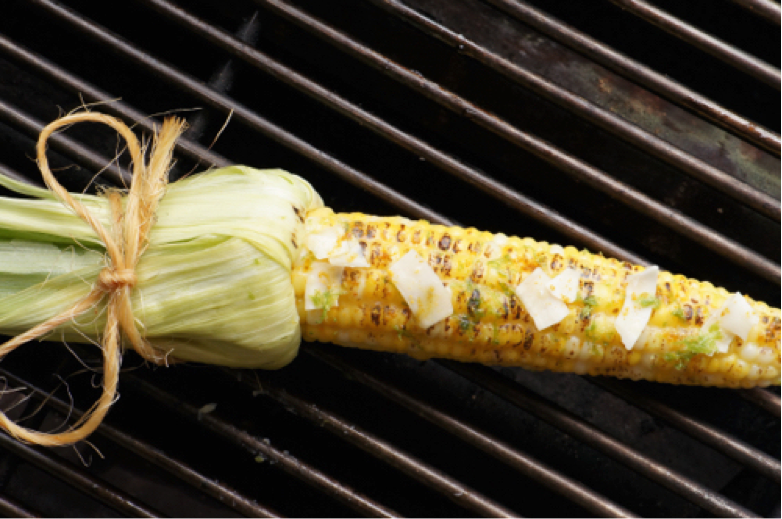 This Thai – or Indian – inspired recipe, which you'll find at SAQ.com, will impress you with its tastiness and originality.
Not available

Online

Available

In store
Recipe 3: Mexican-style corn on the cob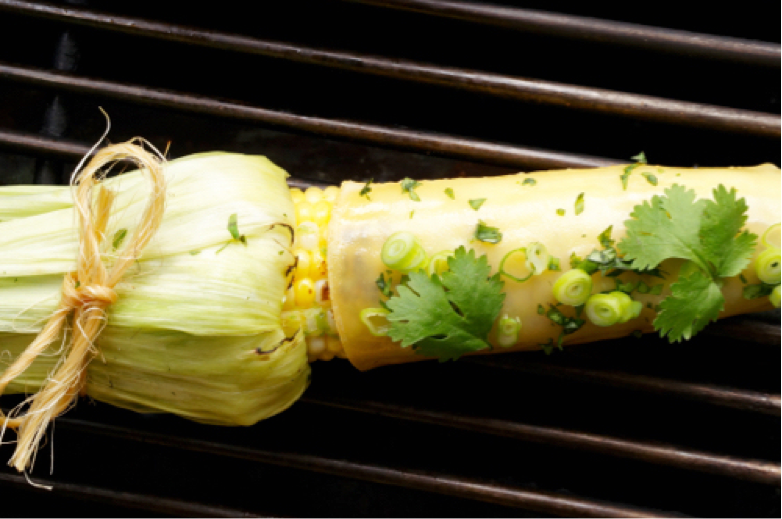 Courtesy of Chef S'Arto Chartier-Otis, this recipe features taco ingredients like hot sauce, cheese and other garnishes. It's delicious and easy to prepare.
4 servings
Ingredients
4 ears of corn
Grapeseed oil
3 green onions, sliced
1 jalapeño pepper, seeded and diced
4 raclette cheese slices
Fresh coriander, minced
Tabasco-style hot sauce
Preparation
Boil corn in its husk, 8 minutes.
Combine oil, onions and jalapeño.
Peel corn, leaving husk at the base.
Rub with the oil, onion and jalapeño mixture.
Grill corn on the barbecue.
Top each ear of hot corn with a cheese slice.
Garnish with green onions and hot sauce.
Recipe 4: Thai-style corn on the cob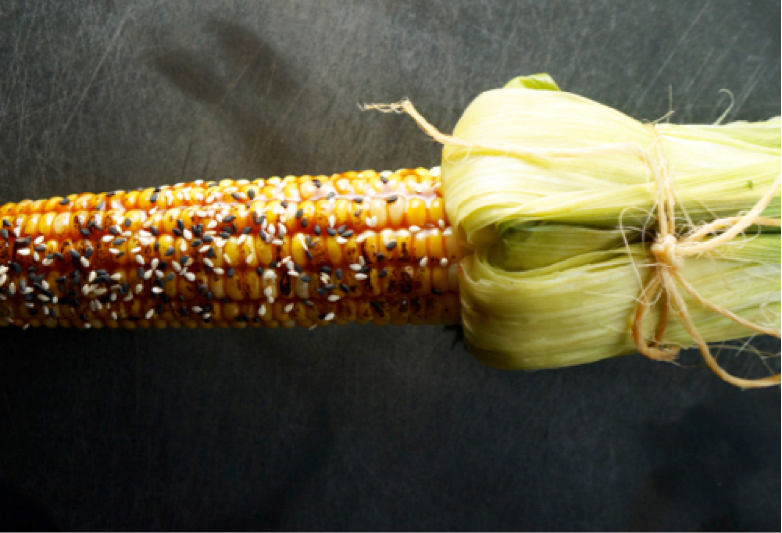 This time, the corn borrows its intense flavours and personality from an oil infused with exotic ingredients. The recipe is the creation of Dominique Sanschagrin, food-and-wine blogger and inveterate foodie: tastevino.com
Flavoured oil ingredients:
60 mL (1/4 cup) hoisin sauce
15 mL (1 tbsp) soy sauce
5 mL (1 tsp) sesame oil
Lime juice
Sambal Oelek, to taste
Black and white sesame seeds, to taste
Preparation
Preheat barbecue on high.
Combine hoisin sauce, soy sauce, sesame oil, lime juice and Sambal Oelek.
Brush mixture over corn.
Grill corn on every side.
Sprinkle sesame seeds over corn before serving.
Pairing: McGuigan Picnic Basket
Not available

Online

Not available

In store