Almost every time that a new batch is bottled, Michel Jodoin does a taste test to ensure that all is well with the sweet cider. "I still have to add my personal touch!" he jokes. After all, his name is in large letters on the cidery itself – as well as on each and every one of its products.
Ciders of all kinds are bottled on the 40-hectare orchard (equal to 74 football fields!): still, iced, sparkling, carbonated, as well as apple mistelle, vermouth, brandy, apple must. Located in the tiny municipality of Rougemont, "all of the orchard's apples are used; I like to monitor the raw materials from the beginning to the end of the process," explains the man who has an intimate knowledge of apples, having spent his entre life on his great grandfather's orchard (from whom he also inherited impeccable intuition).
The apple doesn't fall far from the tree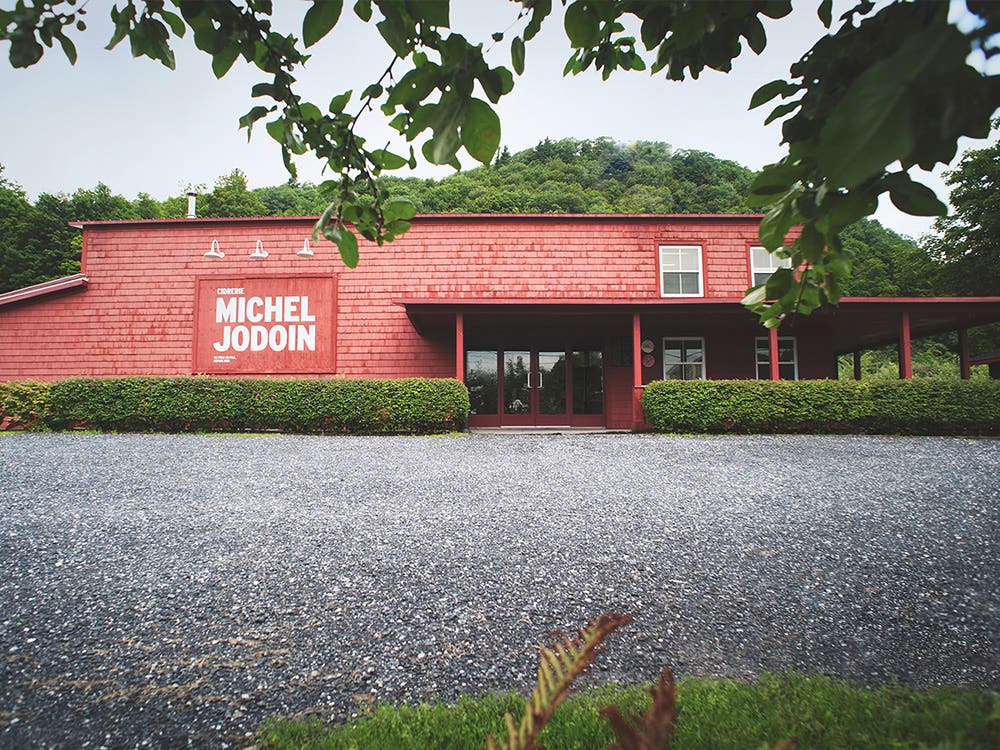 Indeed, intuition is what was needed when it came to purchasing a tract of land with a few scant trees in 1901! Great-grandfather Jean-Baptiste may have been merely 20 years old and a total beginner, but he bought a lot with some 100 apple trees for a high price. But when intuition speaks, one has to listen. With the help of his son Ernest, he cleared his land. In 1937, Ernest took over operations and planted tonnes of apple trees. "My grandfather was also pretty intuitive, he knew where to plant so the trees would flourish – on the mountainside, sheltered from winds and within the reach of the rising sun's rays," Jodoin continues. Then it was time for Michel's father, Jean, and his brothers to help the orchard grow. "They were the apple guys, each of them made cider in their own way and sold it under the radar," he explains.
Michel Jodoin was already working in the fields when the idea of cider-making took root in him. Nowadays, we're post 'cider debacle' a phenomenon that took place in the 1970s with the arrival of industrial cider makers. "Before, cider was sort of unaccounted for in terms of alcohol laws. Pretty much every farmhouse made their own, and all you did was go down to the cellar and fill up your jug. Everyone's tasted a bit different, so despite being illegal, it was a great tasting experience!" With the arrival and implementation of a new law concerning cider sales in the 1970s, cider production took a step out of farmhouse – cellar shadows… and, frankly, took a dive in quality. Direct contact between producer and consumer also took a hit. "Cider practically fermented in shop windows; all small-scale or 'artisanal' cider production halted," Jodoin explains. "But then people began to stop by the orchard and ask us if we were still making cider 'like in the good old days' and I began to feel that there was renewed interest."
Cocktail mode
Still… but full of movement, le Cidre Rosé has 12-percent alcohol and is inspired by Jodoin's father. The difference is that nowadays it's made with red-fleshed Geneva apples, from where it gets its rosy colour, red-fruit notes and floral finish. Great as an aperitif with a feta cheese and shrimp pizza. As for Houblon Pétillant, it's ultra-refreshing, very dry, acidy without residual sugar. This cider has no bitterness, instead emitting notes of flowers, citrus and fresh apple. Pairs wonderfully with fries and a burger or scallop ceviche.
Michel Jodoin Tranquille Mais Pas Sage Strong cider

|

750 ml

Canada

,

Quebec

Not available

Online

Not available

In store

Michel Jodoin Houblon Pétillant Sparkling cider

|

4 x 330 ml

Canada

,

Quebec

Not available

Online

Not available

In store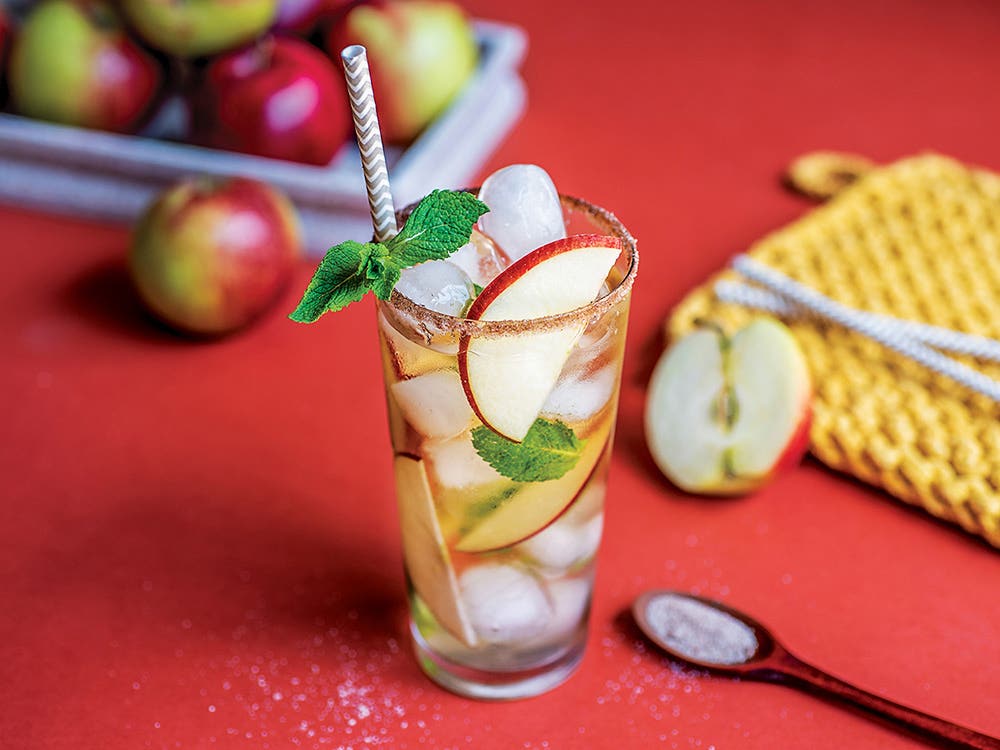 The Urban Autumn, a cocktail created by Michel Jodoin
Ingredients
60 mL (2 oz) apple brandy
30 mL (2 oz) apple vermouth
15 mL (1/2 oz) ice cider Glace doré
Fresh mint and ice
A step in the right direction
Sensing that the tides had turned, Jodoin headed to Europe to perfect his knowledge and to learn the traditional 'Champagne method'. He returned home, and in 1988, got his artisanal cider production and sales permit. He launched operations from his garage with the sales goal of 100 bottles per month. His father remained skeptical: Few people passed along the orchard's country road! Six months later, he was still far from meeting his sales goal. Needing to sell his cider stock, the ingénue cider-maker headed to the Journal de Montréal, flanked by oenologist and friend Robert Demoy. "We went there with a case of cider. The journalist decided to talk with us, and even gave us a whole page's worth of coverage. I guess we were convincing," he laughs.
An apple a day…
That was 30 years ago. Today, the Cidrerie Michel Jodoin produces its goods at full capacity, selling on Canadian and European markets. The old apple crate storage barn has become a boutique, and apple puns, written in French, decorate the walls: Chaque pomme est une fleur qui a connu l'amour; Boire la vie en rose; Les bulles poussent dans les arbres… In recent years, Michel Jodoin has worked to perfect his brand's image. "I've invested a lot in design and marketing. We follow trends and react accordingly – with social media, things change fast," Jodoin remarks.
He also appears ready for evolution – as his new colourful ready-to-drink aluminum cans and apple vermouth indicate.
"I'm up for innovation! Younger drinkers have no prejudices about Quebec cider, and you can now find it in grocery stores, bars, restaurants, pretty much everywhere. Cider has a bright future ahead of it." Now there's something to raise your glass to!
Around the barbecue
Agrume pétillant is an effervescent sangria replacement, with sustained notes of rose, apple, grapefruit and blood orange. Drink as-is or on ice, with chips and nachos. Michel Jodoin's new product, Vermouth de pomme, is a source of pride for the entrepreneur, who created the beverage's unique taste using Geneva apples. Made from a rosé cider base, apple brandy and some 20 plant and spice extracts, this floral rosé vermouth is easy-drinking whether on ice or in a cocktail.
Michel Jodoin Agrume Pétillant Rosé sparkling cider

|

4 x 330 ml

Canada

,

Quebec

Available

Online

Available

In store

Michel Jodoin Nos Pommes Sont Tombées dans le Vermouth Apple vermouth

|

700 ml

Canada

,

Quebec

Available

Online

Available

In store
Photo : Marie des Neiges Magnan (cocktail) and Cidrerie Michel Jodoin