The star of the show
Stacked cakes are easier to make than you think. All you need is some time and a bit of patience to create this stunning dessert. You can prepare your cake a few days — or weeks — in advance and store in the fridge (for a couple of days) or in the freezer (for up to a month). These adorable desserts can also be prepared as individual servings. You can either use a star-shaped cookie cutter to create your stacks, or a traditional stencil. One cake pan should be enough for you to make four layers per cake. The day of your party, all you'll have left to do is stack your layers and decorate them however you wish!
Star-shaped chocolate mocha cake
Preparation: 30 minutes
Cooking: about 25 minutes
Cost per serving: about $2.90
6 to 8 servings
Ingredients
375 mL (1 1/2 cups) all-purpose flour
125 mL (1/2 cup) cacao powder
15 mL (1 tbsp) baking powder
2.5 mL (1/2 tsp) salt
8 eggs, at room temperature
500 mL (2 cups) sugar
125 mL (1/2 cup) melted butter
60 mL (1/4 cup) brewed espresso
Coffee liqueur chocolate sauce
500 mL (2 cups) 35% cream
60 mL (1/4 cups) ground coffee beans
300 g (about 2 cups) dark chocolate, chopped (or half and half milk chocolate and dark chocolate)
45 mL (3 tbsp) coffee liqueur (optional)
Preparation
1. Place oven rack in the middle position. Preheat oven to 180°C (350°F). Line one 43.8 cm x 29.2 cm X 2.54 cm (17.25 in x 11.5 in X 1 in) baking pan with parchment paper (you want a thick enough cake, so make sure pan are adequately deep). 2. In a bowl, combine flour, cacao, baking powder and salt. Set aside. 3. In a separate bowl, whisk eggs and sugar with electric beater until mixture turns white, triples in volume and falls from beaters in a flat, ribbon-like pattern (approximately 10 minutes). Using a spatula, gently fold in the melted butter and hot espresso. 4. Sift flour mixture into egg mixture and gently fold using the spatula. 5. Divide batter and pour onto lined and greased pan. Bake in the oven for approximately 25 minutes or until toothpick inserted in the centre comes out clean. 6. Let cool approximately 10 minutes. Unstick cake by gently running a knife along the sides of the pan. Unmould and let cool on rack. 7. Using star-shaped cookie cutters of various sizes, cut out and stack cakes.
Coffee liqueur chocolate sauce
In a saucepan, heat cream with crushed coffee beans. Let infuse 10 minutes, then strain directly over the chocolate. Stir until chocolate is melted, then add coffee liqueur
1. Lay the stencils on the cake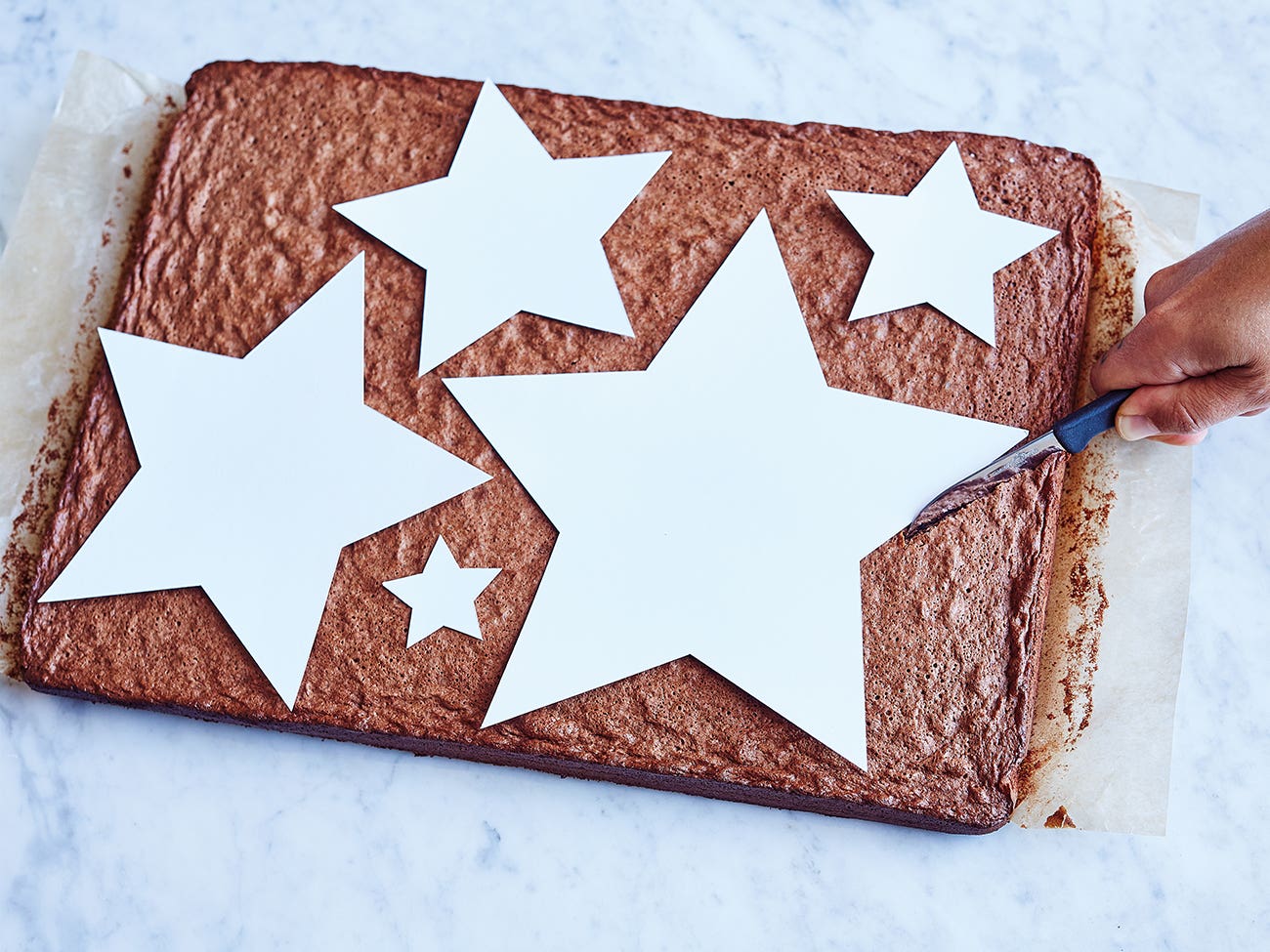 Holiday hack
If you don't have a cookie-cutter and don't have time to use a stencil, just use glasses of various sizes. The end result will be just as pretty!
2. Cut out the shapes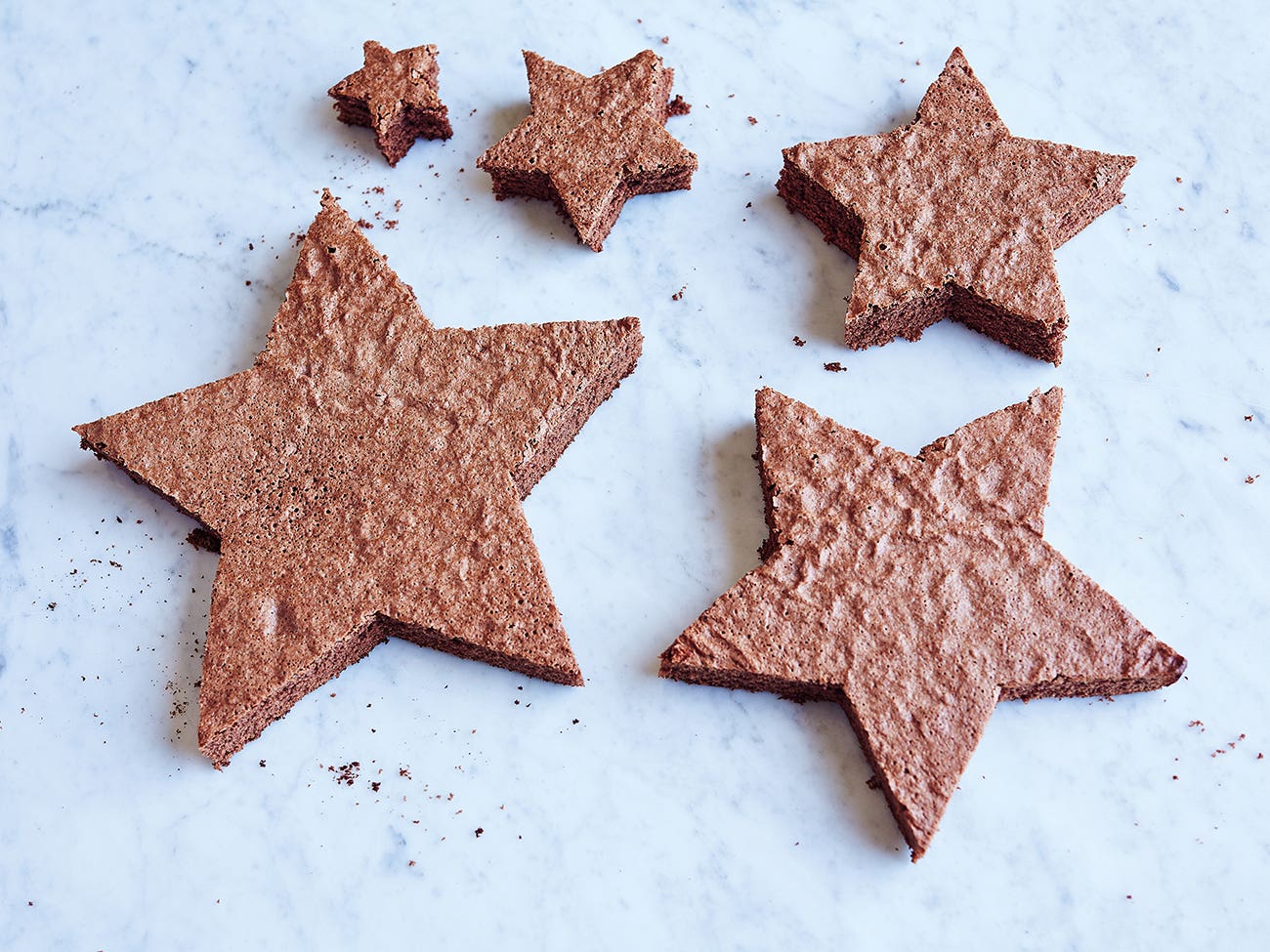 3. Sprinkle on the icing sugar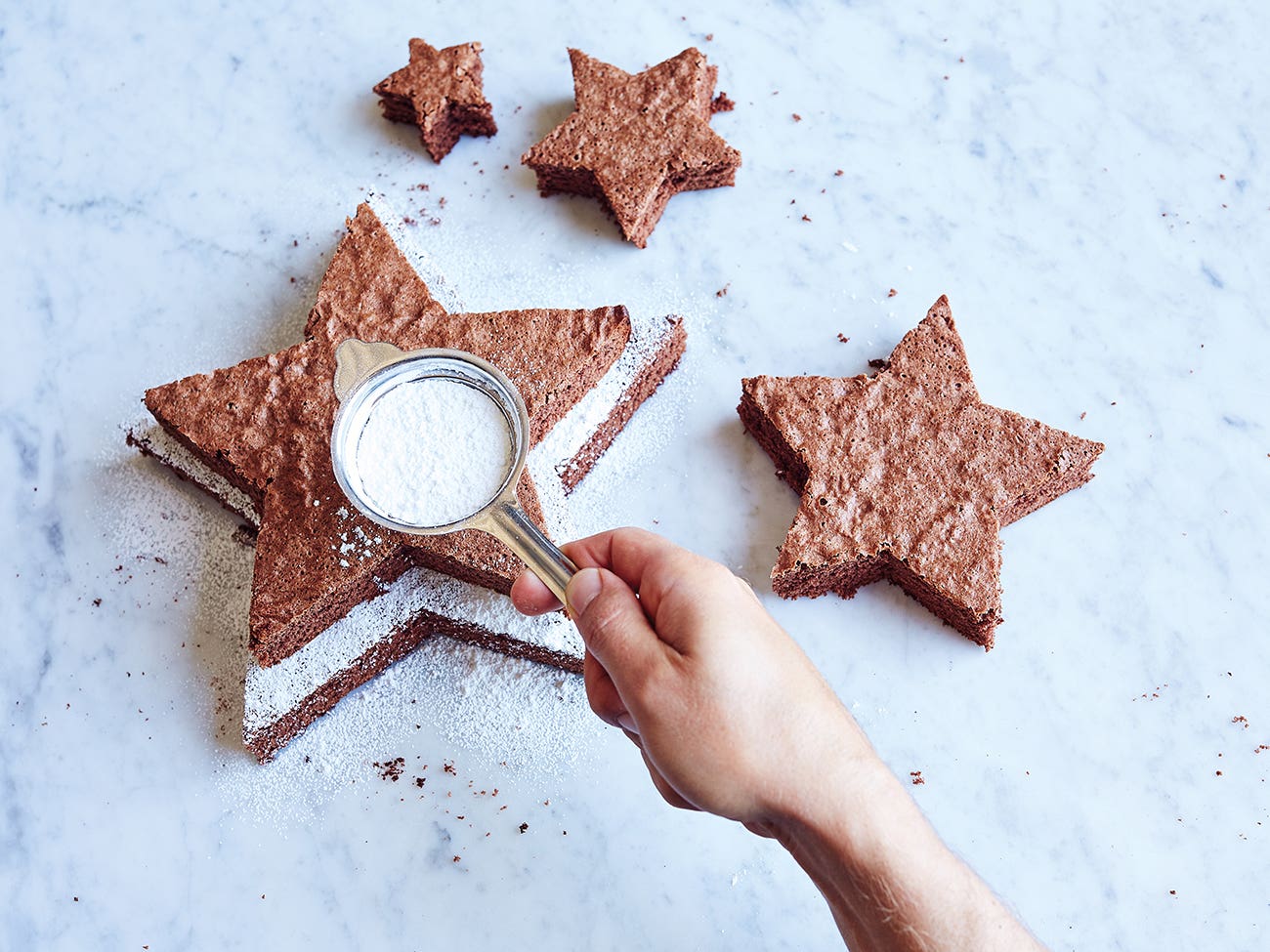 Decorating idea
Use icing sugar as snow! You can also add cranberries, red and green candies, coconut flakes... use your imagination and have fun!
What to drink with this chocolate mocha cake?
A grappa and chocolate-based liqueur goes great with all things chocolate! Try Bottega Gianduia, a velvety smooth chocolate cream beverage with a touch of grappa. Or you could serve your cake with a glass of port. We suggest Graham's LBV with its aromas of cherry, blackcurrant and dark chocolate, or Cabral with its notes of vanilla, caramel and cooked fruit. Both pair beautifully with this cake, bringing out its notes of chocolate and spice.
Not available

Online

Available

In store

Available

Online

Available

In store

Not available

Online

Available

In store