Ideally nestled in the heart of the Agly Valley in Roussillon, Domaine Cazes was founded in 1895. As the years and generations passed, the vineyard grew and broadened its reach to neighbouring plots. Over a century later, the domain extends over 220 hectares of continuous estate that protect the vineyard from the sprays used by its non-organic neighbours. Basking in the southern sun, Domaine Cazes is home to a variety of terroirs that yield rich wines.
To safeguard the expression of the local terroirs, the vineyard stopped using chemicals as early as 1990. Though it bucked every trend, the decision proved to be the right one. Today, Domaine Cazes is France's largest certified biodynamic vineyard and regarded as a pioneer.
Organic
When producing organic wine, the use of chemical or synthetic products is prohibited. Hand harvesting is strongly encouraged.
Biodynamic
To be biodynamic, wines must meet the same standards as organic products. The more holistic biodynamic approach calls for preventive, rather than reactive, farming. Wine-growers must therefore always be in tune with the natural environment.
Natural
Natural wines are produced with as little intervention as possible. Sulphites, which are commonly used to stabilize wine and protect it from oxidation, are kept to minimum or totally eliminated.
Click here to learn more.
Biodynamics to support the terroir
"Biodynamics allow our terroir to better express itself. It is alive and deeply nourishes the vineyard, our grapes and, of course, the wine they produce."
— Emmanuel Cazes, Domaine Cazes ambassador and great-grandson of the founder
For Domaine Cazes, the heart of the vineyard beats to the cadence of the fragile ecosystem that links the grapes, soil, climate, plants and wildlife and humans. Every farmer who chooses organic production can make a difference and have a positive impact on the sustainability of terroirs and vineyards. Upholding the principles of biodynamics makes the soil rich and full of life so it can give rise to stronger grapes that are more resistant to stress and disease.
Biodynamics are an art that requires significant adaptation on the grower's part and in-depth knowledge of the land. At Domaine Cazes, that involves using natural preparations made from compost, rock powder and nutrient teas that are spread in strategic areas across the domaine according to a rigorous and carefully planned calendar. A great deal of care is taken to foster biodiversity in the vineyard. In addition to the beehives built along the vineyard, 250 nesting boxes were set in different corners to protect beneficial wildlife such as bats and birds, including birds of prey, which feed on insects and small vine-destroying mammals.
Rivesaltes: all about balance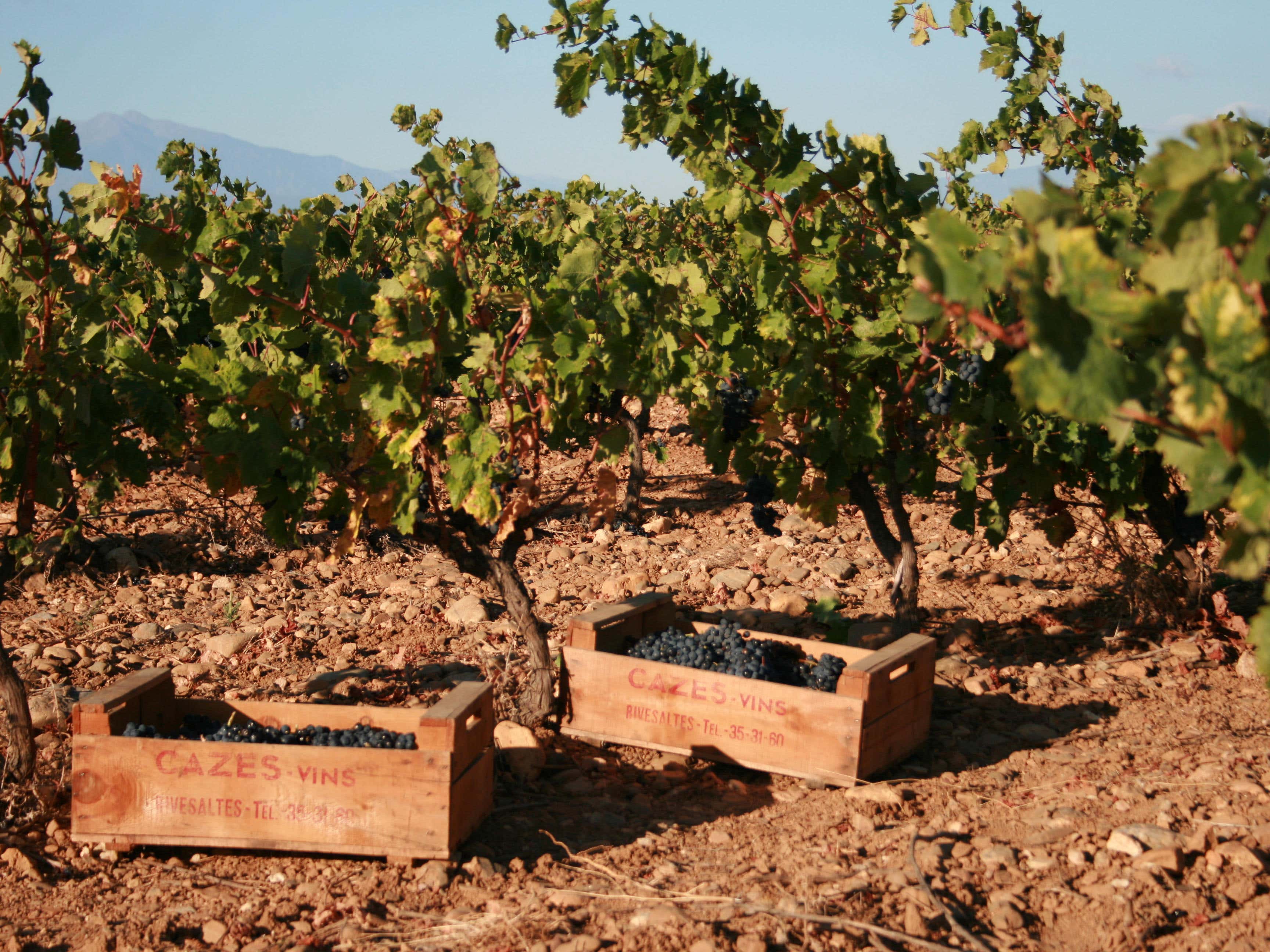 The high temperatures and blistering sun in the Rivesaltes region make for a very long growing season during which the vines produce sugar-rich, low-acid grapes. Through biodynamics, Domaine Cazes is able to better nourish and aerate the soil so the roots to grow deeper in the ground and take up the minerals and freshness that restore the balance between the wines' sugar content and acidity.
Clos de Paulilles: an organic success story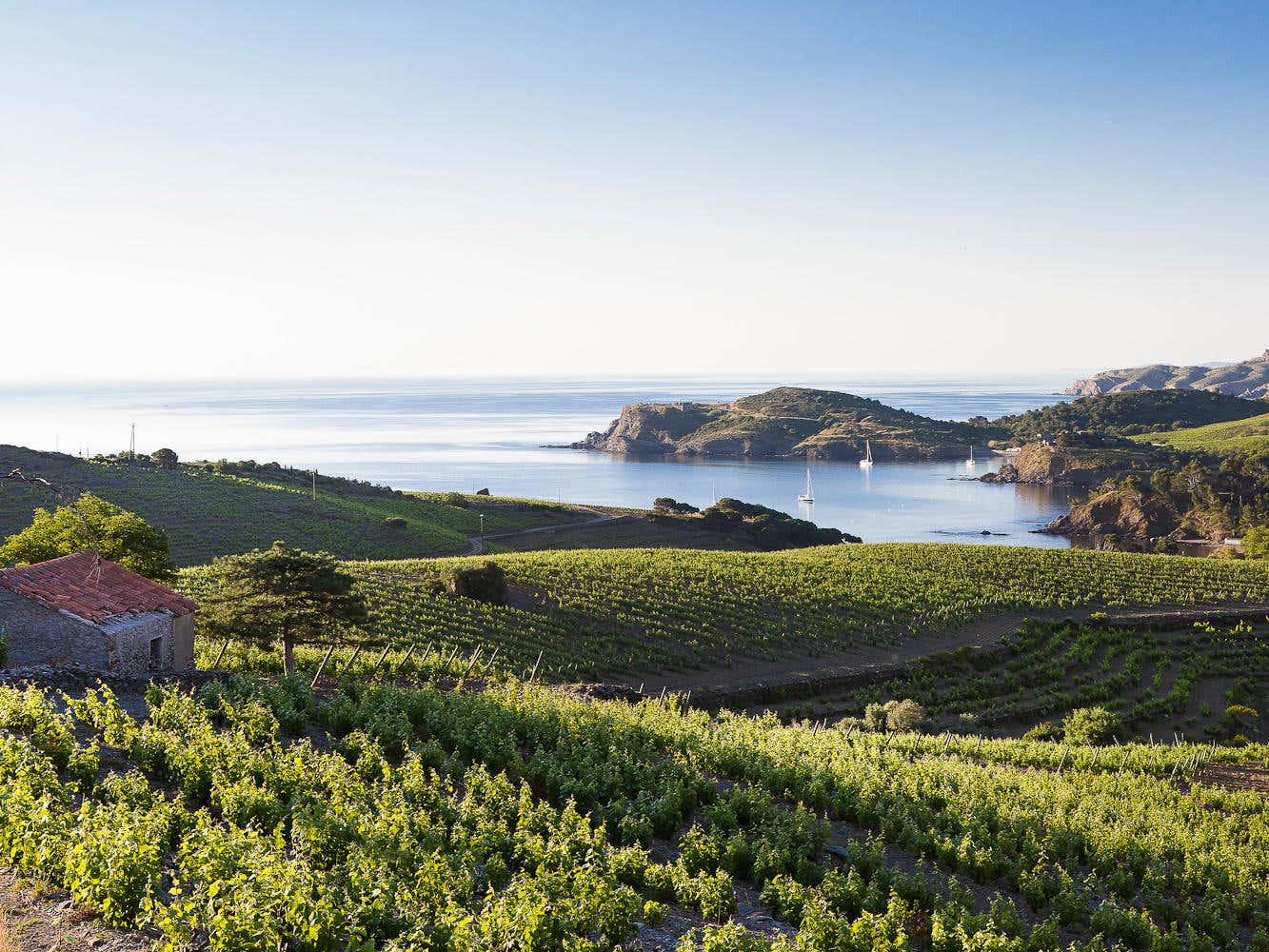 For Domaine Cazes, the transition to organic was well worth the effort, but the process was neither simple nor linear. In 2012, the domaine acquired Clos de Paulilles, located between sea and sky in picturesque Collioure. The vineyard relied on conventional agriculture but had tremendous potential with some vines dating back 100 years! The wine-growers at Domaine Cazes soon began the organic conversion process at a pace that respected the fragile terroir's pace. Planted in very poor sandy soil and shallow terraces of black, blue and brown shale, the vineyard was sensitive to even the slightest change. Rich in trace elements, the soil's diagonal shale lamination retains water and thus mitigates stress on the plants. Finally, after investing nine years in best practices, the 2021 vintages will proudly wear their organic badges!
Domaine Cazes in six bottles
When Domaine Cazes chose biodynamic wine-growing over 20 years ago, it was out of love for the terroir. Here are six selections from the vineyard that embody all the beauty of the Roussillon region.
Available

Online

Available

In store
Named after the founder's great-granddaughter, this smooth red has notes of red berries, spices and leather. Look out for the 2020 bottles under a brand-new label!
Not available

Online

Available

In store
The Languedoc-Roussillon region in a bottle! This blend of Syrah and Mourvèdre has velvety notes of red fruits and spices that help take summer grilling to the next level.
Domaine Cazes Ego 2020 Red wine

|

750 ml

France

,

Languedoc-Roussillon

Not available

Online

Available

In store
From licorice to spices and stone fruit, this wine offers a range of rich and well-balanced notes. Its generous character makes it an excellent choice with grilled meat and poultry.
Available soon
Domaine Cazes Le Canon du Maréchal 2020 White wine

|

750 ml

France

,

Languedoc-Roussillon

Not available

Online

Available

In store
Made from grapes grown in vineyards that once belonged to Marshal Joseph Joffre, hero of the French forces during World War I, Canon du Maréchal is a true classic. This refreshing and aromatic white is perfect for a sunny apéro or with seafood.
Domaine Cazes Côtes du Roussillon 2020 Red wine

|

750 ml

France

Not available

Online

Available

In store
This wine is meant to be shared in good company, over a charcuterie board or a cut of red meat. Supple, aromatic and vibrant, it is best decanted 30 minutes before service so it can fully express all its intricacies.
Domaine Cazes Les Clos de Paulilles Collioure 2018 Red wine

|

750 ml

France

,

Languedoc-Roussillon

Not available

Online

Available

In store
Made at the emblematic Clos des Paulilles, this complex and charming wine has notes of black fruits, spices and bouquet garni. Keep it in your cellar for a few years or drink it now with refined dishes like thyme lamb chops or osso buco.
In collaboration with Le Domaine Cazes