You may have seen them and their breathtaking photos on our social media in the past few weeks. Today, we'll be spending a bit of time getting to know Jenève (editor-in-chief) and Majorie (head of development). Both a blog and an inspiration platform, Filles du Nord begun back in their school days. "We studied marketing together and said to each other at one point: Why not create something that combines our passions?" recalled Majorie. "We've been doing this for 6 years. Our mission has evolved over time, but right now it's about making women feel more comfortable in nature and inspiring people to discover Quebec," she added.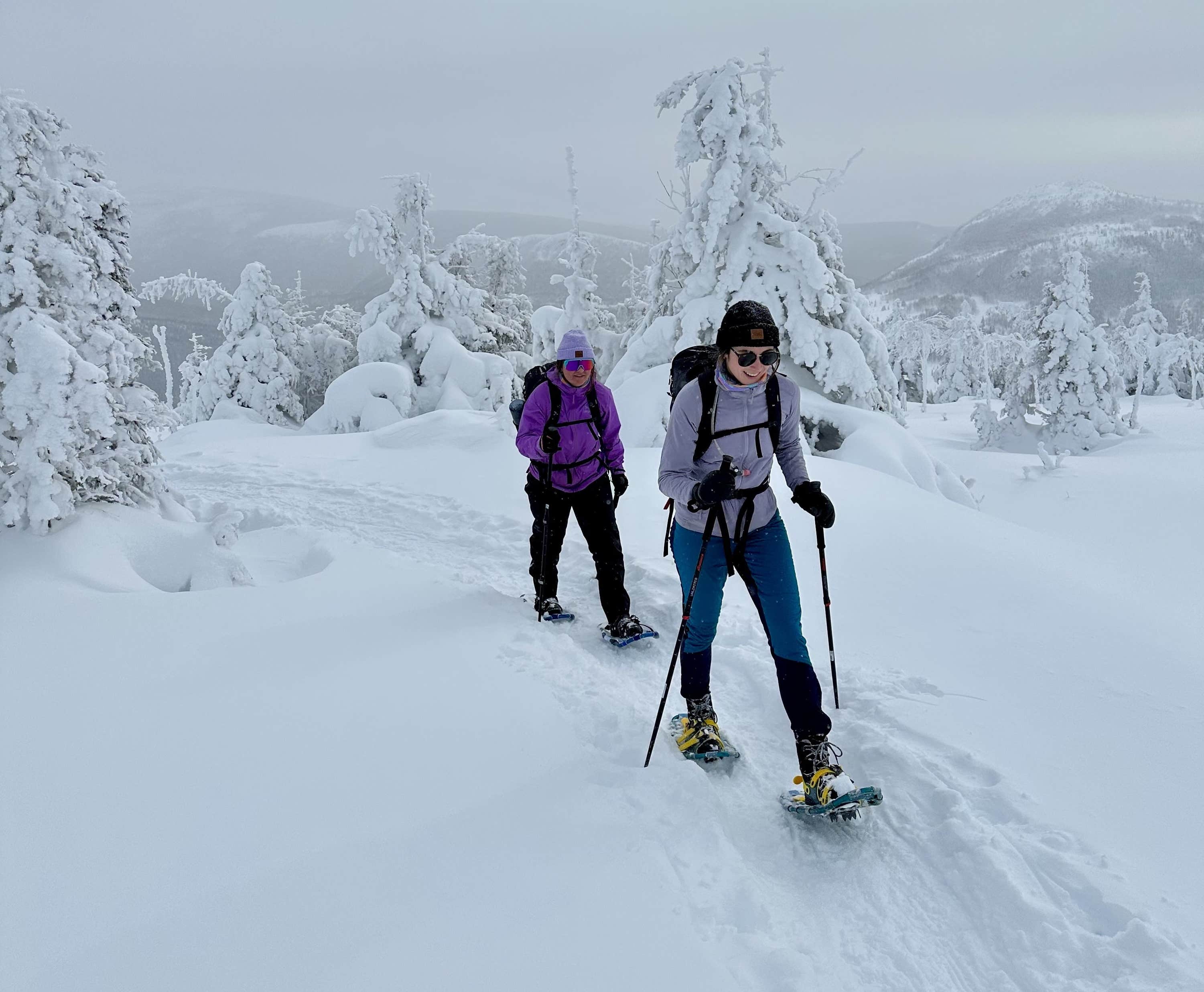 "At first we were really focused on Abitibi-Témiscamingue, because that's where we're from," she explained. "But then, we slowly started to seek out ambassadors from all over Quebec to cover the whole province. Now we have more than 20 women who document their adventures through articles and other types of content."
The essentials
It would take more than a little snow to get a Fille du Nord to hibernate indoors. Quite the contrary! The coldest season means an avalanche of activities and projects. From lengthy expeditions and hut-hopping to snowshoe trails and après-ski, Jenève and Majorie make the most of winter. But planning a cold-weather cocktail party requires a good amount of organization and adaptation. What are their tricks for travelling light and enjoying an outdoor happy hour (or even a mulled wine break!)?
"We always attach a cup to the outside of our pack with a carabiner," said Majorie. "One of those ubiquitous enamel mugs—they're a classic," added Jenève. "Whether we're camping or hiking, we'll drink our morning coffee and our evening wine out of the same vessel. It's part of the beauty of the experience!"

"If we have mulled wine, we'll bring a Thermos. You can make some with camping equipment. It's really easy," according to Jenève!

"When we go hiking, we'll opt for boxed wine or other packaging that's light and compact in our backpack," she said.

"We make a point of staying hydrated! In winter, having drinking water is a real challenge. Carry your water bottle upside down so the cap doesn't freeze—then the other end will turn to ice," recommended Jenève. "And keep your water bottle inside your pack," added Majorie.

"We always pack a light snack to nibble on: a mix of nuts and dried fruit or something more elaborate—the important thing is to stay energized!"

"We wear several layers to be able to take breaks without getting cold. That way, we can truly savour the moment, the view, and some refreshments when we arrive at our destination—that's the key," concluded Jenève.
It's in the bag
Now that we have all our gear, what are we drinking? Majorie tells us that they recently discovered a local product they adored: "We just got back from Gaspésie, and we fell in love with Amour Liquide there. We went on a three-day expedition where we'd be staying in huts, so we needed something compact that wouldn't freeze [because of its alcohol content]. Amour Liquide was perfect, especially since you can drink it right out of the can," she explained. In the same vein, Brise-glace (a ready-to-drink low-alcohol gin and tonic) was their ice-fishing companion not too long ago. "Cans are convenient because they're light and you know they won't break in your pack," said Jenève. "They call them pocket cocktails since they don't take up a lot of room and they fit well into a backpack." We're taking notes!
At the end of each day of cross-country skiing, Jenève and Majorie like having an apéritif al fresco. "We always do a kind of outdoor bar. We put our bottle or cans outside for 30 minutes, then we enjoy them around a campfire," said Majo. "It's like an open-air fridge," laughed Jenève. This is also the right time to bring out local products that they picked up in their travels. Cheeses, charcuterie, tidbits to be heated on the fire—the sky's the limit!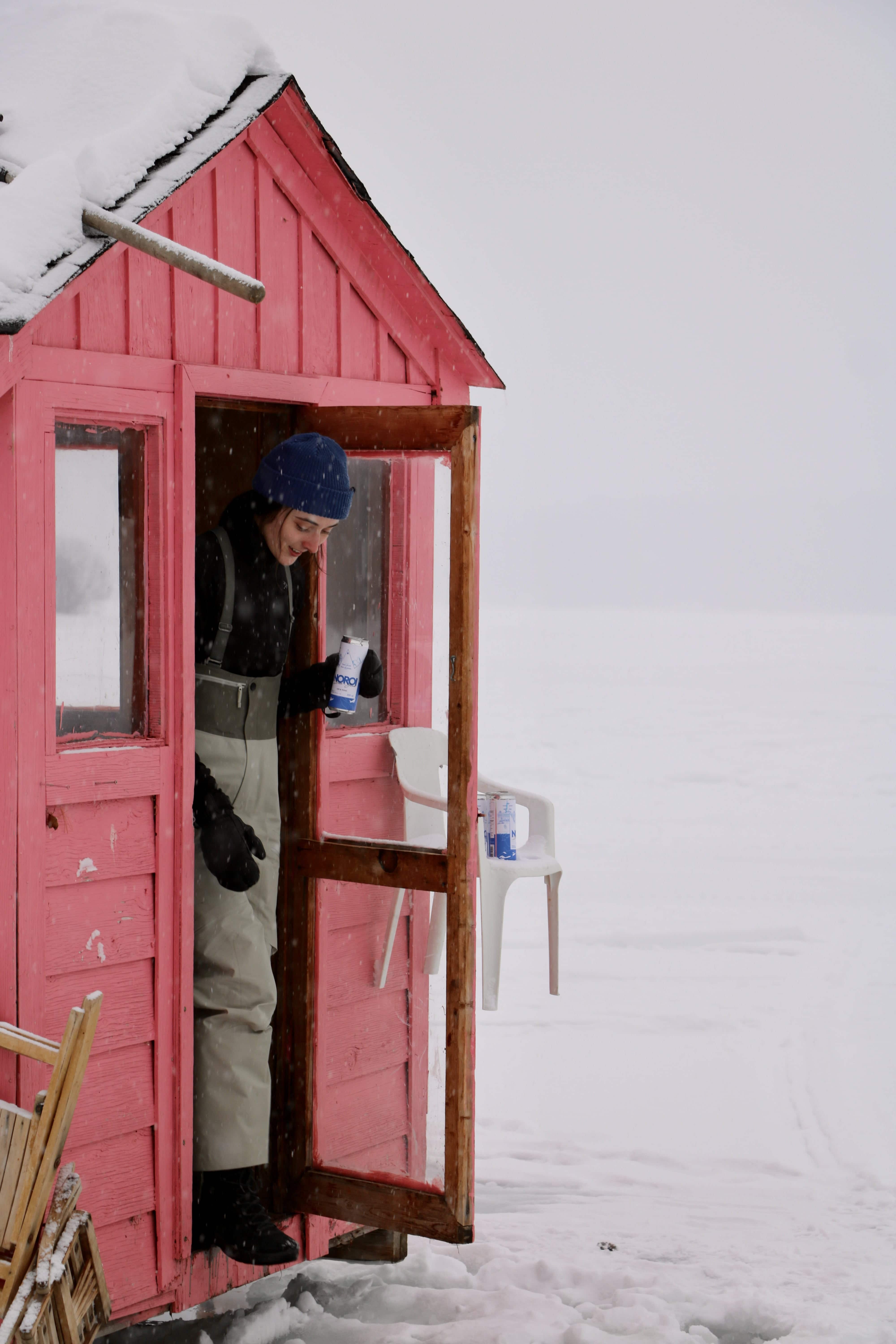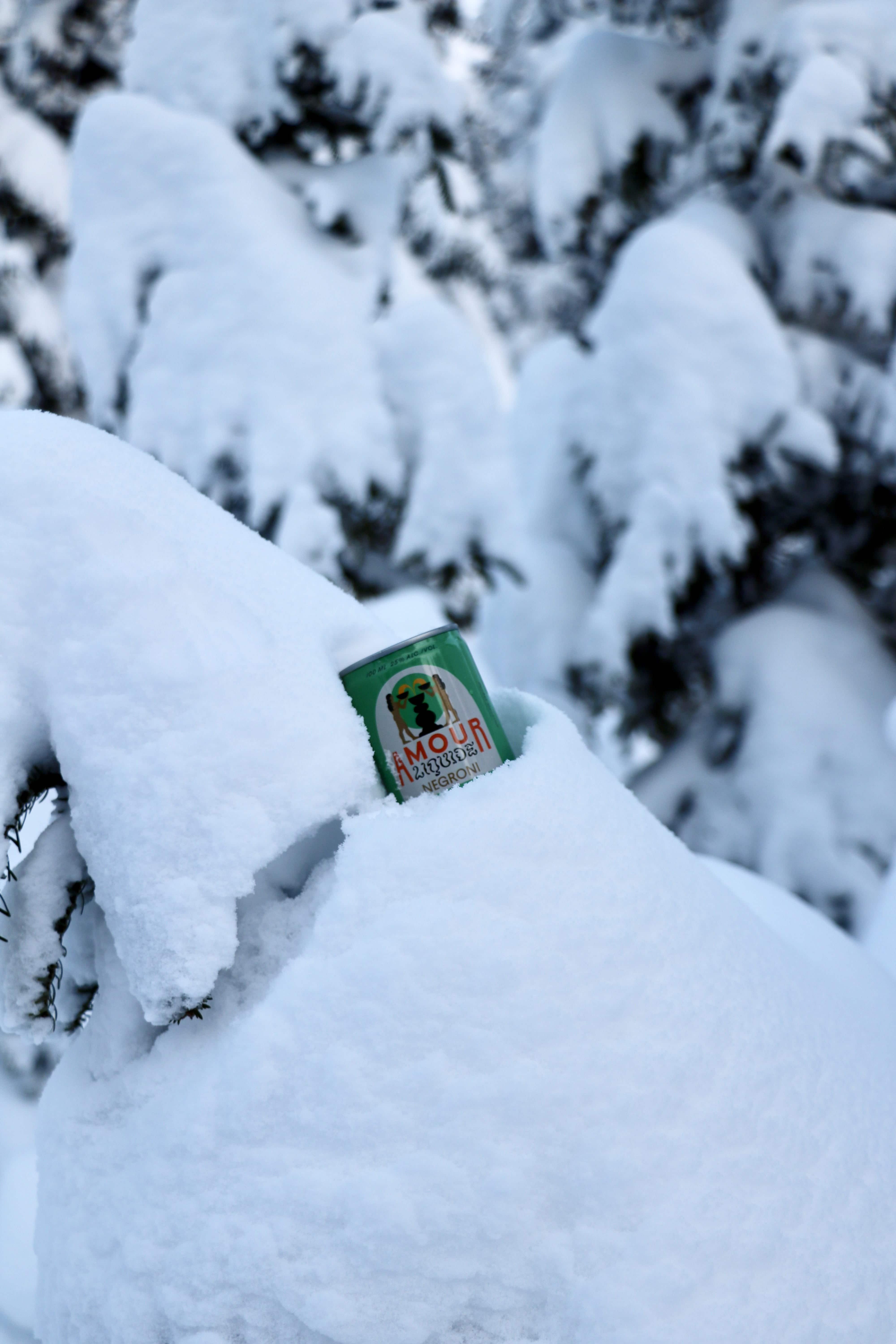 They also like creamy drinks that are a bit sweet—on ice, of course! "In terms of a comforting tipple around the fire, Coureur des Bois and Saint-Crème are guaranteed winners," said Jenève, who likes sipping them slowly at the end of the day after spending hours playing outside. But any steaming hot drink is welcome. "Mulled wine is really a go-to when it comes to doing winter activities!"
And what to eat? When they're in expedition mode, they opt for things that are easy to carry and cook, without being boring. An example? "The other day we made pasta with dried wild mushrooms and a cream sauce. A feast that doesn't weigh a ton," said Jenève. Sometimes they take it up a notch when they aren't staying far from their starting point. The girls told us that on a recent trip to the Outaouais, they brought wine and sushi to a lodge (that was only five minutes away by snowshoe, we should mention)! "We verge on glamping from time to time," joked Jenève.
Discovering regions through their flavours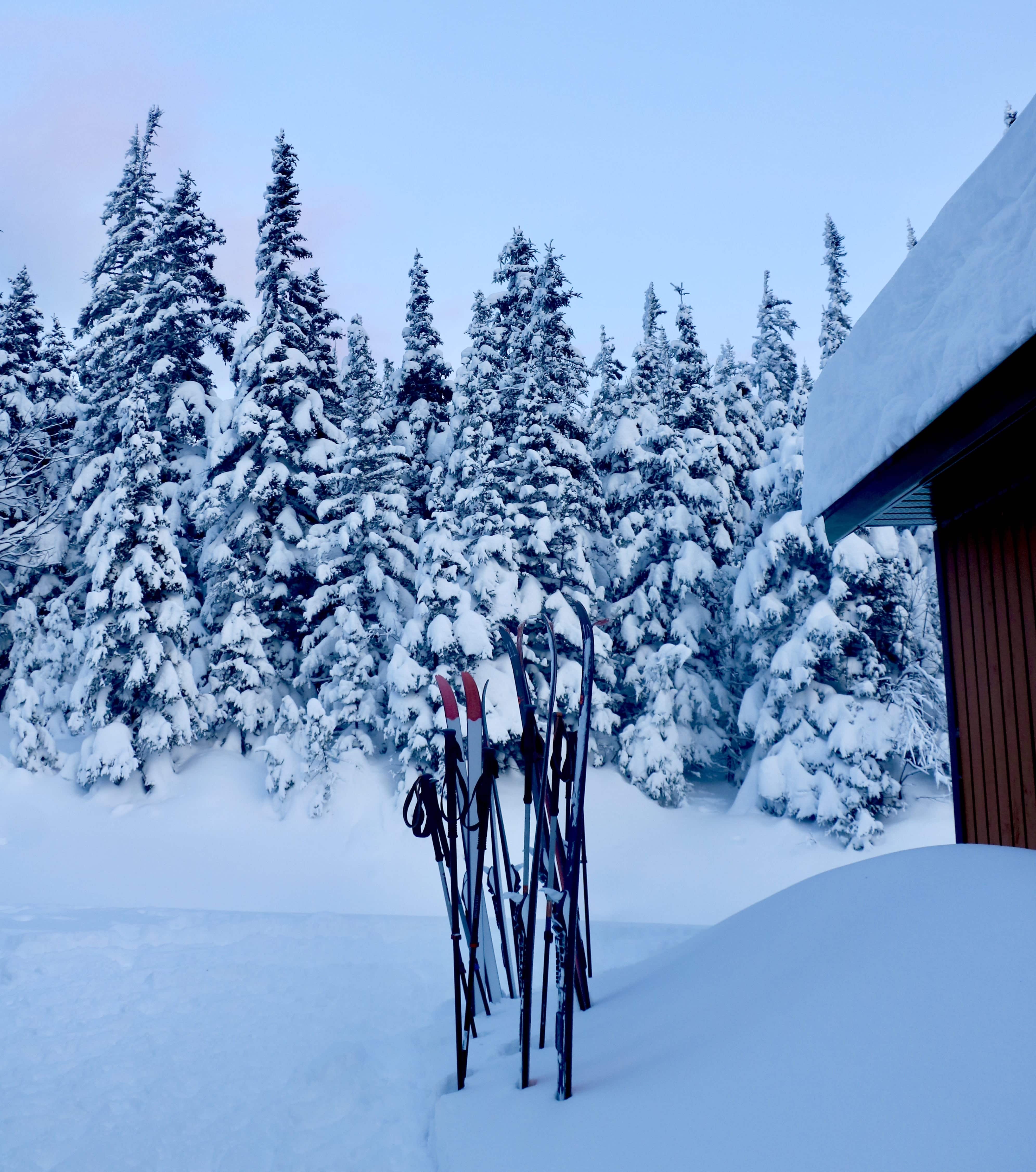 "We're very Quebec-focused in exploring new places and products," said Jenève unabashedly. "Definitely maple is something that comes up a lot because it's quintessentially Québécois! But one product we love is St. Laurent gin, which is from Rimouski. It's made with seaweed found in the area. So you discover the [product], and then you discover the seaweed and the extent to which it's a big production in the region. Being able to highlight those two aspects is always fun," she said passionately.
"One of my favourites is Km12," said Majorie, "because it's made with 12 aromatics from the forest in Saguenay. As a product, it doesn't get much more boreal than that." The girls told us they once stopped at kilometre 12 of Chemin Monts-Valins, where the makers draw the water for their gin. Is that type of trip common for them? "It's pretty standard for us," answered Jenève. "I'd say it's part of the full experience when we visit an area."
What adventures await Filles du Nord? Right now they're getting ready to head back home to Abitibi for an expedition in the Forêt récréative de Val-d'Or, where they'll do "some ice climbing, fatbiking, cross-country skiing—anything and everything! The world is our oyster," laughed Jenève. "We also have two all-women alpine touring events coming up in the Laurentians. Then, we'll criss-cross the Eastern Townships by ski. In March and April, it'll be spring skiing and après-ski, of course," she added. Winter is anything but boring with these girls!

For all the latest about their upcoming journeys, read their blog, follow them on Instagram and keep an eye on our social media [in the next few weeks]. And leave the cooler at home!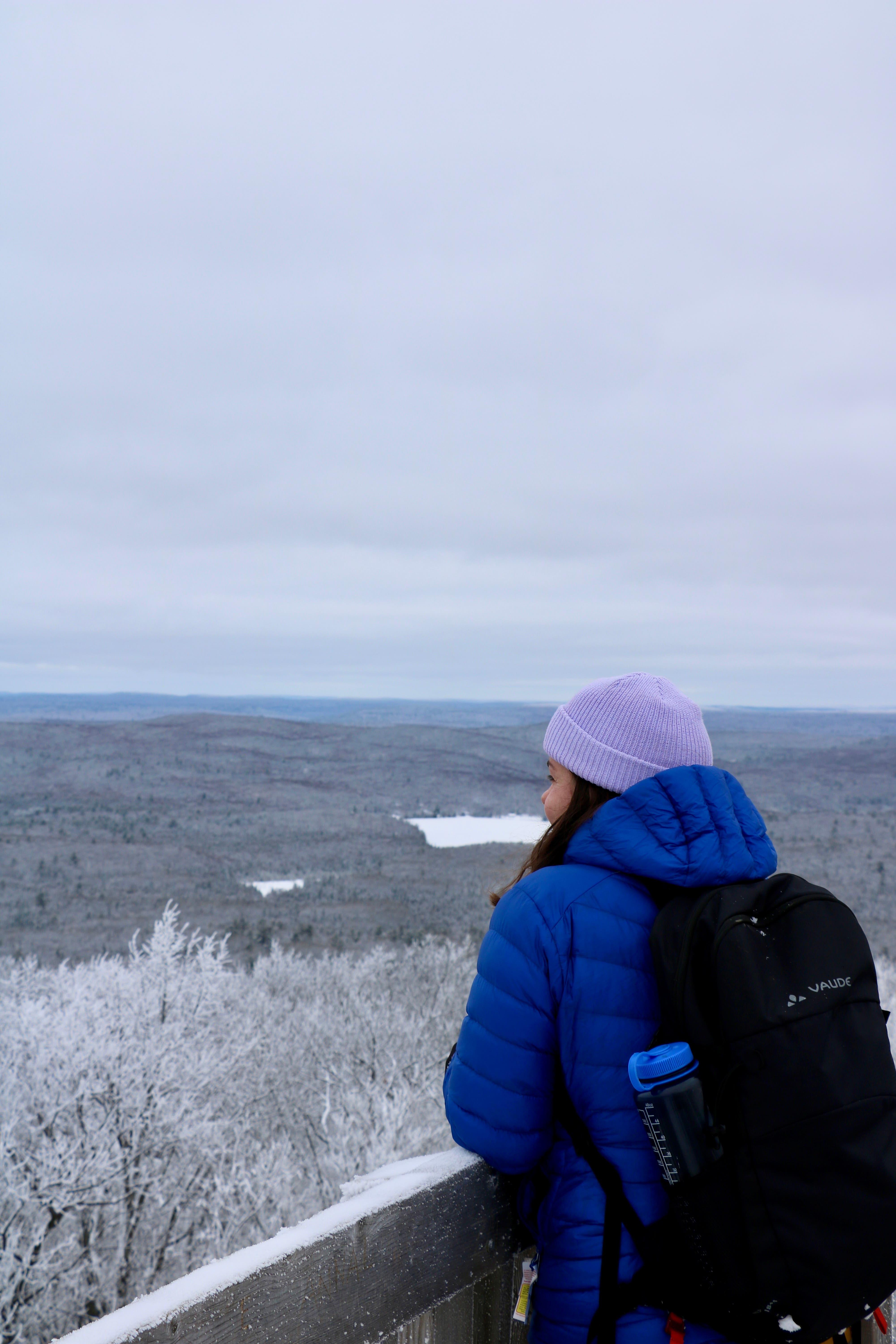 In the @fillesdunord's backpack

Noroi Brise Glace Gin & Tonic Spirit-based cooler

|

4 x 355 ml

Canada

,

Quebec

Available

Online

Available

In store

Coureur des Bois Cream beverage (maple)

|

750 ml

Canada

,

Quebec

Available

Online

Available

In store

Distillerie Mariana Saint-Crème Cream beverage

|

750 ml

Canada

,

Quebec

Available

Online

Available

In store

Distillerie du Fjord km12 Dry gin

|

750 ml

Canada

,

Quebec

Available

Online

Available

In store