Deluxe snack
Grilled cheese has come a long way from its original melted orange cheese slapped between two slices of white bread. Today, it graces the menus of trendy bistros and bars, featuring more sophisticated ingredients: goat cheese and fig chutney, mozzarella with blueberries, spinach and balsamic vinegar, even black truffles with honey and Taleggio. At home, try our quick-and-easy recipes.
Croque monsieur
The French version of a grilled-cheese sandwich, croque monsieur consists of two slices of bread – with ham and Gruyère in between – pan-fried in butter on both sides. The sandwich is sometimes topped with a cheese-based béchamel then broiled to melt the cheese.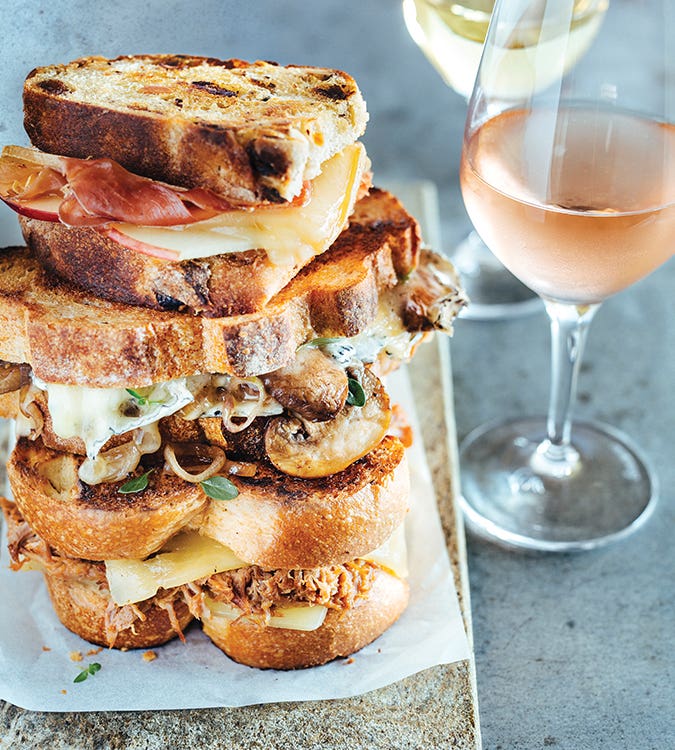 Preparation: 5 minutes
Cooking: 5 minutes
4 servings
Ingredients
8 slices of traditional cranberry and orange or three-fruit bread
60 g (2 oz.) butter, softened
8 slices of Vacherin cheese, sliced
8 thin slices of Bayonne ham (preferable) or prosciutto
2 apples, Royal Gala or Granny Smith, peeled, seeded and thinly sliced
Directions
Preheat oven to 65 °C (150 °F).
Heat a skillet to medium heat.
Spread some butter on one side of each slice of bread.
In the skillet, place a slice of bread buttered side down.
Place 1 slice of cheese on the slice of bread, 1 slice of ham, a few slices of apple, another slice of cheese, and finally a slice of bread, buttered side face up.
Press lightly with a spatula.
Cover and cook for about 2 minutes, until nicely browned.
Flip the sandwich, press it again, cover and cook for another 2 minutes.
Put in the oven.
Repeat the recipe.
Serve as soon as the 4 sandwiches are ready.
What to drink
We recommend a rosé here, Le Pive Gris. Its aromas of red berries and citrus peel will complement the flavours of the grilled cheese.
Available

Online

Available

In store
Mushroom and triple-cream cheese
Preparation: 15 minutes
Cooking: 15 minutes
4 servings
Ingredients
8 slices bread
60 mL (1/4 cup) + 15 mL (1 tbsp) butter, softened
8 slices Le Pleine Lune (or other triple-cream cheese)
227-mL (8-oz) package cremini mushrooms, thinly sliced
1 shallot, thinly sliced
15 mL (1 tbsp) thyme
Zest of 1 lemon
Salt and freshly ground pepper
Directions
Butter one side of each slice of bread.
Place two slices of cheese on the unbuttered side of four slices of bread.
Set aside.
In a large non-stick skillet, sauté the mushrooms and shallots over medium-high heat with 15 mL (1 tbsp) of butter for about 10 minutes, or until mushrooms are lightly browned.
Season with salt and pepper.
Add the thyme and lemon zest.
Stir.
Divide the mixture among the four slices of bread with cheese.
Top with the second slice of bread, buttered-side up.
Wipe the skillet with a paper towel and then add the sandwiches.
Grill three minutes per side over medium heat.
What to drink
Exuding aromas of melon and pear with earthy overtones, Wente Vineyards Morning Fog Chardonnay fits the bill nicely. The buttery texture of this American Chardonnay will echo the cheese's creaminess.
Available

Online

Available

In store
Preparation: 20 minutes + 24h refrigeration
Cooking: 4h to 4h30
4 servings
Ingredients
30 ml (2 tbsp.) pork seasoning (in the spice section of your supermarket)
15 ml (1 tbsp.) bourbon pepper seasoning for grilled meat (in the spice section of your supermarket)
30 ml (2 tbsp.) brown sugar
10 ml (2 tsp.) sea salt
1 pork shoulder roast, boned, about 1.4 kg (3 lb.)
30 ml (2 tbsp.) olive oil
15 ml (1 tbsp.) butter
4 medium onions, thinly sliced
250 ml (1 cup) BBQ sauce
8 slices of white bread
60 ml (1/4 cup) softened butter
45 ml (3 tbsp.) Dijon mustard
8 slices of strong cheddar
Directions
In a bowl, mix together the first four ingredients.
Remove the string from the roast and roll out. Rub the meat with the spices. Place the meat in a Dutch oven. Cover and refrigerate for about 24 hours.
Preheat the oven to 135°C (275°F).
Add 250 ml (1 cup) of water to the meat in the Dutch oven.
Cook in the oven, covered, for 4 to 4 1/2 hours, adding a bit of water if needed, until the meat pulls apart easily. Let cool a bit.
As the meat rests, in a skillet heat the oil and butter over medium-high heat.
Sauté the onions for about 15 minutes, stirring frequently, until caramelized. Set aside.
Once the meat is cool, remove the large pieces of fat. With two forks, pull the meat apart. Add the BBQ sauce and stir. Add the caramelized onion and stir again. You will have enough mixture to make the recipe once more.
You may freeze the excess meat if you are not planning to use it within a few days.
Make the grilled cheese and pork sandwiches, spreading butter on the outside of the slices of bread. Then spread some Dijon mustard on the inside. Place a slice of cheddar on the lower slice of the sandwich. Add the meat and top with another slice of cheese. Close the sandwich.
Heat a skillet over medium-high heat.
Grill covered, 1 sandwich at a time, for 2 to 3 minutes on each side. Adjust the heat if needed until nicely browned, making sure the cheese has melted. Serve hot.
What to drink
This Terratabac pairing will surprise and delight! Medium-bodied with fruity, smoky, and woodsy notes, it pairs perfectly with this version's richness.
Vignoble Saint-Thomas Terratabac 2020 Red wine

|

750 ml

Canada

,

Quebec

Available

Online

Available

In store
Tip: Try different kinds of bread, flavoured with hazelnuts, cranberries, olives, dates…
Be creative!