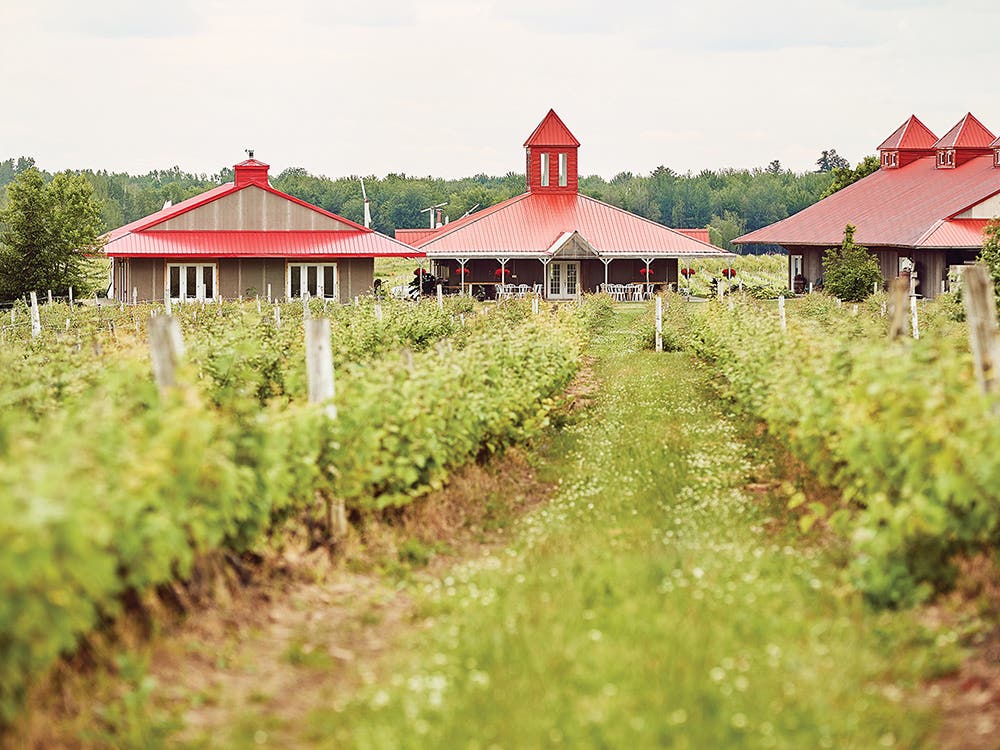 Living in Rougemont since 1983, the Lavoie family today grows grapes, apples and pears.
"As far as we're concerned," says estate co-owner and product manager Francis-Hugues Lavoie, "diversity is the name of the game. We grow apples, pears and grapes. We make apple cider, pear cider and wine in different styles: sparkling, still and fortified. Altogether, about 20 different products."
But lately, Lavoie is engaged more with apples, their hidden possibilities, and the booming cider market
Apples and hops
Lavoie, 34, is an agricultural engineer and the son of Francis, the ciderywinery founder. He worked with the cellarmaster to develop a new formula combining apples and hops. The result is a subtle, sparkling cider (sold in cans) called Hugues original in his honour.
This well-kept secret recently made its debut in the Domaine de Lavoie ready-to-drink line. "It's an unusual combination, since hops are traditionally associated with beer," says the sturdily built product manager. In this case, though, there's no hint of bitterness.
Infused at low temperatures over a lengthy period, the hops serve to bring out the apples' inherent characteristics – smooth Cortland and crisp McIntosh – all suffused in subtle notes of rosemary. "We hope it will appeal to a young and cool clientele. It's dry, has a low sugar content and just 6.5 percent ABV.".
Domaine de Lavoie Hugues Apple & Hop Sparkling cider

|

4 x 473 ml

Canada

,

Quebec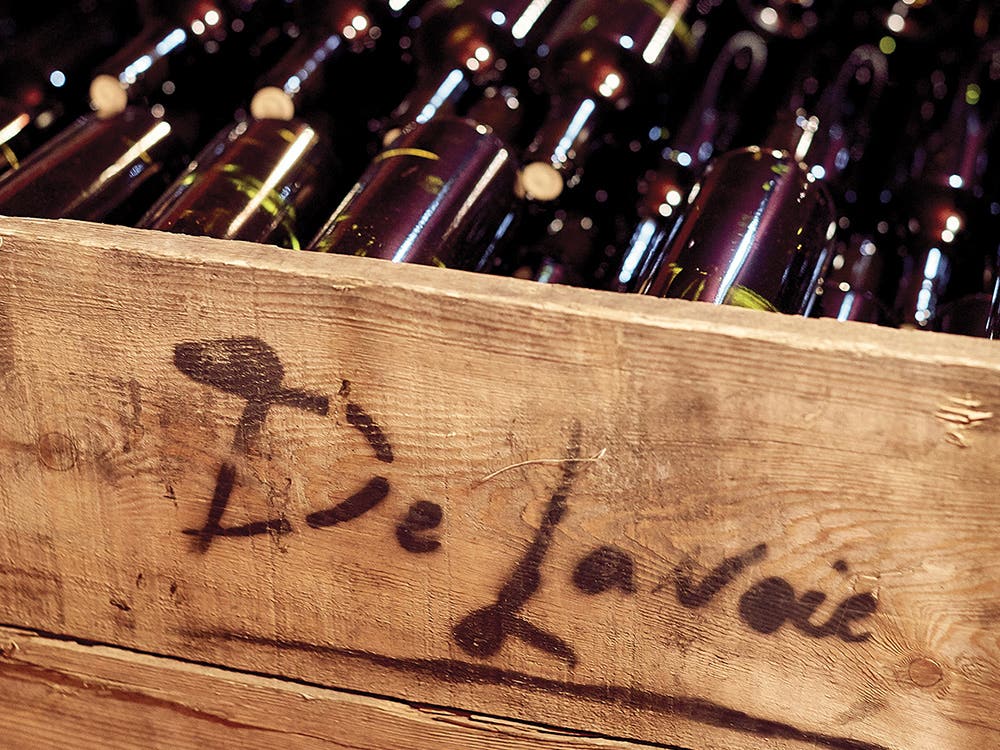 Daring challenge
Innovation involves risks. Francis-Hugues prefers referring to it as business opportunities. Until he joined the family firm in 2008, all Domaine de Lavoie products were traditional, fashioned in the image of Lavoie père. "I appreciate them, but they're not me," he confesses. "I wanted to create something modern and more festive. My father readily agreed, provided I took care of everything."
So Francis-Hugues plunged right in. He launched a new line of sparkling ciders in 2016, starting with Hugues Original. Now his challenge is to integrate it into the drinking habits of Quebecers, like that of beer. "Hugues is a versatile drink, good for every occasion – as an aperitif or with food," he says. "It pairs just as well with a cod brandade as it does with chicken or fried calamari."
Bulles d'automne - Domaine de Lavoie classic
This late-harvest sparkling cider boasts crisp-apple freshness and bubbles obtained using the Charmat method (second fermentation in a sealed vat). Not too sweet, not too unctuous, this cider is ideal for brunch (combine it with orange juice to make a mimosa) or as a welcome cocktail.
Domaine de Lavoie Bulles d'Automne Sparkling cider

|

750 ml

Canada

,

Quebec

Available

Online

Available

In store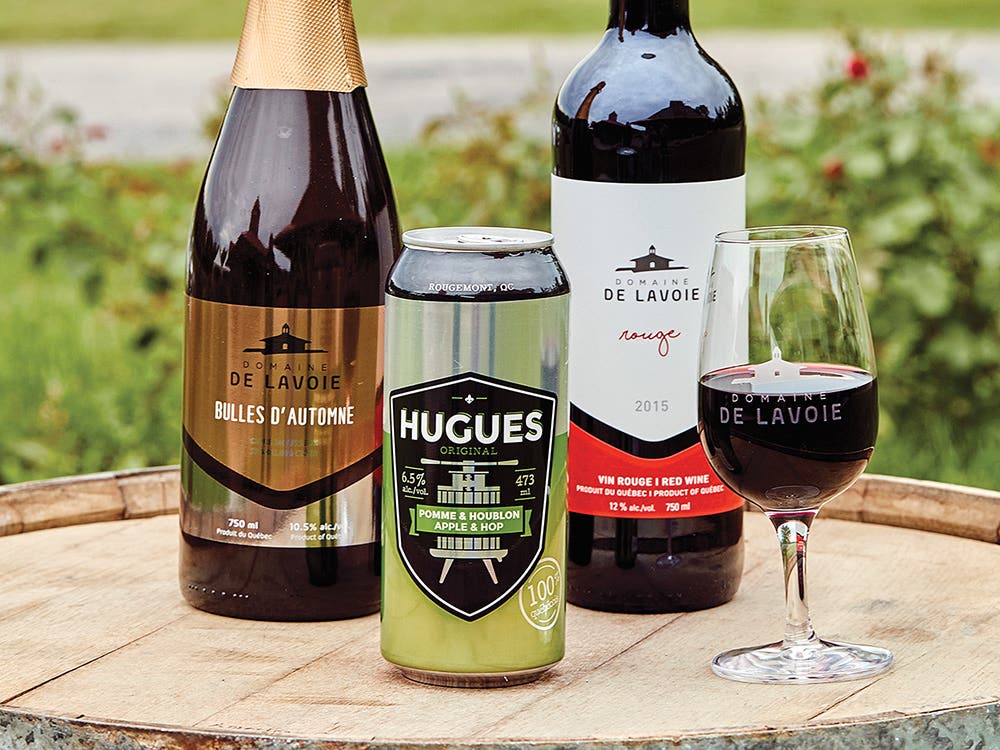 Thinking big
The raison d'être behind Domaine de Lavoie has always been about taking chances, and forging ahead. It took audacity for Lavoie's parents architect and physical education teacher, respectively, to uproot the family in Matapédia and head for Rougemont to live out their dream of running, and raising children on, a newly acquired apple orchard.
The journey began on a mellow autumn day in the 1970s when the couple, then university students in Montreal, discovered the charm of apple trees. All that time, their worlds had revolved only around wheat and barley. Dreams became reality in 1983. Over the ensuing years, thousands of apple trees were planted, followed by grapevines and pear trees.
Eventually the family acquired more land. Today, they own four properties: EFFeL the family orchard, Domaine de Lavoie, La Pommeraie d'Or and Clos Saint-Denis. Some 20,000 apple trees, 83,000 grapevines and 4,000 pear trees now stand on the southern slope of Mont Rougemont, producing some 90,000 bottles each of wine and delicious cider.
Domaine de Lavoie rouge
This all-purpose red wine is neither too full-bodied nor too light. It was created in 2002, soon after the Domaine de Lavoie winery was opened. Made from a blend of three hybrid grapes – Baco Noir, Frontenac Noir and Maréchal Foch – and matured in oak, it exudes aromas of vanilla, dry fruit and cocoa. It pairs well with barbecued fare, pasta, cheese and charcuteries.
Domaine de Lavoie 2021 Red wine

|

750 ml

Canada

,

Quebec

Available

Online

Available

In store
Photography : Julien Faugère