Patrice Plante began his professional career not in the subdued atmosphere of a bar, but rather behind a desk as a webmaster for the Government of Quebec. Although he came to understand in the space of a few years that his destiny lay elsewhere, he maintains a lasting memory of his colleagues, who gave him the confidence he needed to set off and conquer his dreams. "Those people had a lot of love and respect for me. Self-confidence is contagious, and it overflowed into every other aspect of my life," he explains.
The rest of his career path is impressive as much for its productivity as for its surprising meandering turns. In 2010, he and his best friend created the web magazine Québec t'aime before being recruited by the editor-in-chief of Voir magazine. It was while he occupied the position of food critic at Voir that he discovered his passion for restaurants, which pushed him to enrol at a hospitality school in Montréal.
In parallel with his studies, Plante launched a series of projects and co-founded the Tripes et Caviar event, for which he organized theme nights that celebrated Montréal cuisine. It was then that he had an unexpected revelation. "I realized that I loved to make people feel welcome and that I would prefer serving them. Chefs needed to stay in the kitchen, while mixologists benefited from being close to their customers. This initiative led me to experiment with food and cocktail pairings."
His passion for mixology never left him. After travelling around the world to refine his knowledge amongst the industry's star players, he returned to Québec with solid credentials. In the meantime Plante had also made a name for himself in the field through his many social media posts documenting his surprising journey. He attained the position of bar manager at Atelier Tartares et Cocktails in Quebec City, while increasing his appearances on radio and TV to initiate his audience into the wonders of mixology, which quickly earned him the nickname Monsieur Cocktail.
While Atelier Tartares et Cocktails was successful, Plante decided to pursue his mission of democratizing cocktail-making by founding Monsieur Cocktail in 2015. In accordance with his philosophy, here are a few of his tips for creating the perfect home bar for the holidays.
Holiday tips and tricks
Liven up your mimosas
"I like to add a dash of a bitter liqueur. To mix things up, don't hesitate to swap out the orange juice for grapefruit juice. The result is delicious!"
Create a gin bar
"If your loved ones like gin, make them happy by providing a home gin bar. Choose your favourite SAQ gin taste tags and arrange your table with various liqueurs, juices, and tonics for creating delicious mixes."
Espresso martini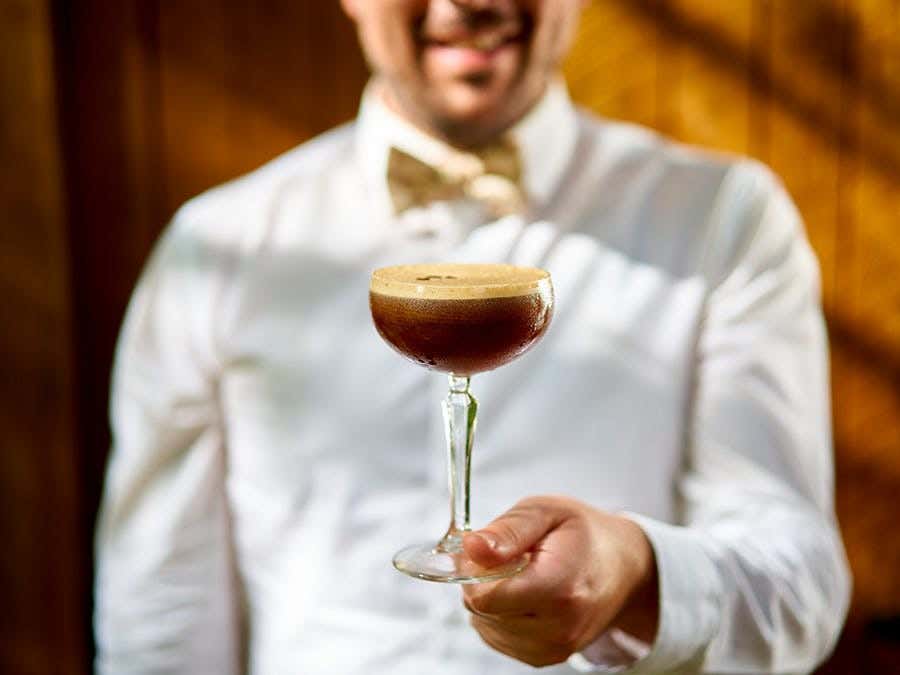 Ingredients
30 ml (1 oz.) short espresso
60 ml (2 oz.) vodka
20 ml (3/4 oz.) cocoa liqueur
15 ml (1/2 oz.) orange liqueur
Coffee beans and nutmeg (for garnish)
Ice cubes
Preparation
Mix all the ingredients in an ice-filled shaker. Strain into a pre-chilled cup. Garnish with three coffee beans and nutmeg shavings. Makes 1 glass
Suggestion: Personalize the cocktail in your own way by mixing two syrups or liqueurs. For example, you can add 1/2 oz. (15 ml) of coffee syrup and 1/2 oz. (15 ml) of raspberry syrup. The possibilities are infinite!
Home bar essentials
The basics
"Plan for a section of the basics that everyone likes. With a budget of around $150 you can serve the classics. For even more versatility, get a vodka, a gin, an amber rum, a whisky, and an orange liqueur. Also add a few syrups and liqueurs for making certain traditional cocktails, like a Bloody Mary, a Cosmo, or a gin tonic."
Juices and other ingredients
"I suggest going with cranberry juice, Clamato, tonic water, ginger beer, and grenadine. With that, you can satisfy most everyone!"
Jingle Bells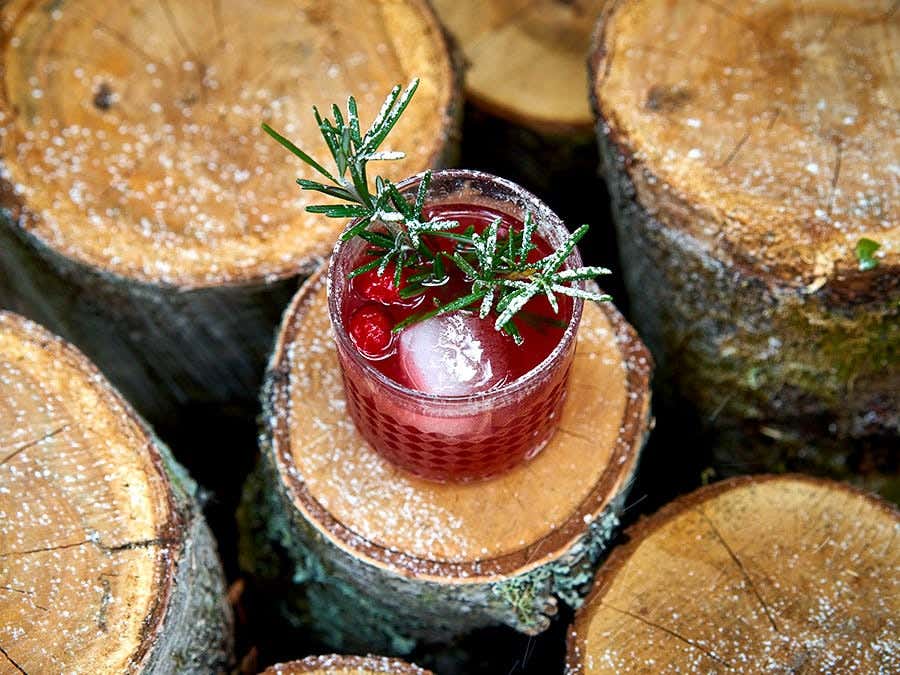 Ingredients
60 ml (2 oz.) rosemary-flavoured vodka*
15 ml (1/2 oz.) maple syrup
15 ml (1/2 oz.) lime juice
8 ml (1/4 oz.) cranberry juice
2 slices of ginger
Rosemary, cranberries, and icing sugar (for garnish)
Preparation
In a shaker, crush the ginger with the maple syrup. Add all the other ingredients (except the garnishes) and mix with ice. Strain into an old-fashioned glass containing one large ice cube. Garnish with a rosemary sprig sprinkled with icing sugar, and frozen cranberries. Makes 1 glass
* Rosemary-flavoured vodka
Ingredients
250 ml (1 cup) vodka
2 fresh rosemary sprigs
Preparation
In an airtight container, place the rosemary into the vodka. Store in a dark, dry place for 24 hours. Remove the rosemary. Your vodka keeps indefinitely.
Pecan pie eggnog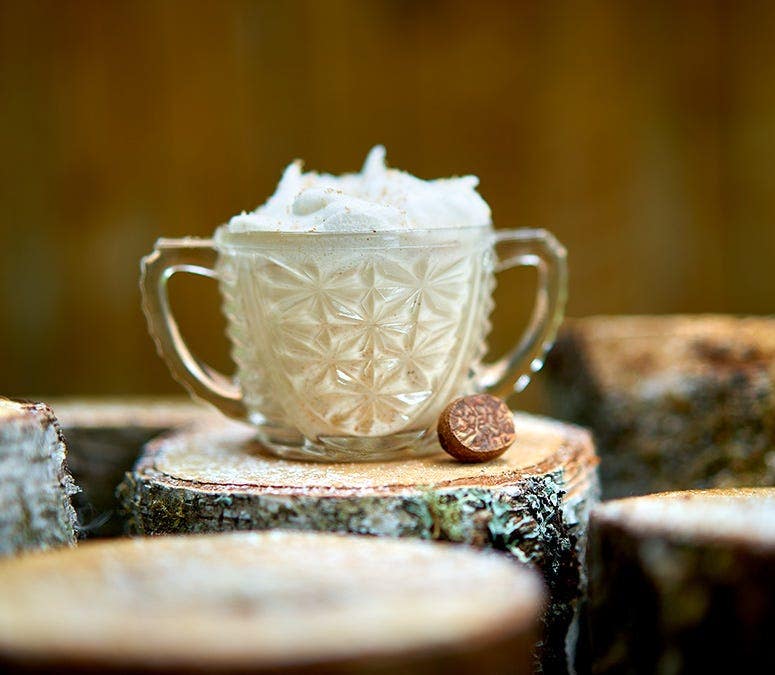 Ingredients
180 ml (6 oz.) vodka
120 ml (4 oz.) homemade maple and pecan syrup*
180 ml (3/4 cup) 35% cream
500 ml (2 cups) milk
3 eggs
80 ml (1/3 cup) sugar
7.5 ml (1 1/2 tsp.) ground cinnamon
5 ml (1 tsp.) ground nutmeg
Nutmeg shavings (for garnish)
Preparation
Separate the egg yokes and whites into two bowls. Whisk the egg yokes with 60 ml (¼ cup) of sugar until smooth. Add the egg yoke mixture, vodka, syrup, cream, milk, cinnamon, and nutmeg into a punch bowl or serving bowl. Mix well. In the bowl of egg whites, add the rest of the sugar and whisk until soft peaks form. Pour 2/3 of the meringue into the serving bowl. Divide among six mugs. Garnish each mug with a ladle of the remaining meringue and nutmeg shavings. Makes 6
* Homemade maple and pecan syrup
Ingredients
180 ml (3/4 cup) maple syrup
125 ml (1/2 cup) water
80 ml (1/3 cup) sugar
180 ml (3/4 cup) unsweetened almond milk
100 g. plain pecans
Preparation
Lightly roast the pecans in a pan. Add all the ingredients into a food processor and pulse at high speed for 60 seconds. Strain the mixture through a fine sieve and store in an airtight container or jar. The syrup keeps in the fridge for up to one month.