In fact, the strapping lad from the Gergovie plateau (deep in France) has worked all of these jobs at some point, until he eventually, somewhat by chance, fell in love with viticulture.
The first person to ever grow vines for commercial purposes in Québec, he is also the man behind ice cider. We meet him on his very biodiverse land.
As a child, Christian Barthomeuf would spend his summers in Cantal, a medieval region in France with lakes and volcanoes, in an area free of tractors and chemicals. "We would work with cattle and ploughs. My grandmother would use the cows' and sheep's excrement as fertilizer. It offered incredible fruit and vegetables."
With these fond childhood memories in mind, the winemaker takes us on a tour of his Clos Saragnat property, in Frelighsburg, at the foot of Mount Pinacle. Walking through the apple trees, vines, pear trees, plum trees, and vegetable plots, we pick pesticide-free, flavourful apples. "We've had tons this year! We've shaken the trees three times already," he says with pride.
Of the 35 hectares that make up his sanctuary, only 4 are actually cultivated. The rest is home to chicken coops, horse pastures, wild zones, and ponds for the birds. Clearly, all this biodiversity is proving fruitful. "When I bought the orchard in 2002, it was in ruins, and full of chemicals. My wife Louise Dupuis and I replanted everything, we rebuilt it all. We eventually turned to what I like to call fundamental cultivation, which requires no human intervention. The chickens do the work by scratching the ground and fertilizing it with their excrement. It took all of 12 years to bring back the 30,000 insect species from the region. We can hear them, but we no longer see them. That's the beauty of nature."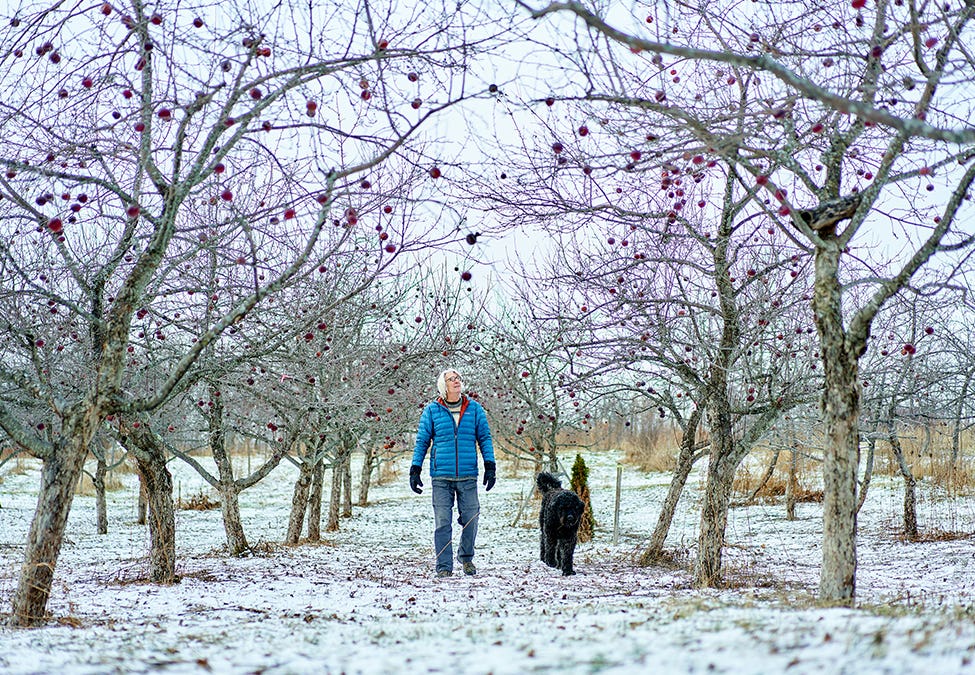 Vineland quality
When he bought his first farm in 1978, in Dunham, Barthomeuf was a long ways from practicing this type of regenerative agriculture. He was managing two stereo stores – one in Saint-Jean and another in Montreal. "My neighbours were always on me, telling me that I had the perfect land to turn into a vineyard. And I would do nothing about it; I was too busy running my business."
But the seed was planted. A statement of thermal units collected via a special thermometer over the course of several months eventually convinced him. His land was on par with the Vineland soil, in the Niagara region. "If the agronomist who took the measurements had compared my land to Bananaland, I would have planted bananas," he jokes. It's 1980, and Barthomeuf baptized his plot Domaine des Côtes d'ardoise. There, he plants Chaunac cuttings – a first in Québec – and this doesn't go unnoticed. He is seen as a genius! "It took years for the city of Dunham to recognize my vineyard. Even now, some locals question my work. But I did what I wanted!"
In spring 1983, he sells his first bottles in the most perfectly illegal way – the first artisanal production permits were only issued in 1985. Broke, he was forced to leave his vineyard behind, selling it to Dr. Jacques Papillon, but he continued to run it. And successfully, too: his small Seyval Carte d'Or 1985 vintage won the province's top honours at the 1986 Sélections mondiales awards in the country wines category, ahead of a California and a French wine.
The following year, he created a new red, the Primardoise, which was a huge hit at the Salon international des vins de Montréal, and caps a new Beaujolais during a blind taste test. But once again, the production cost is at least twice as much as the sale price. "Despite our efforts, the cost of our wines – like the cost of all Québec wines – was not competitive on the international market. I wasn't ready for the big leagues."
THE HISTORY OF QUÉBEC VINES IN NUMBERS1
---
1860
There are approximately 30 vineyards in southern Québec, spanning some 40 hectares. These eventually disappear in of the 19th century's last decade.
In the 20th century
It's the return of vineyards in Québec, with close to 50 vineyards on the coast and south of the Saint-Lawrence. They produce some 40,000 bottles of wine per year.
From the end of the 1970s to today
Viticulture in Québec goes from a few vine acres to more than 1,000 hectares. Conversely, in 1935, the surface area for all vineyards, commercial or not, was less than 2 hectares.
Since 1992
Commercial vineyards gain traction, going from 11 vineyards in operation in 1989 to 21 by the end of 1992, 28 in 1995, and 34 in 1997. We also note a relative geographical concentration in the Montérégie and western Estrie regions.
In the 2000s
There are 33 commercial vineyards in operation in Québec.
Spirit and ice
That's how, in 1989, the winemaker rebels and turns to ice wine – another first in Québec – thrilled to no longer be competing with Italy, Spain, and Portugal. His nectar quickly gains international recognition. Unhappy with this new feat, and tired of freezing his fingers while picking grapes, he starts thinking about using apples instead. He gets four bins of fruit from his neighbour, freezes them in the garden shed, and begins pressing them manually. "These days, with 800 pounds, I yield 50 bottles. At the time, I could barely fill up a gallon!" His ice cider, which was initially overlooked – cider only became popular in 1991 – made quite an impression, thanks to the creator's cleverness, who introduced it as an "apple ice wine" at his Atwater market kiosk
Over the years, Barthomeuf put his talent to the service of cideries and won multiple awards and recognitions for his invention, a nectar that has become emblematic of our terroir and Nordic character. Now at the reigns of Clos Saragnat with his wife Louise, he still uses organic frozen apples from the tree. A rebellious farmer,1 he takes pride in harvesting fruit without the use of "horrible, useless" chemicals, just like his grandparents. A visionary, he practices degrowth – living comfortably by producing only what he needs. But that's a story for his next book…
Clos Saragnat Avalanche 2017 Ice cider

|

200 ml

Canada

,

Quebec

Available

Online

Available

In store
---
1Source:Frédéric Lasserre, "L'essor du vignoble au Québec Histoire de climats et de goûts," Cybergeo: European Journal of Geography [Online], Politique, Culture, Représentations, section 190, published online on April 23, 2001.
2Autoportrait d'un paysan rebelle – Une histoire de pommes, de vin et de crottin, Les éditions du passage, 232p., 2020.
Photos: Julien Faugère
---