Snapshot
Located in Havelock, close to the U.S. border, the Vignoble du Marathonien is nestled in a beautiful region of valleys that cyclists and runners adore—and the winery's name doesn't fall far from owner Jean Joly's loves, himself a marathon runner. Nowadays though, Joly's passion has turned to winemaking, full time.
His late-harvests wines are beloved abroad, and he made his name with outstanding ice wines, reds, and whites, all of which have earned accolades including 50 gold medals, and Grand Or medals.
An enthusiastic cheerleader and defender of Quebec-made wines (that still often face prejudgement!) Joly oversaw Quebec wine certification. He also represents small-batch and artisanal alcoholic beverage producers on the Conseil des appellations réservées et des termes valorisants, an organization responsible for future Quebec wine appellations.
Who?
Jean Joly, a retired engineer, bought the winery with spouse Line, 25 years ago. "For us, it was a dream and a chance to have a family business. I've never had to pay anyone to harvest grapes because for us, it's celebratory and fun—winemaking here is a pleasure."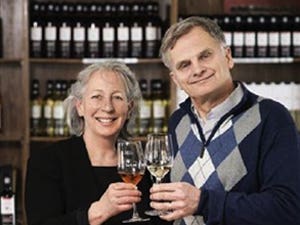 Jean Joly's winery is a family affair. "Marathonien is my wife and I, three sons, a daughter, and a Lausanne-born son-in-law—we wanted our daughter to stay in Quebec, so we hired her husband!"
Path
Of the three main elements of winemaking, Joly has mastered viticulture and vinification, and is now turning his sights to marketing. "I want to keep breaking down the barriers between the public and Quebec-made wines. Winemaking is actually a wonderful way to be a part of Quebecois culture."
Philosophy
The former marathon runner (he's completed the Boston marathon three times, and Montreal's marathon seven times!) compares winemaking to running: "Making wine, you need to have stamina, the desire to succeed, and a bit of craziness! The rest you can learn, and here in Quebec, our winemaking techniques are putting us on the winemaking scene."
Wine vision
"A Quebec-made wine can resemble a wine from the Loire, or Alsace. While it's good to have points of comparison, a Quebec Seyval Blanc also needs to have its own personality, in order to stand out..A Chardonnay or Gewurztraminer, those are clearly recognizable!"