Pairing ideas abound when it comes to the humble sausage and its almost infinite variety of sizes, flavours and spices. Should you be uncertain, here's a way to help you find the right taste-tag match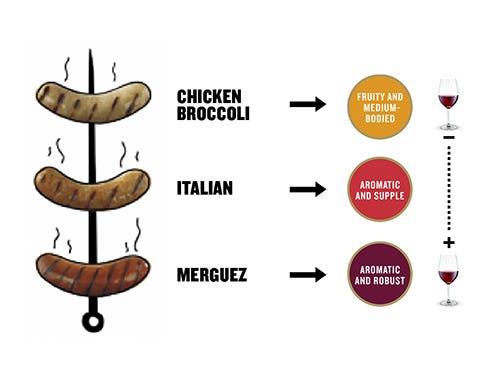 Available

Online

Available

In store
Santa Cristina – fruity and medium-bodied
An Italian wine with an intense ruby hue, it has delicate notes of red fruit, mild spices and flowers. It leaves a pleasant, fresh feeling on the tongue. Served with chicken-and-broccoli sausages, it makes an ideal partner for this mixture of flavours.
Cono sur reserva pinot noir – aromatic and supple
This Pinot noir's bouquet overflows with red berries and subtle spicy notes. The wine is pleasantly fresh with soft tannins. Hints of pepper and raspberry top it all off.
Not available

Online

Available

In store
Available

Online

Available

In store
Shiraz Koonunga Hill – aromatic and robust
A powerful nose suffused with eucalyptus and blackberries, this Australian red allows you to detect hints of ripe red fruit. Its acidity is subtle, the tannins well rounded. So, order spicy dishes with impunity – there's no chance of burning your tongue.Trust us.