For an simple and effective deposit-return system
Changing the world a bottle at a time
We're almost there! Long demanded by Quebecers, return deposits on wine and spirits bottles are about to become a reality across Quebec. Starting in the fall of 2022, everyone will be able to return their beverage containers and improve our recycling of water bottles, milk cartons and, of course, wine and spirits bottles.
Return your bottles to any of quebec's seven pilot projects
Focus on three of the most innovative projects
Curious about how the pilot projects are set up across Quebec? Here's an overview of three of the most innovative.
1. Châteauguay
The Châteauguay pilot project stands out by being the only standalone drop-off facility. Located in a parking lot, it houses 2 state-of-the-art reverse vending machines that accept all containers* currently included or soon to be included in the deposit-return system.
*Except refillable beer bottles.
2. Terrebonne
Set up in the SAQ Dépôt store in Terrebonne, this drop-off location is unique in having a reverse vending machine in the store's entrance area. The returned containers are whisked away for automatic sorting in a container outside the store. The container is insulated and heated and cooled as needed to maintain the sorting equipment in good working order.
3. Granby
The Granby drop-off location is the largest of the pilot projects. It alone has handled nearly 30% of the material recovered to date.
Watch the Radio-Canada Estrie report (in French only)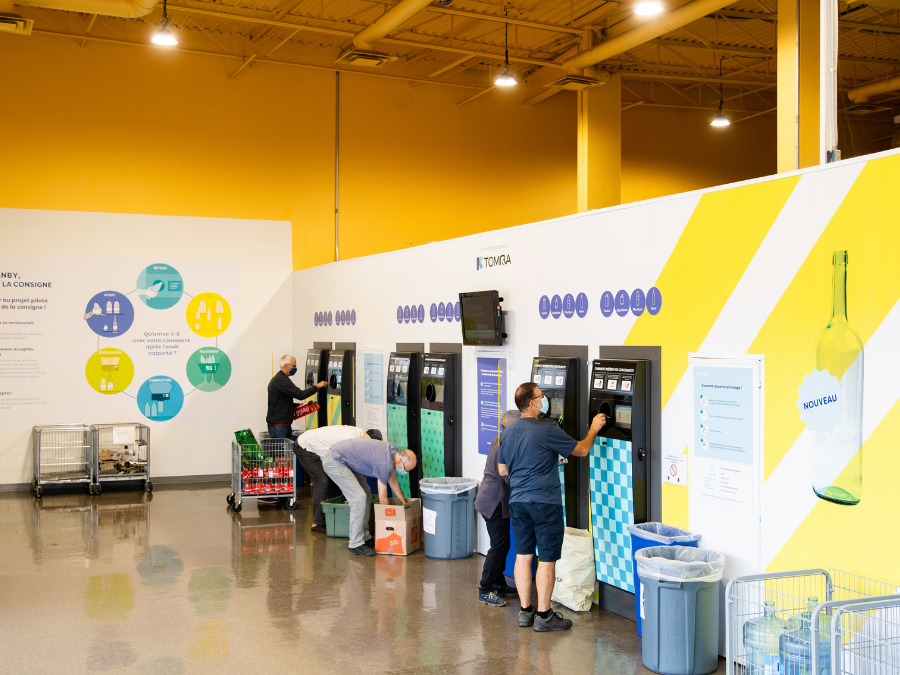 Influencing tomorrow's deposit-return system
Now's the time to act! Take part in the pilot projects by bringing your containers to a drop-off location. Your participation is essential to finding the best solutions for the expanded deposit-return system. Thanks for turning out in force!