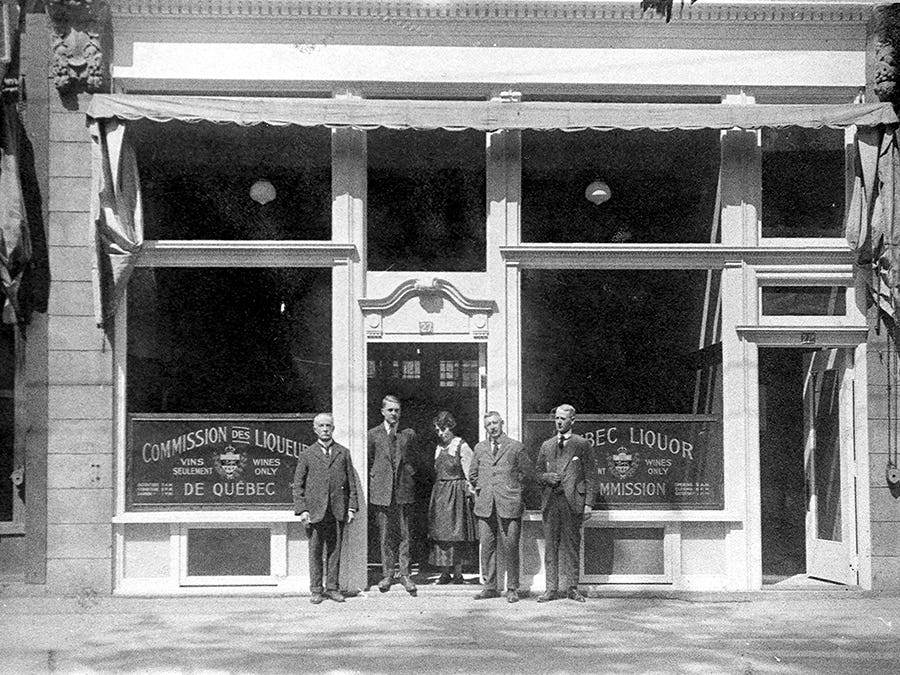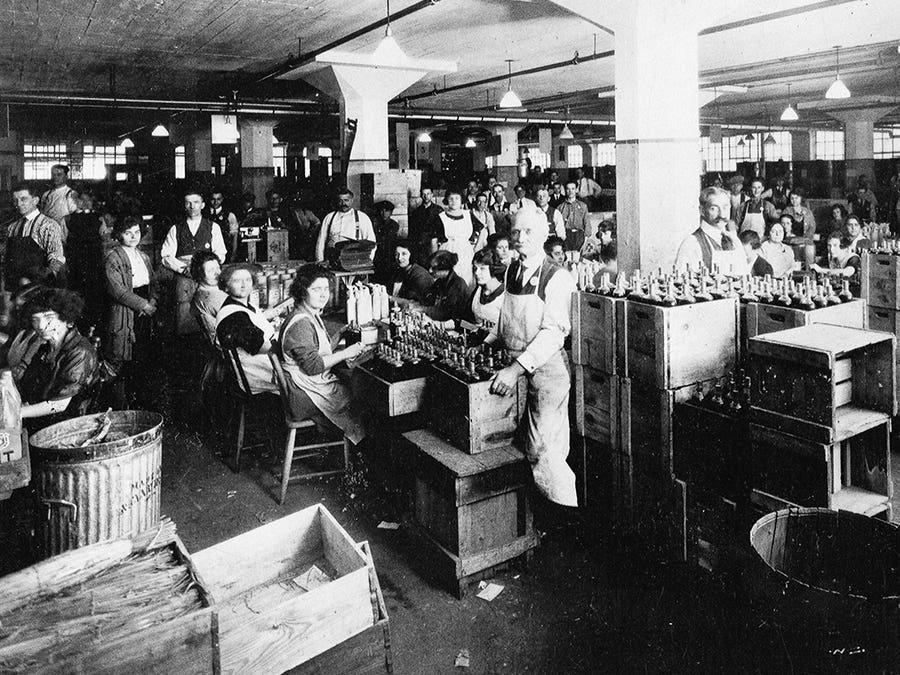 In 1921, the law on alcoholic beverages led to the official creation of the Commission des liqueurs de Québec, providing the government with a monopoly on the importation, transport, and sale of alcohol. In addition, the government would now oversee the distribution of permits to hotels, restaurants, clubs, and taverns. Evidently, this required a total reorganization of Québec's alcohol industry. The task was monumental for the new Commission, established in the former prison of Pied-du-Courant in Montréal. The first step was to buy back private company stocks and centralize distribution. As of May 1, 1921, the Commission had opened 53 new stores and hired some 415 people in the first year.
The good years
Despite its uninviting appearance, the Commission des liqueurs did great business. After net revenues of a little over 4 million dollars in 1921-1922, it made more than 10 million dollars in 1929-1930. This last period was the organization's best, as its stores reaped the benefits of the prohibition in the US. For 1933-1934, revenues were closer to 5 million dollars, which is nothing to scoff at. During its first nine years, the Commission des liqueurs paid an average of 6 million dollars to the State, whereas in the previous years – from 1909 to 1918 – the various private organizations that ran this industry had only paid an average of $800,000 per year.
Wine over spirits
One of the mandates of the Commission was to ensure a regular supply and offer quality products. During the first few years, it pushed customers to consume wine rather than spirits. As stated in the first annual report, the reason for this was to progressively lead them to using a less harmful, more affordable alternative. The Commission also aimed to limit spirits purchases. Whenever they would visit the store, customers could buy as many bottles of wine as they wanted, but only one bottle of spirit. The strategy failed, however, as Quebecers preferred stronger drinks like whisky or gin. In an effort to offer more options, the Commission would encourage the purchase of different wines, including fortified, flavoured, and sweet wines, such as Sauternes, Portos, Xérès, and Vermouths. Consumers were especially fond of these last four categories, which in 1926 represented a little over 80% of wine sales.
To push the notion of control even further, when the Commission des liqueurs was created, a lab was also set up to ensure products met quality standards before being sent to the stores. In 1923-1924, the lab reportedly performed some 2,155 analyses.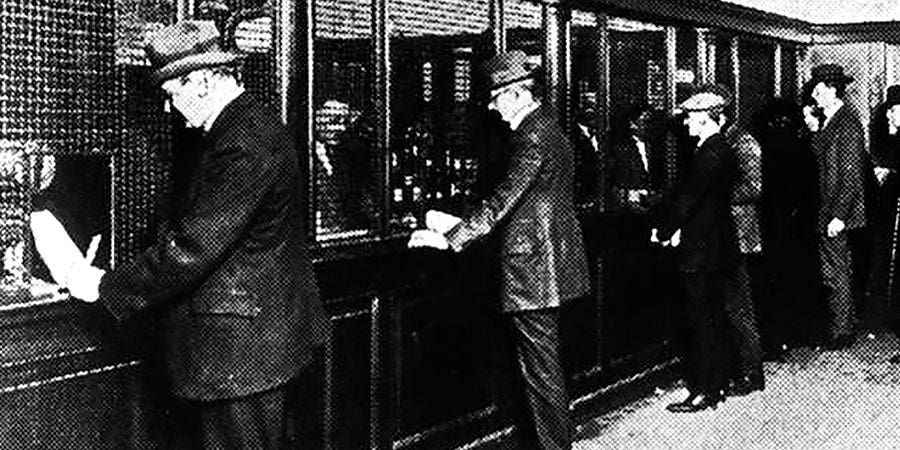 What did the first stores look like?
The first Commission des liqueurs stores were a far cry from the Société des alcools we know today — with taste tags, products classified by region, refrigerated sections, and even direct access to the products themselves. In fact, the Commission's stores looked much colder. The reason for this was to look uninviting, so as not to encourage alcohol consumption. Inside, the colours were dark and sombre, and under no circumstance were customers allowed to touch the bottles. To order, they would make their way to a counter fixed with a wire divider, similar to that of a confessional, and choose their desired products from a displayed list. An employee would then hand them their bottles, wrapped in opaque paper, and the customer would pay and leave. Let's just say the customer experience was nothing like it is today.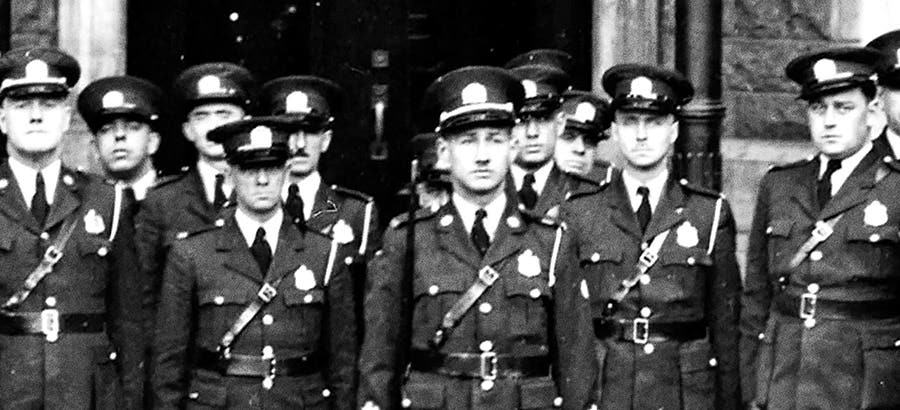 The liqueur police
In 1921, a police force was set up to support and manage the alcohol industry. In short, they dealt with contraband and illegal alcohol production. Officially known as the Service de surveillance, it was quickly nicknamed les liqueurs before being baptized the Police des liqueurs – the liqueur police – in 1934. The force consisted of 35 officers, sub-inspectors, and inspectors responsible for investigating, searching, arresting, and fining.
Conrad Labelle, Québec's most famous bootlegger
A baker by profession, Conrad Labelle lived right by the Canadian-American border, and quickly became one of Québec's most famous bootleggers. Some even thought of him as the Al Capone of Québec. His illegal dealings reportedly earned him up to $80,000... a night! The alcohol industry caused rising tensions across the province, and in some cases, suspicious deaths. In 1928, the police chief in Coaticook, in the Eastern Townships, was found dead in very mysterious circumstances. Royal Canadian Mounted Police (RCMP officers) would work together to try to stop the threat, but the wave of wrongdoing seemed just too big.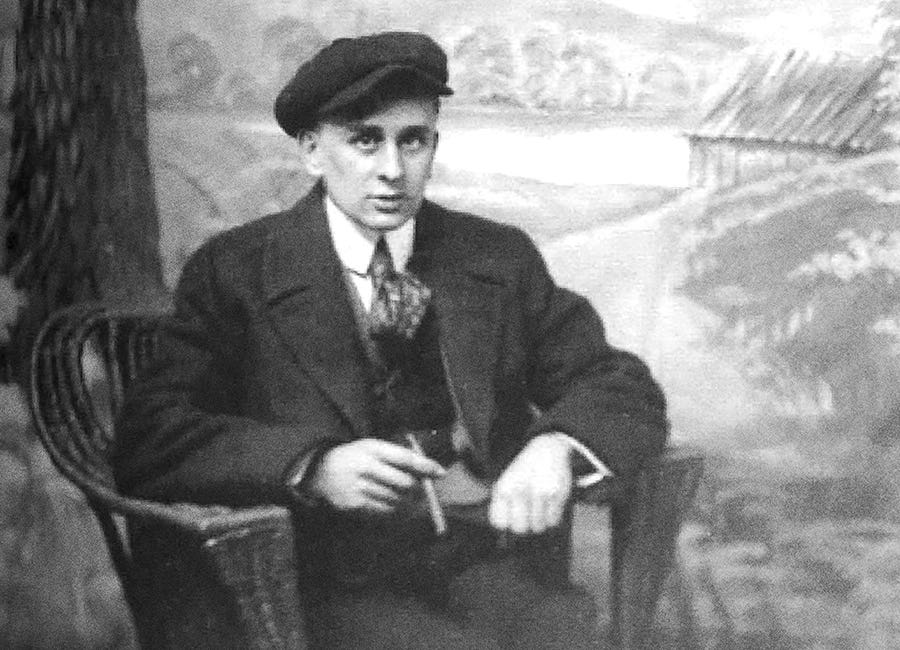 Where does the term "bootlegger" come from?
Smugglers were often referred to as bootleggers because many of them would hide a small bottle of alcohol in their boots. The liquor police had a monumental task, especially given that there were many bootleggers. The police would quickly focus their attention on Québec regions along the US border, like the Eastern Townships, Témiscouata, or the Montérégie. The prohibition brought more and more Americans to Québec in an attempt to bring alcohol back illegally across the border. However, Québec bootleggers also wanted in on the windfalls of this illegal business.
Montréal, an open city
The American prohibition created an upsurge of tourists from the United States. Montréal became a destination of choice, with people flocking to the Red Light district, home to clubs of all genres. Montréal was viewed as an "open city," as illegal commerce gained even more traction. In July 1920, Wilmington, Delaware's Sunday Morning Star featured an article titled Canada Now Mecca of Thirsty Souls Many American Vacationists Attracted by Montreal's Partial Prohibition1. In 1926, some 265,000 drivers crossed the Québec border, with this figure reaching 637,500 in 1929. The song Goodbye Broadway, Hello Montreal!, released in 1928, is a great reflection of Americans' economic, social, and cultural interest in the city.
However, in 1933, the Blaine Act put an end to the prohibition in the United States and alcohol sales at Commission des liqueurs began to drop drastically as a result. The situation eventually returned somewhat to normal, with sales going from 28 million dollars in 1929-1930 to 18 million dollars in 1939-1940.
Then, the Second World War hit the Canadian industry hard, and the Commission des liqueurs was not spared by these hardships. Alcohol, a raw substance in the manufacturing and pharmaceutical industries, becomes scarcer for the purpose of everyday consumption. A ration coupon system was implemented to ensure access. However, it wasn't long before coupon trafficking began, and the Commission made sure to warn its employees not to take part in this illegal business, which could lead to serious sanctions and dismissal.

1In Canada, Montréal became a Mecca for American tourists taking advantage of a limited prohibition.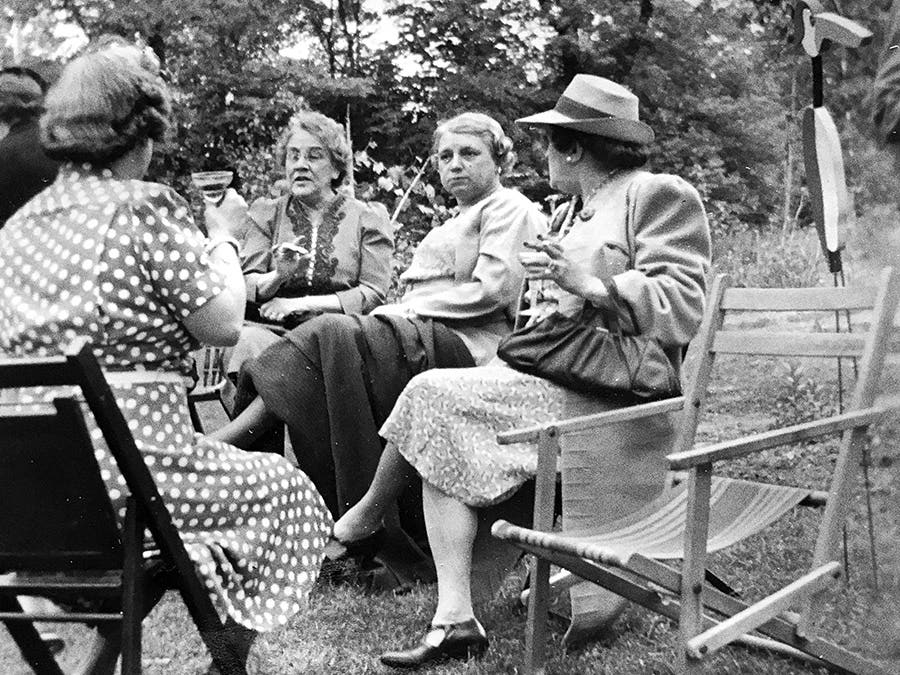 Looking to les Trente Glorieuses
Following the war, a new society emerged. Known as les Trente Glorieuses (1945-1975), this period is synonymous with economic and demographic growth, and brought comfort to much of the population. In Québec, the Church still had strong moral authority, however, and late 19th-century arguments aiming to limit or ban the sale and consumption of alcohol emerged again.
In 1952, L'Action catholique newspaper invited the population to sign a petition to ensure the strict application of all sections of the Alcoholic Liquor Act, with severe punishments for those who did not. Nearly 800,000 people signed the petition, and the resurgence of temperance movements made Canadian distillers fear the worst. In parallel, Quebecers continued to drink, and the "reign of hard liqueur" lasted the entire decade.
In restaurants and at home, meals were not served with wine, but rather with hard liqueur, namely gin and whisky, if not Cinzano, Dubonnet, or other fortified wines. A quiet revolution was taking place in Québec, and the Commission des liqueurs underwent a transformation, with a new identity and a new way to serve its growing clientele.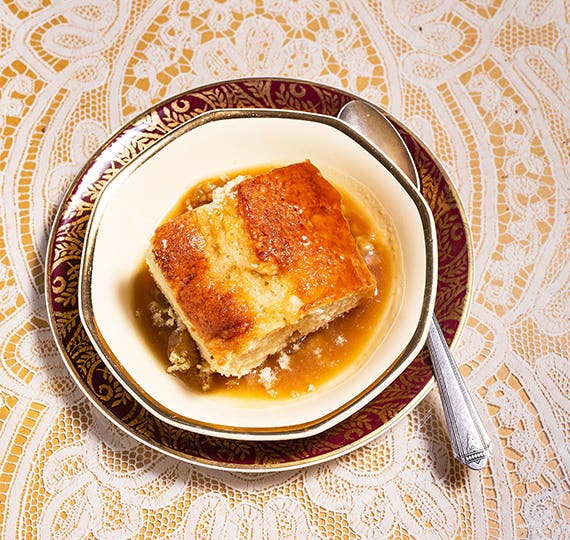 RECIPE
MEMORY
Photo: Valeria Bismar
---
Pouding chômeur
A Québec culinary creation invented during the economic crisis of the 30s, pouding chômeur is a dessert made with inexpensive ingredients, such as flour, milk, lard, and brown sugar. This "poor man's" pudding is still an all-time favourite to this day, although many opt for the more gourmet version made with maple syrup.
See our article about the prohibition era