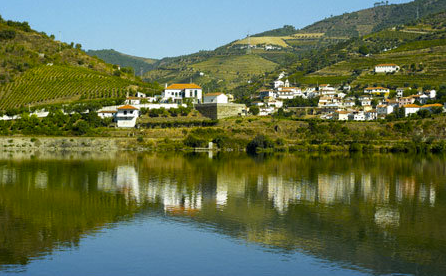 Douro: a breath-taking region where their Port is world-renown.
Do you speak Port? Then you must be familiar with: Touriga Nacional, Touriga Franca (or Francesa), Tinta Roriz (known in Spain as Tempranillo), Tinta Cão, Tinta Barroca, and Tinta Amarela; all of which are the grapes used most often and in the largest quantities, when making Port—that famous fortified wine.

Originating in Portugal's Dão region, Touriga Nacional is a sure bet when it comes to making quality wine. When vinified using dried grapes, it makes for concentrated, tannin-infused, perfumed wines that have excellent cellaring potential. Though it's often included in blends, it's also found in varietal wines, where it demonstrates its vast potential.
When it comes to Touriga Franca (Touriga Nacional's younger sibling), recent DNA analyses reveal that it may well have been born of a cross between the Marufo (a little-known Iberian grape) and the Touriga Nacional, which makes sense, given that they present similar characteristics. Like most siblings though, there are some differences; the Franca is even more fruity and powerful… and is sadly often overlooked in lieu of Nacional!
Contrary to what its name suggests, Touriga Franca (Touriga Francesa) has nothing to do with France. Rather, this grape variety has been growing primarily in Douro for some time, and is also increasingly planted in California and Australia—as is Touriga Nacional.
Among those wineries that have helped Tourigas' popularity and introduction to a wider audience as a dry wine, is Niepoort, a Dutch family winery celebrated for its Port. While continuing to produce its excellent quality Port, Dirk Niepoort (heir and wine grower) has, year after year, increased the variety of its dry red and white wines.