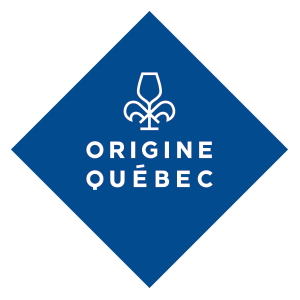 Right Here - Cassis Monna & Filles
For the love of blackcurrants
Anne and her sister Catherine took over the family business 20 years ago. Anne tells me proudly that they're the fifth generation of liquorists in the Monna clan—it's clear that blackcurrants are their passion.
Cassis Monna et Filles was the first large-scale blackcurrant producer in Québec. "It took a Frenchman to help us rediscover a berry that's part of our history and terroir." Not well known in North America, blackcurrants are very popular in Europe and Asia. The girls' father, who's from the south of France, moved to Île d'Orléans in the '70s. Bernard Monna knew that blackcurrants love the cold: "And if there's one thing we have in spades in Québec, it's cold temperatures!"
And now 30 years later, Cassis Monna et Filles produces several types of blackcurrant-based alcohol: wines, a crème de cassis, a gin and even a vodka. The sisters employ the principles of a circular economy to make their products. The entire blackcurrant plant is used—from the fruit and the branches to the leaves—regardless of what type of alcohol is being created.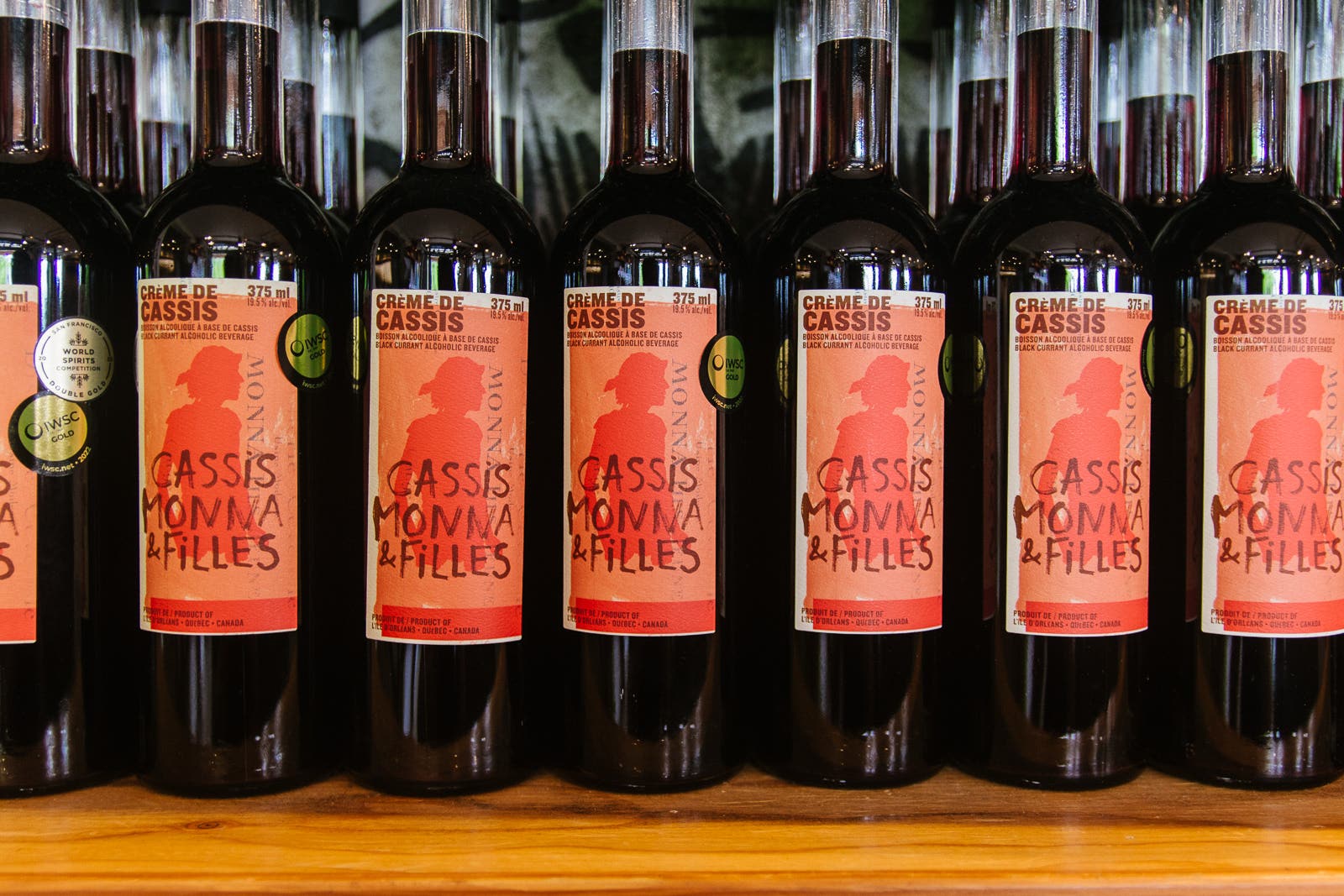 The customer experience is everything
"We made a playground available to visitors. We want guests to have their own experience and we want them to fall in love with us." It's quite easy to spend an entire day at Cassis Monna et Filles without ever getting bored.
On site, you can have a self-guided tasting or enjoy the services of a host to walk you through the products you're trying. History buffs can visit the economuseum to learn more about blackcurrants and the estate. If you get hungry, just head to La Monnaguette, located at the top of the iconic staircase, a restaurant that's been in operation for 20 years, which features blackcurrants in its main courses and side dishes. Want something sweet? Swing by the ice cream parlour for a scoop of their famous… blackcurrant ice cream!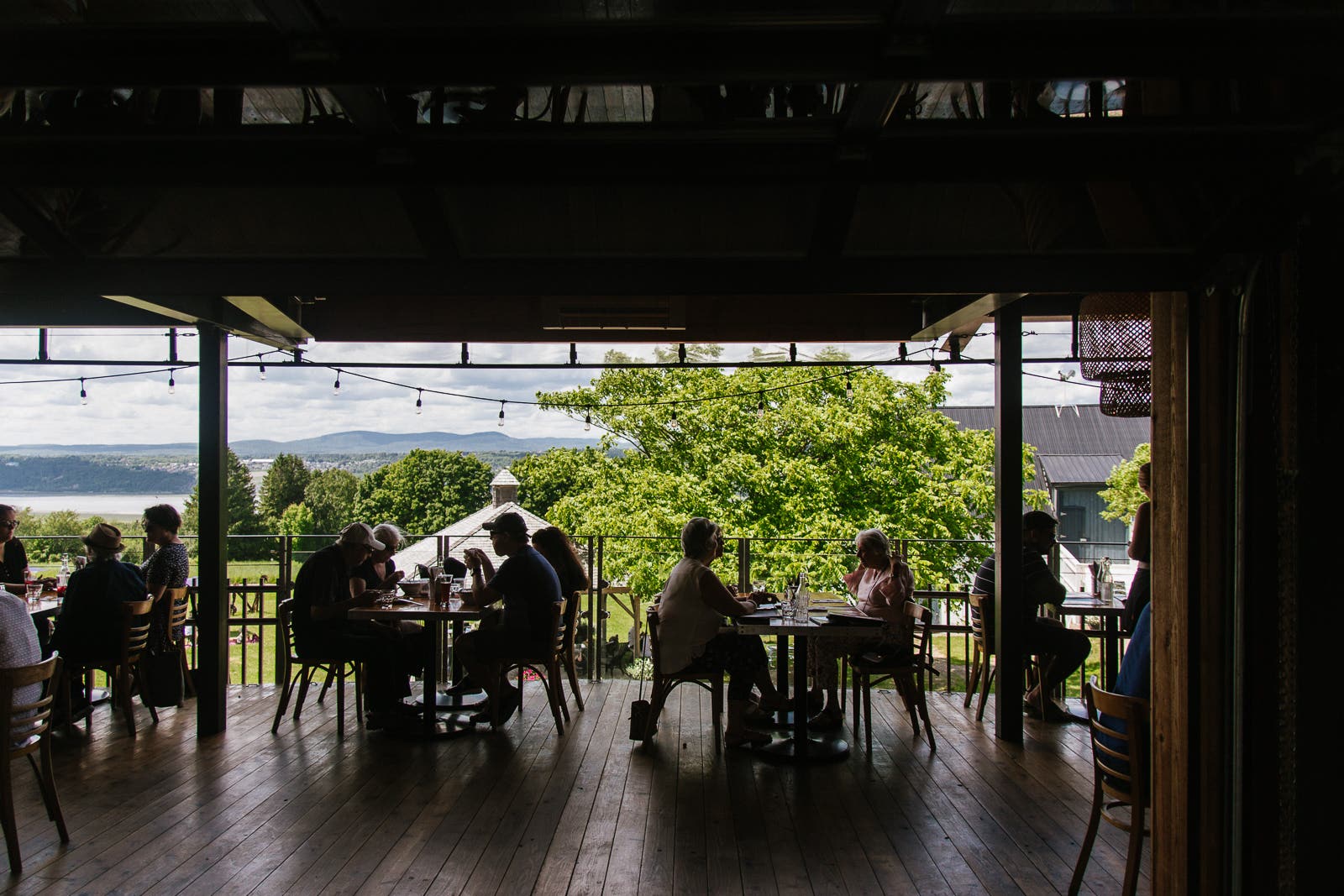 1225, chemin Royal
Saint-Pierre-de-l'Île-d'Orléans
Québec, G0A 4E0
In partnership with Vaolo
Explore Cassis Monna & Filles' products:
Monna & Filles Crème de Cassis Fruit beverage (blackcurrant)

|

375 ml

Canada

,

Quebec

Available

Online

Available

In store
Set a course for the magnificent Ubald Distillery, located on Route 363 in—you guessed it—Saint-Ubalde, in the area around Portneuf. A unique place where terroir and tradition combine to produce Ubald's famous potato vodka as well as their Vallée gins, available in herbaceous and zesty varieties.

Read more

Distillerie La Manufacture is tucked away in the heart of the Laurentians, in Sainte-Agathe-des-Monts. Laurent and his father welcomed me into their hideaway to share the story behind their products—from the famous Panacée gin and Narval vodka to all the new eaux de vie bursting with local flavour.

Read more

In June, Distillerie Grand Dérangement founder and CEO Marcel Mailhot invited us to his new distillery, inaugurated in the spring of 2020. It's there, in Saint-Jacques in the Lanaudière region, that it all happens—with the smallest carbon footprint and the largest circular economy, from ground to glass.

Read more