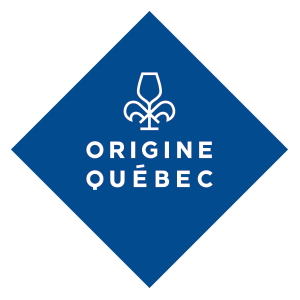 As soon as I set foot in Domaine du Ridge, I felt a wave of tranquility wash over me. I noticed a wealth of details: the lush greenery, the sun on my skin, smiling faces everywhere, and of course, the scent of wine beckoning me! I was warmly welcomed by Julien, only the second manager in the vineyard's history, who's held this role for a few years now.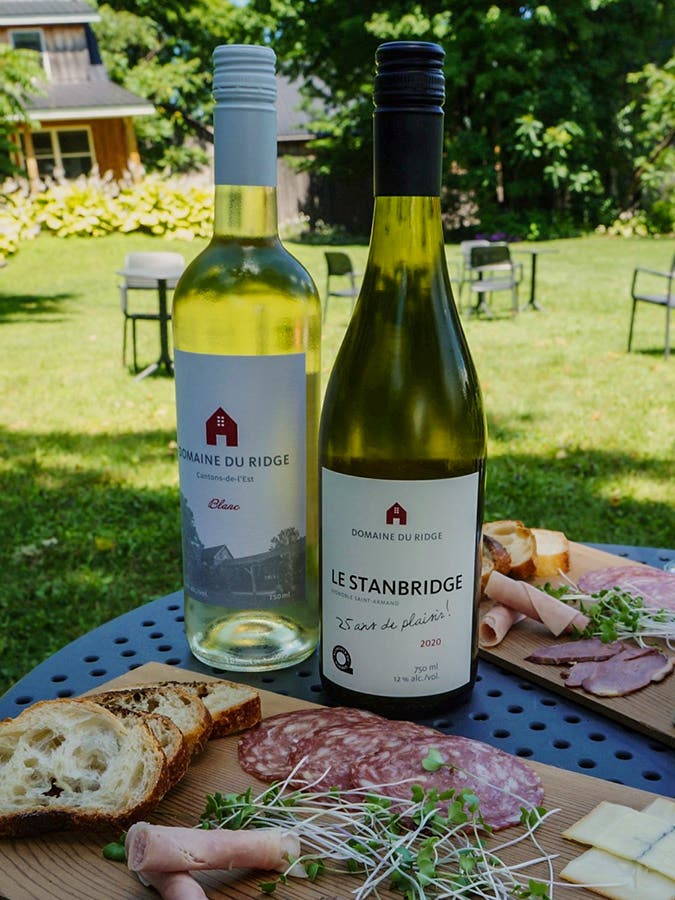 Uniting tradition and modernity
Julien began the tour by bringing me to a cellar where I met Samuel, their cellar master. The pair of young men then explained the different steps involved in making wine. With a twinkle in his eye, the cellarman finally showed me their newest piece of equipment—the shiny toy they've been using for two years—the bottling machine! It's undoubtedly the reason why the vineyard is able to churn out 150,000 bottles a year, or double their capacity compared to 5 years ago. Sam's face tells me that it's a huge time-saver! But they still rely on traditional methods to make all their sparkling wine, including the Berthelot-Paradis sparkling rosé, named after someone dear to owner Denis Paradis's heart. You have to give it to them: nothing beats a festive product that was lovingly crafted to show an old friend how much they mean to you!
Agritourism and going green
As we took a stroll around their lavishly verdant vineyard, I asked Julien what makes Domaine du Ridge so special. He happily answered that the team is committed to always creating a wonderful place where visitors can discover fine local wines and experience something genuine and new.
What a pleasant surprise to see several tables set up on the grounds themselves so people can sit down and spend some time admiring the landscape, breathing in the country air, tasting local products, reminiscing about good times, listening to the birds sing, wandering about the vineyard, and sipping a nice glass of wine. There's no question that agritourism is at the heart of the business! You can sense the team's eagerness to share their knowledge, build bridges between artisans and visitors, and help create lasting memories. It's no wonder that Domaine du Ridge offers so many different experience packages! Here, you can visit the vineyard, taste various products and even take part in grape-picking. Speaking of which, remind me to come back during the harvest season…
Agritourism is synonymous with a greener, more eco-friendly form of tourism. With Marie-France—Denis's daughter—and Julien running things, the business is now focusing on becoming more environmentally responsible. Julien proudly shared that 40% of their fields is certified organic—there are no pesticides in that section, only biodynamic vines. He explained that the field master leverages the interdependence between the vines and other plants to promote their growth and repel certain parasites, among other things. My takeaway is that Domaine du Ridge is transitioning towards being 100% organic and that the team is working hard to grow high-quality varietals every year.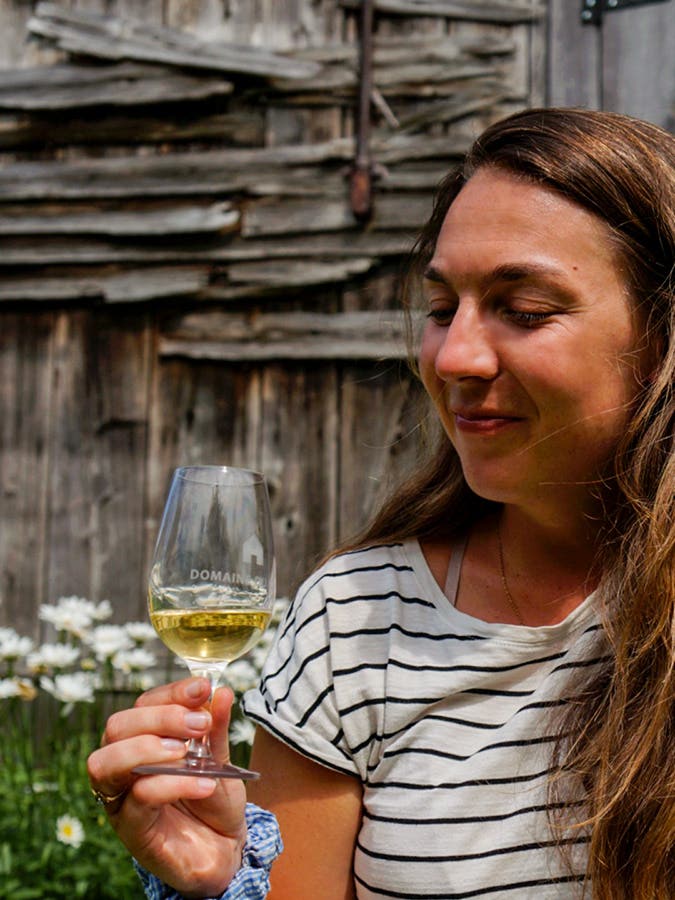 Celebrating local culture
Of course, my visit wouldn't be complete without a tasting… But first, Julien served me a selection of delectable local products. I couldn't resist! Bread from the Chouquette et Amandine bakery, meat from Charcuterie 3 Continents, cheese from Fritz Kaiser… Everything was so fresh and delicious! I was delighted to learn that Domaine du Ridge also sells lunchboxes prepared by their young neighbours over at Comptoir Moutarde. I have to say—partnerships between local businesses like these really pay off!
With my stomach full of good grub, I finally got to taste their wine and other spirits. Beyond reds, whites and rosés, I also had the opportunity to enjoy some of their specialty items, like the Fado (similar to a port) and the Mystic (a new vermouth made in collaboration with Colline aux Herbes). But my favourite was Bise d'Automne, a wine balancing sweetness and acidity created from a late harvest of Vidal Blanc grapes. It's a real treat! Highly recommended for fans of dessert wine.
It's clear that at Domaine du Ridge, there's strength in numbers. From the very beginning, Denis consciously surrounded himself with passionate people and turned what was once a personal project into a full-fledged business. Nowadays, the next generation of the family works hand in hand with their tight-knit team to raise the profile of both the vineyard and winemaking in Quebec. They all contribute in their own way to fulfilling Domaine du Ridge's mission of using their passion to make local wines accessible and affordable. They've been achieving that purpose for the last 26 years… And they're just getting started!
Discover Domaine du Ridge's products:
On the road up to Mont Ste-Anne, just past the bridge to Île d'Orléans, I discovered a hidden gem—the Domaine l'Ange Gardien vineyard. Here, you can savour a glass of Côte de Beaupré and meet the friendly and knowledgeable winemakers. You'll be charmed in no time!

Read more

Gagliano Vineyard is like an Italian holiday—in the heart of the Eastern Townships! Just head to Dunham to savour a pizza cooked in a wood-fired oven, paired with a delightful glass of bubbly. You'd be forgiven for thinking you'd been whisked off to Tuscany!

Read more

If you visit L'Orpailleur Vineyard and ask Charles-Henri de Coussergues why you should go across the street to try Union Libre wines, a business he also owns, he'll tell you: "Each grower is unique. Our two Chardonnays are nothing alike."

Read more