As a result of his travels, Daniel Lalande dreamed of becoming a wine grower. In 1998 he jumped into the field with great energy and passion. His initial 12 acres of vines have grown to more than 39 acres today.
Established on family-owned land in Saint-Eustache, the Rivière du Chêne winery creates full-time employment for more than 12 families and part-time jobs for 25 others, a point of pride for the owner.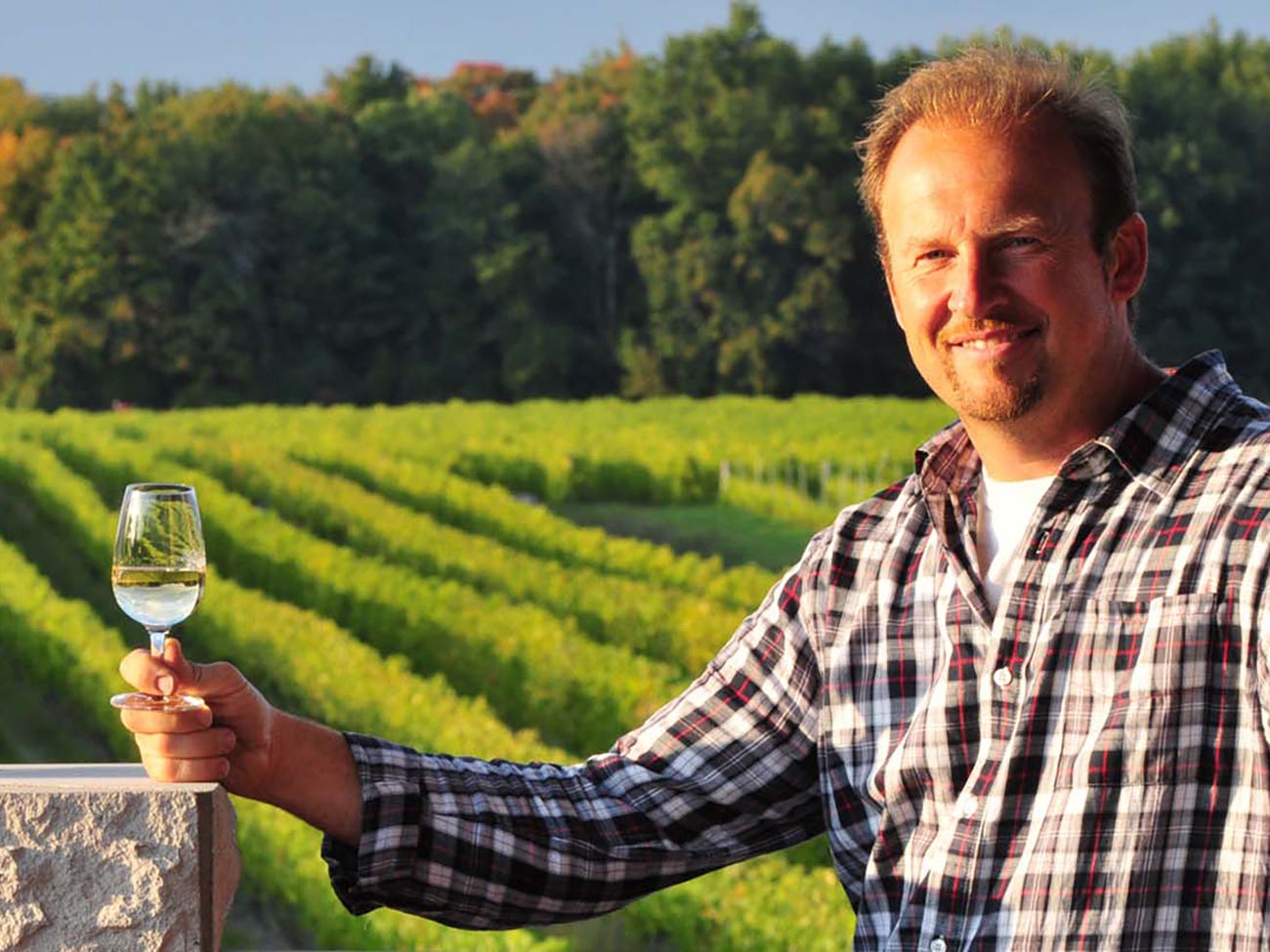 Daring to dream
"When I was 28, I was naive, enthusiastic, passionate and in love. As I travelled to various places, wine really spoke to me and I was like, 'Wow!' I bought a part of my father's land, I studied in France and then, as part of a team, we built the vineyard. We dreamed hard and worked hard. I love thinking about how we've put all of that into a bottle."
Getting the most out of the climate
"In the Basses-Laurentides, we have close to 1,200 growing degree days. Of course there are other factors that come into play, but this number of degree days is comparable to a region like Marlborough in New Zealand. In winter, vines are covered with a good thickness of snow. We have varieties that are relatively sensitive to cold—Chardonnay and Pinot Noir, in particular—but to block the freezing temperatures, we use geotextile over about seven miles of vineyard."
" What I love the most is when people come and visit the vineyard. Those who just started to appreciate wine are transformed into aficionados of both the vines and the wine, which is something I love to share "

Daniel Lalande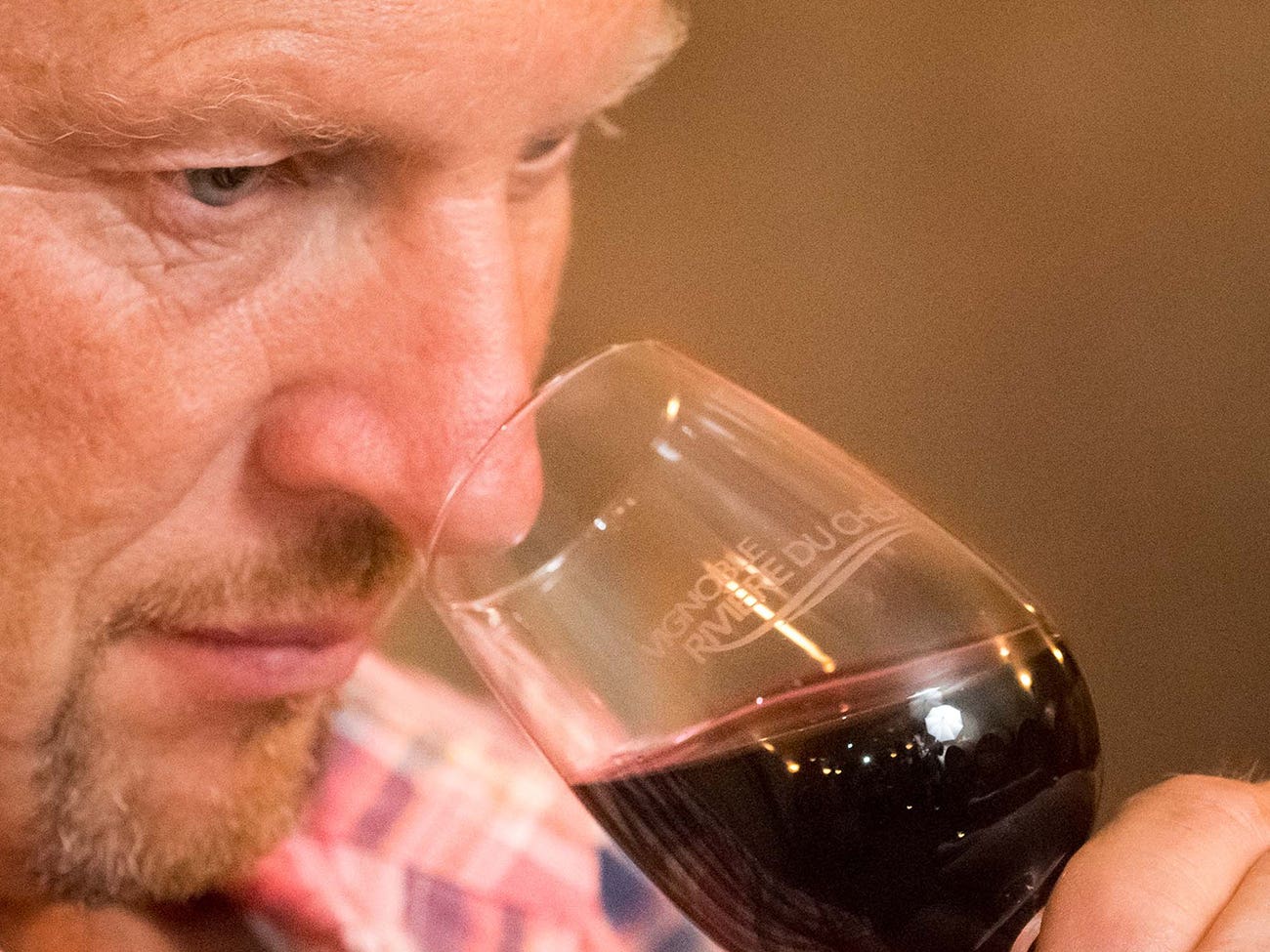 In the glass
"Our whites are fresh with good acidity and their own unique personality, like Swiss Chasselas or Greek Assyrtiko. Our reds can also really stand on their own! In 2013, we decided not to produce Phénix because some of our varieties didn't meet our quality standards. I'm proud that I have the freedom to do this. I refuse to believe that wine lovers will buy my wine simply because it's from Quebec. No one drinks Phénix or William to support local business! Our wines have to be good, and with all modesty I can say they truly are!"
Vignoble Rivière du Chêne Phénix 2020 Red wine

|

750 ml

Canada

,

Quebec

Available

Online

Available

In store

Vignoble Rivière du Chêne William 2021 Red wine

|

750 ml

Canada

,

Quebec

Available

Online

Available

In store

Vignoble Rivière du Chêne William 2021 White wine

|

750 ml

Canada

,

Quebec

Available

Online

Available

In store
Vignoble Rivière du Chêne Le Rosé Gabrielle 2021 Rosé

|

750 ml

Canada

,

Quebec

Available

Online

Available

In store

Vignoble Rivière du Chêne Monde 2021 Ice wine

|

200 ml

Canada

,

Quebec

Available

Online

Available

In store