It takes all tastes in this world: those who dislike sweet wines, those who'd do anything for a Sauterne, Coteaux-du-layon or German or Austrian Beerenauslese, those who love a wine's unique aromas above all else.
Speaking of aromas, those with the most striking smells are generally judged to be Spain's Xérès, or French Jura's so-called "yellow wine".
What does the Dictionnaire Hachette des vins de France say about this Jurassian specialty? To paraphrase: a yellow wine whose distinctive colour and nut flavours are due to the formation of a web of yeast that forms on its surface during barrelling.
Not exactly love at first taste
Explained like that, yellow wine doesn't seem all that scary or distinctive…except that it's not exactly a love-at-first-taste kind of wine: it's an acquired taste.
When you open a bottle of yellow wine, don't be surprised if some of your guests frown, while others are delighted by the bottle before them!
Cross that yellow line!
A yellow wine tasting is something that will inspire conversation, that's for sure, and it's certainly worth debating the merits, flaws, and peculiarities with friends and fellow drinkers. Drink a glass, despite any hesitations, and take in the smells and flavours that mark this wine as so different from the rest—you'll find it has a prolonged hazelnut finish. If you want to soften or highlight the wine's impact, try pairing it with a chunk of Comté cheese between sips, because this cheese will change the wine's profile with ease—and interestingly!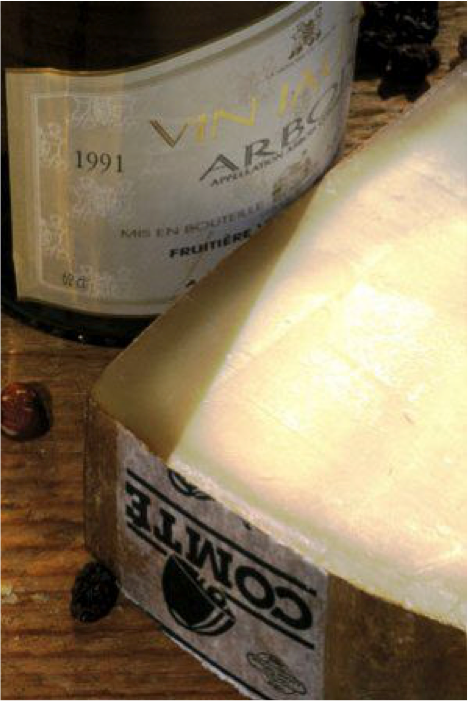 Yellow wine and Comté cheese: a famous wine-food pairing. If Comté isn't your taste, try it with cave-aged Gruyere or Beaufort. If Quebec cheeses are your thing, try Louis D'Or (Fromagerie du Presbytère, in Warwick) or a 1608 from Laiterie Charlevoix.
Don't forget that even if Jura's yellow wine is an acquired taste, what with its particular aging, there are a great many other immediately likeable, fine wines from Jura: Pinots Noirs, Chardonnays, or Sauvignons.
Yellow wine at the SAQ
This wine is unique, and as such, you may need to hunt for it if you want to try a bottle. Appellations vary: Arbois, Étoile, Château­chalon, etc.—and of course, quantities are limited. Its particular 620 mL format (called "clavelin" in the Jura region) is also a specialty!
Les Parelles Château Chalon Vin Jaune 2012 White wine

|

620 ml

France

,

Jura

Not available

Online

Available

In store
Serving tips
Yellow wine is unfortified, and contains about 15% alcohol. If serving with cheese (or if serving with a meal, for example, with chicken curry) a 620 mL bottle should easily serve six drinkers. You can pour it into a carafe, and then serve it only ever-so-slightly chilled. Though we've never had an opened bottle last past the initial serving, it can easily be preserved in the fridge for several days.