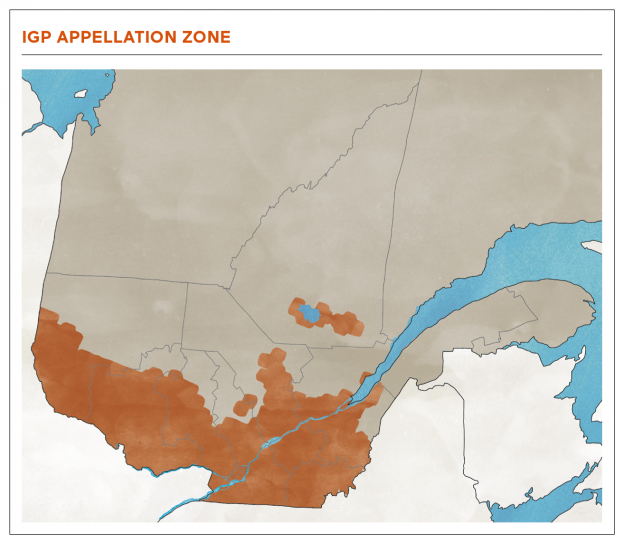 A defined geographical zone
A minor revolution has occurred on Quebec's wine shelves — it's a subtle yet substantive change that will affect the entire industry. As of November 2018, a reserved appellation came into effect, meaning that wines bearing the PGI Quebec Wine seal are made only from grapes grown in a defined geographical zone (located roughly in southwestern Quebec). From vine to bottle, each stage of production is traceable, and adheres to strict technical specifications.
Quebec Wine certification
At first glance, the PGI appellation seal might easily be confused with that of certified Quebec wines (used for white, red, rosé, bubbly and sparkling wines, as well as passerillé, late-harvest and selective-harvest wines). Fear not, it's no mistake: This new certification — conforming to ISO standards — is actually something of an extension of a process that started roughly ten years ago with that very same Quebec Wine certification.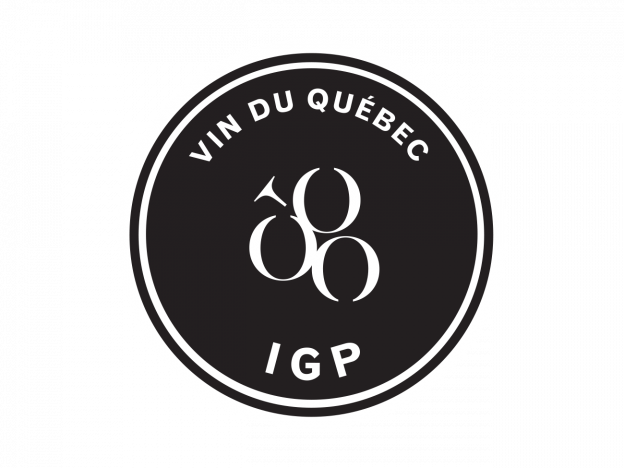 Back to the future ?
In 2008, while he headed the Association des vignerons du Québec (now known as the Conseil des vins du Québec), Charles-Henri de Coussergues was the primary instigator of the certification process. "At the time, the industry was a bit of a free-for-all. There were no norms, and our wines were stigmatized," recalls the co-owner of Dunham's Vignoble de l'Orpailleur. "We wanted to highlight our winemaking abilities and provide Quebec wines with deserved prestige."
With the help of dedicated supporters a year later, the winemaker created a private certification program for Quebec wines. "The association invested in a technical specification book, with independent audits guaranteed by Ecocert Canada. For nine seasons, we adapted as needed, and perfected our methods," states Yvan Quirion, owner of Domaine St-Jacques (Saint-Jacques-le-Mineur).
While certification wasn't initially to everyone's taste, it quickly became popular with the majority. It's a process that requires effort: daily notes from the vine and chai, as well as random verifications. During the adjustment and implementation period, close to eight million bottles were certified — equivalent to half of Quebec's overall wine production.
What's in the PGI Quebec Wine technical specifications book?
Here's a sneak peek at this important book of standards.
Territory 
The PGI Quebec Wine geographical area is delimited to the north by the Laurentian Mountain chain, to the south by the border with the United States, to the west by the Ontario provincial border, and to the east by the Appalachian Mountains.
Designated geographical area 
All product manufacturing must occur within the PGI Quebec Wine's specified geographical area.
Grapes 
The winery must produce at least 50 percent of the total weight of grapes or grape must intended for use in the manufacture of products to be vinified, bottled, and labelled.
Grape varieties 
Products must be made using only vitis vinifera grape varieties (the common grape vine) that are rustic or semi-rustic.
Vinification 
Wine must only be vinified at its respective winery.
Alcohol level 
Natural alcohol level must be at least 7 percent for sweet wines, 8 percent for white, rosé, and sparkling wines, and 9.5 percent for red wines.
Accreditation Committee 
The Accreditation Committee is composed of sommeliers, oenologists, specialized writers, esteemed winemakers and wine consultants, who will accept the wine after a tasting if chemical analysis results conform to Food and Drug Regulations, the technical specification book, and if the product is deemed to conform in light of the list of the product's potential tasting flaws.
Traceability 
Product traceability must be guaranteed throughout all wine making stages, from vine to bottle.
Environment 
Where and when agro-chemical products are applied, sub-contracted wineries and winemakers must respect pre-harvesting timelines and timelines related to a return to grape-growing.
The PGI Quebec Wine
On the eve of its 10th anniversary, the certification is ready for its proverbial close-up, and ready to take on the new, important mantle of Protected Geographical Indication. "The long-term goal was this — this is where we wanted to end up. At last, we've arrived," affirms Yvan Quirion.
The "PGI Quebec Wine" means that the sun will soon set on the certification. Concretely, what's the distinction between these two wine indicators? "The standards are more or less identical, with the notable difference being that the technical specifications are now governed by a legal framework — that means it's got teeth, so to speak. Those who try to subvert the regulations can be fined," explains Jean Joly, owner of Havelock's Vignoble du Marathonien.
While the Quebec-based appellation may be strict, it's nonetheless not quite as restrictive as the most famous wine standard, Europe's legendary AOC — Appellation d'Origine Contrôlée (controlled appellation of origin). "The PGI is a geographical designation, and not based on a typicality, and that fact actually encourages winemakers to create new wines using blends," indicates Charles-Henri de Coussergues. "Though I've been a winemaker for over 35 years, that motivates me to try new things."
The 2018 vintage
Last year was the PGI's big debut, and some ten wines were certified, as decided upon by the CVAQ's accreditation committee composed of experienced wine sommeliers among others. All of the certified PGI wines are available at the SAQ, and de Coussergues is encouraged by this: "Increasingly, people want to know what they're eating and drinking, and where it came from. Quebec is really a part of that trend. Using the PGI certification, the consumer can rest assured that they're drinking a wine that's been grown, aged, and bottled in Quebec. It's an indicator of quality and credibility," he concludes.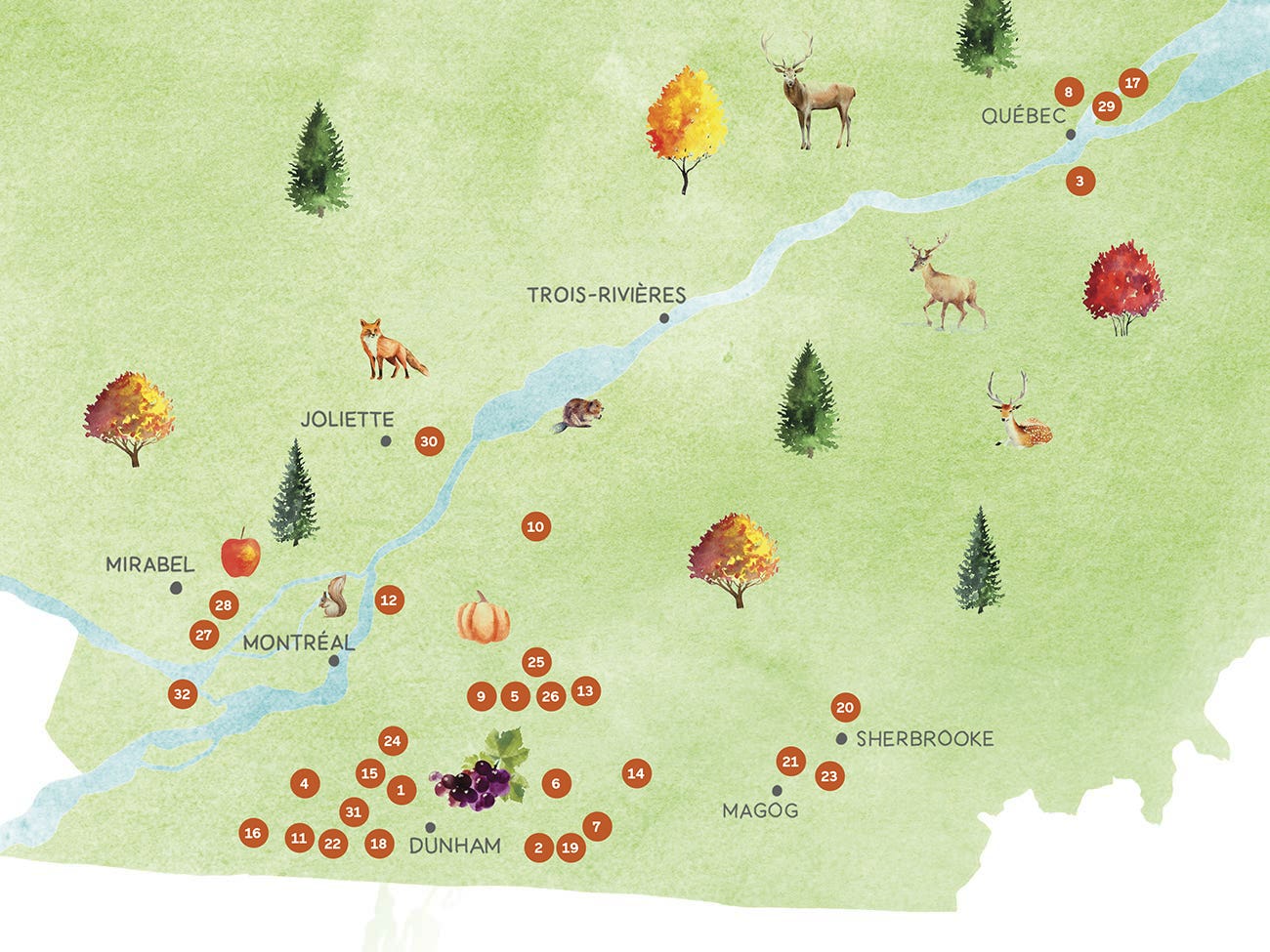 1.

Vignoble 1292
2.

Vignoble Château de cartes
3.

Vignoble Clos Lambert*
4.

Vignoble Cortellino*
5.

Vignoble Coteau Rougemont
6.

Vignoble de la Bauge
7.

Vignoble de L'Orpailleur
8.

Vignoble Sainte-Pétronille
9.

Vignoble Domaine de Lavoie
10.

Vignoble Domaine du Nival*
11.

Vignoble Domaine des Salamandres
12.

Vignoble Domaine du Fleuve*
13.

Vignoble Domaine Le Grand Saint-Charles
14.

Vignoble Domaine Les Brome
15.

Vignoble Domaine St-Jacques
16.

Vignoble du Marathonien
17.

Vignoble du Mitan
18.

Vignoble Émile-Auguste*
19.

Vignoble Gagliano
20.

Vignoble La Halte des Pèlerins
21.

Vignoble Le Cep d'Argent
22.

Vignoble Le Chat Botté
23.

Vignoble Domaine Bergeville
24.

Vignoble Le Mas des Patriotes
25.

Vignoble Les Artisans du Terroir
26.

Vignoble Les Petits Cailloux
27.

Vignoble Les Vents d'Ange
28.

Vignoble Rivière du Chêne
29.

Vignoble Saint-Pierre*
30.

Vignoble Saint-Thomas
31.

Vignoble Les Vignes de Bacchantes
32.

Vignoble Côte de Vaudreuil
*The products from these vineyards are not yet available at the SAQ.
There's a whole world for Quebec wines to win over — but for now, the focus is right here at home. "Our wine production represents a mere 1 percent of some 250 million bottles of wines sold in Quebec. The PGI Quebec Wine is unique to us, so we expect sales to soar! Winemakers are committed to a process of continual evolution, and vintages get better and better every year. The industry is already seeing growth — to meet demand, we're going to need to ramp up production, and fast!"
Vignoble Rivière du Chêne Le Rosé Gabrielle 2021 Rosé

|

750 ml

Canada

,

Quebec

Available

Online

Available

In store

La Halte des Pèlerins Le Voyageur 2020 White wine

|

750 ml

Canada

,

Quebec

Available

Online

Available

In store