An old tradition with a modern twist
Without a doubt, canning is one of the best ways to enjoy fall's bounty all year long. With many people these days buying local, and the rising popularity of the zero-waste lifestyle, many chefs, too, have turned to pickling and preserving. Jams, pickled mixed vegetables, ketchups, chutneys, salsa… the possibilities are endless and delicious! Our eggplant chutney with mango and tomato is bound to be your new fall fave: Serve it on crostini, in a sandwich, or even as an accompaniment to lamb curry or grilled fish!
Preserving with alcohol
Alcohol-soaked fruit are sinfully delicious! Brandied cherries, for example, are sublime in desserts such as black-forest cake, or as a sweet garnish atop vanilla ice cream. Port-soaked prunes and figs are a great addition to savoury dishes such as grilled meats or roasts. Wondering what spirits to use in your preserves? Clear eau-de-vie (40%), or rum are your best bets. It's also important to make sure the fruit you use are neither over, nor under, ripe.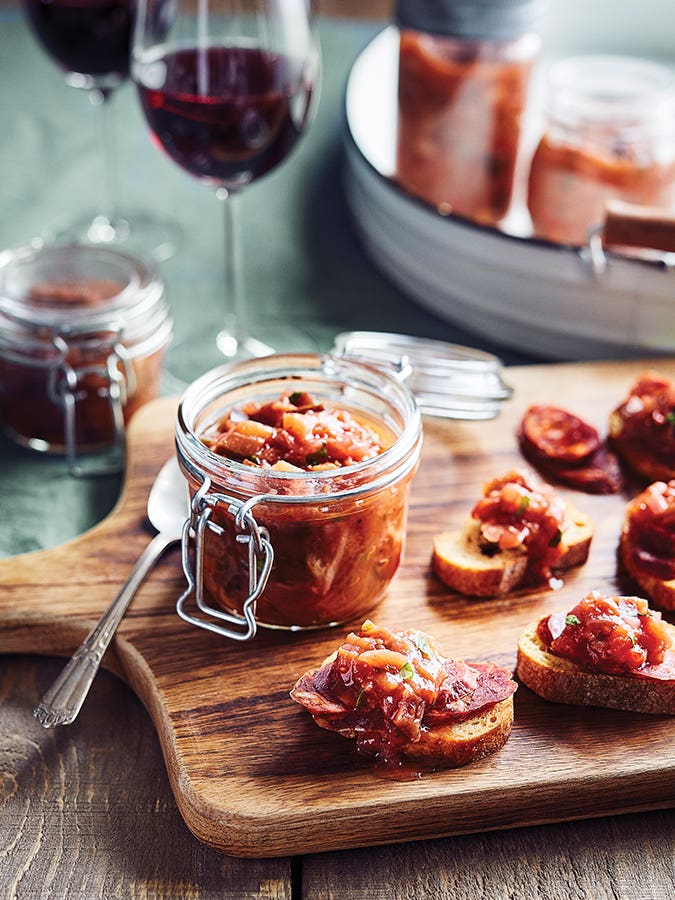 Chorizo-and-eggplant chutney bites
Photo: David De Stefano
Preparation: 15 minutes
Cooking: 17 minutes
Makes 16
Ingredients
30 mL (2 tbsp) olive oil
250 mL (1 cup) diced eggplant
1 tomato, diced
1 small peach, diced
80 mL (1/3 cup) chopped onion
60 mL (1/4 cup) red wine
30 mL (2 tbsp) sugar
30 mL (2 tbsp) chopped basil
16 slices baguette bread, lightly toasted
16 slices chorizo, about 1 cm (1/3 in) each
Directions
Heat oil in a saucepan over medium heat. Add eggplant, tomato, peach and onion. Sauté for 2 minutes.
Add wine and sugar, then simmer for 5 minutes over low heat.
Add basil and let cool.
Place a slice of chorizo on each piece of bread and top with chutney.
Garnish with basil and serve.
What to drink with these bites?
Red wines with the Fruity and Medium-Bodied taste tag pair nicely with these zesty chorizo bites. The fruit and spices used in our recipe share the same aromatic profile as medium-bodied reds. An Iberian Peninsula classic, chorizo pairs beautifully with a Portuguese red that has notes of spices and ripe red fruit. Another great option would be a New World Pinot Noir. Its refreshing acidity acts as the perfect counterbalance to the sweet and salty flavours found in the combination of peach, tomato, eggplant and chorizo. For a full around-the-world experience, try pairing these bites with a red wine from Greece with notes of candied cherries and baked fruit — the perfect wine to help coax the chutney's fruity flavours out.
Available

Online

Available

In store
Domaine Thymiopoulos Jeunes Vignes de Xinomavro Naoussa 2020 Red wine

|

750 ml

Greece

,

Macedoine

Available

Online

Available

In store
Not available

Online

Available

In store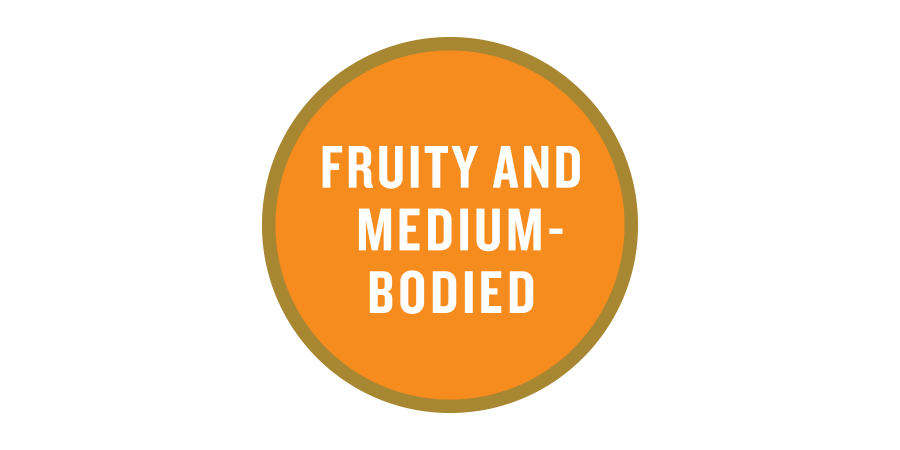 These medium-bodied wines have an intense colour with a rich nose dominated by fruit aromas. Wines that are flavourful and accessible to all. They pair nicely with pasta, pizza and this eggplant chutney.