A true treasure of Quebec's heritage, the sugar shack—also commonly known as a sap house, sugar bush, or sugar house—is the very place where maple syrup is prepared and flows freely.
All across the province, sugar shacks offer decadent menus that place maple syrup in the spotlight. Many of them have adapted to the pandemic and have been creative in offering superb take-out menus to enjoy in the comfort of your own home. Treat yourself in your comfiest clothing without any worry of needing to unbutton the top button of your pants.
Here are some mouth-watering suggestions and a few food and wine pairings to celebrate our terroir properly.
Three must-try sugar shack menus
La Tablée des Pionniers - St Faustin
Relocated at the bottom of the Mont-Blanc ski slopes, La Tablée des Pionniers is offering a new formula this year called "La Tablée à volonté"; this will include maple delights such as puff pastry with pulled pork and mushrooms, glazed ham with Gaspor sausages, or a spinach and cheese curd flan. During your stay, you can also enjoy original family activities and meet the farm animals. There is something to delight everyone, from the youngest to the oldest.
Érablière du Cap - Lévis
The Érablière du Cap represents a know-how passed down from generation to generation. The owners like to say that "the passion for maple has been flowing in our veins for hundreds of years."1 As of the beginning of March, the charming team welcomes you in a convivial atmosphere to savour a traditional Québécois all-you-can-eat meal: expect pea soup, "oreilles de crisse" (crispy pork rinds), meat pie, maple syrup baked beans... and more!
Vegetarians will be happy to know that all the dishes on the traditional menu are also offered without meat, and the house also offers a vegetable and tofu fricassee. Note that you can order everything for take-out.
Érablière du Lac Beauport - Lac-Beauport
Over the years, the Érablière du Lac-Beauport has become a rite of passage in the region. Every spring, we return to enjoy the traditional sugar shack experience at a great price. In addition to their comfort food, the family business offers a family activity on the evolution of syrup making from its indigenous origins to the present day.
Three sugar shack experience to take home
Constantin Sugar Shack - Saint-Eustache
Founded in 1941, the Constantin Sugar Shack is a true institution in Saint-Eustache. As soon as the sugaring-off season begins, the address draws crowds with a gourmet offer to savour on site or at home. It's impossible to go wrong with its delivery or take-out box options: "Cabane traditionnelle", "Cabane revisitée" or "Cabane gourmande". And since the meal is never complete without the famous maple taffy, rest assured that you can add some to your basket. You'll just need a little snow to have the traditional experience at home!
Labonté de la Pomme - Oka
This sugar shack concept offers a gourmet menu featuring the best of the terroir: maple, apple, and—of course—the staple Oka cheese. There is something for every taste and budget, and the team will happily adapt the menu to all preferences and dietary restrictions. Plus, their offering is also available for take-out!
Sucrerie de la Montagne - Rigaud
A designated Quebec Heritage Site, the Sucrerie de la Montagne transports us back to the time of the French Canadian pioneers. Located in the middle of a 120-acre maple grove at the top of Mount Rigaud, the sugar bush collects maple water in the traditional way—using sap spiles and buckets—before transforming it into syrup with the help of a wood-fired evaporator. Accessible year-round, the sugarhouse offers several traditional activities including sleigh rides, a visit to the general store, or a stay in a picturesque log cabin.
Finally, thanks to "Ma cabane à la maison", you can order a ready-to-eat menu to take-out or have it delivered to a Metro supermarket near you.
What to drink with a sugar shack meal?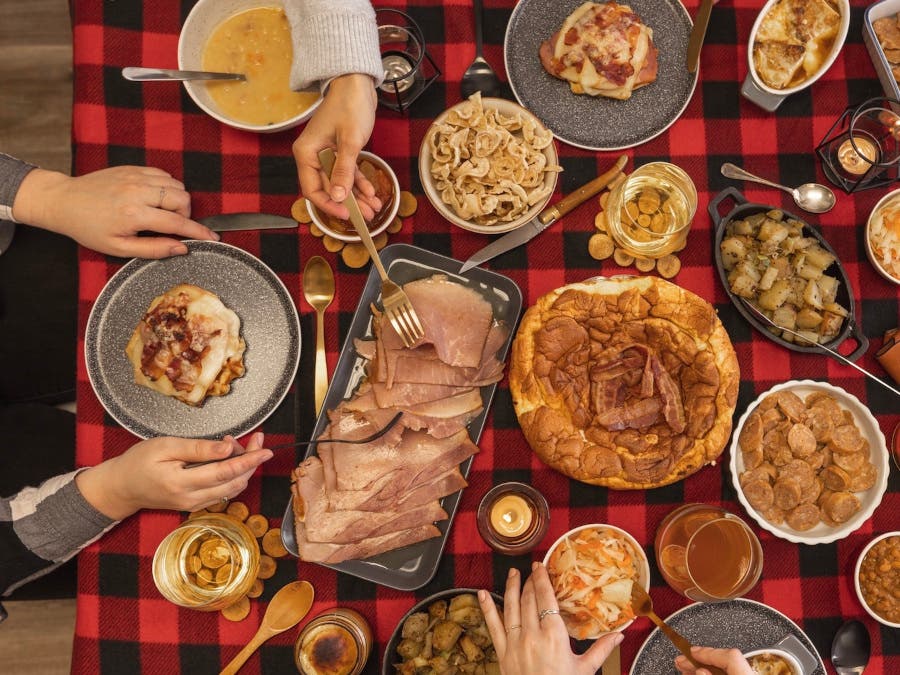 Whether it's a bottle of wine to bring to the sugar shack or to accompany a delicious ready-to-eat/ready-to-cook menu, the choice can sometimes seem complicated. Thankfully, we are fortunate to have some great Quebec products on the market—the perfect pairing to celebrate our terroir, both on the plate, and in the glass!
White and red wines with woody notes go very well with the various maple flavoured dishes. As the meal progresses and dessert approaches, the option of a semi-dry, slightly sweet wine becomes more and more appealing.
To find your way around the shelves, we recommend that you opt for white wines with the Aromatic and Mellow, or Fruity and Sweet tags. If you are more of a red wine enthusiast, any wines with an Aromatic and Supple tag will be perfect.
We recommend
Maple sugar season has arrived! Whether to accompany a traditional cabane à sucre or simply for the sake of trying something new, here are three cocktail recipes featuring our province's favourite springtime treat.

Read more

It's hard to choose wines to bring to a sugar shack. Here are a few thoughts on how to match wines with slightly sweet dishes featuring maple flavours.

Read more

At long last, it's maple time! Looking for a bring-your-own-bottle sugar shack but not sure how to pick the right one from among Quebec's vast choices? We have some unforgettable addresses for you!

Read more