Three refreshing cocktails
Our wonderful local products inspire us to come up with all kinds of festive cocktails, perfect for raising a glass to the warm weather and our amazing Québec producers! Gin, rosé, vodka . . . we have an abundance of products to choose from when it comes to concocting creative cocktails à la belle province!
For drinks that are 100% local, combine Quebec-made alcohol with delicious in-season produce: berries, rhubarb, cucumbers, fresh herbs, etc. Or elevate your libation with ingredients that are proudly made in Québec, such as honey syrup, homemade tonic, or sparkling beverages.
Here are three refreshing cocktails for all your summer get-togethers, from backyard happy hours, to BBQs with a few friends, to evenings outside with the neighbours.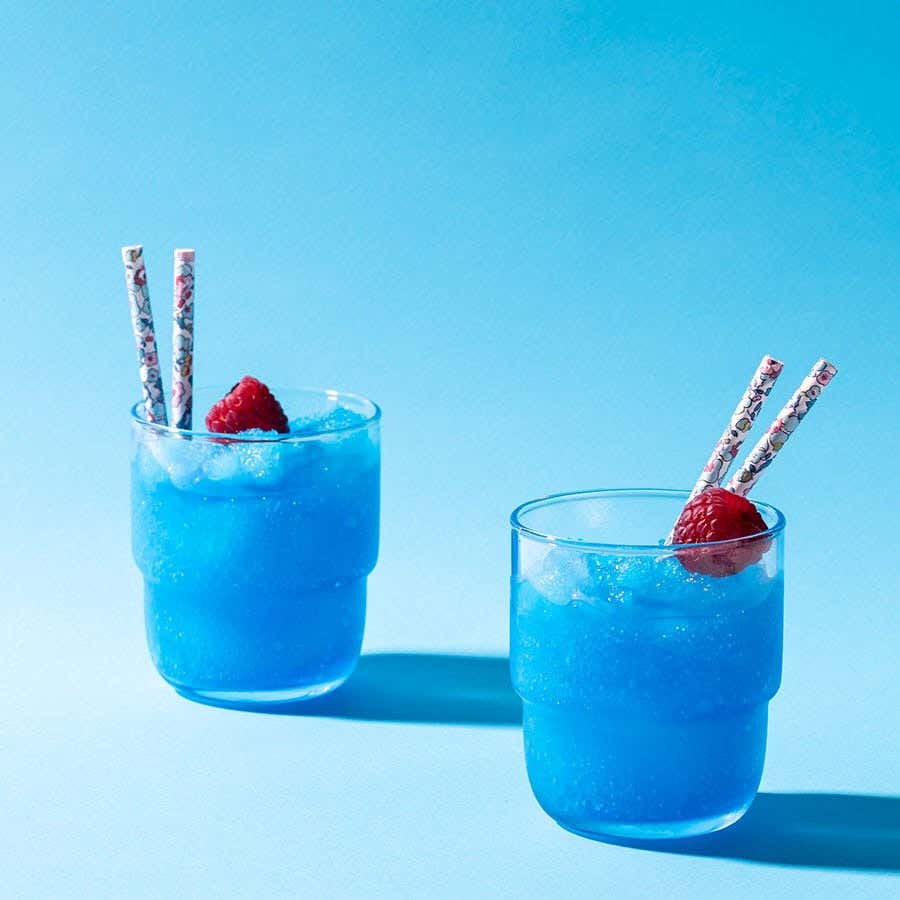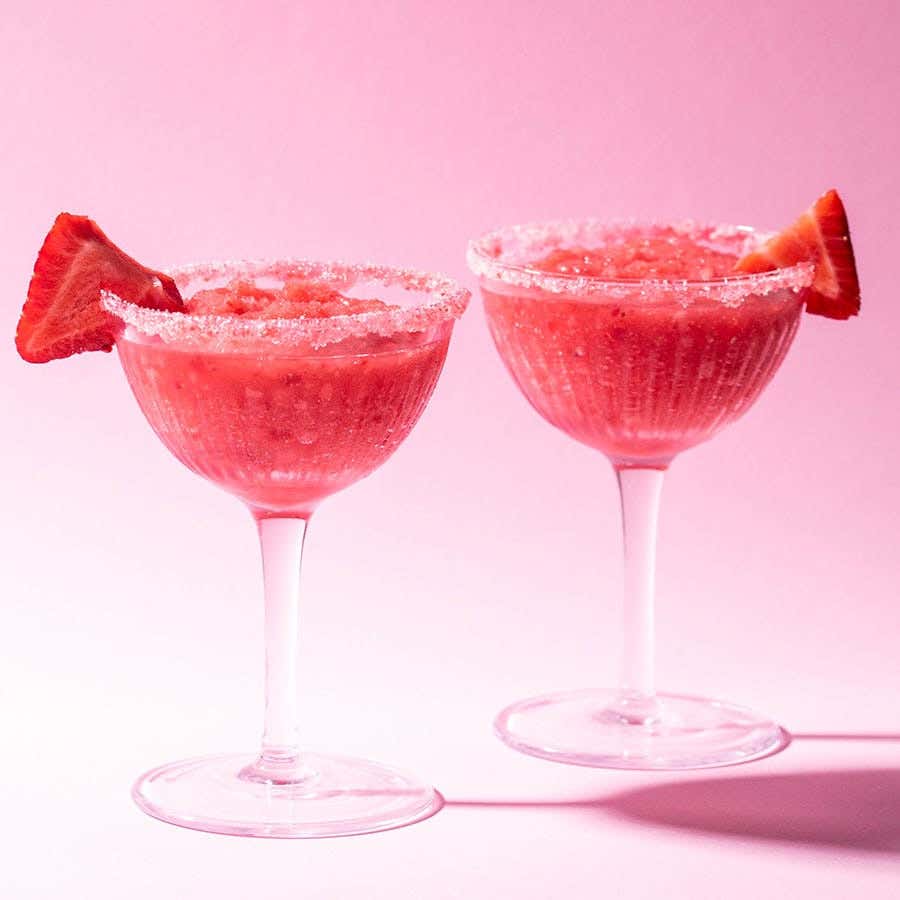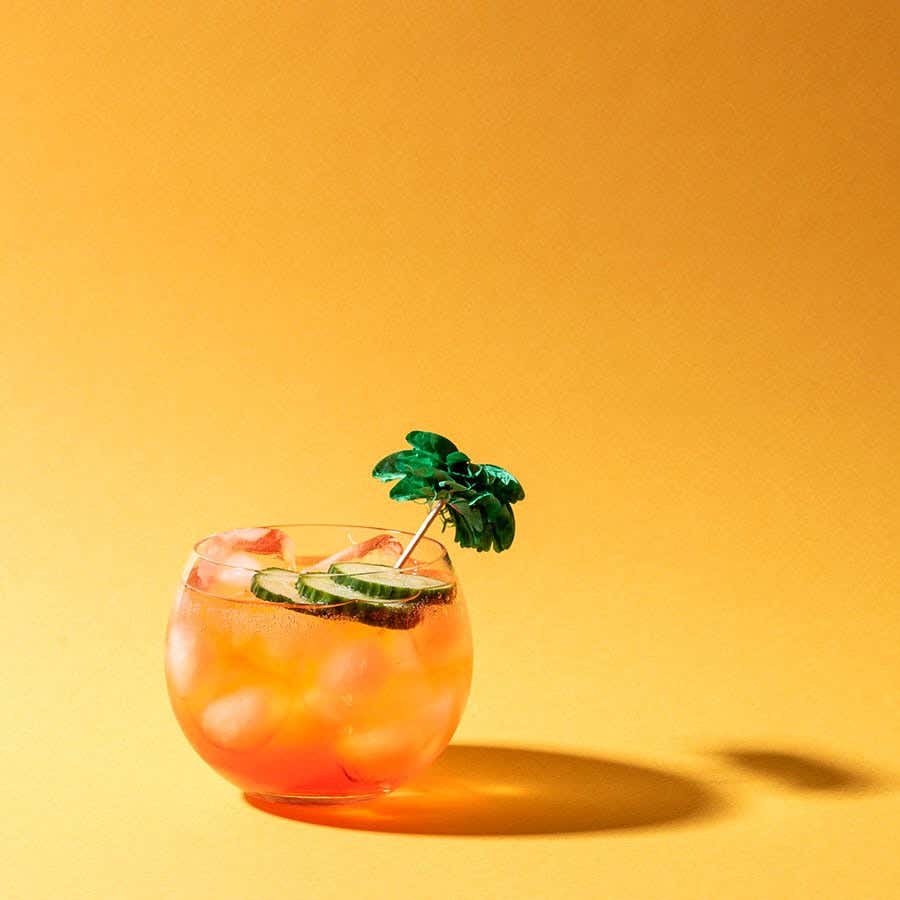 Portions: 2
Type of glass: old fashioned
Level of difficulty: 1
Strength: 2
Utensils: blender, ice tray
Ingredients
60 ml (2 oz.) Bleu Royal Québec gin
2 bottles 1642 tonic
Blue food colouring
90 ml (1/3 cup) raspberry syrup or jam
Fresh Québec raspberries as garnish (optional)
Directions
The night before, fill an ice cube tray with the tonic and add a few drops of food colouring to each compartment. Freeze overnight. The day of, pour the gin and raspberry syrup in the blender. Add the ice cubes and blend until you get a slush-like texture. Divide the mixture between two glasses and garnish with a few raspberries.
Portions: 6
Type of glass: wine glass
Level of difficulty: 2
Strength: 1
Utensils: blender/food processor, rectangular container or mould
Ingredients
1 bottle (750 ml) Domaine Saint-Jacques rosé wine
450 g (1 lb.) Québec strawberries
60 ml (2 oz.) maple syrup
60 ml (1/4 cup) maple or white sugar
2.5 ml (1/2 tsp.) fine salt
2 drops red food colouring
6 strawberries for garnish
Directions
Pour half the wine in the blender or food processor, along with the strawberries and maple syrup. Puree until smooth. Pour the mixture in a large, shallow glass container and freeze for 6 hours. Scrape the surface of the mixture every hour or so. Meanwhile, in a small bowl, combine the sugar, salt, and food colouring. Stir until uniform in colour. Make a slit in each strawberry (to be used for garnish) and rim the glasses with them. Next, dip the rim of the glasses in the sugar mixture. Divide the granité between the glasses and top with the remaining rosé. Garnish each glass with a strawberry.
Portions: 2
Type of glass: long-drink or double old fashioned
Level of difficulty: 1
Strength: 2
Ingredients
60 ml (2 oz.) Kamouraska vodka (or any other Québec vodka)
60 ml (2 oz.) Spritz Les Îles
1 can Fous de L'Île Kombucha (haskap and rosehip) (or any other Kombucha-type drink)
Ice
4 slices of cucumber for garnish
Directions
Fill the glasses with ice. Add 30 ml (1 oz.) of each alcohol and top with kombucha. Stir with a spoon. Garnish each glass with two slices of cucumber.
Photos: Marie des neiges Magnan