Want to know more about the trends that will cause a major stir in the cocktail world this summer? Here are the top 4 trends to watch out for and enjoy this season. Raise your glasses people—you're going to want to celebrate!
#1 The spirit of the summer: Gin!
Though aromatic vodkas have been the reigning champion of cocktail sales for decades, the SAQ has been seeing a rise in in the popularity of gin for 2 years now. And with good reason! The popularity of gin is a worldwide phenomenon now. Certain scotch distilleries have started producing it, while English distilleries are updating classic recipes for Old Tom (which was very popular in 18th century England and in the United States during the 19th century) and are aging their gin in casks, transforming it into a fine spirit to be savoured like a French cognacs.
Nearer to home, in the last year and a half we've been seeing the emergence of both expertise and intense passion for fine spirits. Following in Ungava's (2010) and Piger Henricus' (2013) footsteps, no less than seven Canadian and Quebecois gins have appeared in the SAQ's offering: gins by Canopée, Romeo's, St. Laurent, Neige, Thuya, Cirka and Madison Park. Looking at the numbers, last year saw a 12% increase in gin sales at the SAQ, which means 2 million bottles sold in 2016!
How to explain this sudden infatuation? First, the versatility of gin in cocktails and an abundance of classic recipes that feature it. Then, there's the growing popularity of the updated Gin & Tonic! But there's also the fact that artisanal sodas and syrups are being seen more and more on the market, which has certainly contributed to gin's expanding popularity, allowing amateurs to enjoy a whole new range of cocktails that are easy to prepare.
Gin is going to be on everyone's lips this year, and this spirit shows more than ever how essential it is to keep your own bar fully stocked!
#2 The cocktails of the summer: the updated gin & tonic and the gimlet
If the Gin & Tonic is set to be the most recreated cocktail in 2017, the Gimlet is the most emblematic cocktail to enjoy this year.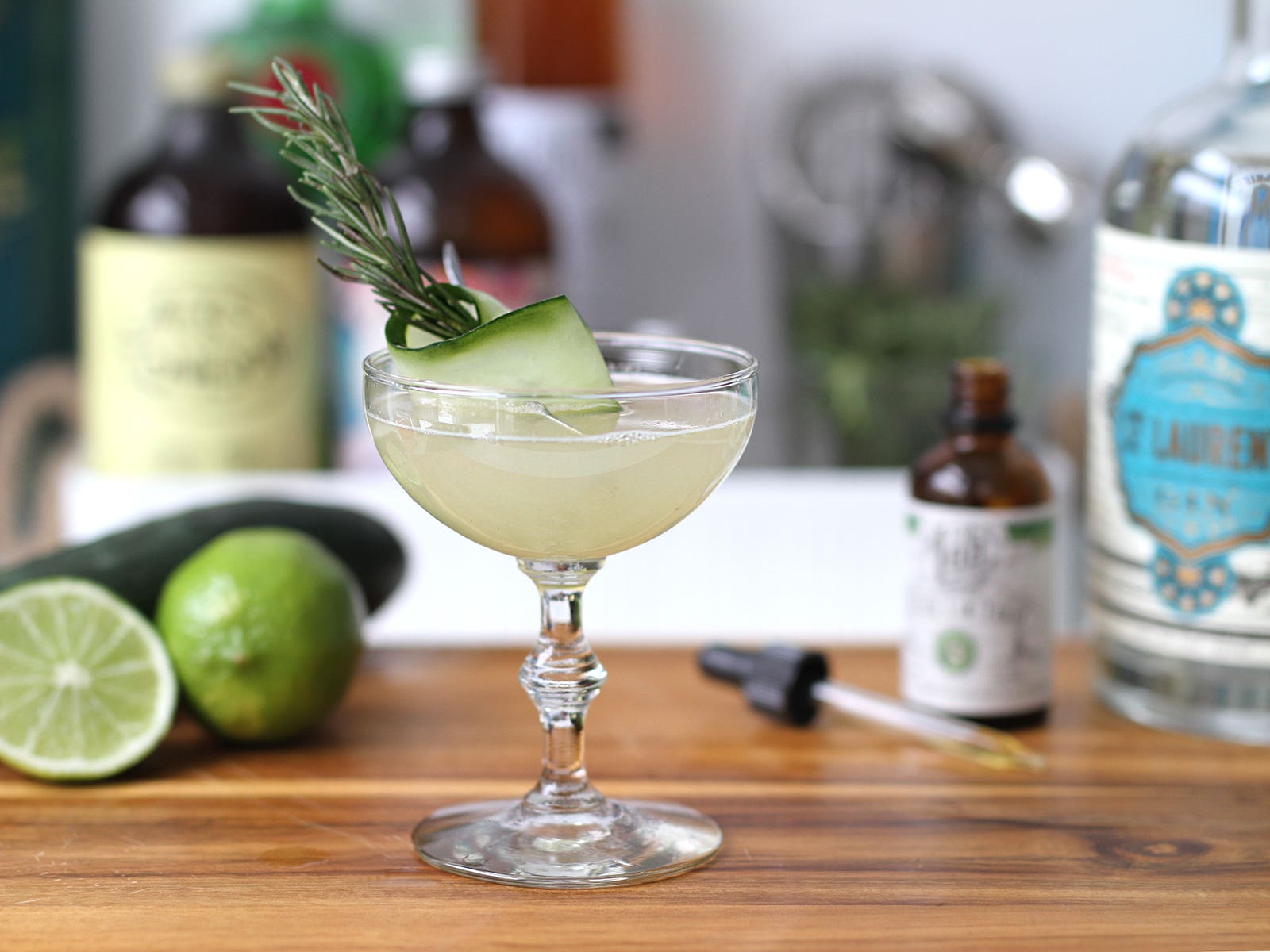 A vintage classic if there ever was one, the Gimlet is absolutely the drink of choice for your initiation to gin and its many aromas. It never fails. All you need is a drop of simple syrup and a squeeze of fresh lime juice to bring this delicious cocktail to life. Enjoy a hint of bitters? Add a few drops and garnish with whatever fresh herbs that are in season. A must-try: Gimlet with cucumber and rosemary!
#3 The cocktail trend to follow: kombucha-based beverages
Blame it on our infatuation with healthy food—one cocktail trend to watch this year will be the integration of kombucha, that popular, effervescent, tea-based fermented beverage.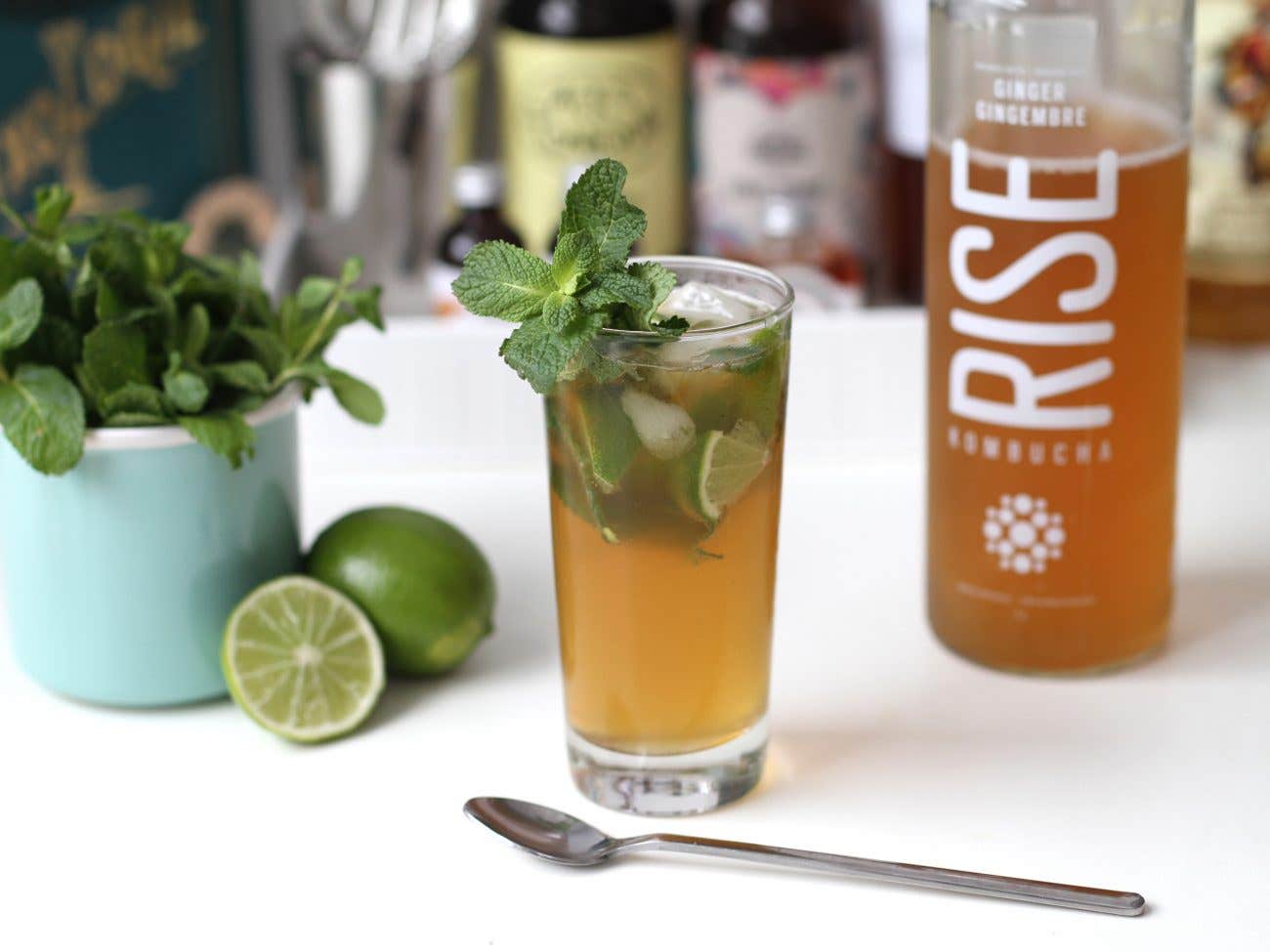 It's rumoured that this artisanal drink might even have benefits for digestive health and general well being. Though its virtues have not been scientifically proven, it is a delicious and naturally flavoured bubbly drink that is attracting many fans! In 2017, this trend will tempt you to trade the traditional soda in your cocktail recipes for kombucha. You can easily find it in organic markets, and even in the mainstream stores.
Healthy Mojito with kombucha, recipe in 2 versions by Patrice Plante:
Ingredients
1 oz. (30 ml) rum or vodka
2 oz. (60 ml) de kombucha à la mangue, au gingembre (mango, ginger, or your favourite flavour)
or
0.75 oz. (22 ml) bourbon
2 oz. (60 ml) cherry kombucha
1 teaspoon organic sugar
0.5 oz. (15 ml) lime juice
8 mint leaves
Soda
Preparation
Smack the mint leaves in your hands to release their flavour, and put in the bottom of a Highball glass.
Add the rest of the ingredients (except soda) and fill the glass with ice cubes.
Mix gently with a bar spoon and top off with a splash of soda.
Garnish with a few mint leaves.
Serve and enjoy!
#4 The trend you have to try: mocktails
This year, it's all about drinking less but drinking better! Non-alcoholic drinks have never been trendier! Everyone is starting to get creative with the mocktail, and the mixology world is using complexity to create perfect flavour combinations.
Far from the traditional lemonade, mocktails are now using new bases like cold-brew coffee and tea, as well as kombucha, to replace spirits and to reproduce classics from the golden age of cocktails, like the famous Old Fashioned.
Discover more summer cocktail suggestion to refresh and delight you!