If someone name dropped Emilia-Romagna in a wine and food context, you might have trouble finding it on your mental map of Italy, more than you would with, say, Tuscany, Sicily, or Veneto. Nonetheless, the area has imparted a whole lot to the way Quebecers eat each and every day—just think Parma ham (that most famous Italian prosciutto), balsamic vinegar of Modena, and Parmesan cheese. It's also the homeland of the ubiquitous Bolognese sauce (named after regional capital Bologna), which has inspired our local meat-and-tomato-based red sauce a.k.a. an integral part of Quebec cuisine even if you're not Italian.
Discover all wines from Emilia-Romagna
Copious cucina
Such world-renowned recipes and products are just some of the specialties coming out of "Italy's breadbasket" in the peninsula's northeast. The rather fertile plain hugging the River Po is what's behind Emilia-Romagna's top-notch agricultural status in Italy. Wheat for pasta, risotto-making rice, cheeses (the staple Parmigiana Reggiano and Squacquerone di Romagna DOP), peaches, nectarines, pears, melons, asparagus, garlic, and olives are produced here in copious amounts.
The area is also famous for a myriad of meat products like mortadella, pancetta, capocollo, and salami cacciatore, as well as a cornucopia of olives, olive oil, and succulent cherries. Comforting dishes like tortellini in brodo (bite-sized stuffed pasta in a rich broth), lasagna, and erbazzone (a flaky pie made of Parmesan, spinach, and pancetta) top the list of traditional local dishes. Permission to drool granted.
Famous chefs know how to put all these fabulous staples to work, especially Massimo Bottura, whose Osteria Francescana has earned its number one spot on the 50 best restaurants in the world—twice (2016 and 2018). With panache, playfulness, and even a side of wry, Bottura has been able to meld tradition with the now in his highly sought-after kitchen.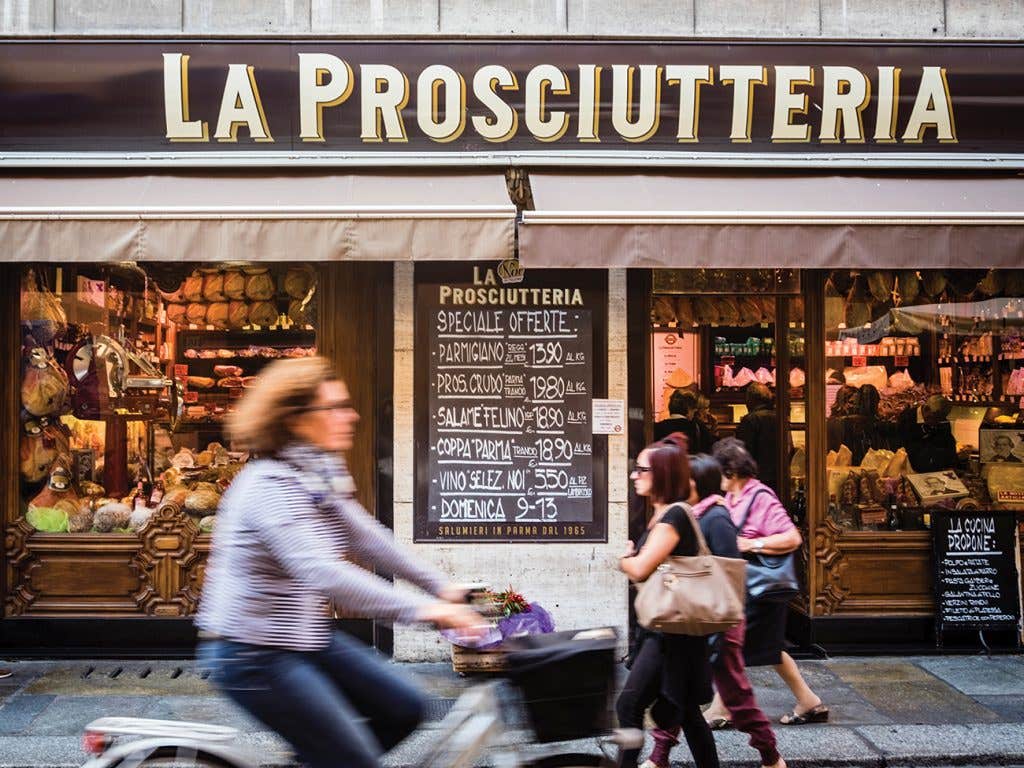 Wine with that?
Since it's Italy we're talking about, you know that local wines are the perfect pairing for local foods. The region isn't famous for great crus or prestigious appellations, but it's well-known for making a dizzying amount of wine, delectable and friendly ones for the most part.
Emilia-Romagna is the country's third biggest wine-producing region volume-wise, after Veneto (to the north) and Puglia (Italy's heel). In 2018, yearly output exceeded eight million hectolitres, which translates into roughly 1.1 billion bottles! In keeping with the rest of Italy, the region's vineyards have seen a lot of qualitative growth in recent decades, and even more recently, a bigger focus on the environment. Basically, we've seen the region move away from rustic wines for local consumption to world-class production with a robust presence on global markets.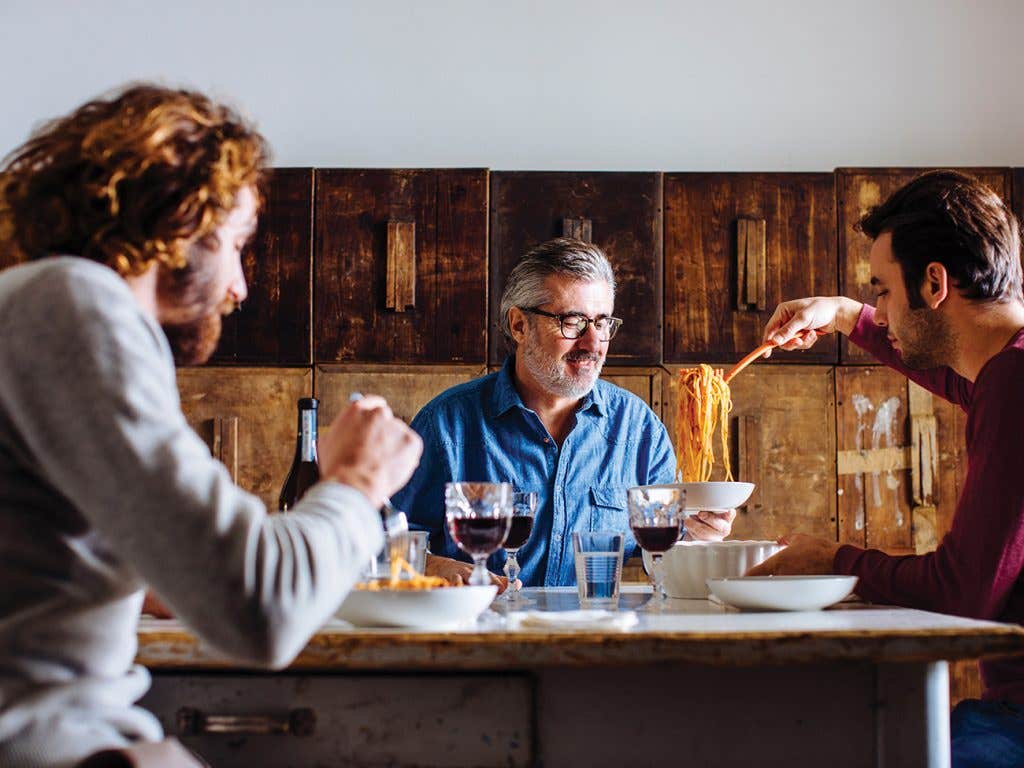 A focus on grapes
In Emilia-Romagna, the local and ubiquitous white Trebbiano grape is fodder for 30% of local yields. That said, the region is better known for two reds—Lambrusco and Sangiovese—which both make up about 17% of regional production. Bordeaux-based reds and whites like Sauvignon and Chardonnay also figure into the equation here
Lambrusco, a sparkling red with astonishing tannins, once enjoyed a certain renown before falling a bit by the wayside. Industrial production methods, a far cry from the grape's country origins, were part of what possibly disenchanted drinkers. That said, over the last decade, this red has recovered thanks to winemakers who practice a more diversified and less sugar-forward craft. With its tannic character and nice acidity, Lambrusco is a perfect pizza wine when served chilled, making for the perfect complement to fatty cheese and tomato flavours. It can also provide an energetic pairing with regional charcuteries and foods on the richer side.
When it comes to Sangiovese, which is often associated with neighbouring Tuscany, Emilia-Romagna is no small contributor to the world supply, generally under the Sangiovese di Romagna DOC label. Terroirs are relatively varied here and can be found around Bologna, the region's core, as well as seaside Ravenna. As a general rule, the wine tends to be fruity and generous, supported by good tannins, sometimes a bit rustic. In Quebec, the Sangiovese from Emilia-Romagna has gotten a lot of exposure in no small part thanks to a producer with a whole lot of personality: Umberto Cesari. A regional engine of sorts, this house (est. in the 1960s) is notably responsible for Liano, a very fruity red made of Sangiovese and Cabernet Sauvignon that Quebec seems to love. With annual production surpassing the three million bottle mark (the line goes far beyond Liano alone), Cesari has done much in the way of bolstering quality and waving the Emilia-Romagna flag on the international stage: 90% of output is exported—especially to Quebec and the rest of Canada.
Romio Sangiovese di Romagna Superiore Riserva 2019 Red wine

|

750 ml

Italy

,

Emilia-Romagna

Available

Online

Available

In store

Available

Online

Available

In store
Available

Online

Available

In store
Will Emilia-Romagna end up winning us over as much as Italy's other wine-producing regions? Its quite affordable wines already pair perfectly with a cuisine that's very familiar to us. Just imagine the amount we'd drink here if we paired this region's wine with spaghetti bolognaise and lasagna every time we dug in!
A region with infinite charm
Besides its rich culinary output, the Emilia-Romagna region is teeming with historic places and noteworthy cities. Ravenna, by the Adriatic Sea, is a city where you can behold magnificently preserved, one-of-a-kind, ancient mosaics. Bologna is the oldest university city in Europe (1088) and an economic hub. Piacenza (Plaisance) and Parma overflow with fabulous historical buildings, while the castles and manors you'll find in the surrounding countryside tell of the region's wealth. Need to bounce back from all the culinary abundance? Go for a hike or ski the peaks of the Apennines, the mountain chain crossing central Italy. Tack on a stroll along the gorgeous Adriatic beaches and you'll soon lose count of Emilia-Romagna's many charms, which are about equal in number to its comestible delights.