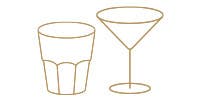 Here's our Top 5 for lovers of coffee cocktails



Coffee is the 3rd most consumed beverage in the world. No wonder it's so popular when making succulent cocktails.
Coffee Cream
A great comforting classic that always makes you smile. A péché mignon par excellence, what more to say? It has gone stood through time and trends. And why not try it with one of the new vegan cream liqueurs now on the shelves?
Suggested product: Carolans Irish Cream
Café Coretto
Italians add a dash (if only a few drops of anise liqueur or of your favorite liqueur) in this "corrected" espresso (from the Italian "coretto"), to flavour it. The perfect finishing touch to a meal, according to many.
Suggested product: Ramazzotti Sambuca
Mocha Martini
The distinguished allure of a martini, the warming aspect of hot coffee, the depth of American whiskey and chocolate liqueur? What more could you ask for? A sophisticated cocktail to end the evening in style.
Suggested product: Bulleit Bourbon
Ski Hill Soother
After hitting the slopes all day, what could be better than this other kind of Après-ski around the fire? With its rich and velvety flavours, it's perhaps the ultimate cocktail for weekends in the country.
Suggested product: D'Eaubonne V.S.O.P
Tiramisu
Cocktail, or dessert? Or both? Regardless, this delicious combination of coffee, whipped cream and chocolate liqueur is ideal for those with a sweet tooth. Not to mention that they look great served in small double bottom glasses.
Suggested product: Morbleu spiced rum
Available

Online

Available

In store