We all know that turkey is a Christmas classic. This year, make your turkey shine with our festive (and fun) stuffing ideas!
Tastevino's christmas turkey
Here's a recipe that'll leave your guests asking for seconds: a spice and honey-glazed turkey, generously stuffed with ground pork, bacon and apples!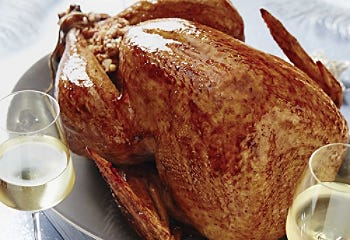 Preparation: 25 minutes
Cooking: 3 hours and 20 minutes
10 to 12 servings
Ingredients
Stuffing:
5 mL (1 tsp) olive oil
1 onion, finely chopped
2 garlic cloves, chopped
6 slices bacon, cubed
454 g (1 lb) ground pork
2 yellow apples, cut into cubes
2 eggs
2 sprigs tarragon
2 sprigs thyme
80 mL (1/3 cup) bread crumbs
Salt and freshly ground pepper
Turkey:
1 turkey, roughly 4.5 kg (10 lb)
250 mL (1 cup) water
60 mL (1/4 cup) white wine
Glaze:
60 mL (1/4 cup) lime-blossom honey
2 black cardamom pods, crushed
60 mL (1/4 cup) chicken broth
Directions
1. Preheat the oven to 160 °C (325 °F). Stuffing: 2. In a saucepan on low, heat the oil and gently sauté the onion and garlic for six minutes. 3. Add bacon and ground pork and cook for another 10 minutes, or until meat is browned. 4. Let cool and combine with the rest of the stuffing ingredients. 5. Season with salt and pepper. Turkey: 6. Stuff the turkey and place on the rack of a roasting pan. 7. Pour the water into the bottom of the roasting pan. 8. Roast in the oven for three hours. 9. Baste regularly with the cooking juices 10. Add more water if necessary. Glaze: 11. In a bowl, combine all the glaze ingredients. 12. Thirty minutes before the end of cooking, pour the glaze over the turkey and baste several times. 13. The turkey is cooked when the internal temperature of the thickest part of the thigh reaches 82°C (180°F). 14. Remove from the oven and let rest for 15 minutes before carving.
Dried fruit and port stuffing
The idea is simple and the result amazing! All you have to do is select a variety of dried fruit (raisins, cranberries, prunes, apricots, etc.) and cook them or soak them in a fine spirit, such as cognac or brandy, or a fortified wine, such as Port. Then, season as you see fit, adding a dash of allspice, herbes de Provence, cumin or cinnamon. For a bit of crunch and a whole lot of flavour, throw in some nuts, such as sliced almonds or pine nuts.
Wild rice, mushroom and scotch stuffing
A winning combo: wild rice and mushrooms! And for an even richer stuffing, add some ground pork and veal. The secret ingredient? A generous splash of scotch! Enjoy!
Bread and port stuffing
Bread stuffing is a classic that everyone loves. In keeping with tradition, this recipe is inspired by one of Québec's pioneering chefs, Jehane Benoît. The secret is to soak the bread in cognac or Port after toasting it in the oven and mixing it with the giblets, onions, celery and fine herbs.
Italian stuffing
Italian cuisine is delizioso! So why not bring a little Italian flare to this year's holiday meal with polenta, sausage, mortadella, Parmesan, fennel and white wine stuffing? So good you'll want to add it to your menu every year!