Fondue at the cottage
Simple and delicious comfort food is perfect for a weekend getaway at the cottage. Our Mongolian fondue recipe is guaranteed to start the evening off right, and is sure to please. Oh! And make sure to check out our pairing suggestions!
Photos: Maude Chauvin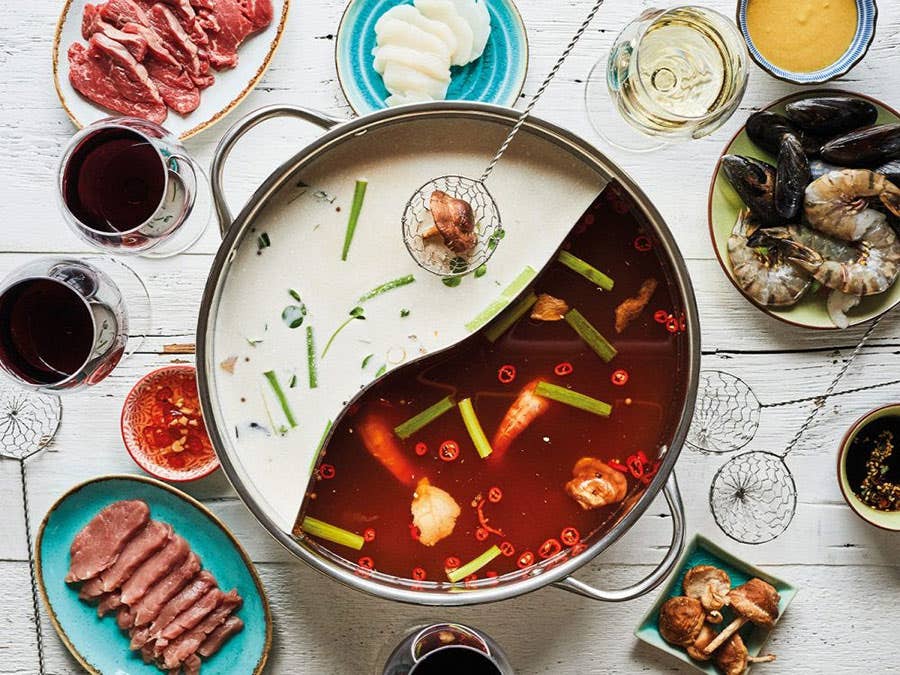 What exactly is mongolian fondue?
What we know as Chinese fondue was actually initially Mongolian fondue; in fact, Mongolians introduced the Far East to this culinary dish as far back as the 14th century when the meat of predilection was mutton. Although the recipe has changed a bit since, the principle remains the same: cooking meat and vegetables in a seasoned broth. Our recipe features coriander, goji berries, cardamom, ginger and lemon grass. You can opt for strips of lamb, beef or pork filet, or even homemade meatballs or store-bought dumplings… and of course, lots of veggies!
Two for one
Our broth recipe makes two fondues. In one half, we've added chili peppers and sambal oelek sauce; in the other, coconut milk. Two flavours that are sure to please everyone. You can find double fondue pots in Montréal Chinatown, or simply use two single pots.
Mongolian fondue
Preparation: 30 minutes
Cooking: 30 minutes
Cost per serving: about $8.00
6 to 8 servings
---
Ingredients
Broth
1.5 L (6 cups) water
14 g (1/2 oz) dried shitake mushrooms
6 green onions, cut into chunks
12 slices of ginger
4 cloves garlic, crushed
1 lemon grass stalk, crushed
6 cardamom pods, crushed
15 mL (1 tbsp) ground pepper
15 mL (1 tbsp) coriander seeds
45 mL (3 tbsp) goji berrie (optional)
250 mL (1 cup) thick coconut milk
2 chili peppers, thinly sliced
30 mL (2 tbsp) hot sauce, such as sambal oelek
Salt to taste
Dips*
225 g (1/2 lb) variety of mushrooms (shiitake, button, oyster)
Vegetables (bok choy, corn, spinach, napa cabbage)
Noodles (udon, vermicelli)
225 g (1/2 lb) each: lamb filet, beef filet or round steak, pork filet, all thinly sliced
225 g (1/2 lb) each: tiger prawns, scallops and mussels
1 bunch Thai basil (optional)
Preparation
1 Bring all ingredients for the broth to a boil with the exception of the coconut milk, chili peppers and hot sauce. Let simmer over low heat for 20 minutes.
2 Divide broth in two. In one half, add coconut milk and in the other, add chili peppers and hot sauce.
3 Serve with dips and sauces.
Tip
Keep your leftover broth to make delicious Asian-style mussels, hearty soups, or any other dish that tickles your fancy!
What to drink with this Mongolian fondue?
Enhance the delicious flavours of this fondue—with its various spices and the mushrooms, meats, and vegetables we cook in it—with a fruity and spiced Languedoc wine with a "fruity and medium-bodied" taste tag, or a distinguished "aromatic and supple" Bordeaux. A fresh, enveloping "aromatic and mellow" Chardonnay also pairs perfectly with the creamy texture of the coconut milk. It's also the perfect accompaniment to seafood.
Available

Online

Available

In store

Available

Online

Available

In store

Available

Online

Available

In store
Three sauces for Mongolian fondue
Soy and lime
60 mL (1/4 cup) reduced sodium soy sauce
30 mL (2 tbsp) maple syrup
Juice and zest of 2 limes
30 mL (2 tbsp) toasted sesame seeds
1 diced green onion
Mix first three ingredients together, then garnish with sesame seeds and green onions.
Spicy sauce with peanuts
250 mL (1 cup) rice vinegar
125 mL (1/2 cup) sugar
1 pinch of salt
2 red chilli peppers (Bird's Eye Chilli Peppers), finely diced
30 mL (2 tbsp) roasted, crushed peanuts
In a pot, bring vinegar, sugar and salt to a boil, and let reduce until it reaches half of its original volume, roughly 5 minutes. Pour mixture over chilli peppers, and garnish with peanuts.
Mustard and sesame sauce
45 mL (3 tbsp) Dijon mustard
15 mL (1 tbsp) grilled sesame oil
15 mL (1 tbsp) honey
15 mL (1 tbsp) soy soya
15 mL (1 tbsp) rice vinegar
5 mL (1 tsp) finely diced ginger
30 mL (2 tbsp) finely diced green onion
15 mL (1 tbsp) roasted, crushed peanuts
In a bowl, combine all ingredients, except for the green onions and peanuts. Once all other ingredients are mixed, garnish with green onions and peanuts.