Tropical cocktails for summer
Have a little fun with your drinks this summer! Try our exotic-tasting cocktails with a Tiki-inspired look. Create an electrifying, beachy ambience with our original cocktail recipes.
Photos: Valeria Bismar
Illustrations: Valérie Bertrand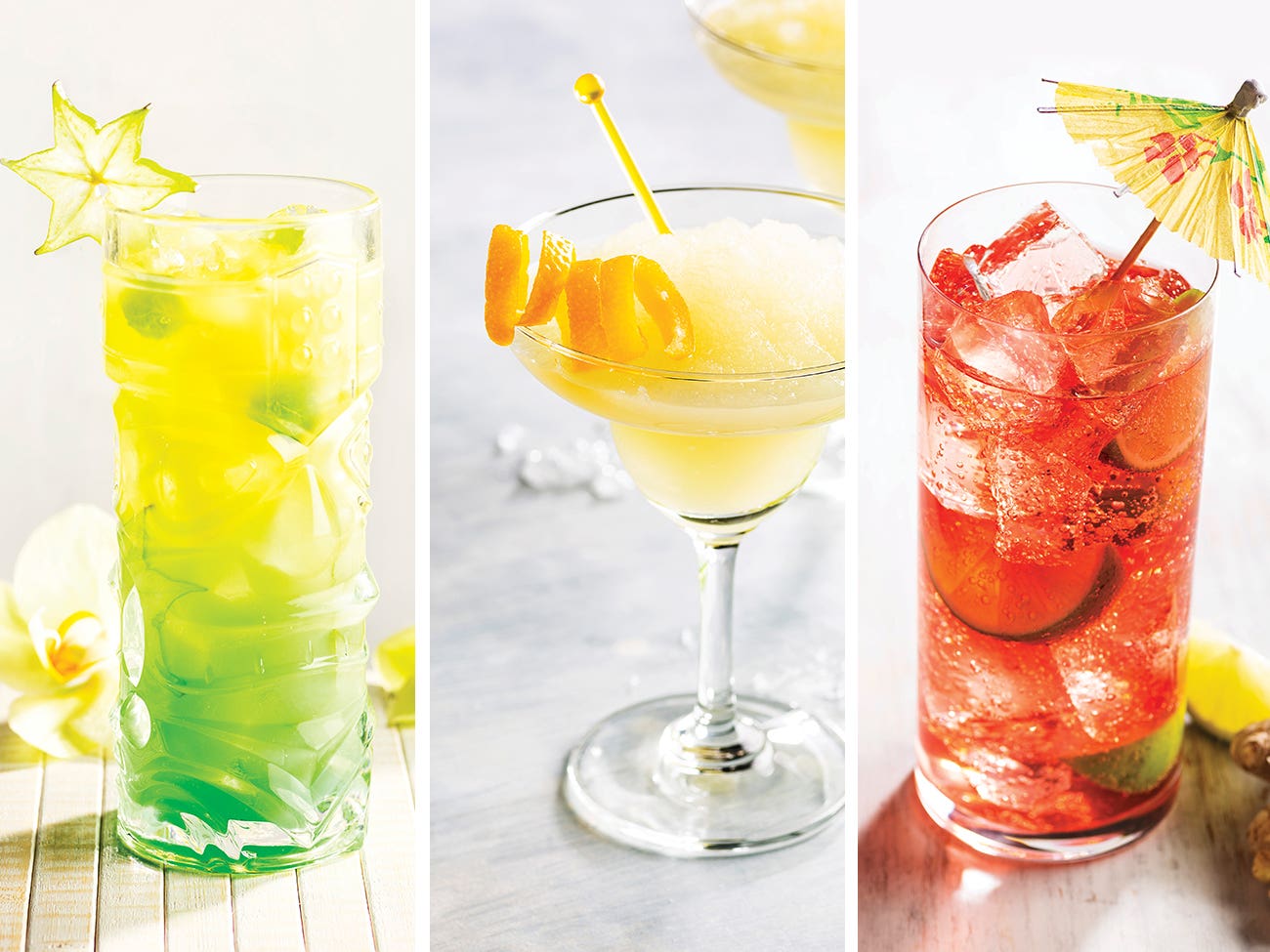 Fusion cocktail
Can't decide between a margarita and martini? Then try our Margatini! Your guests will love this new take on two timeless classics, and its frostiness is perfectly refreshing on those hot summer days. Lookwise, keep it simple with beautiful basil or fresh mint leaves or lime wedges. Really want to make a lasting impression? Decorate your glass with spiraled citrus zest for a more sophisticated look!
You can't go wrong with gin!
Gin never goes out of style–mixologists use it in a variety of delicious cocktails, and local distilleries offer a whole range of refined products with distinctive flavours.
Margatini
1 drink
Ingredients
45 mL (1 1/2 oz) dry gin
8 mL (1/4 oz) citrus liqueur
Juice from 1/2 lime
Ice cubes
Directions
In an electric blender containing ice cubes, combine the dry gin, citrus liqueur, and lime juice. Blend until smooth. Pour the contents of the blender into a margarita glass. Garnish to your liking.
Rum for every occasion
Reminiscent of the laid-back, festive atmosphere of the tropics, white rum is a terrace drink staple. In fact, it's the base of several classic exotic cocktails such as daiquiris, pina coladas, and mojitos, and combines well with fruit juices (grapefruit, orange, peach, pineapple). Having guests over? You can serve some exotic fruit punch (pineapple or mango, for example).
Fresh herbs in syrup
Summer is the season for fresh herbs: mint, basil, tarragon, thyme... Use them to garnish your cocktails or for easy syrups that are sure to take your alcoholic drinks, like our Tropical Paradise cocktail, to new heights. Plus, they're so easy to make! Simply combine equal parts water and sugar and bring to a boil. Add the herb of your choice, let it infuse, and strain. This syrup keeps in the fridge for up to two weeks. Use it to add a splash of flavour to your bubbly or mojito!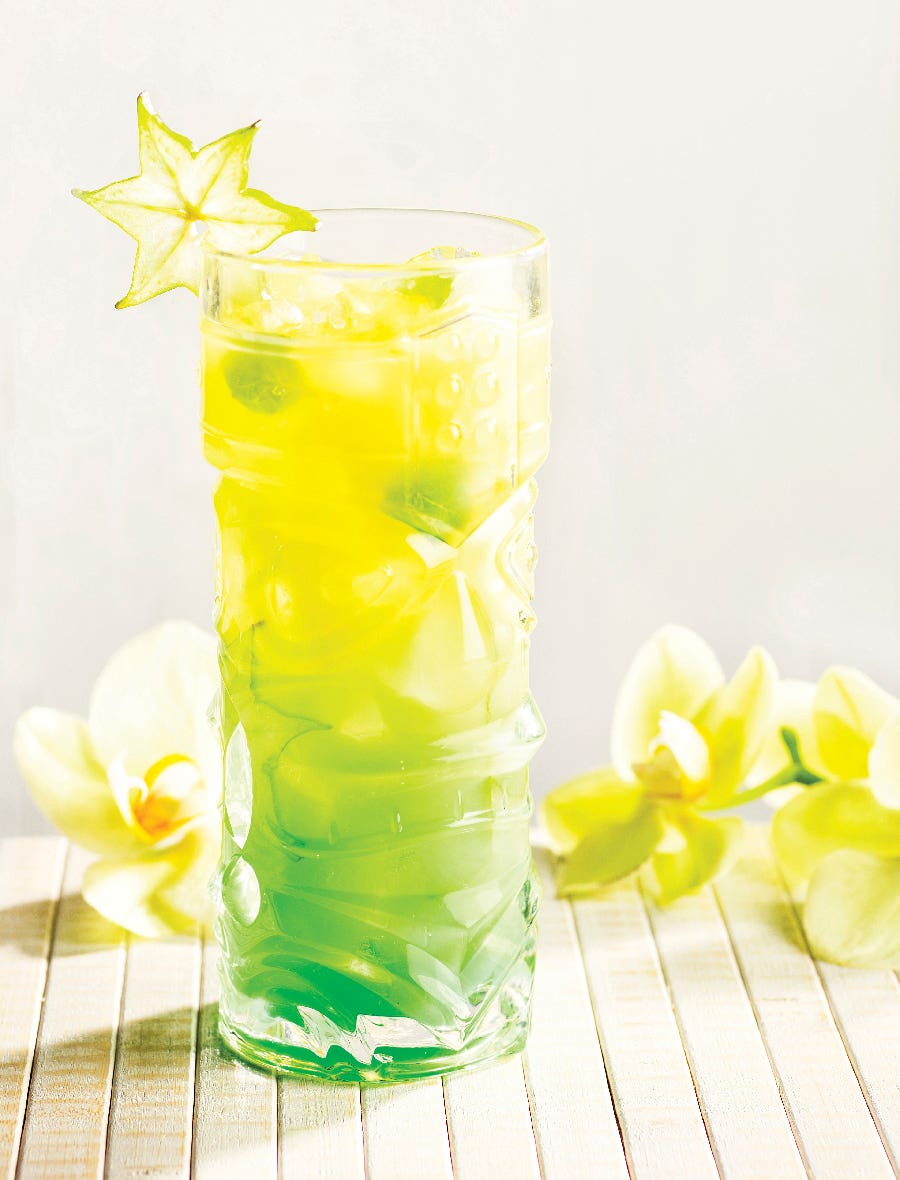 Tropical paradise
Donne 1 verre
Ingredients
60 mL (2 oz) white rum
30 mL (1 oz) peach liqueur
210 mL (7 oz) orange juice
Dash of spearmint syrup
Ice cubes
Mint leaves
1 starfruit slice
Directions
Pour the rum, peach liqueur, and orange juice in a highball glass over a few ice cubes. Stir. Slowly pour the spearmint syrup along the edges of the glass so it sinks to the bottom without blending. Garnish with mint leaves and a piece of starfruit.
Not available

Online

Available

In store
Wickedly good!
If you're curious or feeling bold, El Diablo will surely live up to your expectations. It starts with the classic tequila and lime duo, to which is added blackcurrant liqueur for some sweetness, and ginger ale for some extra spice. A unique, perfectly balanced cocktail!
Queen tequila
If you like agave-based spirits, then you're in for a treat, cause tequila is back in the limelight. And distillers, mixologists, and even some of Hollywood's biggest stars, like George Clooney and Justin Timberlake, have taken an interest in high-end tequila.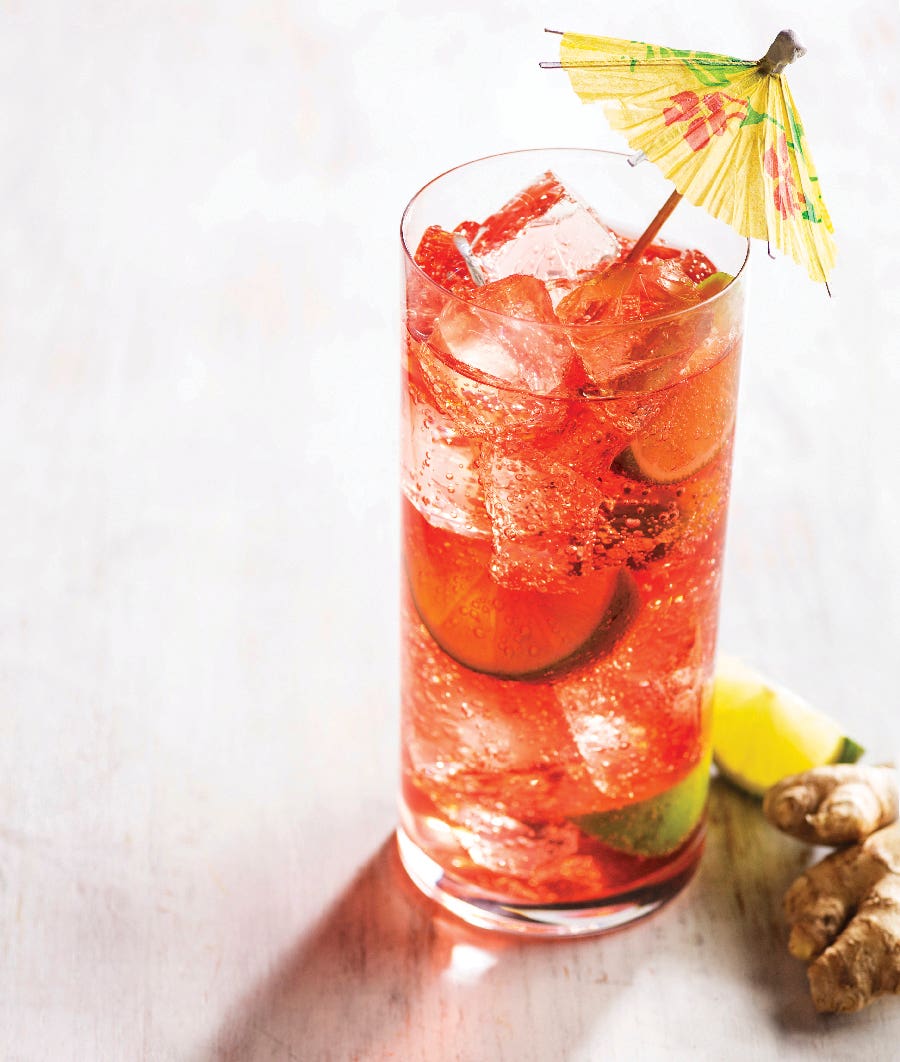 El Diablo
Makes 1 glass
Ingredients
30 mL (1 oz) tequila
15 mL (1/2 oz) blackcurrant liqueur
120 mL (4 oz) ginger ale
Ice cubes
3 lime wedges
Directions
Pour the tequila, blackcurrant liqueur, and ginger ale in a highball glass. Stir. Garnish with lime wedges.
Not available

Online

Not available

In store
Did you know?
The El Diablo cocktail was created by Victor Jules Bergeron, aka Trader Vic, a popular Californian restauranteur from the 1930s. He was also the mastermind behind the Mai Tai, a staple Tiki cocktail.