Les Vents d'Ange: turning things around by buying local
As the pandemic comes down hard on Quebec, buying local is, now more than ever, looking like a sustainable solution for businesses. At Les Vents d'Ange, a vineyard located in Saint-Joseph-du-Lac, the entire family is hard at work to offer the best wines and meet the growing demand. The call to support the local economy was heard, loud and clear: people are (re)discovering local wines, and it's wonderful!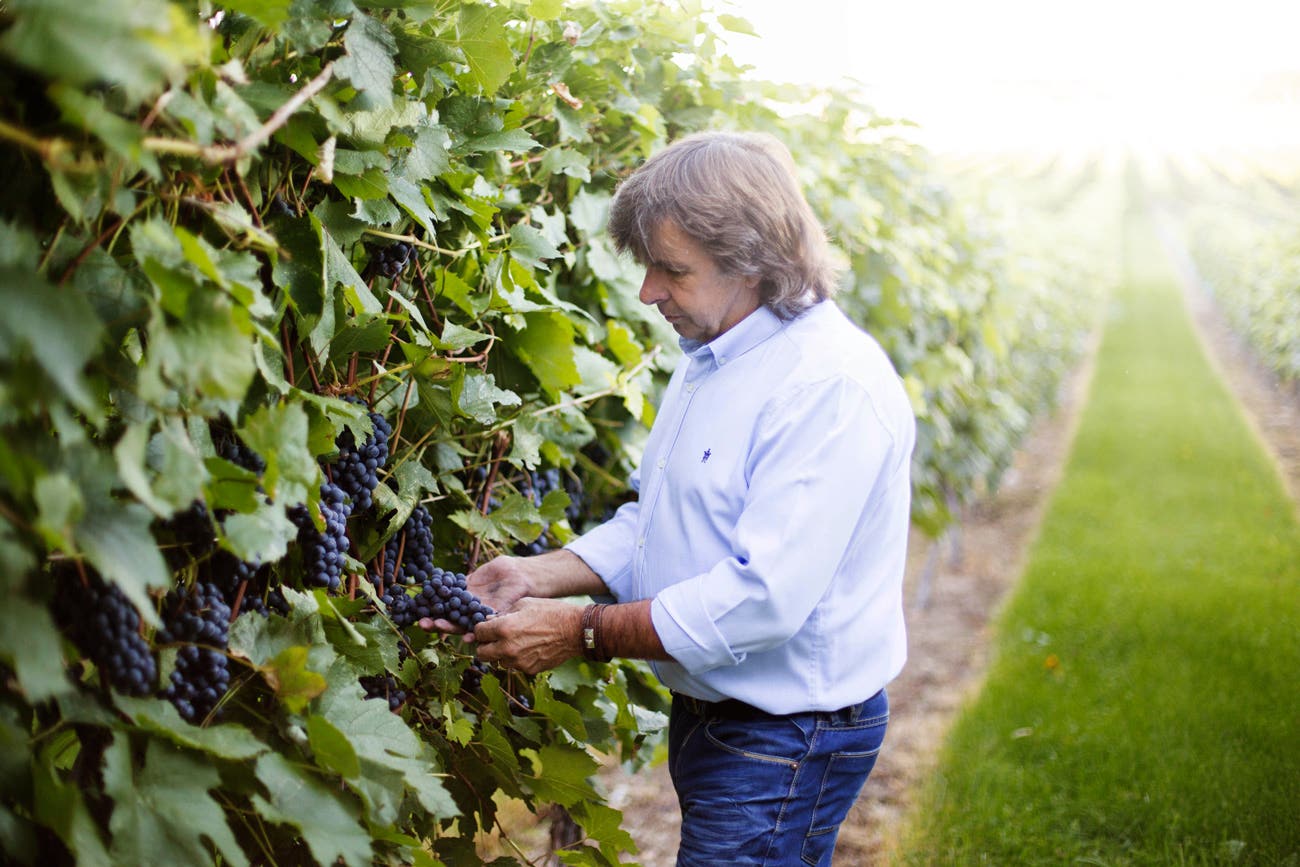 As we settle into spring, vines are blooming, buds are blossoming, and André Lauzon, owner, field and cellar master at Les Vents d'Ange vineyard, along with his daughters Catherine and Alexandra, have just finished pruning… right on time to kick off the season! It's quite the feat! "We went into overdrive, with a reduced team," he proudly exclaims during our phone conversation.
Usually at this time, the new vintages are coming out, and Alexandra, vineyard ambassador, goes from one store to the other to promote them. But this year, the schedule got disrupted. "My father had to show a great deal of patience to teach us 'rookies' how to prune the vines," she says, laughing.
The operation was fruitful. While their father was busy vinifying and tying some 30,000 plants on the ancestral land, the sisters were taking an ever-growing number of orders. "Since the government's call to buy local, online sales have exploded," Alexandra says proudly. "To us, buying local is key. And not just during a pandemic," she specifies. "Putting Quebec in our glasses and on our plates should come naturally. It pleases the palate and there are so many discoveries to be made. It's pure pleasure! Buying local means you know where the product comes from and whose energy and passion went into making it. It's good for our environment, our economy, and our future. We should be proud of our products, which are top quality."
The crop first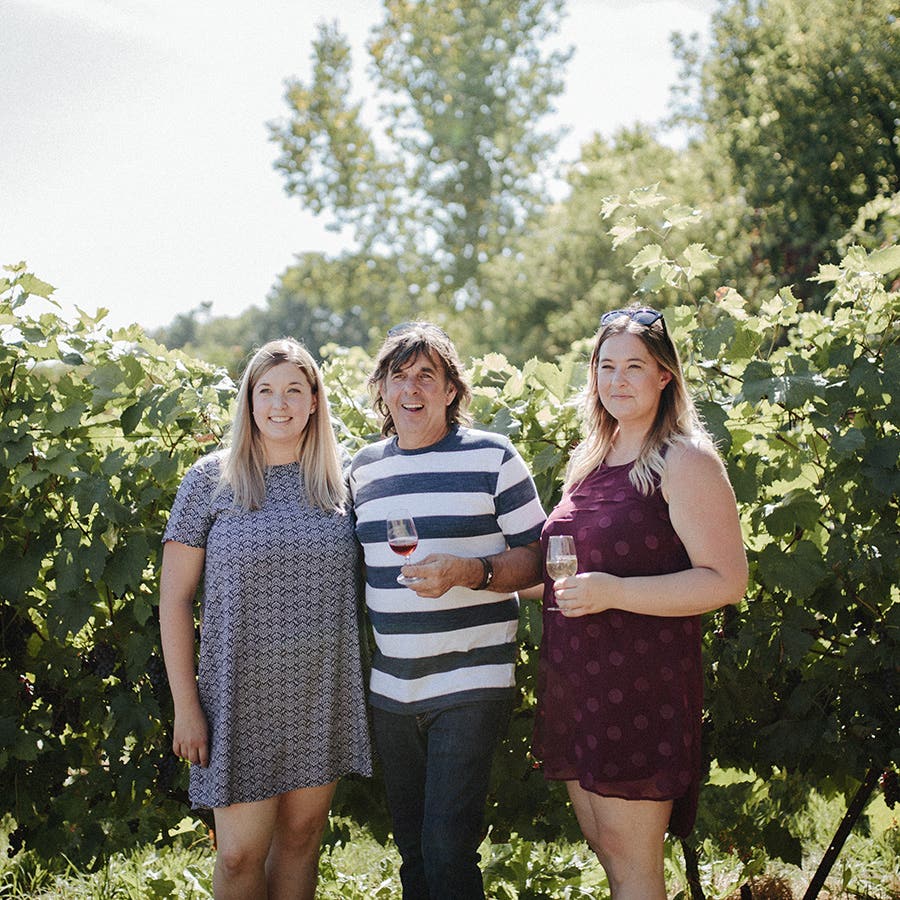 In the vineyards, Lauzon feels miles away for the sanitary crisis … that is, were it not for the news playing on a loop and the echoes he hears from his wife, Sylvie D'Amours, Member at the National Assembly and founder of the vineyard. "This summer, with the social distancing measures in place, the agrotourism industry is looking bleak. We will have to bank on our crops to keep sales up," he says, philosophically.
The son of a farmer, and a guitarist and entrepreneur in his own right, challenges don't scare Lauzon. He is used to reinventing himself. In fact, when he purchased the family plot in 1993, it was a far cry from the prolific vineyard it is today. Back then, it was used to grow cabbage, squash, and apples. In the early 2000s, he decided to swap his vegetable production and U-pick business for a tour of France, visiting vineyard after vineyard. "At night, I would jam with my band, and during the afternoons I would work the vines. It's by working with passionate winemakers that I developed my own passion for wine and the wine industry."
At the time, Quebec was still just budding in terms of viticulture production. In 2005, the apprentice winemaker decided to step out on his own. The following year, he obtained his license and successfully launched his first vintage—a white he baptized Catherine, in honour of his first-born daughter, who today is co-owner of the vineyard and director of business relations.
Under the guidance of oenologist Mattéo Maglioli, the production gained momentum and the brand quickly started lining SAQ shelves. "Our wines rank among the best in Quebec in terms of quality. We continue to plant vines and expand, but always in keeping with the current market," points out Lauzon, who insists on rigour, consistency, and stability when it comes to his annual production of 50,000 bottles. "There is still room to grow considerably in Quebec. We have the land, the climate . . . we just need to have faith in ourselves."
The current "Buy Local" movement is good news: "All the local products that people are discovering right now, they're going to end up adopting," predicts Alexandra. "The benefits will be felt in the long term. Buy local... it's going to be ok!"
To stay informed and learn more about Les Vents d'Ange, check out the blog written by Alexandra and Catherine: Petite Sœur, Grande Sœur.
Les Vents d'Ange Marie-Rose 2020 Rosé

|

750 ml

Canada

,

Quebec

Available

Online

Available

In store
This semi-dry rosé, named after the winemaker's paternal grandmother, is as vibrant as its namesake was. With a fresh bouquet of raspberries, strawberries, and barley sugar, it's a must for this summer! Pair it with salmon tartare, grilled trout, brunch ham, or salads made with Quebec strawberries.
Les Vents d'Ange Alexandra 2019 Red wine

|

750 ml

Canada

,

Quebec

Available

Online

Available

In store
This red, named after the winemaker's youngest daughter, charms with its delicate tannins and lingering finish. With notes of black cherry and cinnamon, it's a light and fruity wine that's ideal for happy hour. Serve it with a plate of charcuterie, bruschetta, or burrata topped with fresh, local tomatoes.
Les Vents d'Ange Cuvée Catherine 2020 White wine

|

750 ml

Canada

,

Quebec

Available

Online

Available

In store
This semi-dry white, named in honour of the winemaker's first-born, exudes aromas of green apples and white flowers. A refreshing wine, it pairs perfectly with sushi, white fish, grilled seafood, lobster, and delicious Quebec cheeses.