Top 3 comfort food dishes
Here are a few of our favourite comfort food dishes and their perfect pairings. Find everything you need for an evening binge watching your favourite shows.
We all have a favourite meal that brings us warmth and comfort. Lasagna, onion soup, meatballs, grilled-cheese sandwiches… what dish makes you all warm and fuzzy inside? To brighten up those days, here are our top 3 comfort food recipes—cheese tortellini with rosé sauce, express meatless chili, and brie and eggplant pizza—along with their perfect pairings.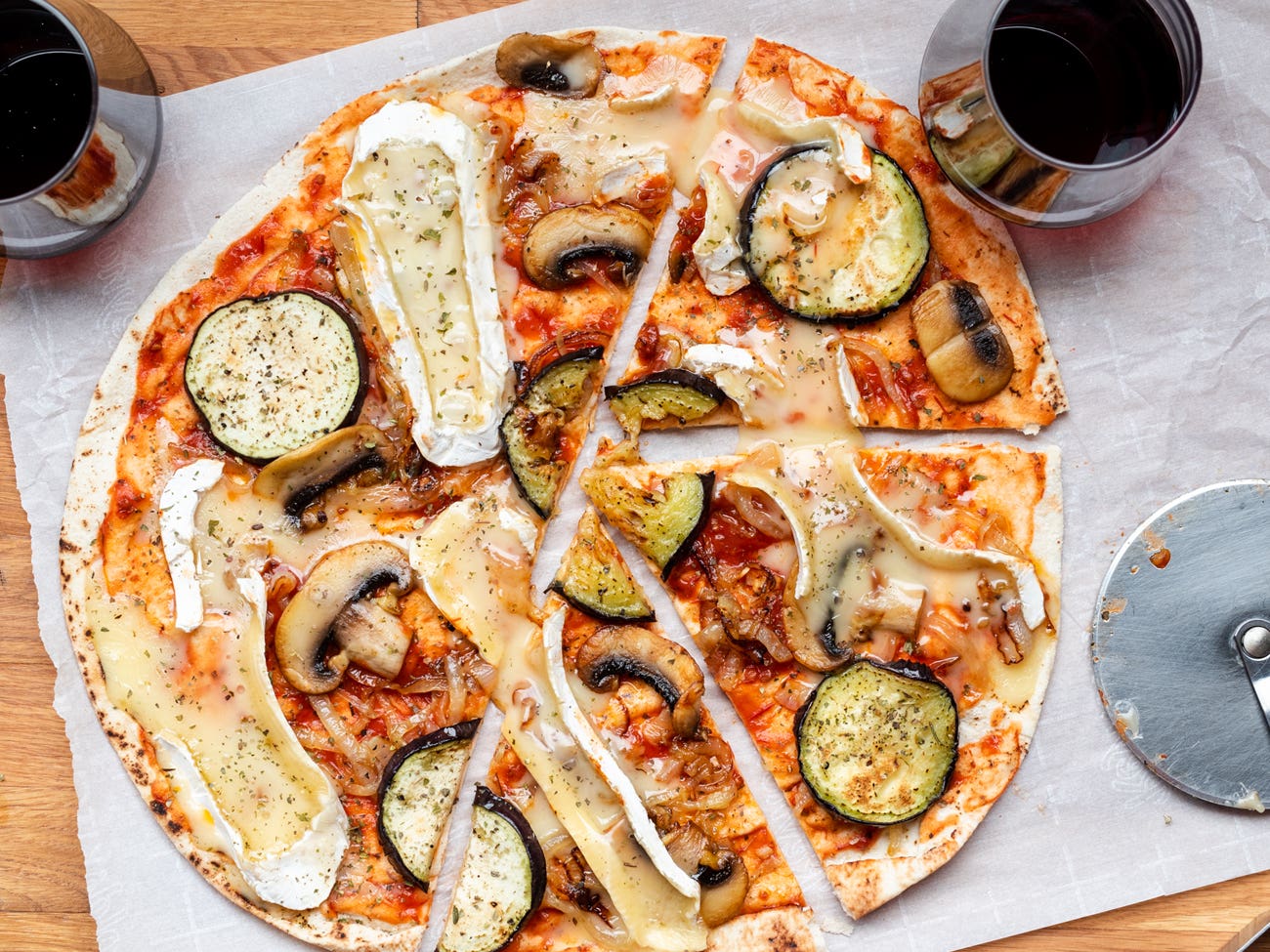 Brie and eggplant pizza
When it comes to comfort food, it doesn't get much better than pizza. Especially pizza topped with melted brie! Over the pita bread base, this pizza has tomato sauce, grilled veggies, and cheese—a most appetizing combination of flavours.

Pairing
Bring out the grilled vegetable and tomato sauce flavours of this pizza with a "Fruity and medium-bodied" rosé with a good acidity. Their great freshness will balance perfectly with the smoothness of the melted cheese.
Ingredients
60 mL (1/2 cup) olive oil
2 garlic cloves, chopped
125 mL (1/2 cup) onion, chopped
750 mL (3 cups) eggplant, diced
375 mL (1 ½ cup) white mushrooms, sliced
Salt and ground pepper, to taste
10 mL (2 tsp.) fresh oregano, chopped
4 pita breads
125 mL (1/2 cup) homemade or commercial tomato sauce for pizza
300 g (10 ½ oz.) sliced brie
Preparation
1. Preheat oven to 230 °C (450 °F). 2. In a frying pan, heat the oil over high and sweat the garlic and onion for 1 minute. 3. Add the eggplant and mushrooms, and sauté for 2 minutes. Season. 4. Place the vegetables in a dish and sprinkle with oregano. Set aside. 5. Spread some tomato sauce on each piece of pita bread. 6. Spread the eggplant and mushroom mixture onto the breads. 7. Cover the pizzas with the brie slices. 8. Place the pizzas on a baking sheet and bake 3 to 4 minutes or until the cheese is thoroughly melted and the edges of the pita breads are crispy. 9. Cut each pizza into 4 to 6 slices and serve.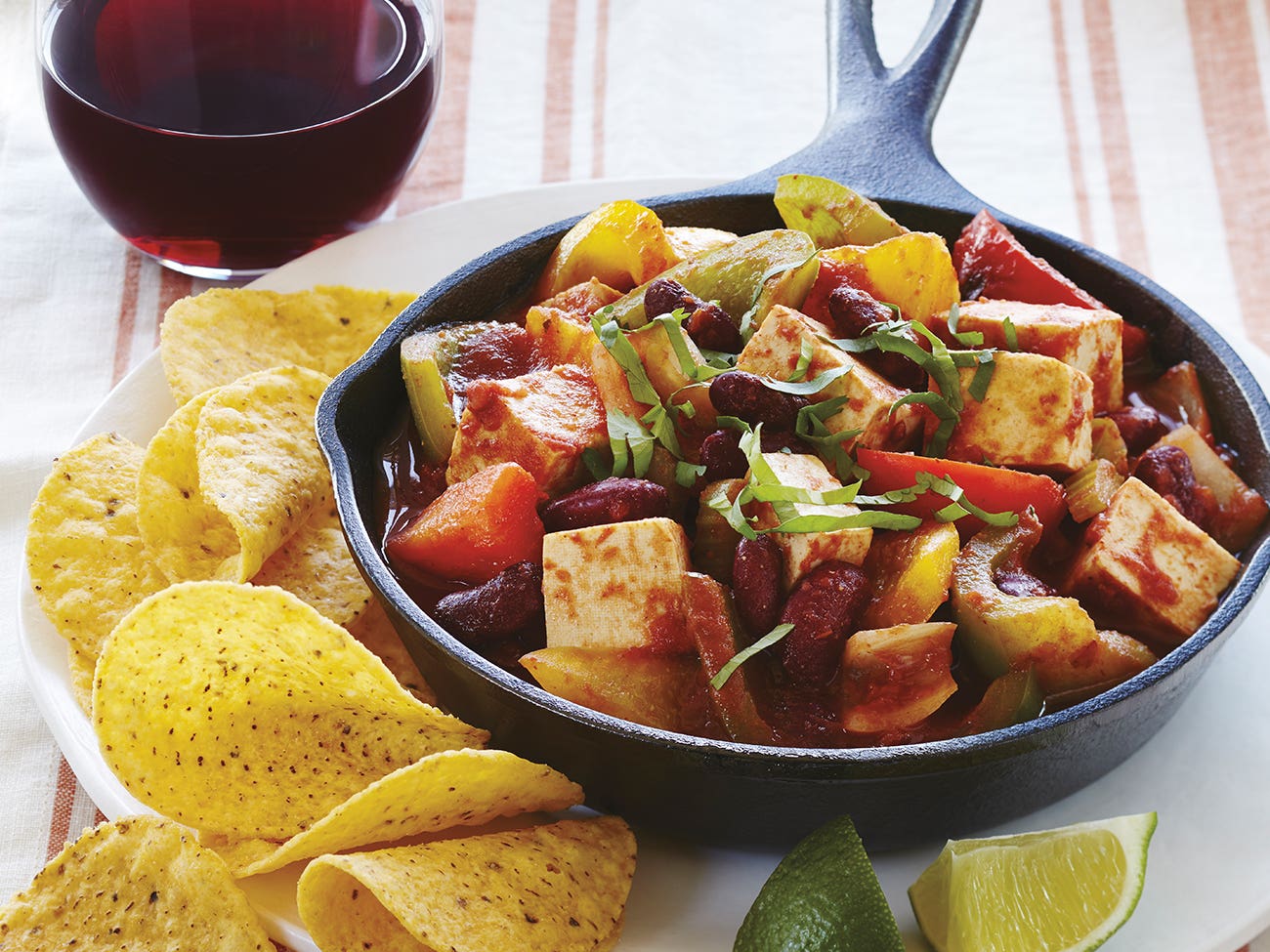 Express meatless chili
Are you among those whose resolution is to eat less meat this year? This recipe is a simple yet delicious introduction to vegetarian cuisine. It packs a ton of flavour thanks to a bunch of spices, and served with corn chips, it makes for a perfect sports night dish!

Pairing
An "Aromatic and supple" red with spice, fruit, and vegetal notes is a great choice to accompany this vegetable and tofu chili. With supple tannins, these wines bring a nice harmony on the palate.
Ingredients
30 mL (2 tbsp.) vegetable oil
2 garlic cloves, chopped
1 large onion, cubed
2 celery stalks, chopped
1 green pepper, cubed
5 mL (1 tsp.) ground cumin
5 mL (1 tsp.) chili powder
2 mL (1/2 tsp.) crushed coriander seeds
796 mL (28 oz.) can diced tomatoes
45 mL (3 tbsp.) tomato paste
540 mL (19 oz.) can red kidney beans, rinsed and drained
300 g (2/3 lb.) firm tofu, finely cubed
15 mL (1 tbsp.) sugar
Salt and freshly ground black pepper, to taste
45 mL (3 tbsp.) fresh parsley, chopped
Corn chips (optional)
Preparation
1. In a large skillet, heat the oil on medium-high and cook the garlic, onion, celery, and pepper for 1 minute. 2. Add the cumin, chili, and coriander, and cook for another minute. 3. Add the tomatoes (with the juice) and tomato paste. Cook 5 minutes. 4. Reduce the heat to low and add the beans, tofu, and sugar. 5. Stir well and season. 6. Simmer for 10 minutes. 7. Sprinkle with parsley and serve with corn chips.
Cheese tortellini with rosé sauce
A simple yet effective dish for easy evenings after a long walk outside.

Pairing
To elevate the delicious taste of tomatoes and fresh basil in this creamy sauce, a "Fruity and medium-bodied" Italian red is ideal. Medium-bodied with a nose dominated by fruity aromas, these tasty wines add character to this cheese tortellini dish.
Recipe
Ingredients
15 mL (1 tbsp.) olive oil
150 g (5 ½ oz.) Italian pancetta (mild or strong), julienned
3 green onions, thinly sliced
2 garlic cloves, minced
4 or 5 basil leaves, chopped
750 mL (3 cups) tomato sauce (see quick tomato sauce recipe)
500 g (1 lb.) tortellini stuffed with cheese, fresh or frozen
250 mL (1 cup) 35% cooking cream
Parmesan, grated
Preparation
1. In a saucepan, heat the oil over medium heat. 2. Brown the pancetta. 3. Remove the excess fat. 4. Add the green onions, garlic, and basil. 5. Sweat for a few minutes. 6. Add the tomato sauce. 7. Turn down the heat and simmer for 15 minutes. 8. Meanwhile, cook the tortellini in salted boiling water. Drain. 9. In a small saucepan or in the microwave, heat the cream without boiling. 10. Add the sauce. 11. Simmer for a few more minutes. 12. Add the tortellini. Stir gently. 13. Divide between soup plates. Garnish with Parmesan and serve.

Photos: Marie des neiges Magnan
Quick tomato sauce
Ingredients
45 ml (3 tbsp.) oil
1 medium onion, coarsely chopped
2 to 3 garlic cloves, finely chopped
2 cans, 796 ml (28 oz.) diced tomatoes
1 can, 156 ml (5 oz.) tomato paste
Salt and ground black pepper
45 to 60 ml (3 to 4 tbsp.) fresh basil, chopped
Preparation
1. Heat the oil over medium heat in a saucepan. 2. Sweat the onion for a few minutes (without colouring). Add the garlic and stir. 3. Add the tomatoes and tomato paste. Bring to a boil. 4. Season with salt and pepper. 5. Lower the heat and cook for 20 minutes. 6. Stir in the basil just before adding the sauce to your recipe.