Express pickup in-store
Free with any purchase of $75
Take advantage of our new in-store Express pickup service today to make your life easier and save you time. By the way, it's free for any purchase of $75.

Buy online
Buy what you like directly on SAQ.COM or the mobile application by choosing among thousands of products and select in-store delivery upon payment.

Receive a confirmation email
As soon as your order is ready to be picked up, you receive a confirmation email with the store's phone number.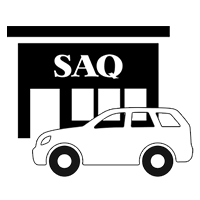 Once you're there, call the store to collect your package
Call the number mentioned in the email (don't forget your order number and your ID), and an employee will tell you how to pick up your package. That's it, done! Now sit back, relax and enjoy tasting your new finds.
Certain conditions apply. Permit holders excluded. The ''Click, purchase, pick up'' service is offered to individuals, only in participating stores. Free in-store delivery is offered within 3 to 5 business days, with purchases of $75 or more (after rebates and discounts). Delivery times may vary due to circumstances beyond our control. A $6 fee applies to orders under $75 delivered in-store. Applicable sales taxes are not included in delivery fees. Delivery fees are subject to change without notice. Product availability may vary on SAQ.COM. We may stop the service at any time without prior notice. For all the details, visit the Terms of sale section.