18 years and over, by law

Under the SAQ sales ethics, we refuse to sell beverage alcohol to:
minors;

the obviously inebriated;

adults who attempt to buy beverage alcohol on behalf of a minor (even if they are the minor's parent or guardian) or on behalf of someone who is inebriated.
Our employees are entitled to check the age, sobriety and intention of shoppers and to refuse to sell beverage alcohol to them if deemed necessary to comply with the sales ethics.
Proof of age is also required when delivering products purchased on the SAQ.COM website.
Why does this matter?
Because beverage alcohol is a product unlike any other and the beverage alcohol trade is governed by laws and regulations.
Because the Act Respecting Offences Related to Alcoholic Beverages stipulates that:
a minor cannot purchase alcoholic beverages for himself or for another person (section 103.9);

an adult cannot purchase alcoholic beverages for a minor (section 117.1).
Because applying the sales ethics is an integral part of our work and responsibilities. As representatives of the SAQ, it is our duty to comply with the act and to ensure it is complied with.
Printable version of the SAQ's detailed sales ethics (PDF - 58 Ko)
SAQ sales ethic ads
(french only)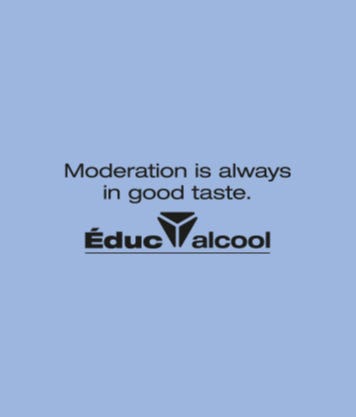 Éduc'alcool
The SAQ has contributed to the Éduc'alcool Fund since its creation in 1989. Éduc'alcool is an organization that develops prevention, education and information programs to help young people and adults to make informed and responsible decisions about alcohol consumption. In fiscal 2018-2019, the SAQ collected and remitted $3.5 million to Éduc'alcool.