Do you have a rosé outlook on life? You're not alone! The wine world is increasingly enamoured with rosé, and in fact, one-in-ten bottles savoured across the globe is this charming pinkish wine.
Since the 2000s, total wine production has stayed more or less the same globally. Yet, during that same period, rosé production increased by roughly 30 percent—the result of shifting wine alliances: generally, red drinkers will shift to rosé. Glasses were filled with rosé even more frequently than before, over the past five years.
Following provence's lead
---
On the global market (and especially in Québec) France is the king of wines, in addition to producing some 30 percent of rosé that fills the entire world's glasses. Within France, Provence is the undisputed leader, producing 42 percent of the nation's rosé—which works out to one-in-eight bottles uncorked internationally. The sunny, moderate, Provençal climate, influenced by the proximity of the Mediterranean Sea is particularly suitable for rosé production.
Provence's winemakers have taken the lead in rosé vinification innovation; the Centre de recherche et d'expérimentation sur le vin rosé being just one testament to the importance of the wine variety to both the country and the region. At the aforementioned institute, winemakers and researchers work together on nearly every aspect of production.
Quantity isn't the only way that Provence leads the crowd; its particular style of rosé (pale in colour, dry and lively) dominates not only the global market but the French market as well. Languedoc-Roussillon and the Rhône have followed this trend in terms of style and production levels: Rosé is becoming an increasingly large portion of their winemaking output, and they use the same Provençal grape varieties (Grenache, Cinsault, Mourvèdre, Syrah, and Carignan, with occasional other regional and appellation-based varieties).
So as to not be left behind, other regions are exploring rosé production by highlighting their own winemaking traditions—the Loire being just one example. Other regions are creating their own styles from scratch but still reflect modern trends. Bordeaux is a great example of the latter, being so renowned for its crus classes but virtually unknown for its rosés. Yet suffice it to say that regardless of the French region or the country a bottle may come from, if a rosé is made from Pinot Noir or Gamay, you should definitely give it a chance. The latter grapes make rosé wines that have notes of crisp red berries, often highlighted by beautiful floral accents.
A versatile wine
As refreshing as a white, more aromatic than a red, rosé is a versatile wine when it comes to pairings. One such amazing match is the summer tomato, ripened in the sun and full of flavour - the aromas and acidity of tomatoes and rosés play well off each other. In fact, rosé wines' lovely acidity is also an excellent accompaniment to charcuteries, refreshing the palate between meaty bites. More full-bodied, aromatic rosés are great when served with simple grilled foods seasoned with dry spices (but perhaps avoid serving them with rich sauces).
A trend that's hopping continents
---
Rosé's popularity has spread to the point where a significant number of countries are jumping on the bandwagon to produce this popular wine variety. Spain is the world's third-largest rosé producer, and the world's largest exporter overall. Spanish grape varieties that produce Provence-style rosés are used, as well as native varietals that make quality rosés. Such is the case with Tempranillo, which makes an energetic and satisfying rosé. Amusingly, a large portion of Spain's exported rosés end up…. in France! Indeed, France's taste for rosés far outpaces its production: According to recent numbers, nearly a third of all wine drunk in France is rosé.
Current trends also influence and alter winemaking practice and production in places like California, where dry and diverse rosés have taken over the eighties or nineties popularity of the sweet White Zinfandel. Styles have become refined and have evolved, to the point where Rhone-based grape varieties such as the Pinot Noir are increasingly used.
Italy is the world's fourth largest wine producer, and has also witnessed a rosé boost—from Chiarettos bottled in the north close to Lake Garda, to savoury rosés from Puglia or Sicily in the south. Grape varieties with lively acidity and fresh red fruits, highlighted by a touch of spice and herb, give personality and character to rosés from the Italian peninsula. Italy has a lot to offer in terms of unique rosés, from: Tuscan Sangiovese to Montepulciano in Abruzzo, Negroamaro in Puglia to Corvina and Rondinella in Veneto and many more.
Surprisingly, Pinot Grigio can make an appealing rosé—even if it's more often turned into white wine. These "grey grapes" easily take on a rosy tone when they reach full maturity, a colour handily transferred to its rosé iterations—if grapes are left to macerate somewhat, prior to being pressed for their juices.
The Southern hemisphere greets summer as we see winter, but nonetheless remains the planet's proverbial rosé weathervane. Australia, South Africa, and Chile have also all quadrupled rosé production over the past two decades, even if their overall production remains relatively modest comparative to the aforementioned big three.
Québécois winemakers are also seeing la vie en rosé, making colourful, lively and expressive bottles using hybrid grape varieties that are Québec's speciality. Some of these varietals have sparse tannins yet are filled with ample aromas and acidity—a combination that makes for especially enticing Québec terroir rosés.
---
A variety of styles, a variety of occasions
---
Thanks to its burgeoning popularity, rosés are being produced in a variety of terroirs and locations, with increasing varieties of grapes and in a wide number of different styles. For example, Greek wines also have their own rosé style: Xinomavro Venus, which is full-bodIed and ready to drink. Some rosé producers give certain vintages depth and fattiness by ageing them for a specific period in barrels, casks, and even amphorae, whereas others will age their wines in the traditional way for years upon years. Others still produce rosés that are ready to uncork and drink with substantial, flavourful dishes like red meat. Rosé is no longer a poolside, forgettable wine, it's a bone fide tasting and drinking experience.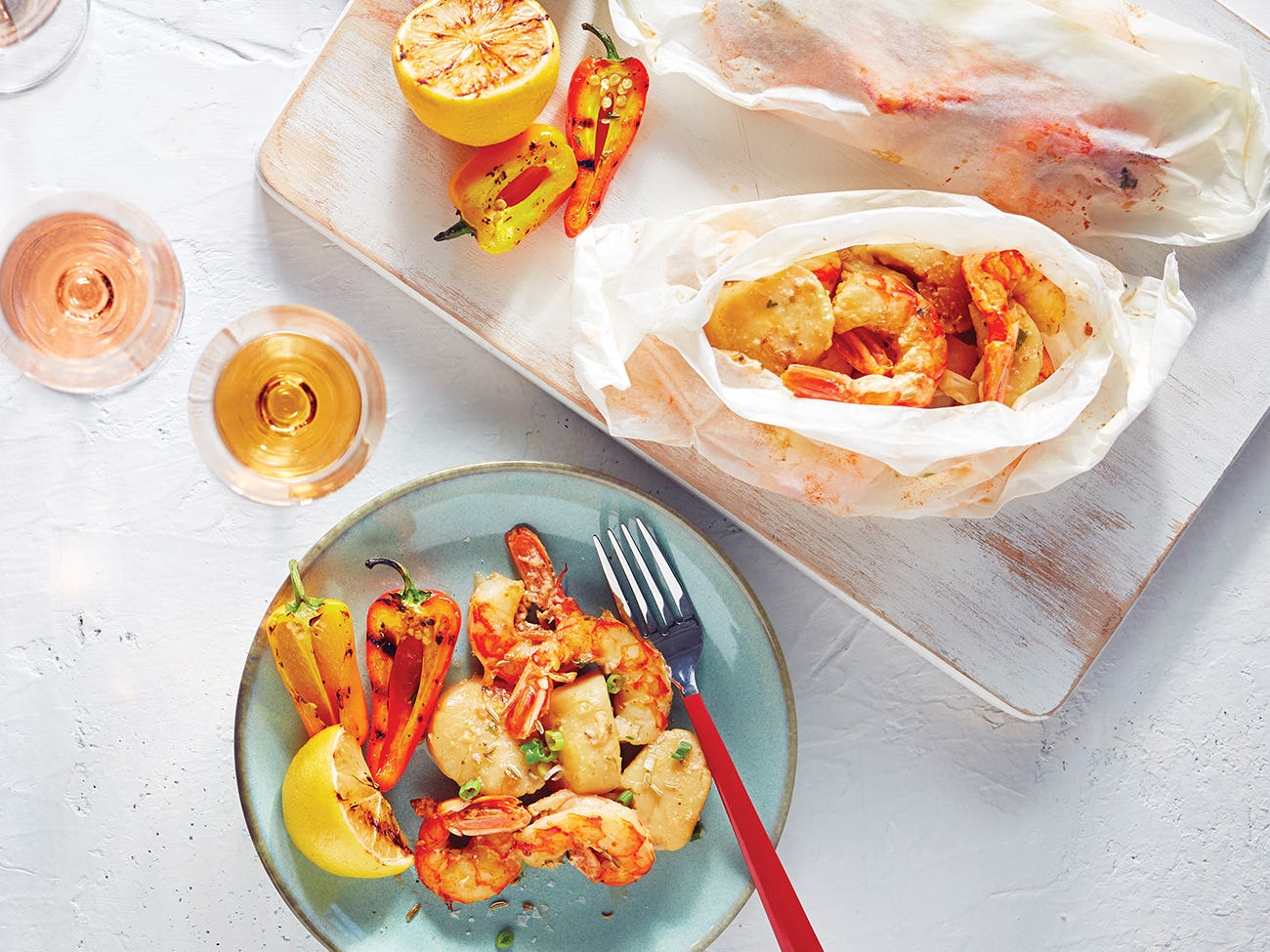 Scallops and shrimp en papillote with fennel and basil
Preparation: 10 minutes
Cooking: 12 to 15 minutes
Cost per serving: environ 6$
4 serving
3 green onions, chopped
2 cloves garlic, chopped
5 mL (1 tsp) fennel seeds, crushed
60 to 80 mL(1/4 to 1/3 cup)
15% cooking cream
300 g (2/3 lb) baby scallops
300 g (2/3 lb) medium shrimp, peeled
30 mL (2 tbsp) fresh basil, chopped
Salt and pepper
1. Preheat barbecue to medium. 2. In a bowl, mix all the ingredients. 3. Season. 4. Cover a large rectangle of aluminum foil with parchment paper. 5. Place the preparation in the centre of the parchment paper. 6. Cover with another large piece of aluminum and seal the sides. 7. Cook on the barbecue for 12 to 15 minutes. 8. Place the foil package on a serving plate and open. 9. Serve immediately with grilled vegetables.
Between ocean and garrigue
With their freshness, lovely acidity, light and exciting aromas, rosés are a perfect pairing for seafood, particularly shrimp—they're colour coordinated! In the context of aromatic profiles, rosés made from blends of Grenache, Cinsault, Mourvèdre and/or Syrah (such as those from the south of France, Spain, and sometimes, California) often feature hints of fine herbs (that famous garrigue!) or spices that are an excellent match for the fennel and basil in this recipe.
Rosé in numbers
---
Global production has been on the rise since the early 2000s, rocketing from 18.3 million hectolitres in 2002 to 23.4 million in 2017. Between now and 2020, that number is expected to reach 25 million hectolitres, for a total increase nearing 10 percent.
Other rosé-making nations:
Germany, Chile, Argentina and Portugal (approximately 2% each)
French exception
France is both the world's biggest grower and consumer of rosé wine—by a long shot, to boot! France produces 28 percent of the world's rosés and drinks 32.7 percent of it, the difference between the two numbers being imports from Spain. In France, approximately one out of every three bottles purchased is rosé. In comparison, rosé only accounts for 4.4 percent of wine consumed in Québec.
The top 5 rosé-producing countries in 2017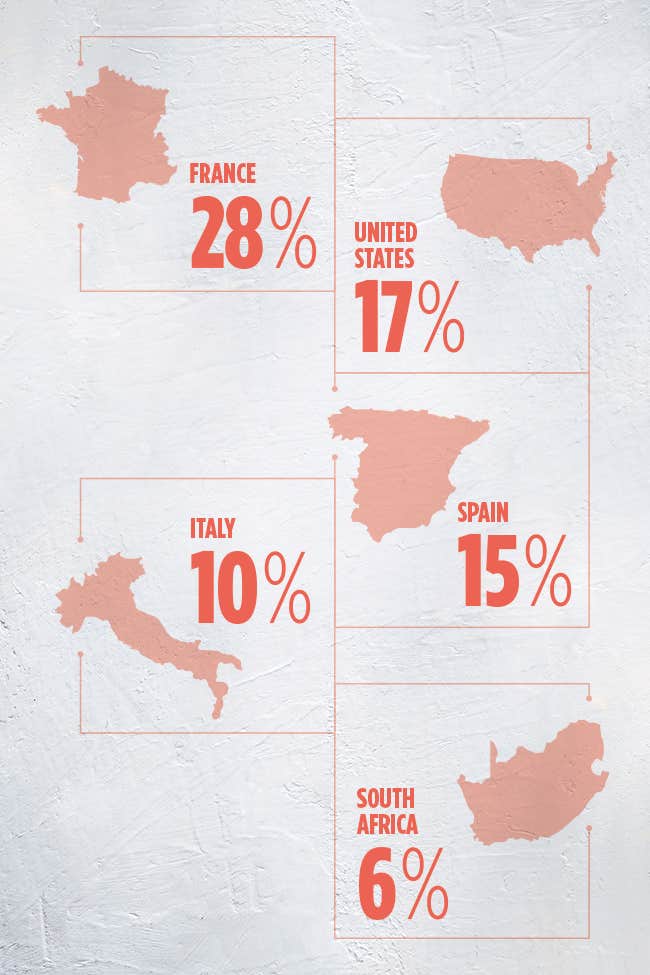 Various means of manufacturing methods
Several techniques are used to make rosé, and each technique creates a different style of wine:
Direct pressing. Like white wine, grapes are pressed as soon as they arrive in the chai. The skins have little contact with the juice, which tends to be pale or only lightly coloured. As pale rosés are the current trend, this method is the most frequently used.
Maceration. Grapes or grape bunches are left in tanks for several hours or several days,
prior to being pressed, so that aromas and flavours can be transferred to the juice.
Bleeding (saignée method) After maceration is complete in a tank where the wine produced will eventually be red, the first juices from red grapes are forced out by the weight of the skins. These first juices are light in colour, making rosés, while the remaining red tends to be more concentrated and full-bodied.
Whites and reds. More rarely, red and white grapes are mixed together in order to make rosé. Generally speaking, wine made from red grape varieties is turned into rosé, yet in some cases, a touch of red is added to a wine that began as white (notably rosé Champagnes).