SAQ Survey
A simpler customer survey
To make your participation in the survey easier and faster, we changed our methods of gathering you feedback regarding your in-store shopping experience.
Clients who are members of the SAQ Inspire program will be randomly selected and will receive an email invitation to answer our survey.
By answering the survey,
you could win
one of two gift cards valued at
$1,000 each.
*View terms and conditions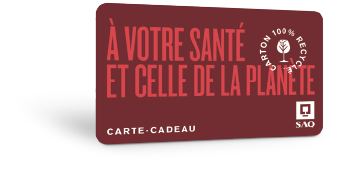 If however, you have comments for us, please be assured that it's always possible to reach us by contacting our Customer relations centre at 1 866 873-2020
Thank you for helping us serve you better!
The SAQ team
Winners of an SAQ gift card
6 months
2020 October ($500): M. Christian Jette – SAQ Sélection - Sainte-Adèle
2020 October ($1,000): M. Claude St-Pierre – SAQ Beauport - Ave. Royale
2020 September ($500) : Ms. Noëlla Lefebvre – SAQ – LaSalle - Dollard/Newman
2020 August ($500) : Mr. Gilles Fortin – SAQ Beauport - Ave. Royale
2020 July ($500) : Mr. Alain Gemme – SAQ Dépôt - Laurentides
2020 June ($500): Ms. Madeleine Charbonneau– SAQ - Neufchâtel
2020 May ($500): Ms. Sylvie Lacombe – SAQ - Amqui