Encouraging discovery of local products
Origine Québec: a gathering of good taste
Ciders, wines, meads, spirits and beers… Quebec excels in creating all kinds of products and the SAQ is keen to spotlight local talent. Launched in 2014, the Origine Québec category has proved very popular with customers, demonstrating the growing interest in Quebec products and buying local.
To ensure the growth and longevity of the category, we work closely with Quebec winemakers and showcase Quebec certified wines and the protected geographical indication for ice wines.
In addition, Origine Québec products occupy a key place in our sponsorship program.
Festivals and celebrations : Quebec products are featured at SAQ-branded points of sale.
Terroir events : We support the Mondial des cidres, Fête des vins du Québec, Fête des vendanges Magog-Orford, food expos and many other such events.
Competitions : Support for local competitions (the Mondial des cidres and Fête des vins du Québec).
Benefit galas : We offer Quebec products at a number of fundraising events.
Look for the Origine Québec logo to discover Quebec products in stores and online.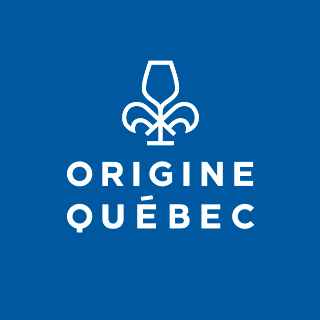 Savour Canadian products
The wine industry is booming from coast to coast. Canada is home to a wide variety of quality wines that deserve to be better known. Visit our Products of Canada section to explore the rich range of flavours offered by Quebec, Ontario and British Columbia.
In stores and online, Canadian products are identified by the Canada logo.