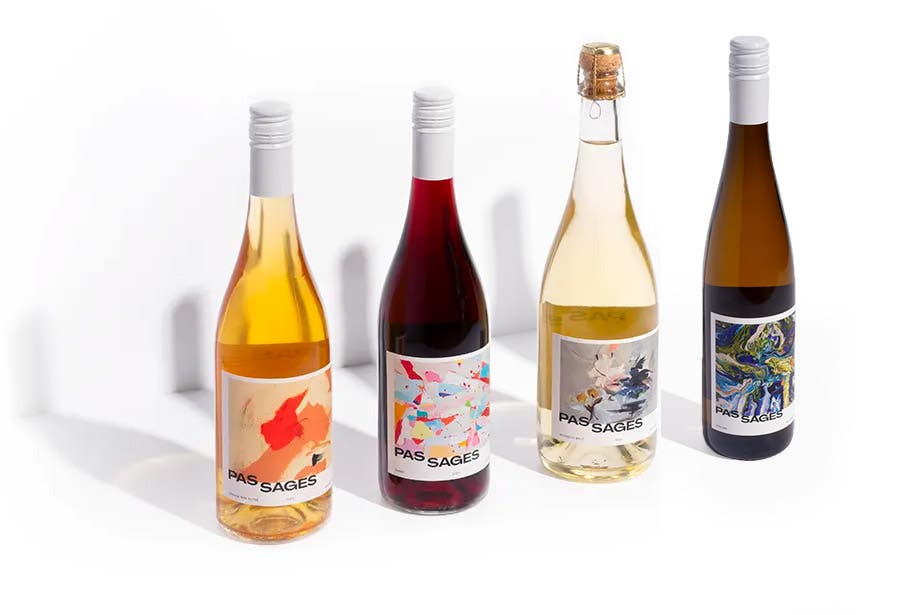 Putting know-how first
with the Pas Sages range
Produced with grape varieties blooming in Canadian soils, the Pas Sages wine range is bottled in Rougemont, Quebec. Pas Sages wines' strong character is expressed through their unique works of art created by Quebec artists and inspired by the expertise of wine artisans. A wine collection that will please wine lovers on the lookout for new favourites and for wines that embody the shared knowledge between winegrowers and local artists.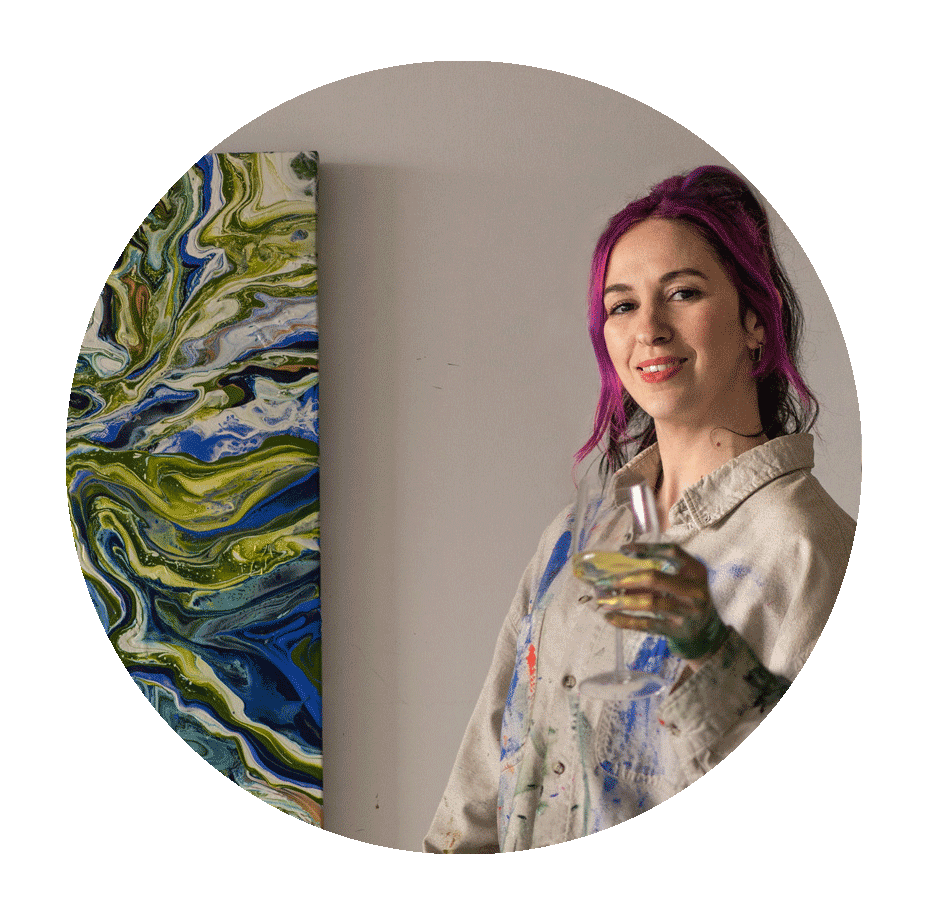 "I was greatly inspired by the Niagara Peninsula region, particularly Niagara-on-the-Lake. This complicity between greenery, land and water is absolutely magnificent. Pas Sages also inspired me by its name, which carries a two-way meaning. It pushed me to make bold choices when creating the work while keeping this constant fluidity that is an integral part of my work and that recalls the meaning of passages."
Pas Sages Riesling 2022 White wine

|

750 ml

Canada

,

Ontario

Available

Online

Available

In store
Amélia Hadouchi
PAS SAGES
for you is?
"In short, this colour palette represents boldness, life and freedom; just like this Riesling Pas Sages."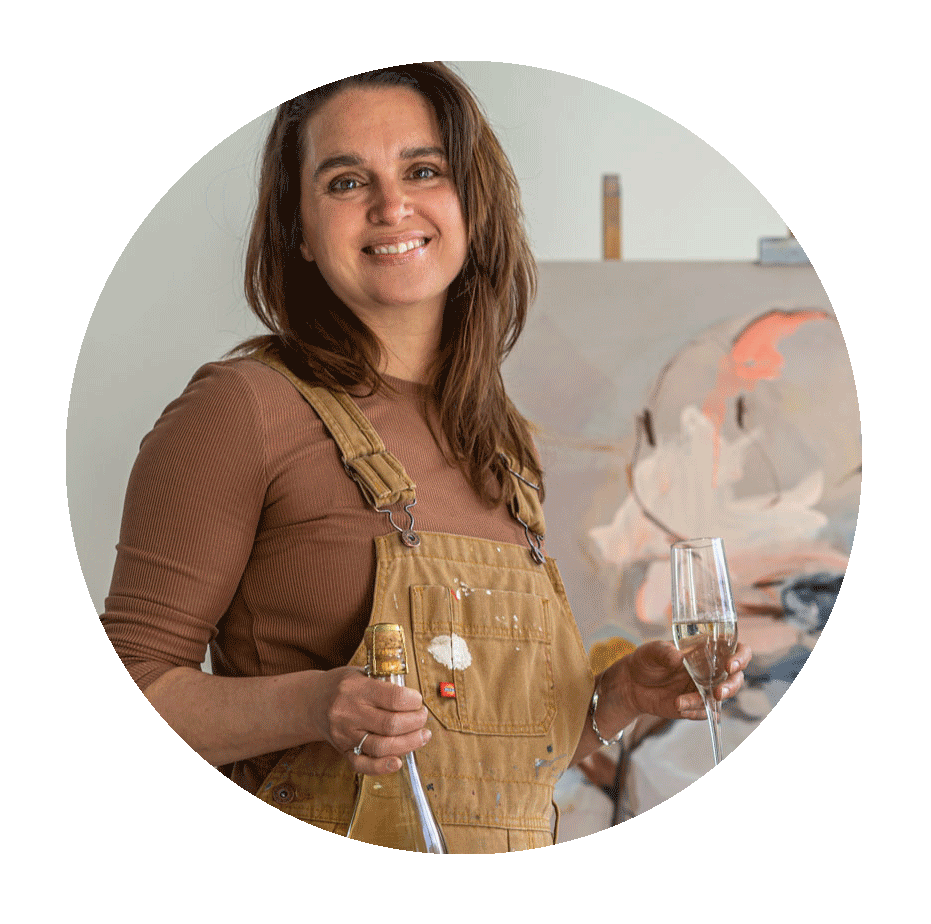 Artist for 5 years, based in Chambly.
"There are really a lot of elements that turned me on in this project. First, the idea of a whole; My approach being based on the creation of universes, on the cohabitation of the elements, I saw in it such an interesting parallel with the stages of wine making. The elements of nature and man that combine. Then there was the concept around the project; the image that we want to give to this wine fits perfectly with what I want to get out of my paintings. Authenticity and honest distinction, based on the exploitation of know-how and self-confidence. I like the idea of working hard, but then owning that distinction."
Pas Sages Brut 2021 Sparkling wine

|

750 ml

Canada

,

Ontario

Available

Online

Available

In store
Mélanie Arcand
PAS SAGES
for you is?
"I wanted modern colours that represent a new kind of sparkling wine, lively and up to date."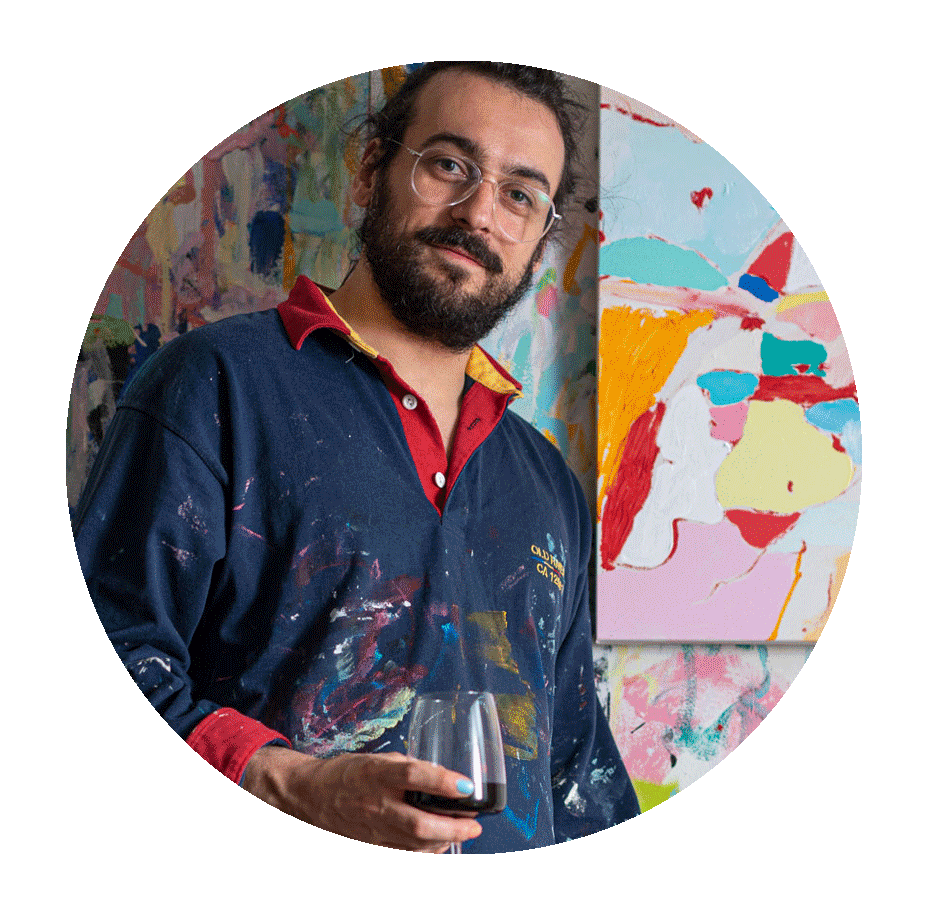 Young artist based in Montréal since 2018.
"Having had as a guideline for creation to be in pure abstraction, I wanted a work that was quite raw and frank, like the taste of the wine. My canvas represents it well by its quite scattered features applied very spontaneously.

It's also very embedded in the current research that I have had for a few months, to represent nature abstractly with shapes that remind me of plants, leaves, trees, long streams of water.

The return to the terroir and representing our beautiful Canadian and Quebec landscapes inspired me in the shapes used in the canvas for this red wine."
Pas Sages Gamay 2020 Red wine

|

750 ml

Canada

,

Ontario

Available

Online

Available

In store
Mephisto
PAS SAGES
for you is?
"Knowing in advance that the wine was red, I thought it would be interesting if the dominant colour of the work was this one."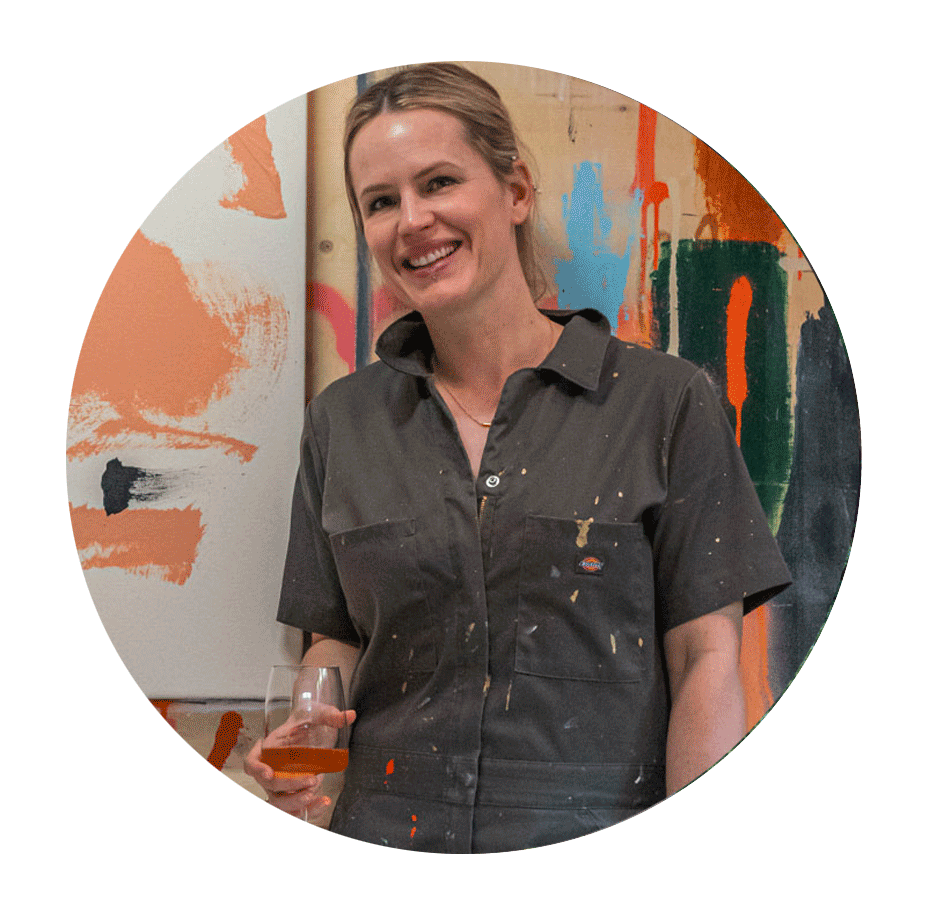 Born in the Bas du fleuve, painter
''To start, orange wines are my favourites. I love them even more when they're unfiltered like this one. Its raw finish speaks to me. I also paint on a cotton canvas that is not totally covered with paint, in its raw state.

I studied the map of Ontario as the starting point for my creation. The red shape points to the geographical location of Niagara, between the 2 rivers that are represented by a salmon.

This Japanese red that settles on the salmon calms him, perhaps, but is also a colour that represents the bold side of PAS SAGES.''
Pas Sages Orange Unfiltered 2021 White wine

|

750 ml

Canada

,

Ontario

Available

Online

Available

In store
Miville
PAS SAGES
for you is?
"I have come to understand over time that moderation tastes much better! I prefer quality to quantity."
In partnership with Arterra.