The first thing that's often associated with the state of Washington is Seattle. Historically known for its grunge scene, the port city has morphed into a tech hub. It also happens to be a major producer of fruits, vegetables and WINE!
Wine-friendly climate
Located between the latitudes of the Rhône Valley and Bordeaux, the wine-growing regions in Washington benefit from a relatively cool climate that is also very dry. This aridity is partly attributable to the Olympic Mountains and Cascade Range, which protect the region from rain-heavy clouds and maritime influences. Despite Seattle's reputation for being a rainy city, the wine-growing regions actually get 300 days of sunshine. The Evergreen State has warm sunny days and cool nights that help the grapes reach a fine maturity while keeping their freshness.
There are 19 American Viticultural Areas (an equivalent of European classifications) in Washington, each with their own characteristics that make their products unique. There are three major valleys: Columbia (1984), Yakima (1983) and Walla Walla (1984), with the Columbia Valley being the largest appellation and biggest producer. Indeed, the vast majority of the Washington wines sold in Québec are from the Columbia Valley.
Bright future
It may not be the longest, but the history of winemaking in Washington is quite interesting. The first vines were imported from Vancouver in 1825. By 1910, they were grown across the state. Just as Prohibition was lifted in the 1930s, the first vineyards were founded. Later, in the 1960s, the first commercial vineyards were created, including local pioneers Chateau Ste. Michelle (1967) and Columbia Winery (1962). The momentum continued and, by the 2000s, there were 10 new appellations out of the 14 that operate today.
As far as reds, the region mostly produces Cabernet Sauvignon, merlot and shiraz. The whites are mainly chardonnay, riesling and sauvignon blanc. In total, the state has 70 grapes varieties growing on 22,000 hectares.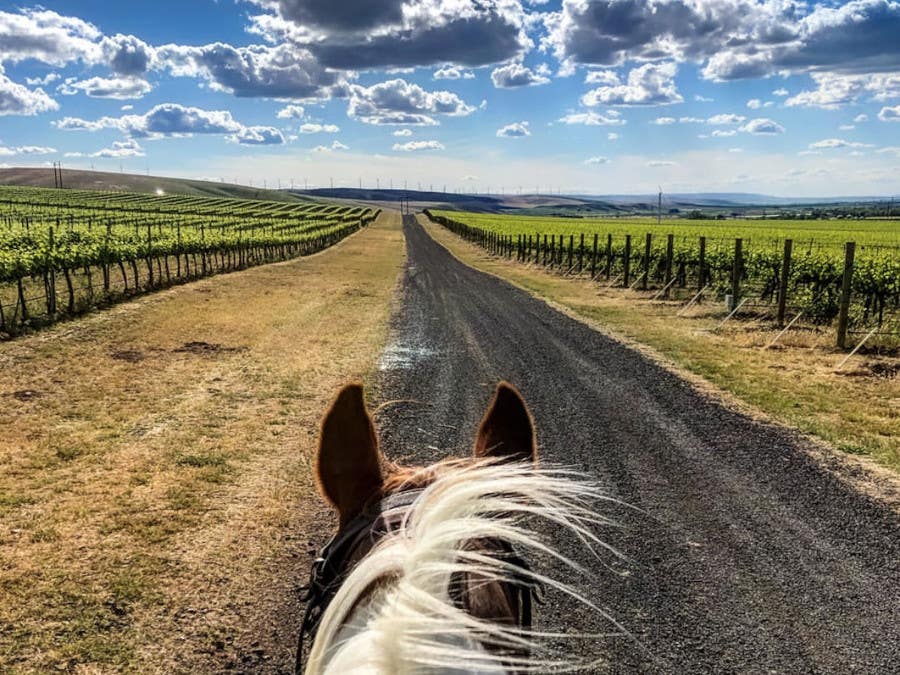 Wines for every occasion!
Available

Online

Available

In store
Always the right choice for anyone who loves Cabernet Sauvignon, this full-bodied red spent 14 months in French and Oak barrels to reveal nuances of dark berries, black currant and spices. It's also the right choice with a juicy burger or nice cut of red meat.
Available

Online

Available

In store
Here's another gem from Chateau Ste. Michelle. At under $20, this opulent chardonnay offers so much bang for the buck, with touches of ripe apple and pear and a long, slightly toasty finish. Pair it with seafood or crab cakes.
Betz The Untold Story Columbia Valley 2018 Red wine

|

750 ml

United States

,

Washington

Not available

Online

Available

In store
To impress all your guests or just that special one, reach for the Untold Story. This blend of four varieties produced by the Betz family exudes blueberry and blackberry with spicy chocolatey notes.
Substance Ch Chardonnay Columbia Valley 2020 White wine

|

750 ml

United States

,

Washington

Not available

Online

Available

In store
This single-varietal chardonnay was developed by famed winemaker Charles Smith. Substance Ch Chardonnay will charm you with its aromas of ripe apple and pear, with lemon cream and a hint of vanilla. On the palate, it's round and textured with flavours of brioche. Full-bodied and ever so slightly mineral with a long finish, it's a great match for chicken in wild mushroom sauce.
Not available

Online

Available

In store
Created by the Hedges family, this wonderful blend of Cabernet Sauvignon, Merlot and Shiraz stands out with its aromas of red berries. Fruity and fresh, it has an elaborate range and solid tannic structure but still keeps things light. It's a dream with a fall stew or filet mignon served with chasseur sauce.
Columbia Winery Cabernet-Sauvignon 2018 Red wine

|

750 ml

United States

,

Washington

Not available

Online

Available

In store
This wine relies on grapes from the Horse Heaven Hills and Wahluke Slope regions to give off wafts of smoke, prune and cacao. It has a touch of acidity and ripe fruit notes, making it perfect for grilled meats and veggies.
In partnership with the Washington State Wine Commission.