Two fabulous campfire recipes
Planning a weekend camping trip? Get off the beaten path with our bacon fougasse and crepe lasagna recipes! After an afternoon canoe excursion, sit around the campfire and cook up unique dishes right in the heart of nature. Discover our perfect rosé or red pairing suggestions for a truly extraordinary dinner.
Photos: David De Stefano (header and crêpe lasagna)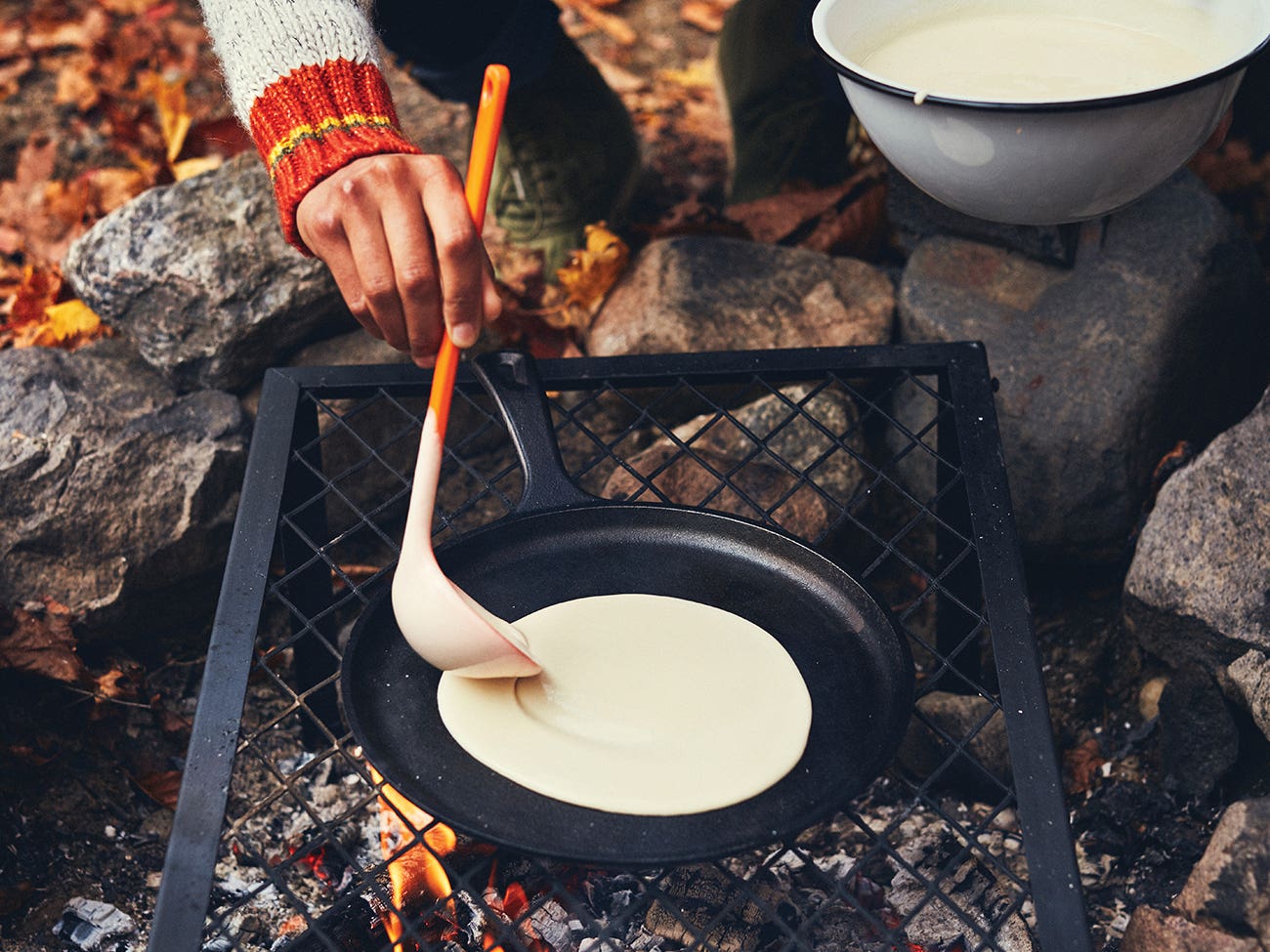 Fusion Cuisine
What do the following have in common: a cronut (croissant-doughnut), pizza-tacos, and General Tao poutine? Other than being hilarious foodie offeringas, they're all born of the magic of fusion, where two or more countries' culinary traditions are mixed together with glee. Fusion cuisine had its heyday in the nineties, and it's come back with a bang, offering eaters unusual ingredient combinations that impress even the pickiest palates. Our crepe lasagna recipe has fusion at its heart, marrying Italian comfort food with a Breton classic!
Clever cooking
One of the great things about this recipe is its ability to adapt not only to your personal taste, but to what you have left in the fridge. Hungry for some examples? Try it with ham, Bechamel sauce and mushrooms, or bacon and kale. If you're in rush after work, you can simply top the dish off with leftover homemade or store-bought Bolognese. This recipe is sure to make a splash at brunch due to the refined flavours and velvety texture of the ricotta and spinach.
Crepe lasagna
Preparation: 40 minutes
Cooking: 30 minutes
8 servings
Ingredients
Crepes
375 mL (1 1/2 cups) flour
2 eggs
500 mL (2 cups) milk
1 pinch of nutmeg
Salt and pepper
Filling
1 French shallot, finely chopped
1 L (4 cups) baby spinach
1 L (4 cups) ricotta
500 mL (2 cups) grated Parmesan
125 mL (1/2 cup) chopped basil
1 egg
375 mL (1 1/2 cups) store-bought or homemade thick tomato sauce
1 L (4 cups) grated mozzarella
Salt and pepper
Preparation
1. Preheat oven to 200ºC (400ºF).
Crepes
2. In a large bowl, combine flour, eggs and milk. Whisk until batter is smooth. Add nutmeg, salt and pepper.
3. In a non-stick pan, cook 10 thin crepes approximately 23 cm (9 inches) in diameter.
Filling
4. In a pan over medium heat, sauté the shallot in some oil, then add spinach.
5. Continue cooking until the spinach has wilted. Let cool.
6. In a bowl, combine the spinach with the ricotta, Parmesan, basil and egg. Season with salt and pepper.
7. To assemble, place a crepe on the base of a springform pan. Cover with a layer of the ricotta-spinach mixture. Continue to assemble, alternating between the crepes and the spinach mixture. After every third crepe, add a layer of tomato sauce and mozzarella cheese. Top the last crepe with a final layer of tomato sauce and mozzarella cheese.
8. Bake in the oven for 30 minutes or until top is golden.
Tips
Make the crepes in advance to cut down on kitchen cooking time. Stored in the fridge on a plate covered with plastic wrap, crepes will stay fresh for at least two days. If you want to freeze them, make sure you carefully separate each crepe with a layer of waxed paper so they don't freeze as a solid block. Place in the microwave for a few seconds to thaw. Don't forget: Just like classic lasagna, this dish is easy to make and gets better over time — it's especially good the next day!
What to drink with this crepe lasagna?
When served at brunch, rosés with the Fruity and Light taste tag are always popular because of their freshness and drinkable attributes. These ricotta-spinach crepes need a low-intensity wine so the delicate taste of the ingredients isn't lost. A successful pairing could be a rosé from Provence, where you can almost taste the warm sun and feel like you're on vacation. Pick a bottle that features notes of small red fruit and lively acidity in order to highlight the basil and tomato. Languedoc is another winning winemaking locale to consider, as rosés from that region are often dry and refreshing, with rich aromas.
Not available

Online

Available

In store
These light wines are characterized by their simple fruity aromas, the sensation of freshness they leave, and their unassuming structure. They must be consumed young. A great companion to chicken, white meats and this lasagna.
Homemade bread… camping style!
Homemade bread is one of life's little pleasures. Now imagine making your own loaf of bread…in the great outdoors! You can cook your bread over a fire, just like you would marshmallows. Simply wrap your dough around the end of a long stick and slowly turn over the hot flames until done. Enjoy!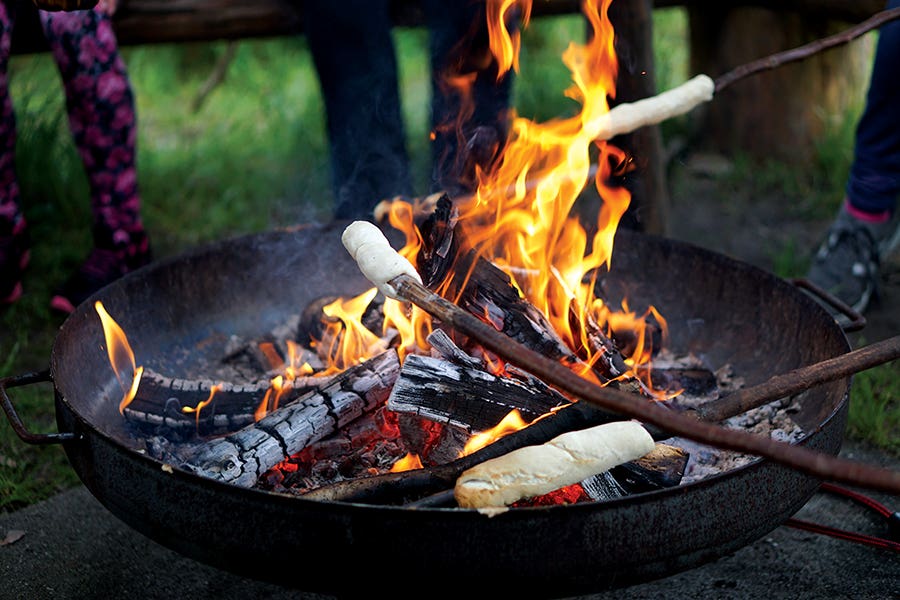 Campfire bacon and black olive fougasse
Preparation: 30 minutes
Cooking: 15 minutes
Makes 6 to 8 portions
Ingredients
1 L (4 cups) all-purpose flour
5 mL (1 tsp.) salt
375 mL (1 3/4 cups) warm water
5 mL (1 tsp.) active dry yeast
30 mL (2 tbsp.) olive oil
250 mL (1 cup) grated Parmesan
125 mL (1/2 cup) cooked bacon (you can swap bacon for pancetta or ham cubes)
125 mL (1/2 cup) black olives, roughly chopped
15 mL (1 tbsp.) Herbes de Provence
6 to 8 branches, approximately 1 m (3 feet) long and 2 cm (3/4 inch) thick, bark removed
Preparation
1. In a large bowl, combine flour and salt.
2. In another bowl, stir together water and yeast. Let sit for approximately 5 minutes, or until yeast has completely dissolved.
3. Add dry ingredients to liquid ingredients. Mix well.
4. Add Parmesan, bacon, olives, and Herbes de Provence. Knead until dough is elastic and smooth.
5. Cover and let rise in a humid and warm location for 2 hours, or until dough has doubled in size.
6. While dough is rising, prepare your fire.
7. Once dough has doubled in size, divide into 6 or 8 portions and shape into sausage-like forms. Wrap each portion around the end of a stick.
8. Cook over embers for 10 to 15 minutes, turning constantly until all sides are golden brown. Cooking time will vary depending on dough thickness and heat of the embers.
Not available

Online

Available

In store

Not available

Online

Available

In store

Available

Online

Available

In store