Bridges incorporating glass powder built in Montréal
Once upon a time, 70,000 wine bottles found a new life in a Montreal bridge.
Far from being a fairy tale or urban legend, this success story is a step toward the future. It gives a second life to glass bottles, which will soon be recovered through a deposit-return system. New uses need to be found for all this high-quality material!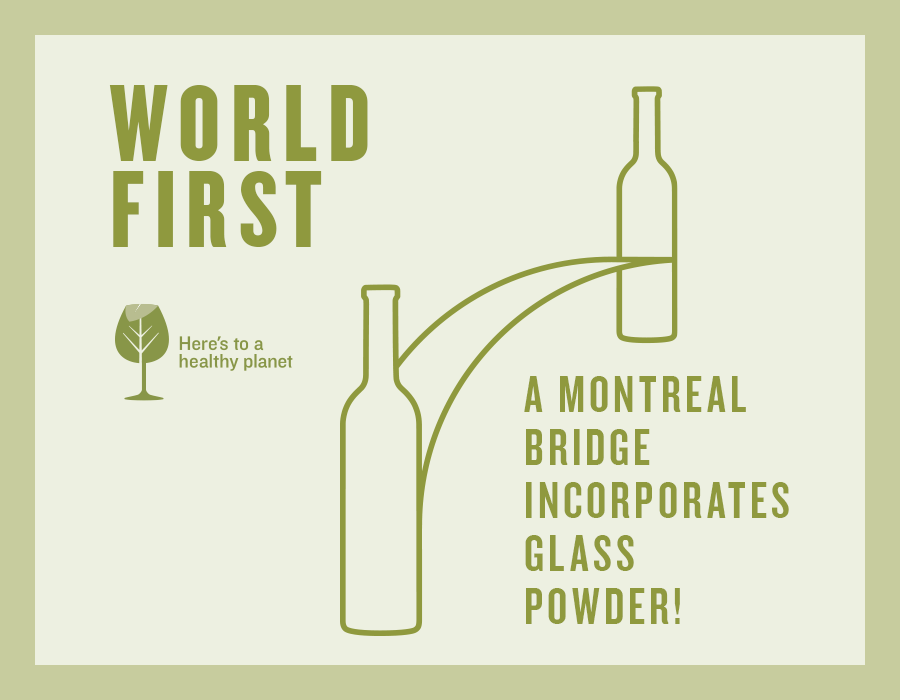 « Adding glass to concrete is genius! It's an incredible way to improve concrete's performance while making use of a recovered material that too often ends up in landfill. »

Christian Marier-Pilon, Director, Social Responsibility, at the SAQ
Why use glass powder in a Montreal bridge?
Because it makes the concrete stronger and more durable.
Because using it in the Montreal bridge prevents us from emitting 40 metric tons of CO2. That's the same amount of gas emitted by driving a car five times around the earth.
Because it's 70,000 recovered wine bottles that won't become landfill.
Because the concrete used for the bridge, 10% of which is recovered glass, saves 40,000 kg of cement. That corresponds to 1,340 ninety-pound bags of cement bought at your local hardware store.
Where's the SAQ in all this?
Are you wondering what the SAQ's role in this project is? Actually, the SAQ has been a promoter of glass powder since… before it even existed! That's right. We helped create the Chaire SAQ de valorisation du verre dans les matériaux at the Université de Sherbrooke back in 2004 and have funded its research ever since. We are a top ambassor for glass powder. We like to think there's a little bit of us in this 100% Quebec discovery.

Glass powder has, of course, been tested in the floors of our stores as well as in sidewalks in many towns and cities, in urban furniture, in slab construction and more. It has now been shown to be effective enough – as well as sufficiently compliant with international standards – to be used in bridge construction.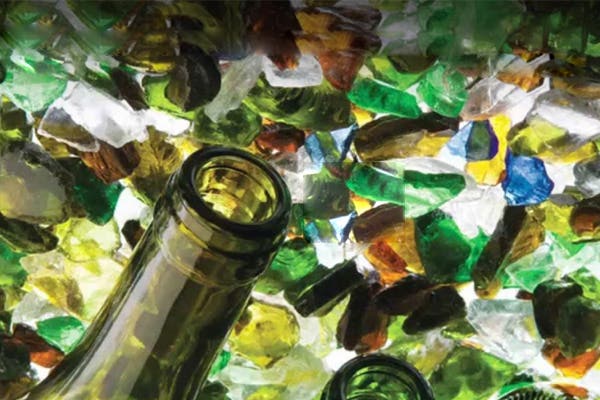 This advance has only redoubled our enthusiasm for continuing to play an active role, to encourage new made-in-Quebec initiatives and to do all we can to ensure the bottles whose contents you've enjoyed finds a second life as part of a bridge, as a new bottle, as mulch for your garden or as anything else you might imagine.
At the SAQ, we continue, more than ever, to work with the industry, our partners and the government to find the most environmentally and economically effective solutions for achieving the highest possible glass recycling rate. We want to be an integral part of the support network for a local glass industry based on the principles of a circular economy. And we are on the right path!
Where can I see the new bridge?
The new Darwin Bridge is on Île-des-Sœurs Boulevard. Next fall, its younger sibling will see the light of day, as construction of a second bridge is already planned.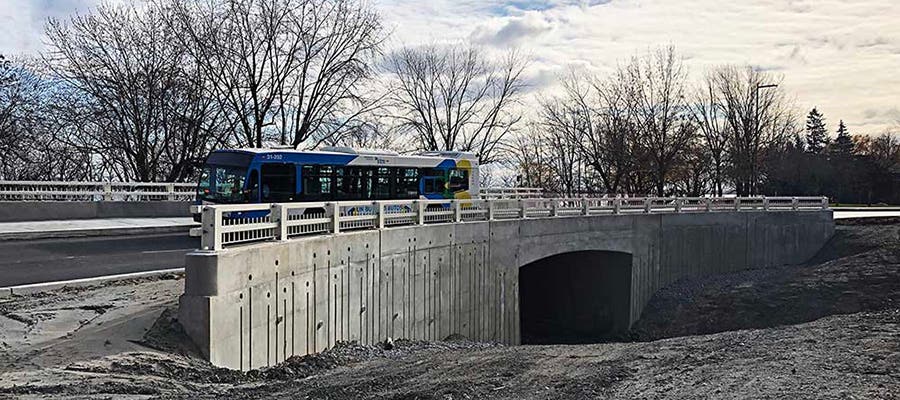 Though completed only recently, the first of the two Darwin bridges has already been recognized for its innovation

The bridge has just opened to traffic and yet has already been showered with praise. The Quebec chapter of the American Concrete Institute (ACI) has awarded its Infrastructures 2021 excellence award to the creation. In addition, the Darwin bridge has also been listed as a finalist for the Ordre des ingénieurs du Québec award in the Honoris Genius Engineering Project category. Further recognition of this world first is certain to come.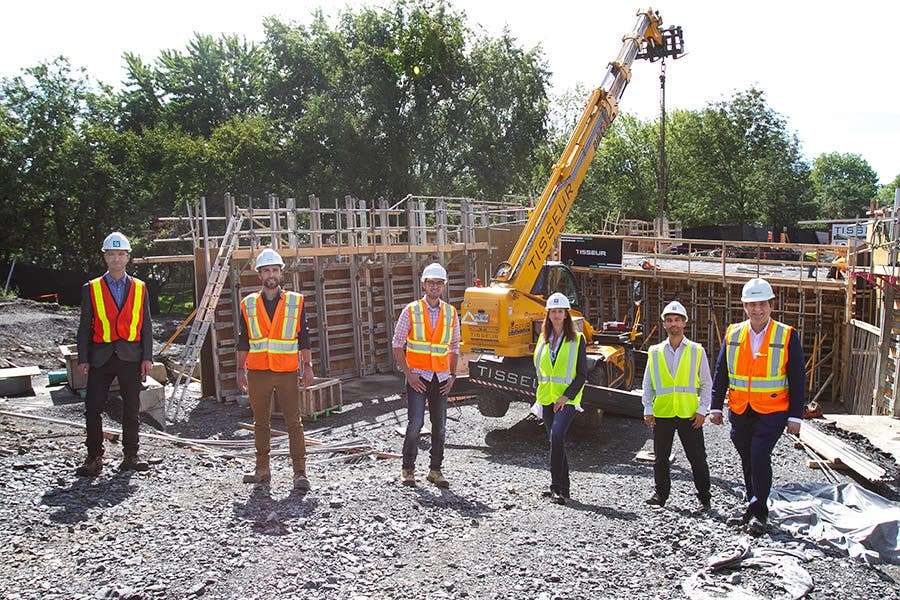 From left to right: William Wilson, Assistant Professor, Department of Civil and Building Engineering, Université de Sherbrooke; Étienne Cantin Bellemare, Engineer, lead designer of Darwin bridges, Ville de Montréal, Vincent Caviola, Candidate to the engineering profession (CEP), Ville de Montréal; Marie-Hélène Lagacé, Vice-President, Public Affairs, Communications and Social Responsibility, SAQ ; Christian Marier-Pilon, director, Social Responsibility, SAQ, and Sylvain Ouellet, Councillor responsible for infrastructure, Ville de Montréal