At the Du Temple-Quirion family home, everyone is involved in the business, and on Sundays, they all sit down to make critical decisions together. Montérégie's Domaine St-Jacques takes the term "family business" to heart. "Nicole, our three kids, Laurie, Jérémy, Sarah and their partners—together we're the board of directors," states Yvan Quirion. Sunday evenings are reserved for a family gathering to watch Tout le monde en parle!
Every morning, the "permanent team," composed of Yvan (who looks after the chai and the vines), Nicole (finances) and Sarah (marketing, customer service, brand imaging, social media) start work at the crack of dawn—proverbial or otherwise! "We haven't even had a sip of coffee and Yvan's all ready to get going!" exclaims his spouse.
There's no shortage of work at the vineyard, which began as a humble 23-hectare winery in Saint-Jacques-le-Mineur, and who's fortunes have risen over the past 14 years. In 2018, some 100,000 bottles were sold at the SAQ—and that figure doesn't include sales logged at fine grocers, restaurants, and other boutiques that carry its reds, whites, rosés, iced and sparkling offerings.
Domaine St-Jacques Réserve Rouge
With aromas of small red fruit, spices, and floral notes, this vintage won't go unnoticed! From the first sip, the wine is balanced with a dominating fruit presence. The smooth, enveloping tannins provide a long, pleasant finish. It pairs perfectly with flavourful red meats such as lamb or duck breast.
Domaine St-Jacques Réserve Rouge 2021 Red wine

|

750 ml

Canada

,

Quebec

Available

Online

Available

In store
Domaine St-Jacques Rosé
With aromas of cherry, raspberry, peach and barley sugar, this rosé has a nice balance of freshness and suppleness. Best paired with bistro-style cuisine: pizza, Croque-Monsieur sandwiches, grilled meats, tomato-and-bocconcini salad.
The "Jay" effect
Despite their fervent work among the vines and the undeniable quality of the wine itself, the co-owners can't deny that the notoriety of their son Jérémy—a.k.a. "Jay Du Temple"—brings a breath of fresh air to what might otherwise be considered a very serious affair. "Some come to the vineyard just to see him," laughs Nicole. "… and then they'll buy a bottle of wine after seeing one of his shows. It's a positive thing for us; if Jérémy is a success, then we are too."
Du Temple is a definite brand ambas-sador, as well as a huge hit with Quebecers. It goes without saying that the comedian is proud of the winery where he grew up, and never misses a chance to mention it, wherever and however he can. "When he was younger, as soon as we'd open a bottle of wine, he'd proclaim, I MADE THAT!" recalls Yvan.
Domaine St-Jacques classique blanc
A dry white wine with notes of citrus, blackcurrant buds, apple and chamomile, with a refreshing acidity. As delectable with Québec cheeses as with oysters, poultry or ripe peaches—a favourite accompaniment chez Du Temple-Quirion!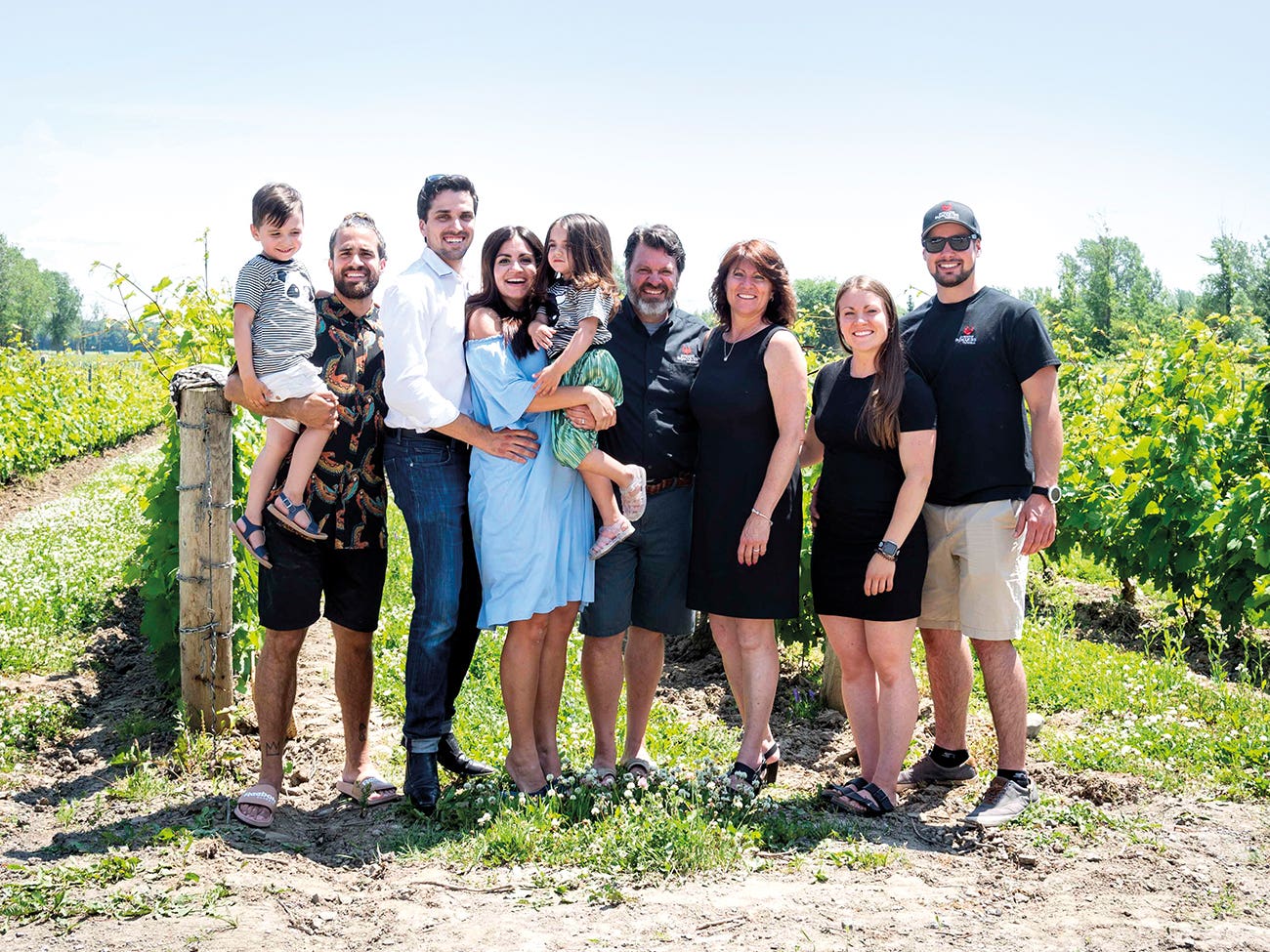 From small-scale farm to genuine domaine
Originally from Montréal, it was by pure chance that the Du Temple-Quirion family moved their current location to a village on the South Shore (near Napierville). "I always say that the winery found us," comments Nicole. "In the beginning, we were looking for a hobby farm. In 2004, we were heading to New York for a vacation, and we passed it. When the real estate agent told us that there was a winery behind it, we started to dream a bit bigger. By January 2005, it had all been settled—we moved that summer."
For the first two years, the rookie winemakers grew grapes that they then sold to Vignoble Clos Saint-Denis. Yvan began to learn about vines, and took stock of what other wineries here and there were doing. "It was our Ah-Ha moment," Yvan states. Winemaking was a retirement project for the duo, until Yvan realized just how high quality the grapes were. In 2007, they built a winery, and hired expert winemaker Luc Rolland to join the Domaine St-Jacques team.
The following year, the vintage was as big a sensation in the Domaine's on-site boutique as it was in La Prairie's Marché des Jardiniers. New vines were planted: Maréchal Foch, Lucie Kuhlmann, Pinot Noir, Gamay, Seyval, Vidal, Pinot Gris, Riesling, Chardonnay, Gewurztraminer. From these, gorgeous wines were produced and awards won.
Domaine St-Jacques pinot gris
Pinot Gris with notes of peach and white flowers. Ample in the mouth, this white has a certain fattiness on the palate, with a typical minerality and great freshness. Pairs well with: sushi, tartars, and fatty fish. An excellent choice to accompany sea bream with mango salsa.
Domaine St-Jacques Pinot Gris 2021 White wine

|

750 ml

Canada

,

Quebec

Available

Online

Available

In store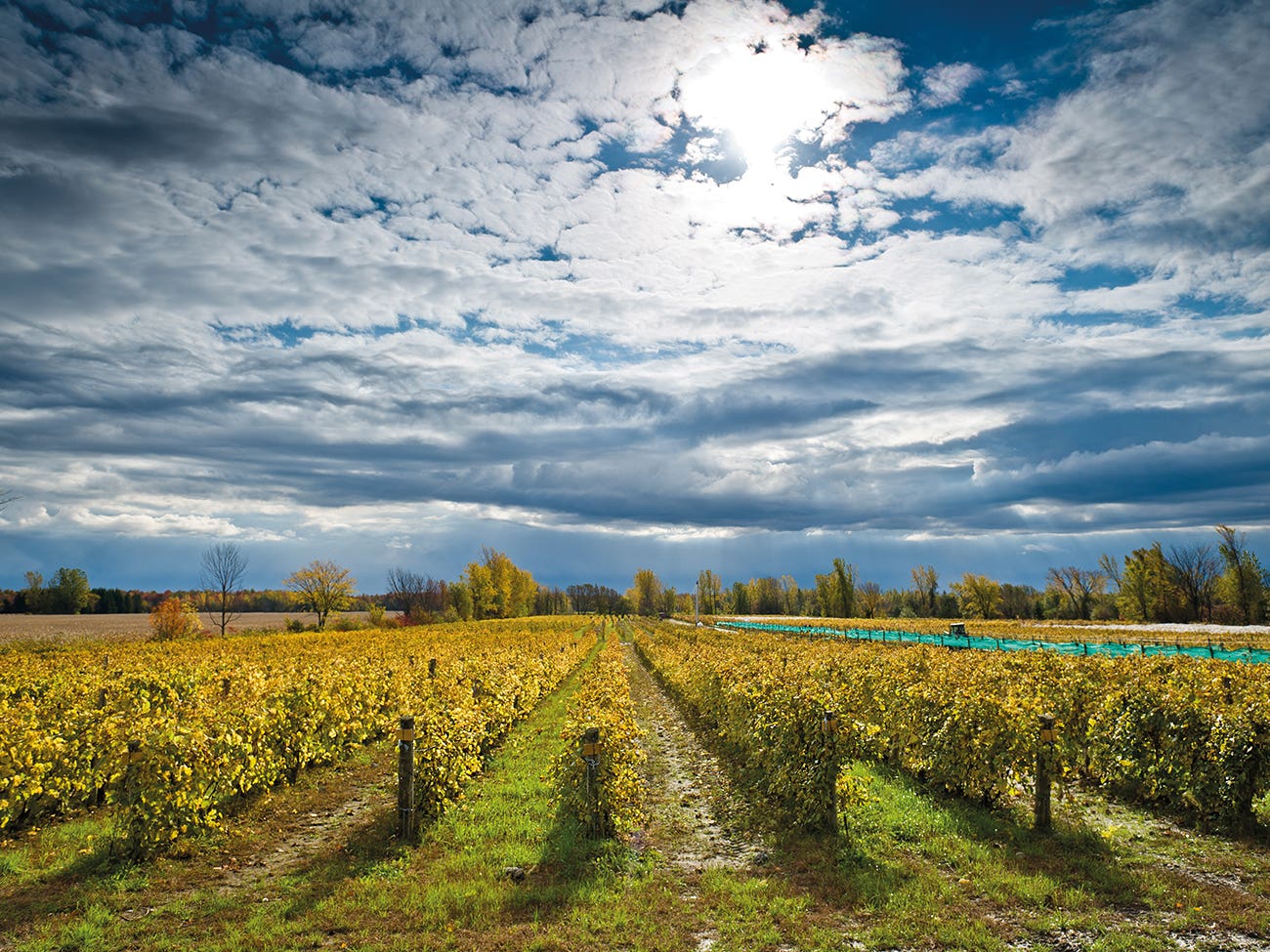 A millenial favourite
Though it had humble beginnings, the winery's popularity hasn't ceased since it began bottling its best, and the winery is consistently on Québec's top-ten list. "We're entering an interesting stage right now," explains Yvan, who strives to reach a production level of some 500,000 bottles. He applauds the arrival of a new certification standard "IGP Vin du Québec," which he hopes will enable Québec-made wines to be recognized and acknowledged everywhere. "With the government's help, Québec's wine industry has new wind in its sails, and we're out to grab our share of the market!", he enthuses.
In any event, the winery's future is in good hands with daughter, Sarah. Equipped with a Bachelor of Business Administration, the 23-year-old is fully committed to the family business that is Domaine St-Jacques. That's good news, because an ever-increasing number of millennials are fans of terroir products, including hers: "We're in the era of 'everything local'," she explains. "Younger drinkers prefer Québec wines and are introducing them to their parents—so I guess you could say that millennials are also our brand ambassadors."
Domaine St-Jacques Riesling
With notes of white peach and citrus flowers, this Québec-grown fruity and lively Riesling first offers delightful fattiness, followed by a lot of freshness. Great as an aperitif, or with poultry, fish, coleslaw or a fruity cheese.
Domaine St-Jacques Riesling 2021 White wine

|

750 ml

Canada

,

Quebec

Not available

Online

Available

In store