It's for cocktail hour
If rosé is considered a drink to be enjoyed outdoors, then it is likely served alongside snacks or finger foods and then, come mealtime, dismissed for white or red wine. But more full-bodied, complex rosés taste better with food than on their own. For example, a barbecue and a rosé from Tuscany or Chile, more dense and intoxicating than the norm, go quite well together – as do a ceviche or sushi with a clean and vibrant rosé.
It's not a serious wine
To create a well-balanced rosé, a winemaker must work carefully: If the rosé grape is pressed too hard or macerated on the skins too long (which extracts the colour and tannins), it can get heavy and be too similar to a red. If the grapes are too ripe, the wine will lack energy and freshness, yet if the berries aren't mature enough, it will be simplistic and flat. Winemakers who know how to attain that perfect balance produce some extraordinary rosés, complex and ample, that can even be cellared for a few years. Pinot Noir rosés, notably, deliver all the aromatic complexity of the grape, without the tannic structure. Bodegas Lopez de Heredia in Rioja offers a rosé as part of its best red Reservas almost every five years. Matured several years in casks, they display an extraordinary texture and complexity. Drink without judgment – you may be surprised.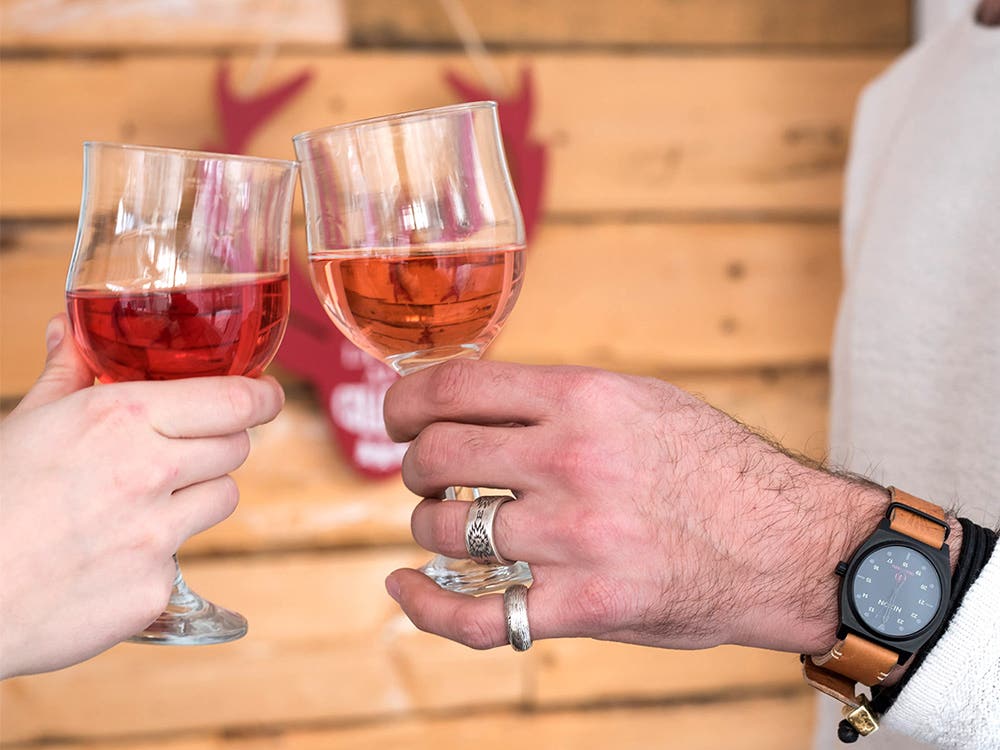 It's only for summer
Sommeliers and SAQ experts will tell you that come the month of August, rosé sales slow down, well before longsleeved shirts and wool sweaters are worn. White wine is enjoyed throughout the winter, so why can't rosé? Pairings that work in July work just as well in October. The next time you find yourself wavering between a red and a white alongside roast chicken, go for a rosé – an uncompromising compromise.
It's a girlie drink
Rosé is pink, so it must be for women? Give it a rest! Break free of colour clichés that abound. The United States is even attempting to alter rosé's feminine image with the term "brosés" – rosés for men. C'mon guys, real men drink pink!
Darker means better
Just because a quasitransparent bottle of rosé appears lighter in colour does not mean it is lighter in taste. A lighter colour reflects the type of grape as well as the method of production – generally, a direct pressing in which the juice is not in contact with the skins for too long (the longer the contact, the darker the colour). Sure, the flavour palette differentiates with colour – you'll rarely find black-fruit aromas in a light-coloured wine – but very light rosés can be highly aromatic and intense, even complex.
It's sweet
Yes, there are rosés that contain a good dose of residual sugar – like a White Zinfandel from California. Many rosé lovers enjoy that West Coast sweetness, as witnessed by their popularity. But it must be said that a typical rosé from Provence, the veritable world capital of this style of wine, is usually vibrant and dry. In Loire as well, tasting a rosé is like biting into a crisp green apple or a fresh strawberry, not like drinking blackberry jam. In the end, everyone can find the right rosé to please the palate – from vibrant and energetic or spicy and slightly tannic, to expressive or mellow and extra-fruity… the list goes on.
Photo: Marie des neiges Magnan