The region is definitely not lacking in vineyards. Here are three you're definitely going to want to discover.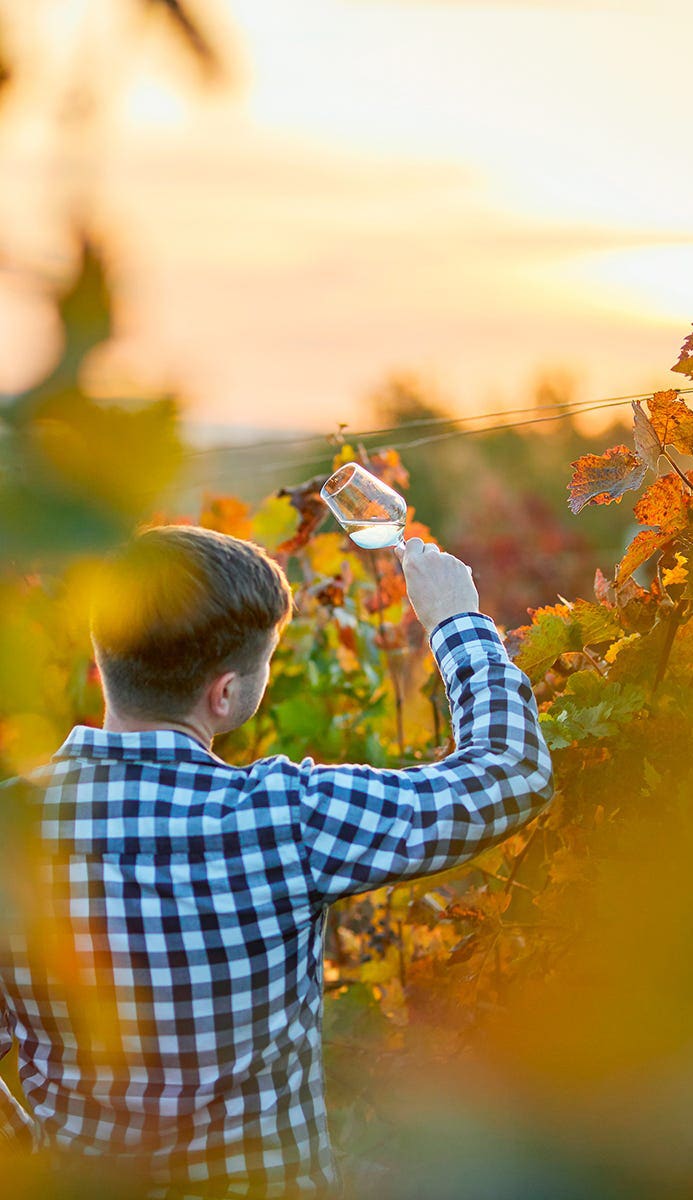 1. Domaine des Salamandres
On the rugged land that is Covey Hill grow grapes and pears. The result is one-of-a-kind products that are made in complete respect of nature. "The pear ice wines pair particularly well with foie gras and cheese."
196 chemin de Covey Hill, Hemmingford - salamandres.ca
2. Vignoble du Marathonien
Located in an enchanting rolling hill area just a few kilometres from the American border, this vineyard is loved by cyclists and hikers. "I recommend their white wines and ice wines—exceptional quality."
318 route 202, Havelock - marathonien.qc.ca
3. Vignoble Le Chat botté
Neighbour to Cidrerie du Minot, this vineyard practices reasoned viticulture and uses organic products. "Their grapefruit rosé and amber or black straw wines (fortified wines that are rich in aromas) are always excellent choices."
633 route 202, Hemmingford - vignoblelechatbotte.com
For a healthy lunch or hearty meal, here are two suggestions:
4. Le Café Hemmingford
A daily menu, salad bar, and healthy breakfasts: this local café offers nutritious and delicious cuisine, in addition to exhibiting works by artists from the region. "It's beautiful, light, and delicious!"
475 rue Frontière, Hemmingford - cafe-hemmingford.com
5. Witsend Resto Pub
This Irish pub offers a dozen of microbrewery beer on tap. "You have to try their fish and chips... it's the best in town!"
488 rue Frontière, Hemmingford - facebook.com/witsendpub
Feel like a raclette and charcuterie picnic, followed by a chocolate and fruit spread? Here are four amazing places to stock up: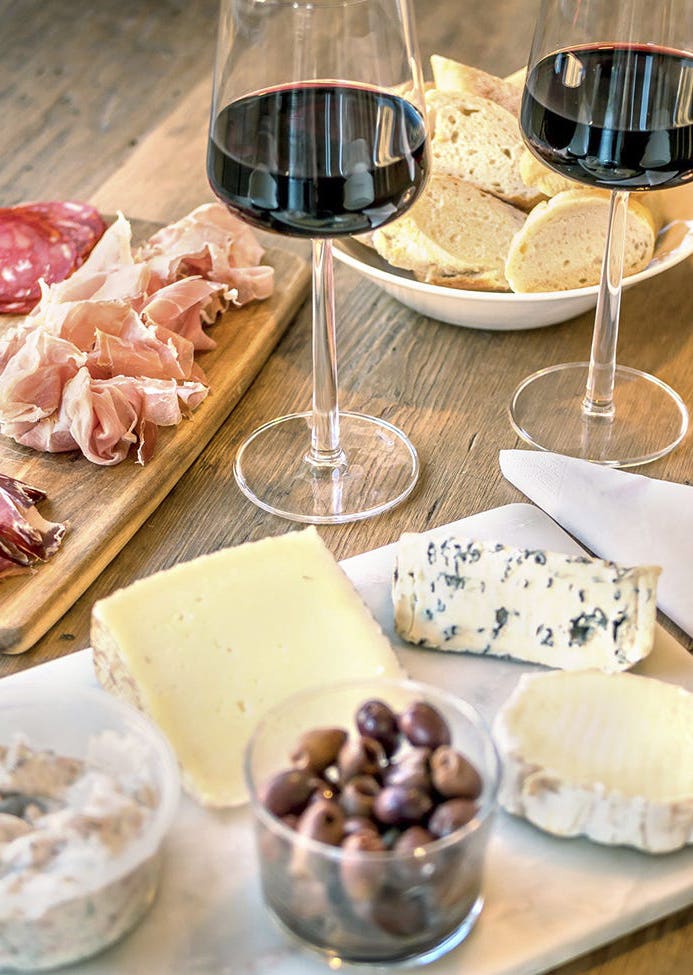 6. Fromagerie Fritz Kaiser
Here, Swiss production methods meet 100% Canadian milk. The result? High-quality cheeses, including soft, firm, semi-firm, and washed rinds.
459 chemin de la 4e-Concession, Noyan - fkaiser.com
7. Charcuterie Stefan Frick
On the menu: more than 80 types of sausages, all made with fresh ingredients, no preservatives, no gluten. Plus, natural bacon and suckling pig (must order ahead).
1200 chemin Saint-Jean, La Prairie - charcuteriefrick.com
8. Aux 3 chocolats
Offered exclusively in the small boutique located in front of the Saint-Rémi village church, the chocolates made by chocolate artisan Isabelle Kosa are sumptuous creations inspired by classics and modern trends. "A real treat!"
887 rue Notre-Dame, Saint-Rémi - aux3chocolats.com
9. La Ferme des Petits Cailloux
Strawberries, raspberries, blueberries, cherries, apples... all the best fruit growing on the same land, where self-pick is available during the warmer months. You'll also find maple products and grass-fed lamb.
2635 route 202, Franklin - fermedespetitscailloux.com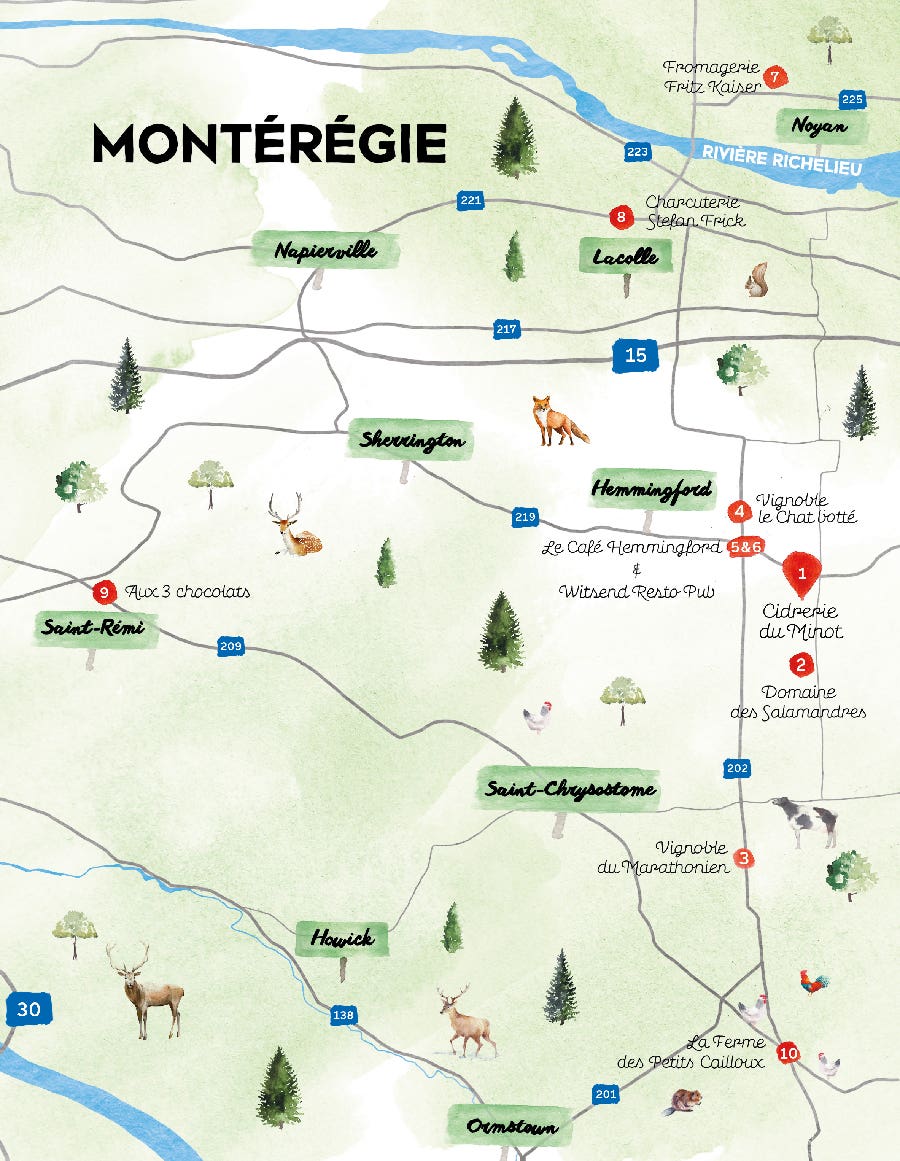 Illustration: Valérie Bertrand