Immortality, strength and happiness, muscle tone and desire… over the centuries, many a virtue has been attributed to mead. The product of water, honey and yeast, it's a beverage that tends to surprise. But not Éléonore Macle, who grew up surrounded by bees on her parents' — Christian and Vivane's — honey farm.
Established back in 1976 in the Saint-Benoît (Mirabel) area, today Intermiel is one of the biggest mead producers in North America. Macle is the current vice-president of the family operation, and she's working hard to market a line of nine products and make sure they're known across Quebec.
Overseas, these delicious nectars need no introduction. In Europe, the mead-making tradition has gone unbroken for ages. In the United States, people drink mead like they drink beer, so meaderies are just as common-place as breweries. Intermiel's offerings have taken home the Mazer Cup several times over, and that's the biggest commercial mead competition in the world. Mead even has the Japanese market clamouring for more.
Here, people are falling under mead's spell as well, but awareness still needs to be raised. "People are under the impression that mead is a sugary spirit. But ice cider contains much higher levels of residual sugar," Éléonore points out.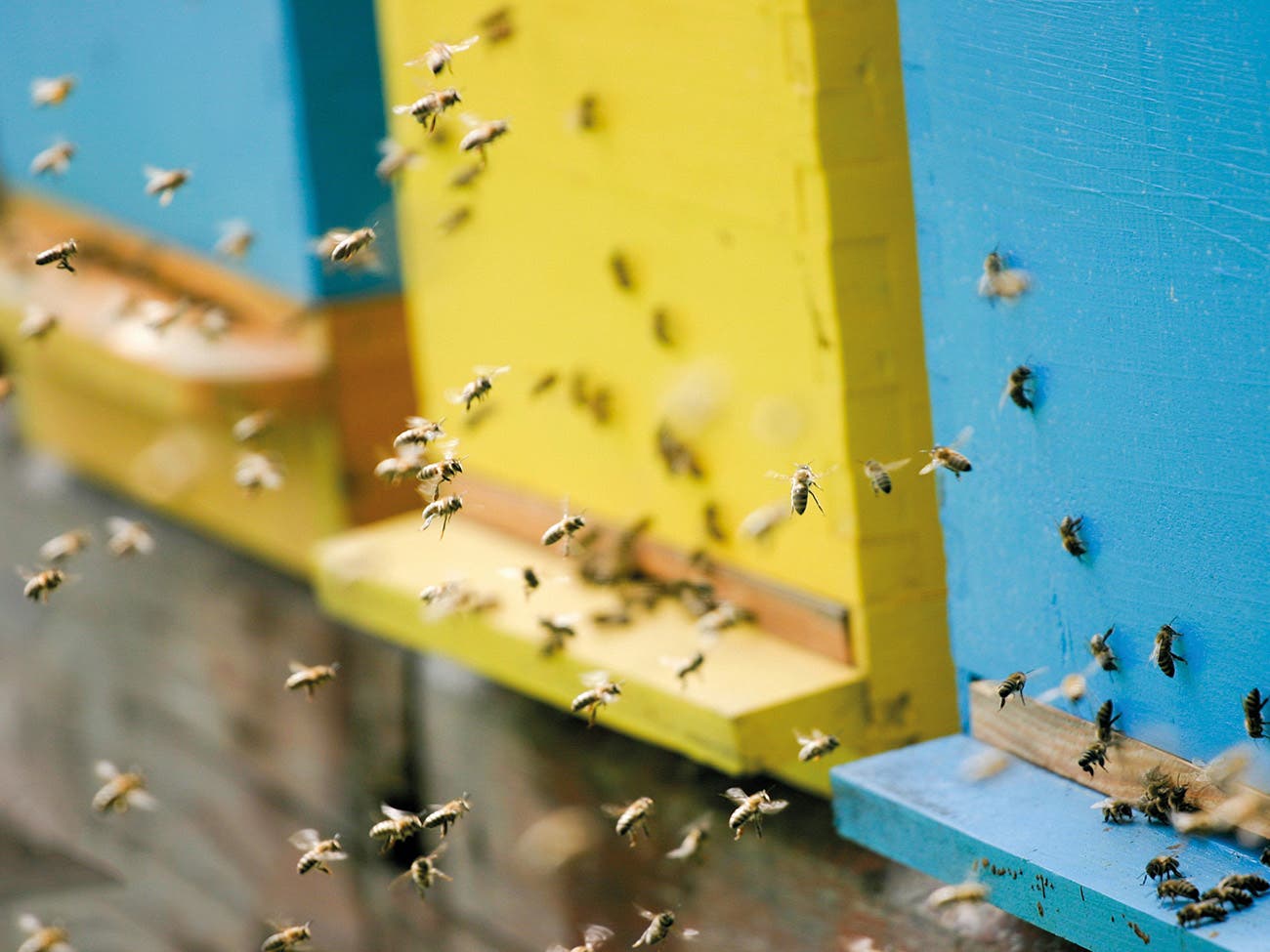 Make the leap to mead!
Demi-sec, sweet or flavoured, with percentages falling within the 9- to 16-percent range, mead derives its colours, flavours and textures from the honeys used in its fermentation. Like the vintner bringing together various varietals, the mead-maker also has a variety of honeys at his or her disposal, and the characteristics of the product will depend on the flowers the bees pollinated — like blueberry, clover, apple blossom, buckwheat, raspberry… Adding fruit to the mix (like cranberry or apple) can elevate the flavour profile as well.
Intermiel has earned its bragging rights when it comes to using 100-percent Quebec certified honey. Their harvest comes from 9,500 hives in fields across the province, including the Laurentians, the Outaouais, Pontiac, Laval, Lanaudière and Lac-Saint-Jean. At summer's end, all the hives are called home to headquarters in Mirabel. It's Cyril Lapeyrie, Éléonore's husband, who takes care of the swarms from far-flung regions. These lovebirds' story, long before the honeymoon, began on the job. "Our parents go way back. My in-laws are chocolatiers and even whipped up a honey ganache," says Macle, smiling.
Her mother, Viviane, a former teacher from Picardie, came up with a way to demystify
mead production through agritourism, via workshops, guided visits and tastings to boot. Children even get treated to their own tailor-made educational program, plus a mini-farm and play area. You can enjoy the entire day at the farm and spend to your heart's content at their shop overflowing with products made onsite — meads, ciders, maple spirits, liqueur, gourmet offerings and even cosmetics.
"Interest in mead is mounting, especially with the younger, local-loving generations," says Macle, smitten. "My dream is to see it reign alongside cider and beer in bars and restaurants." Dare to try it? It's worth the leap!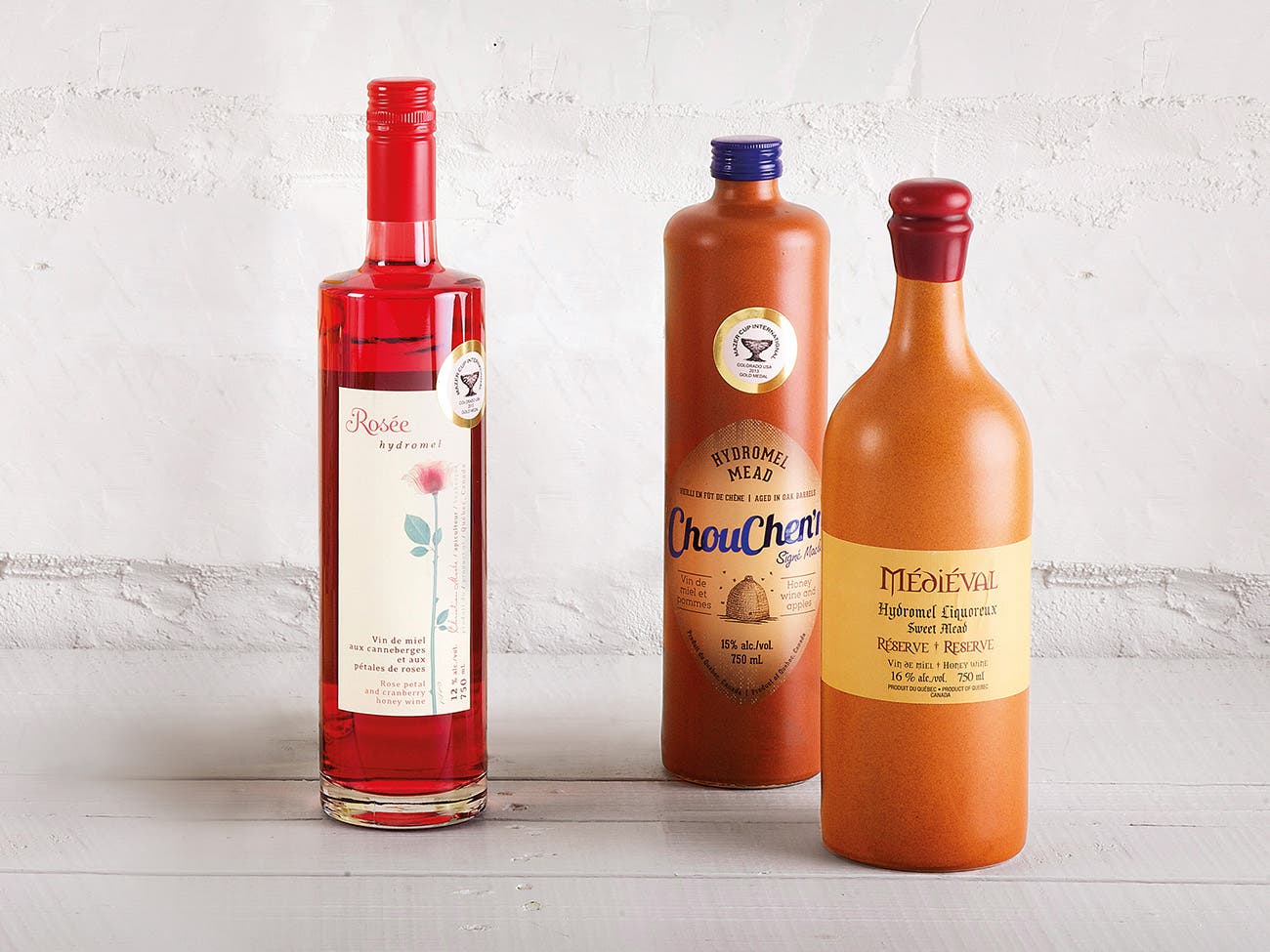 Mead-meal pairing
Rosée: Christian Macle's pet product. A nod to the rose bushes of his childhood. Romantic but not in a hokey kind of way, Rosée sets itself apart by its bouquet of rose, cranberry and honey. Great at happy hour with sushi, dark chocolate or marzipan. Want some wow? Sub frozen cranberries for your ice cubes.
Médiéval: the product Macle is most proud of. "It's my third baby, you know, after my own kids!" Inspired by an old family recipe, this buckwheat honey-based digestif, which is aged in oak barrels, exudes notes of dried fruits, apricot and flowers. A dessert unto itself, fabulous with foie gras, cheese and nuts. Hot tip: This mead keeps for nine months after opening.
Chouchen'n: is the way they say mead in Brittany. Its ripe apple flavour is reminiscent of cider — a great way to start your mead journey on the right foot. Serve it at happy hour alongside strong cheeses and desserts.
Intermiel Rosée Flavoured honey wine (cranberry and rose petals)

|

750 ml

Canada

,

Quebec

Available

Online

Available

In store

Intermiel Médiéval Réserve Honey wine

|

750 ml

Canada

,

Quebec

Available

Online

Available

In store

Intermiel Chouchen'n Signé Macle Flavoured honey wine (apple)

|

750 ml

Canada

,

Quebec

Available

Online

Available

In store