Three techniques for fruit-based drinks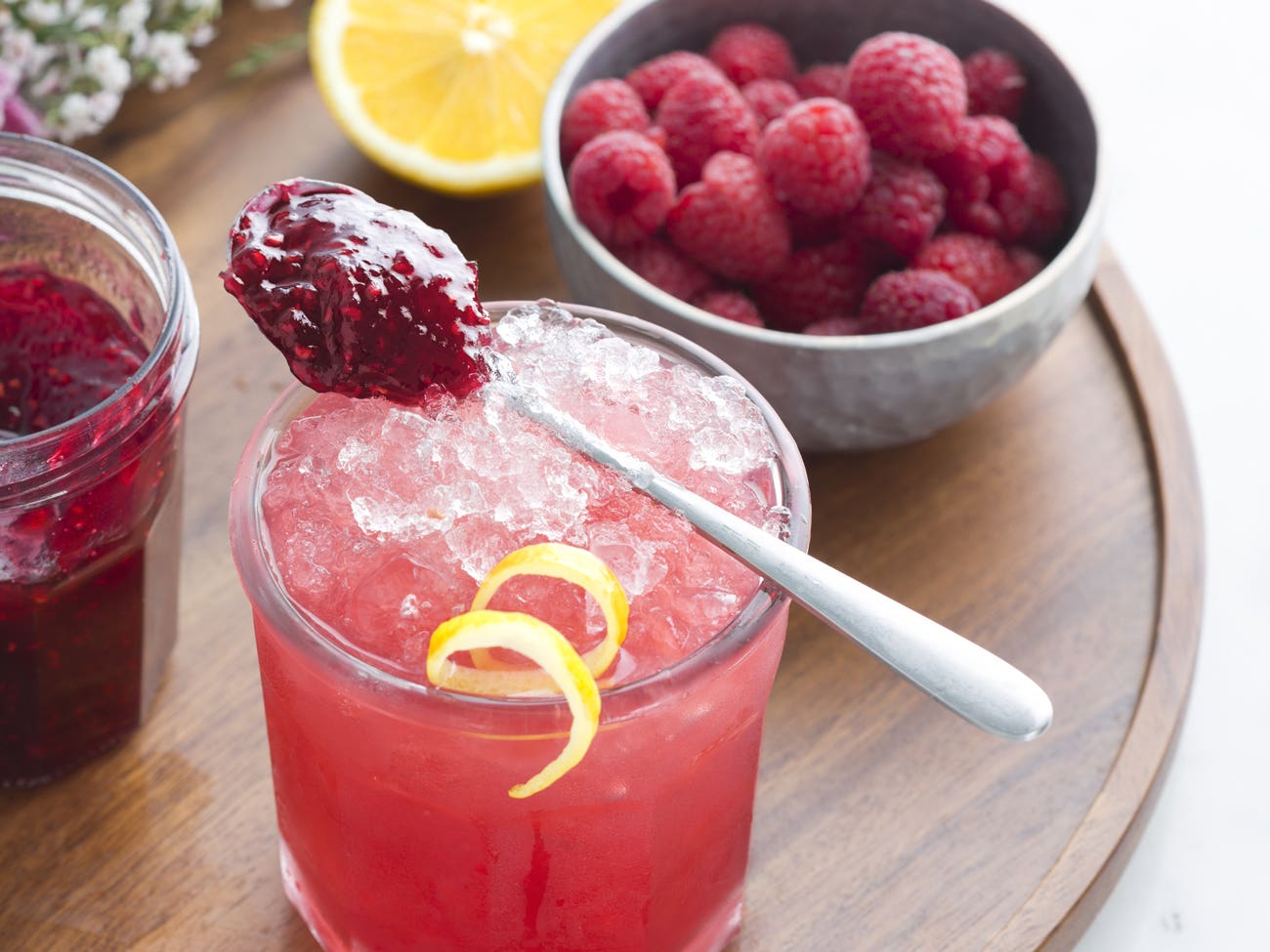 Cocktail rasberry jam and lemon
Jam
Using jam in cocktails lets you get the right sugar-acid balance. You can use homemade jam or, to make life easier, a store-bought brand.
Ingredients
60 mL (2 oz) dry gin
30 mL (1 oz) lime juice
45 mL (1½ oz) simple syrup
15 mL (1 tbsp) raspberry jam + 5 mL (1 tsp) for garnish
Preparation
Put the gin, lime juice, simple syrup and jam (except the garnish) in a cocktail shaker. Add ice and shake for 10 seconds. Strain into an old-fashioned glass filled with crushed ice. Garnish with a twist of lemon and the second teaspoonful of jam. Stir in the jam before drinking.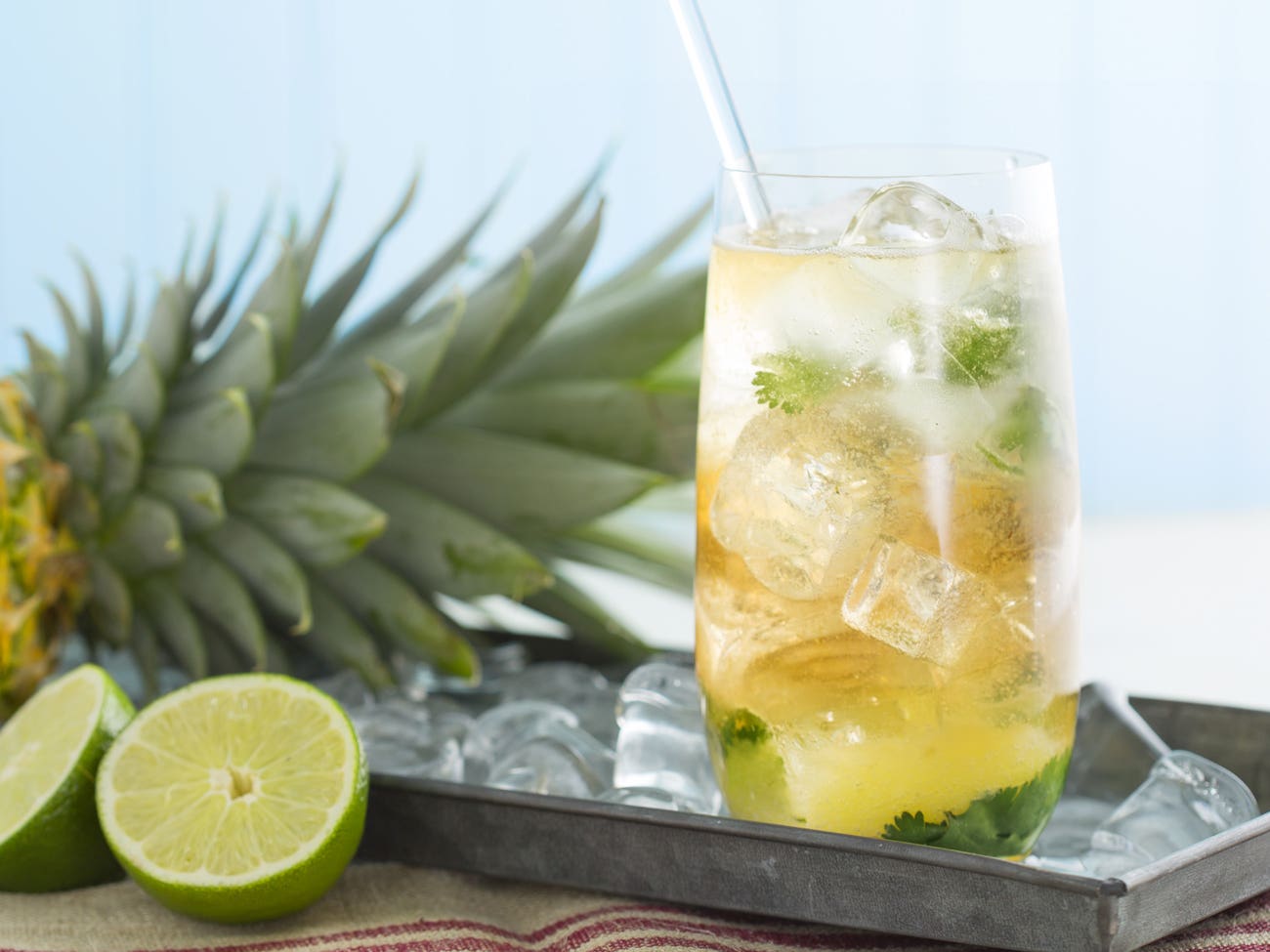 Spicy puréed-pineapple-and-coriander cocktail
Purée
Choose a ripe pineapple, one with good sugar-acid balance, or adjust the balance using simple syrup and/or lime juice. Cut the pineapple into small chunks for easier puréeing.
Ingredients
45 mL (1½ oz) amber rum
60 mL (4 tbsp) pineapple purée
15 mL (1 tbsp) freshly pressed lime juice
6 coriander leaves, for garnish
Spicy ginger ale
Ice
Preparation
In a blender, purée the pineapple. Crush some of the coriander in a glass to release aromas and flavours. Add pineapple purée and ice to the glass, and pour in the rum and lime juice. Top off with ginger ale. Garnish with remaining coriander, stir to combine, and serve.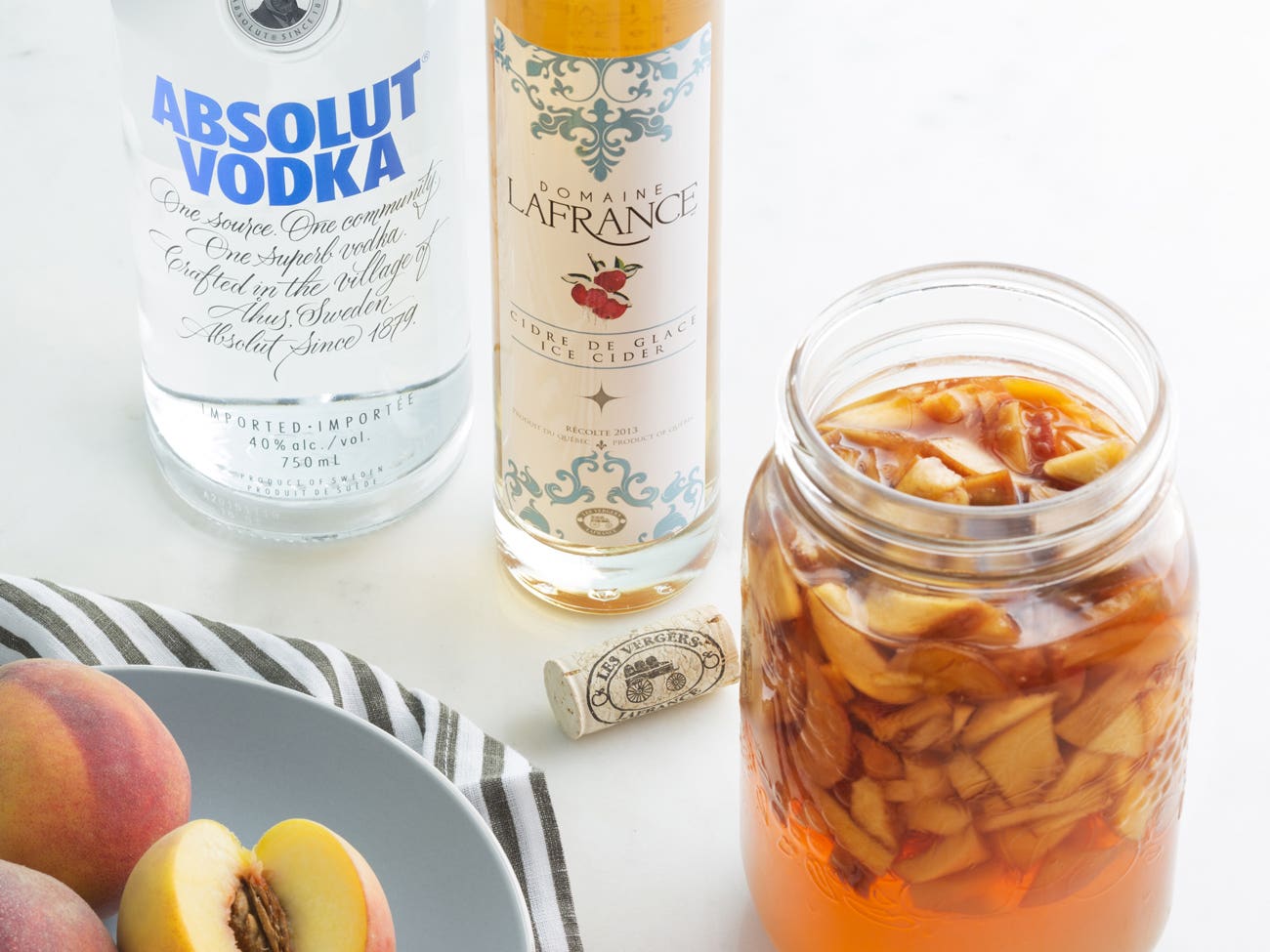 Peach-and-ice-cider shrub cocktail
Shrub
Shrub is a homemade liqueur made from fruit, sugar and vinegar (here, we use peaches and apple cider vinegar). Combine the ingredients in a tightly sealed jar and refrigerate for 72 hours to a week, depending on the desired intensity. Strain and transfer to another container.
Shrub Ingredients
1 litre (4 cups) fresh peaches, pitted and chopped
500 mL (2 cups) sugar
500 mL (2 cups) apple cider vinegar
Cocktail Ingredients
45 mL (1½ oz) vodka
45 mL (1½ oz) peach shrub
30 mL (1 oz) ice cider
30 mL (1 oz) simple syrup
90 mL (3 oz) club soda
Peach slices, for garnish
Preparation
Combine the ingredients in a tall glass filled with ice cubes. Stir gently and serve.