More and more, we're hearing the terms "zero waste", "eco-responsible" and "sustainable" both behind the bar and among cocktail lovers.
The initiative goes far beyond reusable straws, however. Mixologists are becoming more creative in their efforts to reduce waste and adopt more responsible practices, and are mindful of the impact their craft can have on the environment. This awareness extends to consumers as well, who are looking to reduce their environmental footprint.
Because every little bit helps, here are five tips from the pros to help the planet, one cocktail at a time!
1.Composting
Composting is a winner on every level! It's as easy as 1-2-3, it's good for the planet, and most importantly, it's not limited to food. That's right! Did you know that biodegradable bar accessories are now available on the market? Straws, napkins, picks, coasters and glasses can easily be found in compostable versions.
The cocktail bar Le Mal Nécessaire, in Montreal, is well-known for its efforts in terms of eco-responsibility. Composting has been a top priority for a long time now. While the initiative required some upfront investment, today it is paying off. It's also much easier for the team to clear the tables: everything goes into the brown bin, except for the bills!
2. From root to stalk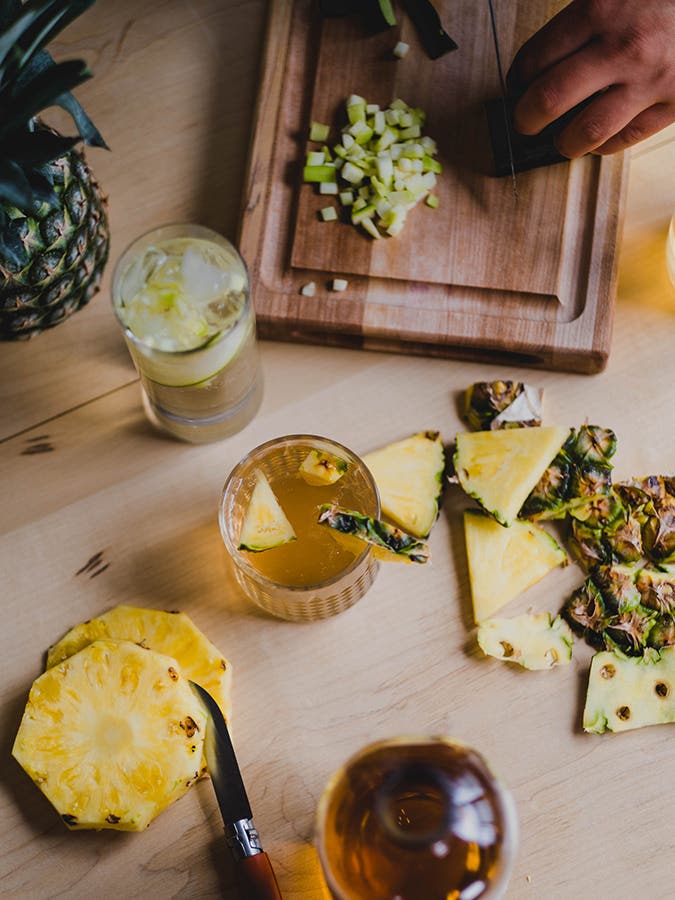 To be fully zero waste, you may often have to step outside your comfort zone; for example, by using every part of a fruit or vegetable. The rind, the pulp, the juice, the skin, the leaves, the root: everything can be used with a little imagination.
Hugo Jacques, sommelier at Poincaré Chinatown, suggests a simple solution to replace egg white in cocktails: aquafaba, the liquid found in canned chickpeas. Many mixologists have adopted it to avoid waste, but also as a vegan substitute for egg whites.
"We of course make our own homemade aquafaba. It's very simple, and it magically replaces egg whites in cocktails," he explains. "Recently, I also started making 'super lime juice,' which uses 20 limes instead of 120. You mix the lime juice with the peel, and then add citric and malic acid. It gives an impressive result, and you save a lot of money on limes," he says.
The folks at Le Mal Nécessaire are also inspired by root-to-stalk practices to get the most from their coconuts and pineapples. And not only do they serve cocktails from the hollowed-out fruit: the juice and pulp are used to make homemade syrups and creams, while the skins are dehydrated to make chips, cookies, and cocktail rimmers. Leftovers are also made into fruit rolls or even hot sauces. In the end, there's nothing left to throw away!
3. Experiment with fermentation
Mixologists have long used fermentation to enhance their cocktails. Lacto-fermentation, in particular, can be used to enhance a flavour to create a completely unique result, or even to reproduce specific tastes with unexpected ingredients.
Hugo Jacques actually revealed the secret of the famous Poincaré martini: "Instead of putting olive brine in the cocktail, I add lacto-fermented pickle brine. It tastes similar to the traditional Dirty Martini," he says.
4. A second life for fruits and vegetables
To make the most of the very short plum season, Poincaré macerates them in either grappa or chartreuse. This technique allows them to preserve the fruit for up to a year and serve it in their desserts all year long.
At home, macerating fruit in alcohol is also a great way to give new life to your fruit. You can then use them in desserts or cocktails. For instance, why not try macerating Quebec Montmorency cherries to enhance your Manhattans?
In the same vein, Poincaré also makes its own homemade celery salt to garnish its bloody Caesars: "Since local celery is not available all year round, we stock up for the off season. We try to take advantage of all the fruits and vegetables when they are in season," explains Hugo Jacques.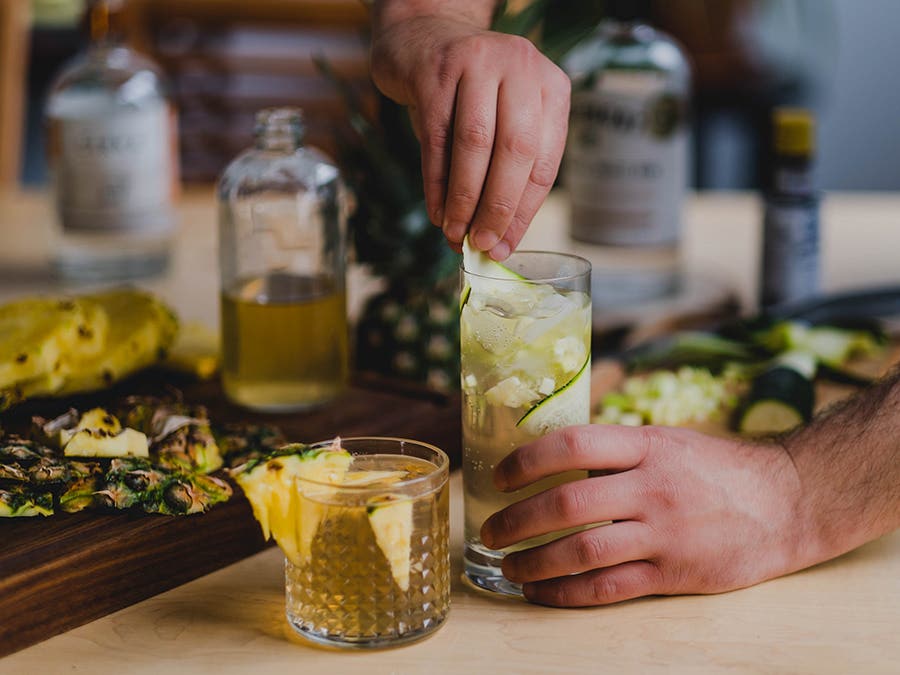 5. Local and seasonal cocktails
Eco-responsibility also means prioritizing local and seasonal products. Choose fruits, vegetables and herbs from local growers for your cocktails. Granted, it's not always easy to find fresh, local ingredients—especially in winter. To spice up your creations, you can then turn to syrups or bitters from local companies like Alambika, Lab, Monsieur Cocktail, Les Charlatans or ¾ oz.
And finally, the best way to drink local is of course to fill your glass with the wonderful products of Quebec! With the superb selection of fine spirits, eaux-de-vie, and liqueurs on the shelves today, you're spoiled for choice. An excellent way to encourage the local economy while reducing your ecological footprint; and all this to the delight of your taste buds!