Joyce N'Sana is a Congolese singer and songwriter. Her music is expansive and draws from several genres: hip-hop, blues, gospel and Afropop. Her lyrics are engaged and multilingual; a combination of French, English, Lingala and other Congolese dialects. We met up at MTELUS, after her day working as an early childhood educator and before her sound check.
Fuelled by music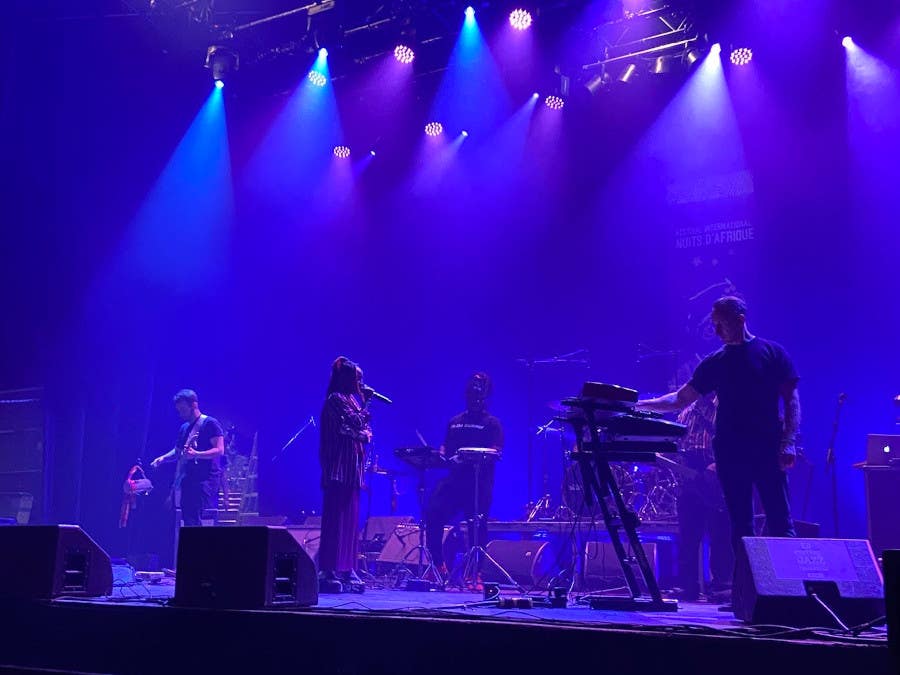 Joyce N'Sana, winner of the Prix Révélation Radio-Canada en chanson 2020-2021, was barely able to contain her stage fright as she prepared to take the stage to open for Tiken Jah Fakoly. At the entrance to the theatre, show clothes in hand, she was relaxed and happy to share a few fragments of her life as an artist with us, as well as her life as a mother, the two being closely linked. In the past, she has breastfed her two children backstage and taken them to all her shows; it would not be surprising if they were the third generation of musicians in the family. Music fuels Joyce: she's constantly either writing, performing, or watching one of her favourite bands.
In fact, she returned from her Western Canada tour just in time for The Roots' closing concert at the Montreal International Jazz Festival. Her current obsession is Sampa the Great, a young Zambian rapper based in Australia. Like Joyce, she boldly blends hip-hop, soul and Afrobeat styles without ever losing sight of her African heritage. Her summer playlist also includes Daara J Family, a Senegalese hip-hop group, and J.A.M., the stage name of Boucherville rapper Jamil Assoum, champion of the show La fin des faibles in 2021. The artists who she will never tire of, and who have accompanied her for years include Aretha Franklin—the "Queen of Soul", Bob Marley, Tupac, Billie Holiday and Lauryn Hill. They have each shaped Joyce's musical trajectory in their own way. She remembers singing bits and pieces of songs as a child in the Congo that she didn't even understand. It was only later that she made the connection between Bob Marley's "Get up, stand up: stand up for your rights" and the civil war in her country at the time.
Since her arrival in Quebec in 2006, Joyce has rubbed shoulders with many Québécois musicians, singers and groups. One encounter that marked her deeply was with the late Karim Ouellet during the Colocs tribute tour entitled "Tassez-vous de d'là". Many emotions arise when she replays his music, and when she thinks back to their few brief exchanges. Joyce is also an avid fan of Gerry Boulet. She mentioned him in an interview with Radio-Canada and confessed that she wanted to cover "Le chant de la douleur" in reggae with Congolese tunes.
A family recipe
Joyce doesn't drink a lot of alcohol, but when she's in the mood for a drink, she opts for her sister's recipe. It's a mixture of amaretto (an almond-flavoured Italian liqueur), lemonade, passion fruit syrup and ice cubes. The combination of sweetness, freshness and exoticism makes her want to put on a bikini, whatever the season. We asked her what she preferred between the wine glass, the highball and the martini glass, as well as between the gin and tonic, the Aperol Spritz and the rum punch, and she answered without hesitation: "Rum punch, in a martini glass, with fruit and adorned with a paper umbrella to make me feel like I'm on holiday!"
We had a lovely meeting with Joyce N'Sana, and now she'll blow everyone away with her opening performance for Tiken Jah Fakoly. We hope to see her again soon, when she performs for the second time during the Nuits d'Afrique festival on July 21 at 7 p.m., on the outdoor stage of the Esplanade. Be sure to stop by the Bistro SAQ for an amaretto or rum-based cocktail for the occasion!